Simeone: "We've got to get back into the rhythm of the league"
Atlético's coach looked ahead to tomorrow's trip to Málaga: "I know I am going to be judged on what we do tomorrow rather than during the past few years".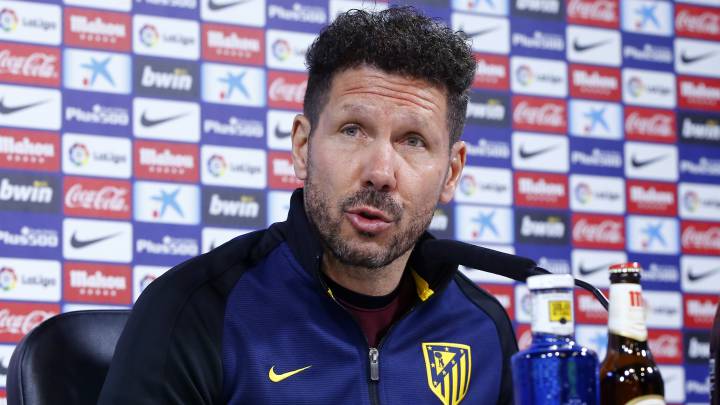 Diego Simeone insists that tomorrow's league trip to Málaga is vital if Atlético are to remain in touch with the leading pack in LaLiga. It will be a special return to the stadium where El Cholo oversaw his first game in charge of the Rojiblancos back on 7 January 2012.
La Rosaleda, where it all started... "Going back there stirs some very happy memories, there's no doubt about that - it will be emotional to go back, after so many years at the club, to the place where we started off. But I know that I will be judged for what I do tomorrow against Málaga rather than for all of the things we have done over the past few years".
Míchel: "He's a coach who has left his mark on all of the teams he has been of charge of - he has left them with a defined style of play and the international break will have been perfect for him to study the plaers he has on board and work with the squad. The break will have given him time to resolve any issues the team has. Whenever we meet an opponent, we always analyze their best performances - regardless of the result, and Málaga are a very competitive team who at home, are going to give us endless problems".
Injury problems force Simeone to improvise
Gameiro, Gaitán, Moyà all unavailable: "We are going into this game with enthusiasm, positive energy for the moment the team is in whilst knowing that Málaga's ground is always difficult. We hadn't banked on Cerci being fit for his physical state but he's in much better conditions now".
Atlético, two points behind Sevilla in fourth
Atlético's situation: "It's difficult to compare today's situation with that of 15 days ago. We have to start all over again, it's the same for everyone -and we have to put ourselves back in touch with the title race".
Atlético squad
Oblak, Moreira, Godín, Filipe, Savic, Lucas, Juanfran, Giménez, Alberto R., Koke, Saúl, Gabi, Cerci, Thomas, Keidi, Olabe, Griezmann, Fernando Torres and Correa.