Granada vs Barcelona LaLiga Santander week 29: Match report, as it happened, goals, action
Goals from Luis Suarez, Paco Alcacer, Ivan Rakitic and Neymar were enough to grab the spoils for Barcelona as they made relatively light work of relegation-threatened GranadaBarcelona vs Valencia: Copa del Rey semi-final 17/18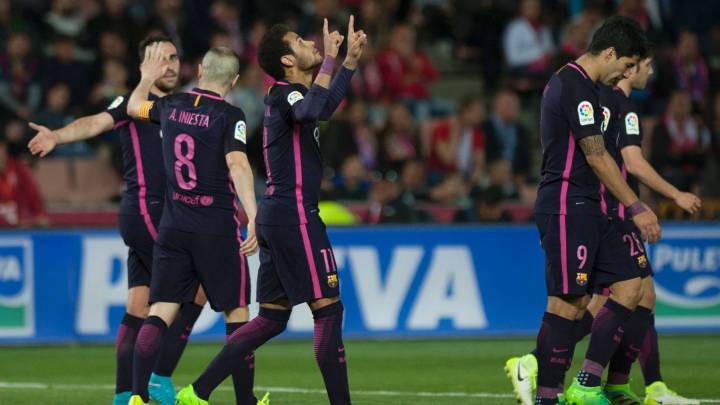 Granada 1-4 Barcelona: match report
Barcelona managed to keep pace with Real Madrid after their victory over Alavés earlier in the day despite some nervous moments at the start of the second half.
Barcelona were all over the home side from the early going and it seemed as though Granada had managed to make it to half-time with the scoreline untouched before Luis Suarez popped up and chipped Guillermo Ochoa after being denied on several occasions prior to that by the Mexican.
Granada managed one measly off target shot in the first half and were going to have to change something if they stood a chance in this game. They changed in the form of bringing Jeremie Boga for Victorien Angban and within five minutes, the difference was made. Boga broke free down the right and poked a mishit shot into the very bottom of Ter Stegen's net to draw his side level with 40 to play.
There was never any doubt that Barcelona would score again given the form Neymar was in and with Luis Suarez and the rest pushing forward safe in the knowledge that Granada would struggle to net a second. 14 minutes after the equaliser, Paco Alcacer found himself one-on-one with Ochoa after a very smart lobbed pass by Luis Suarez. The former Valencia man made no mistake and gave his side a lead they would not relinquish.
Uche Agbo was show two yellows in the space of three minutes and given his marching orders on 82 minutes and from then on it was mission impossible for the home side.
Truth be told, Barcelona could have scored another three but they waited until the 83rd minute to finish the game as a contest when Ivan Rakitic drove home, with the help of a deflection, after a promising Neymar run. Neymar, the protagonist on the night, made it four in the 90th minute when he Alcacer turned provider from the right hand side with very little for the Brazilian to do other than make contact and direct it goalwards.
Granada will take little solace in the fact that they kept it close until the 83rd minute but Barcelona can be happy they got the job done without Lionel Messi, Gerard Piqué, Samuel Umtiti and with Andres Iniesta on the bench. They are two points behind Real Madrid now with a full round of fixtures to come starting just two days time.
With his winner, Neymar reached a personal and club landmark - 100 goals for Barça
Here's the latest on Rafinha's injury
All of the best images from tonight's game at Los Cármenes
---
Granada 1-4 Barcelona: second half
Min 90+2 | the last action of the game is Neymar rattling a shot against the base of the post. Almost two for the man of the match (my man of the match).
Min 90+2 | GOAL! Neymar deserved that one. Alcacer finds the Brazilian after Luis Suarez chips it into his path. Neymar turns it home into pretty much an empty net as Ochoa caught in no-man's land.
Min 90 | Boga wriggles his way into a shooting position but he fires straight at Ter Stegen from a good position.
Min 88 | Suarez takes down a long ball with ease and squares to Neymar but Lomban throws himself towards it and saves Granada's bacon. Corner to Barça but Alcacer whiffs at it as it lands to him in space. He should have done better.
Granada substitution: Ivan Rakitic makes way for Carles Alena.
Min 86 | Neymar loses out and falls to the ground. He jumps up and wins it straight back off Lomban who was delaying in possession. He pokes a shot towards goal but it is cleared only as far as Suarez. The less said about his effort the better as he tried a chip but it went pear-shaped for him.
Min 83 | GOAL! GOAL! GOAL! Rakitic drills a shot low towards the goal and it wrong foots Ochoa as it takes a slight deflection. Another probing run by Neymar the catalyst for that goal.
Min 81 | Mathieu trips Ramos and from the free Barcelona clear the ball but in an effort to win it back Agbo gets a second yellow and is given his marching orders. He seemed to have said something to the referee? Unclear at this moment to see what happened.
Min 81 | Oooooh! Champagne football from Neymar as he nutmegs Pereira and then pulls it back to bamboozle another two defenders before his legs are clipped and he wins a free. Very stylish from the Brazilian.
Min 80 | Mathieu mistake sees Boga end up bearing down on goal but the French defender manages to get the ball out for a corner.
Min 79 | Uche booked now for catching Neymar with a hand to the juggular.
Min 78 | Rakitic booked for pulling Pereira back. The on-loan Manchester United player seems to throw an arm back at the Croatian and then pushed him when he approaches him. Pereira is lucky.
Granada substitution: Isaac Cuenca replaces Gaston Silva.
Min 77 | Suarez tries to get the ball across to Neymar, who is waiting inside and on his own. Granada clear though.
Min 75 | Pereira drills one low and hard at Ter Stegen but the German gets down low to save.
Min 73 | Suarez looking for a one-two with Rakitic but the Croatian's back-heel doesn't work out as planned.
Min 71 | Corner Barcelona as Neymar continues to poke and pry down that left-hand side. Mathieu yet again. He gets a foot to it this time but he can't direct it towards goal. He is getting closer though.
Min 69 | Wakaso nearly picks Busquets' pocket as the last man but the referee says it was a foul. That's twice not that Busquets has been bailed out by the referee although that time it did look like he nicked the back of his leg. Close call though.
Min 66 | Barcelona taking the sting out of this now as they stroke it around in defence.
Barcelona substitution: Andre Gomes is replaced by Andres Iniesta.
Min 65 | Rakitic tests Ochoa this time from distance and the Mexican taps it out for a corner, that leads to another corner, that leads to a throw.
Min 62 | GOAL! GOAL! GOAL! Paco Alcacer finished with aplomb as Luis Suarez drops a lovely pass in over the top to his teammate. Great assist and finish to match.
Min 60 | Jordi Alba outmuscled by Boga and ends up grabbing his arm and pulling him back. He receives a booking for the misdemeanour.
Min 59 | Lomban is booked for a rather cynical foul on Suarez as he tries to start an attack.
Min 57 | Ramos gets turned upside down in a collision with Mascherano but the referee says no free. Straight up the other end an Ochoa fails to punch a cross far enough away. Heart in mouth stuff there for Granada. They manage to clear in the end though.
Granada substitution: Lucas Alcaraz brings off Kravets for Adrian Ramos.
Min 54 | Neymar sizes one up and tries to curl it past Ochoa but he doesn't so much curl it as he hits it straight at the Mexican shotstopper.
Min 52 | Boga with another shot that is deflected up and out for a throw. Foulquier marching down the right frequently now too.
Min 50 | GOOOOOAL! Boga streaks clear and slots beyond Ter Stegen. Lovely finish by the substitution. That was his first action of the game! Not a bad way to introduce himself.
Min 49 | Neymar on the left as he whips in a cross. Suarez steps over it. Nobody arriving late though as there appeared to be a communication breakdown.
Min 47 | Ochoa straight back into action as he rejects Alcacer from a tight angle.
Min 46 | We are back underway in Granada.
Granada substitution: Angban is replaced by Boga.
---
Granada 0-1 Barcelona: first half summary
Barcelona had ten shots to Granada's one (off target) effort in the first 45. That tells you everything you need to know about the opening half. If Granada don't add a positive dimension to their game, they face defeat here without ever testing Barcelona's backline that has been thrown together and is missing two of it's most important pieces. Andres Pereira has hardly touched the ball and could cause problems for Baça if given the chance.
---
Granada 0-1 Barcelona: first half
Half-time in Granada after Barcelona take the lead.
Min 45 | GOAL! GOAL! GOAL! Luis suarez chips a helpless Ochoa this time. Alba with a peach of a pass into Suarez' pass and he makes absolutely no mistake. Slowly but surely closing the gap on Messi in the race for Pichichi.
Min 44 | Rakitic with a ball into Neymar that is perfeclty weighted. Neymar was offside and the human octopus, Guillermo Ochoa, saves in any case.
Min 42 | Kravets doing his best to keep the ball and get closer to Ter Stegen but he gets squeezed out and loses possession. Granada gasping for the half-time whistle now. It can't come quick enough for them.
Min 40 | Rakitic this time. Neymar, Andre Gomes and Suarez combine before the Croatian curls one over.
Min 39 | Neymar down grabbing the bridge of his nose. Looks like he took a hand to the face off Uche as he tried to run past him. Referee didn't see it so can't say too much about it. Neymar plays on.
Min 38 | Another venomous free-kick whipped in by Neymar, from the other side this time. Mathieu is closest to it but he can't make contact. No first touch is better than his last attempt at a first touch.
Min 36 | This time, Alba headers down a cross but Suarez is bundles out of the way by Gaston Silva. Could have been a penalty, but it's not. Suarez doesn't know what he has to do to win one.
Min 35 | Alba wins a free in a dangerous area and Neymar swings it in. It falls in Mathieu's lap but he miscontrols and his first touch takes it away from the goal. What a chance if his first touch didn't desert him.
Min 34 | Suarez denied again. His own strength working against him there as Lomban was draped around him but he stayed on his feet. He gets a shot away but Ochoa says no, yet again.
Min 32 | Barcelona attack again. Some after between Sergio Roberto and Hector with the former following through after being tackled. Ball falls to Alcacer but he misses the target.
Min 31 | Pereira goes down after a challenge from Mathieu in the air. Play stops before he gathers his composure and gets up to play on.
Min 29 | Neymar waits, and waits, and waits, before having a shot from outside the area. It takes a deflection and lands at the feet of an offside Luis Suarez.
Min 28 | Sergi Roberto launches himself into a tackle on Hector Hernandez and recieves a booking for his work.
Min 27 | Rakitic to Suarez and he absolutely rifles a shot at Ochoa, who saves. The rebound falls to Alba and he plays it back to Suarez. The striker creates a shooting opportunity for himself and Ochoa stays with him only to repel another shot from close range. What a passage of play for Barça. Almost 1-0.
Min 26 | This time, Suarez feeds Neymar. His curling effort is palmed down by Ochoa and he falls on the ball.
Min 24 | Neymar takes off down the field, cuts inside and finds Suarez. His outside of the boot right-footed effort hits the crossbar and rebounds to Neymar but the Brazilian had strayed offside.
Min 22 | Foulquier holds of Neymar, who has a little bit of a push and a kick at the full-back. The referee calms everything down with a word. That battle is indeed fun!
Min 21 | Hector hesitates and Gomes comes flying in to dispossess him. He goes in a little high and gives away a free.
Min 20 | An absolute beaut of a pass over the top to Paco Alcacer by Suarez as the substitute directs it towards the penalty area. There's no Barça shirt where it lands and Granada clear.
Min 18 | Rakitic with a long, curling cross to Neymar at the back post but it has so much speed that Neymar can't do anything with it other than make contact and hope for the best. It hits him and flies up into the air and wide.
Barcelona substitution: Rafinha is replaced by Paco Alcacer.
Min 16 | Rafinha on the turf now and won't be able to continue. Unclear as to what it is but he signals that he has to come off.
Min 14 | Neymar jogs back onto the field after twisting his ankle trying to reach for a ball. He went over on it slightly but he looks to be fine to continue.
Min 12 | Foulquier with a nibble on Neymar's leg there as he gets rid of the ball. Free to Barcelona. Granada are playing high up the field. They seem to be egging Barcelona on slightly. They, on the other hand, probably feel like they have nothing to lose and a Messi-less Barcelona is an entirely different prospect to one with the Argentine in the team.
Min 10 | Pereira tries a chilena from a pass into the box by Hector. He barely even makes contact though. A chance wasted.
Min 9 | Neymar and Suarez link up and the Brazilian streaks into the penalty area. Foulquier is there with him step for step and he puts it out for a corner.
Min 6 | Long and diagonal ball to Kravets seems to be the way forward for Granada. No dice that time after Neymar coughs up possession as he made his way across the penalty area.
Min 5 | Sergi Roberto looks for Suarez but his pass is overhit and the Uruguyuan doesn't even bother chasing it all the way down.
Min 3 | Rakitic chips one over the top to suarez but he is offside. Replay show it wasn't even close.
Min 3 | That Foulquier versus Neymar battle will be fun. Foulquier likes to get forward, rangy, slightly awkward versus the tricky Neymar.
Min 1 | Long ball by Gaston to Pereira results in a throw, which is launched into the penaly area. Foulquier wins another throw on the other side of the field as the same man, Wakaso, comes across to launch it again. suarez clears.
Min 1 | We are underway at the Nuevo los Cármenes
---
Granada vs Barcelona: team news
Granada XI: Ochoa, Foulquier, Saunier, Lombán, Silva, Hector, Angban, Agbo, Wakaso, Pereira, Kravets.
Barcelona XI: Ter Stegen, S. Roberto, Mascherano, Mathieu, Alba, Busquets, André, Rakitic, Rafinha, Suárez, Neymar.
---
Granada vs Barcelona: latest news
20:37 | Just a couple of minutes away from the game. It seems there is skepticism online about the absence of Umtiti. Barcelona are up against a team fighting for their lives and they need to be at their best. Let's see if the ire is justified.
20:27 | Andre Gomes wasn't excetptional for Portugal during the international break but he played a large chunk of the game against Hungary without the pressure of playing for Barça and the scrutiny he was under. Everyone concerned will be hoping that break helped him as he hasn't been at much since the first PSG game.
20:21 | Valencia beat Depor 3-0 in a game that just finished meaning it helped out Granada. Best bet is to allow Valencia off on their merry way and out of this relegation battle. They're probably too good to go down anyway. It means Depor remaing within touching distance with Granada currently eight points behind Malaga, Depor and Leganes. Sporting play Malaga during the week while Granada play Depor. A really interesting few days coming up in LaLiga.
20:15 | Here is a look at the three changes for Barcelona as they go from 3-4-3 to 4-3-3, losing Messi and Piqué in the process.
20:03 | Neymar says he learns something new from Messi every single day. The Argentine will be hopinh he puts what he has learned into practice tonight as he will be the one tasked with creating for Barcelona.
19:52 | Messi has scored 17 goals in Barcelona's last 16 games. The last game he missed in LaLiga was a 0-0 against relegation-threatened Malaga. The last game he missed before that was a 4-3 loss to Celta Vigo! The game before that they beat Sportin Gijón 5-0 though-
19:45 | Artem Kravets starts. It is his first start since the middle of February. He is Granada's top scorer with five goals but has been a big miss for them in recent weeks despite coming on as a sub in their last two games.
19:38 | We have the team news. As expected, Mascherano and Mathieu start at the back while Busquets, André Gomes and Rakitic are deployed in the middle. Rafinha is in for Messi. Andres Iniesta is out of the starting XI yet again but is fit enough to starton the bench.
19:33 | Granada have been in the relegation zone for the last 24 weeks in a row. They can't lift themselves out of it tonight, even if they win, but every little helps.
19:26 | Granada, on the other hand are getting desperate for points in any way they will come. They are on a three game losing streak and a loss tonight could all but doom them to the segunda division.
19:20 | Real Madrid had to play with a makeshift defense today during their win over Alavés and Barcelona will do the same tonight with Piqué rested and a posited starting line-up that includes Mascherano and Mathieu at the back. Lionel Messi's absence will probably make the most difference though as he is suspended. Rafinha seems poised to take his place. Team news will be in soon.
19:00 | Barcelona go into tonight's clash in Andalusia five points behind leaders Real Madrid after their arch rivals saw off Alavés this afternoon.
17:30 | Messi's ban was picked up in Mestalla but he was almost absolved when the RFEF disciplinary committee initially forgot to include it on the official list.

16:30 | Neymar said recently that he learns "something new every day" from Messi and the onus to break down Granada will fall on him and Luis Suárez in Los Cármenes.

15:30 | Granada have enlisted the help of Arsenal and England legend Tony Adams to develop their academy. You can read an interview with Adams here.

15:00 | Barça will be without Arda Turan in Los Cármenes after the midfielder picked up a muscle injury on international duty. Also missing is Leo Messi, who is suspended for the game.

14:14 | Barcelona's number one, Ter Stegen, has cast doubt on his future at the Catalan club.
13:44 | In September 2010 Spanish club Hércules beat Barcelona 0-2 at Camp Nou. Fast-forward to today and the club are in dire need of funds to avoid liquidation.
13:17 | AS editor Alfredo Relaño spoke earlier on how one defines the values of powerful football clubs such as Real Madrid and Barcelona
12:48 | Ahead of today's game, Granada legend Enrique Porta has been talking about the 'Giant Killers' spirit of the 70's
11:59 | Last week Barcelona were hit with the news that Arda Turan would be missing a few games following injury.
11:20 | Most Barça fans will have one eye on the game this afternoon at the Bernabéu. Follow live build-up and then minute-by-minute coverage of Real Madrid vs Alavés with AS English.
11:03 | Granada come into this game knowing that a win would bring them to within five points of the clubs outside the relegation zone.
10:26 | Barcelona manager Luis Enrique had the cameras pointing at him yesterday and spoke about star players Messi and Piqué, both of whom will be missing from today's game.
10:05 | Welcome to today's live build up to the final game of Sunday's Liga action as second top Barcelona travel to second bottom Granada. On paper, this has an away win written all over it but as we've seen all too often this season, few results can be taken for granted.
---
Granada vs Barcelona: preview
Barcelona have some fond memories of Granada. It was in the Andalusian city that they secured their last Liga title but ahead of Sunday's visit the panorama is somewhat different for Luis Enrique's side. The Azulgrana are playing catch-up behind Real Madrid in the title race and any further slip-ups will leave them in serious danger of relinquishing their crown. For Granada the situation is far more precarious: the Nazaríes are deep in the relegation mire and in desperate need of points to avoid dropping into Segunda for the first time since 2010-11. A home win in Los Cármenes will rank as one of the surprises of the season but nothing is impossible and Granada may require a miracle or two before the season is out.
Granada
The international break has given Granada the chance to regroup and to forget the debacle in Gijón last time out when they led Sporting 1-0 after 50 minutes but ended on the wrong end of a 3-1 defeat to an immediate relegation rival. Granada are eight points from safety with 10 games to go and Lucas Alcaraz has stated that they need positive results from at least six of those games to stay up. It isn't the easiest task in La Liga but Barça have been proved vulnerable this season and it would be a morale-boosting place to start for the home side.
Alcaraz has not suffered the effects of the Fifa virus in the same way as Barcelona but he has some injury concerns ahead of the game and will sweat on the fitness of key players Adrián Ramos, Héctor Hernández and Matthieu Saunier.
Barcelona
Barcelona's recent fixtures have been marked by a one step forward two steps back tendency. Luis Enrique's side had cut the gap to Madrid at the top of the table and spent a brief moment ahead of their arch-rivals but defeat to Depor in A Coruña set them back again. Barça will be acutely aware that they cannot afford to drop points against a side that on paper shold not be causing them any discomfort and in the knowledge that this is the least demanding of three Liga fixtures in a busy week.
In view of the fixture pile-up and his injury problems after the international break, Luis Enrique will rotate his squad in Los Cármenes. The Barça boss will have to do without his talisman, Leo Messi, who is suspended as well as Arda Tura, who was injured playing for Turkey. Gerard Piqué will also sit out the game in Granada after being given permission to skip training on Thursday and he will not travel with the squad, leaving the onus on Samuel Umtiti to continue his recent imposing form at the back.
---
Granada vs Barcelona: selected betting odds
Barça are naturally heavy favourites for the win, with 2-0 to the visitors the shortest odds available on an away win at 7.5/1. A cheeky 1-0 win for the home side is chalked up at 51/1 while a 1-1 draw is priced at 15/1. The result in the return fixture at Camp Nou was 1-0 to Barcelona.
Granada vs Barcelona: bet on the match
---
Granada vs Barça: match build-up