Bad news for Bayern as Müller the latest to suffer injury
Thomas Müller will miss Bayern's next two Bundesliga matches, but should return just in time for the Champions League clash against Real Madrid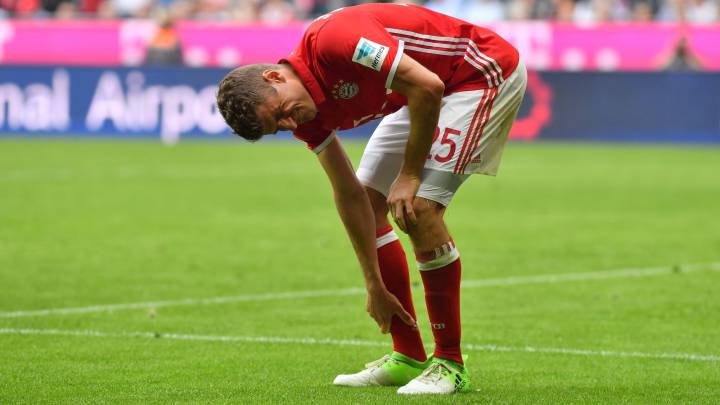 The tide of bad news shows no sign of turning for Carlo Ancelotti and Bayern Munich, ahead of the German club's upcoming Champions League clash with Real Madrid. Thomas Müller has added to Ancelotti's woes following existing injuries to Manuel Neuer (foot) and Douglas Costa (knee).
Müller completed Augsburg match
The German poacher collided with Augsburg defender Cristoph Janker on Saturday, and received treatment on the sideline as Bayern cruised to a 6-0 victory over their Bavarian neighbours. It appeared to be nothing more than a scare as Müller completed the match, scoring two goals in the process. "All is in order", commented the 27 year old after the game.
Race for Real Madrid fitness
Yet, two days later, concern emerged from the Bavarian capital. According to Sport Bild, the swelling has not subsided, and as a result, the player will miss Bayern's next two Bundesliga matches against Hoffenheim and Dortmund.
Like Manuel Neuer, Müller should return to action in time to face Real Madrid in the Champions League quarter-final, on the 12th of April. That said, it is far from ideal preparation for such a crucial match.
For Ancelotti, the trip to Madrid will herald a return to the club he managed from 2013 to 2015, before taking the reigns at Bayern. Last week, he insisted that influential president, Florentino Pérez, never influenced his team selection at the Bernabéu.
Bundesliga
Leaders
Aubameyang

16

Goals
Thiago

1327

Passes
Steals
*Update 3 de abril de 2017