Juanfran: "Madrid are having an incredible season but we've improved since November"
The Atlético de Madrid right-back spoke about the great moment the team is in: "We've been through a bad patch, and we emerged stronger".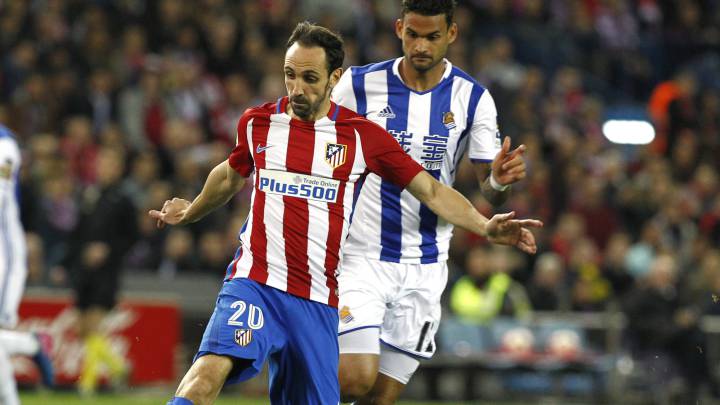 Atlético de Madrid right-back Juanfran spoke about the great moment the team is in: "We've been through a bad patch, and we emerged stronger".
Atleti, impressive against Real Sociedad last night
The team is back at its best…
We're very pleased, very happy, and we are relaxed about it, we are not going go crazy. We'll downplay any euphoria whilst knowing that we are ok, we're strong, but we have to remain this way from now right until the very end. Now is when the psychological side of the title race comes into play and we have to give everything so that we can reach the end of the season in a good position.

What has happened to Atleti in 2017?
We went through our bad patch in November-December. Every team goes through ups and downs and it can happen to you at any point in the season. The problem with us is that we have set the bar so high that it might seem that we are immune to bad moments - but every team suffers dips in form and that's when we have to take advantage. The poor run has made us stronger and shows that this Atleti can confront adversity. Let's hope we can keep this up until the last day.
Juanfran relishing Saturday's Madrid derby at the Bernabéu
How do you see Atleti and Real Madrid going into Saturday's derby?
Madrid are in a great moment - they're top of the table, winning all of their games, they have gone a long time scoring in every game they play… They are an extremely difficult team to play against; to take something from the Bernabéu we have got to be even better than we have been up until now. It's a big challenge for us but we have complete faith in the coach - he's leading us in the right direction to get the very best from us.

What have you learned from the first half of the season?

We haven't had time to analyze the first round of matches but it's clear that Madris were better than us. But things have changed since then and now we are in a different moment, Madrid are still doing well but we have improved. Let's hope we can use the dynamic we are in to our advantage at the Bernabéu - it'll be difficult because they're the league leadersand they're having an incredible season.



LaLiga Santander
Leaders
Messi

12

Goals
Roque Mesa

1007

Passes
Steals
*Update 5 de abril de 2017