Madrid lose patience with James as summer exit beckons
The Colombian's reaction to being substituted during the Leganés game has been the tipping point. Zidane has been advised to continue to play him to avoid market deprecation.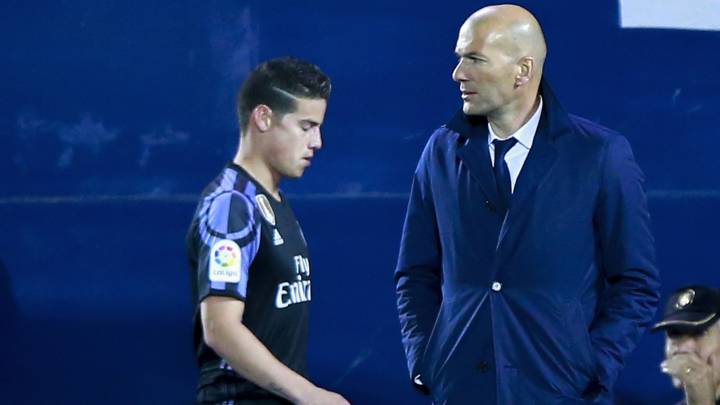 Real Madrid have had enough of James Rodriguez with his reaction to being substituted in Burtarque during the midweek league game against Leganes the tipping point.
If any previous doubts existed withing the club, his reaction on Wednesday has convinced the board of directors that the Colombian midfielder will depart the Bernabeu during the forthcoming summer transfer window. Despite his undoubted talent, the player has struggled to make an impact all season and is the third last outfield player with accumulated playing time in the current campaign under coach Zidane.
World Cup star
James Rodriguez moved to Real Madrid from AS Monaco after a stunning performance at the 2014 Brazil World Cup winning the Golden Boot. The Colombian has bagged 22 goals in his 70 appearances for Madrid to date but internal issues in relation to his poor attitude when not being selected whilst other peripheral squad players (Lucas Vázquez, Asensio, Nacho…) accept their situation within a competitive dressing room have forced a stituation of no return for the player.
No u-turn
The is to be no u-turn at Real Madrid relating to the Colombian's future at the club but the message that Madrid plan to convey to the outside world is another, fully aware that sidelining the midfielder would have a serious knock-on effect on his exit transfer fee, hence the French coach affirming in his post match press conference that he would like James in his 2017/18 squad.
There are no shortage of apparent suitors for the Colombian player's services with many top European sides (Chelsea, Juventus, Liverpool ...) apparently interested in the player.
---
Update 12 May 2017: James has reached an initial agreement with Manchester United.