Atletico's Griezmann to Real Madrid: the secret plan
The French news outlet L'Equipe has surprised many with their front page on the morning of the Madrid derby by stating the Frenchman is his rival's target for 2018Copa del Rey 2017 last 16 draw: live online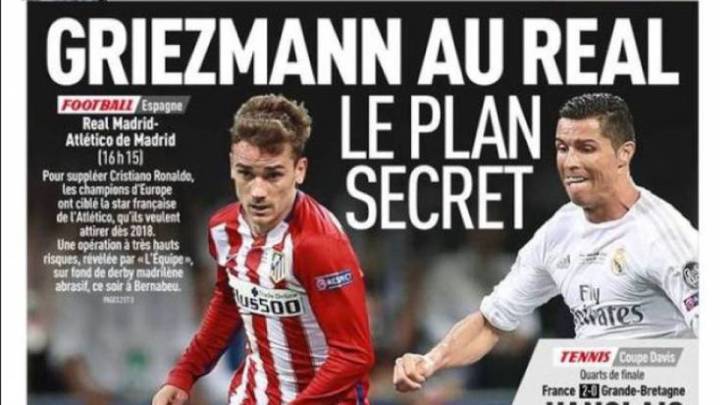 With only a few hours to go until the Spanish capital derby between Real Madrid and Atlético Madrid, French media outlet L'Equipe have reported what would be a major transfer shock: Antoine Griezmann to move across town to Los Blancos.
Griezmann to offset Cristiano demise
According to the paper, the Bernabéu side will make the move - being called "The Secret Plan" - during the summer of 2018 in an attempt to minimise the effect on the team, and fans, of their current talisman Cristiano Ronaldo's decline. By then, the Portuguese star will be 33. This claim, however, comes just hours after sports consultant, and adviser to the player, Eric Olhats said that this move would not happen stating that "there is a pact of non-aggression between the sides".
Premier or Liga?
The release clause in Griezmann's current contract, a tidy 100 million euros, is a barrier to many sides however those that have shown an interest - without placing a concrete offer - would be able to match that. Those clubs being linked include Premier League rich boys Chelsea, Manchester United and Manchester City as well as Barcelona and Madrid.