Real Madrid's Isco celebrates Málaga win over Barcelona
The Madrid playmaker, who was born in Andalusia, was quick to take to Twitter after his old club defeated title rivals Barça. Van Nistelrooy also sent his message.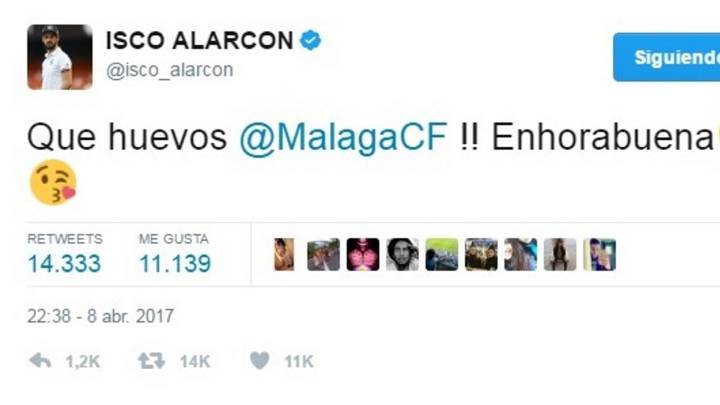 Real Madrid's Isco Alarcón, took to Twitter after his old club Málaga had defeated Barcelona 2-0, which aided his current side's Liga aspirations. Earlier in the day Madrid had dropped two points at home to neighbours Atlético and many expected title rivals Barça to move to the top of the table with a game against lower half opposition. But Michel's outfit were not lying down for anyone.
"What balls, Málaga"
Isco, who played for the Andalusian club between 2011 and 2013 before moving to the Bernabéu, used a typical Spanish phrase in his tweet, which translates as "What balls, Málaga! Congratulations" referring to the team's character.
Ex-Madrid players congratulate Málaga
Another former player of both Málaga and Real Madrid, Ruud Van Nistelrooy, also posted a message of congratulations for the south coast team. There was no hiding the Dutchman's focus as he ended with the hashtag "#Hala Madrid."
After yesterday's action, Real Madrid remain on top of the table, three points ahead of Barça and with a game in hand.