Sevilla president Castro opens up on Sampaoli, Navas and Moreno
The president says that the coach is happy where is his: "He has a year left to run on his contract". As for Jesús Navas: "He is another option we are working on".Real Madrid-Sevilla live: LaLiga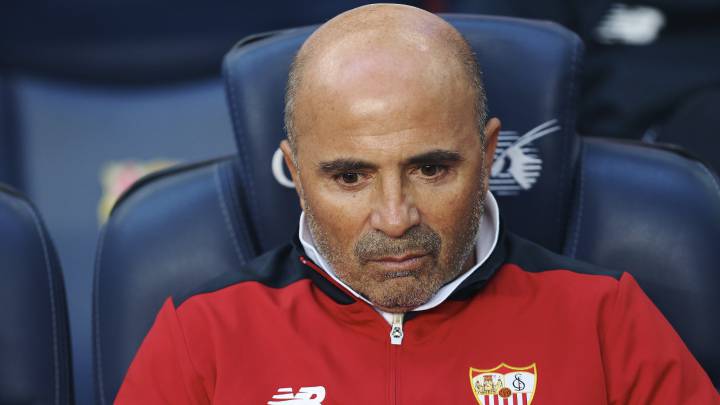 Just as they do every year, Sevilla performed the Easter floral offering at the Hermandad de San Benito. After the event, president José Castro attended the media and spoke about several of the issues concerning the club at the moment including the future of Jorge Sampaoli in the wake of Edgardo Bauza's dimissal from the Argentina job, and Jesús Navas' rumoured return from Manchester City.
Movements: "There's no escaping the rumours. Yesterday I spent a good while with Jorge Sampaoli and I am not worried about the future - I am only concverned about the present because we have a lot in play. I'm thinking only about these last seven games which will concluded a season which hopefully will turn out to be a very good one for us".
No special clause in Sampaoli's contract for Argentina
Sampaoli: "He always tells me about any interest from outside and he insists that he is happy here at Sevilla. He has a year left to run on his contract with us. The buy-out clause? One has been written into his contract but that is standard practice for all professionals in case they decide to leave. There is no special clause for the Argentina naltional team. Officially, we are not aware that Argentina are interested in taking him. The Argentine Football Association haven't said that they'll be coming to talk to our coach".
Monchi: "We knew that he would be moving on and since then we have been working flat out on the matter. Very soon there will be news about the person we will be bringing in to the technical department. All that worries me now is that the team keeps winning because the league is entering a crucial stage and I don't want the team to be detracted".
Sampaoli's Sevilla on course to overtake Emery's points record
Objective: "We are going to try to finish in third place but it's also important to make sure we are guaranteed fourth at the very least. We are on course to set a new club points record*. We have to make sure we win all of our remianing home games - that is fundamental. We also have a few away game which we need to win - Valencia and Málaga. There is always time for the future, but not the present".
Former players Navas and Moreno linked with return to Seville
Jesús Navas and Alberto Moreno: "The technical department is working on the squad for the new season. Jesús Navas? He could be one of the players they are thinking about. He could be an option for us, like many others. Right now we have to put confidence in the squad we have so that they can reach the objective of qualifying for the Champions League. Alberto Moreno? I'm not aware of anything with him".
Easter celebrations: "I think Sampaoli enjoyed it. It was a bit odd for him because it's the first time he's seen something like this".
*Sevilla are currently on 61 points with seven games remaining. The club record is 76 points, set by Unai Emery's team in 2014/15
LaLiga Santander
Leaders
Messi

12

Goals
Roque Mesa

1007

Passes
Steals
*Update 11 de abril de 2017