Borussia Dortmund vs Monaco Champions League: As it happened, match report, action, goals
Monaco and Dortmund lived up to the billing as two of the best teenagers in the world went toe-to-toe and Monaco came out on the other end of a six-goal thrillerMonaco-PSG live online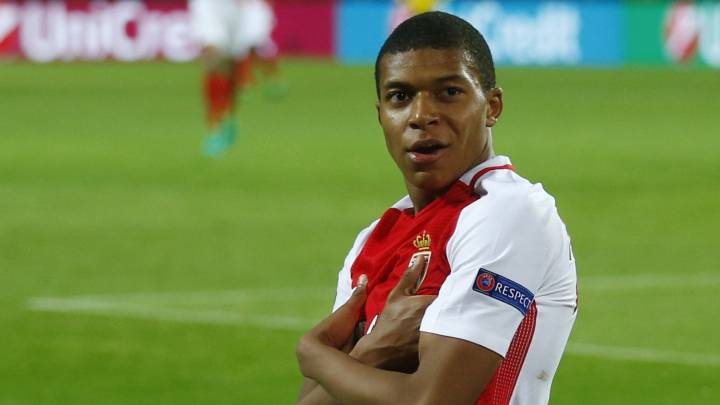 Borussia Dortmund 2-3 Monaco: match report
In a game that was postponed from Tuesday night after an attack on Dortmund's team bus that left Marc Bartra needing surgery on his arm, football took somewhat of a backseat in the build-up to this one. It wasn't forgotten, however, that this one had promised a lot.
Mbappé helps fulfill early match potential
That promise started to fulfill its potential early on when one of the main attractions of the tie, Kylian Mbappé, was pulled down inside the penalty area and the away side had a chance to take an early lead. Fabinho, though, struck low and wide of the post and Monaco had to go back to the drawing board.
Mbappé was not to be foiled that easily and he made it 1-0 just two minutes later on 19 minutes when he kneed home a cross by Thomas Lemar. It was offside but he wasn't complaining, or waiting to see what the linesman said.
Monaco double their lead in first half
It was 2-0 before long when a cross from the same left-hand side met the head of Sven Bender and he put it beyond his own goalkeeper under some light pressure from Radamel Falcao. He wanted a free kick but the referee saw no infraction.
Second-half changes aid Dortmund recovery
Dortmund made two changes at half-time and Cristian Pulisic made the biggest difference of the two. The other one was Nuri Sahin, who would be involved in Dortmund's comeback himself.
Ousmane Dembele, another one of the youngsters we had all signed up to see got Dortmund back into it after an unorthodox backheel from Aubameyang that landed with Kagawa, who put it on a plate for the French striker.
There was more to come from Mbappé though when he found himself with the chance to extend Monaco's lead after 79 minutes and he made absolutely no mistake when he curled beyond Bürki to almost finish the tie.
Dortmund give themselves a chance
That was before Pulisic took off down the wing for the umpteenth time since he had come on at the break. The ball broke to Sahin who sent a hopeful cross into the box. it fell to Kagawa who kept his cool and slotted beyond Subasic to give Dortmund a flicker of hope with the return leg in just a week.
Dortmund may feel hard done by, being forced to play the game less than 24 hours after the attack on their bus but they more than held their own. They will require an excellent effort in France to qualify but with more time to concentrate on their preparation, they might push their hosts to the limit.
Read below to find out how it happened in real time...
---
Borussia Dortmund 2-3 Monaco: second half
FT: That's it. Monaco will take a goal lead back to France after what was nearly an excellent comeback.
Min 90+2 | Poor pass by Dembele that is picked off by Dirar, who is fouled by Guerreiro might have killed off any hopes that Dortmund have. Just seconds remain now.
Min 90+1 | Dembele crosses into Aubameyang. The Gabon international headers over but he looks up and wants a penalty. He felt like he was being held. Replays show that it would have been soft.
Min 90 | Pulisic with a lovely run and he gets the ball in behind. His cross is cleared at the first time of asking by Monaco. He needs to pull that back to Dembele who was waiting for it.
Min 89 | Aubameyang beats Glik down the left and gets a cross in. Dembele gets a head to it that takes it away from goal. He might have felt like he was being pulled there but the referee has a good look at it and says NEIN!
Min 88 | Dembele with a curling cross in search of Aubameyang. Cleared by Monaco.
Min 87 | Dortmund with another corner that bounces around for a time before Pulisic kills it. He drives a volley well wide.
Monaco substitution: Falcao comes off for Germain.
Min 84 | GOAL!!!!! Out of nothing. Sahin whips a ball in, in more hope than anything else, and Kagawa picks it up before turning inside a defender and slotting home. Lovely finish. All the word done from the little playmaker. Dortmund are not out of this one yet.
Min 83 | Nope. Nothing doing for Dortmund. A high ball looking for Aubameyang lands in the grateful hands of Subasic as he falls to the ground to eat up a few seconds.
Min 81 | Fabinho booked now for getting his boot caught in Dembele's. Not sure if there was intention to do that and only the Monaco player will know but the ref thinks it merited a booking.
Min 79 | GOAL! GOAL! Mbappé puts this one to bed, it seems. Mistake by Weigl as he sells Sokratis short with a pass in the middle. Mbappé picks it up and with loads of time and space, he picks his spot and curls beyond Buerki. An absolutely astonishing finish from such a young player.
Min 77 | Dortmund with another corner. Sokratis rises highest but he can't get to the ball with the Monaco bodies in the way. It falls to Pulisic and he has a crack but Subasic saves it.
Min 76 | A chance to put the game to bed. Lemar gives the ball to Falcao, who takes it beyond Buerki with his first touch but drives over as he was falling backwards. Could have ended the tie with a goal there.
Min 74 | Mbappé makes it look easy as he loses two defenders before being fouled by Sokratis. He wasn't touched and the French striker wants a card. Referee isn't forthcoming with one and the Dortmund defender is pleasing that it wasn't even a free. He might have a point.
Min 71 | Dembélé and Aubameyang on the wrong page there as the former tris to put the latter through on goal but he doesn't judge his run. As soon as I finished typing that, I looked up and Dortmund had the ball back. Dembele skips past a challenge and after a one-two with Pulisic, he gets a shot off. It's blocked and goes out for a corner. Skratis a little rough in his attempts to get the ball from the set-piece and Glik wins a free.
Min 70 | No dice. But they continue to look dangerous. Dirar tries to put Mbappé through but he isn't THAT fast. Dortmund build again.
Min 69 | Guerreiro headers down to Kagawa and Dirar takes him down. The substitute receieves a yellow card and Dortmund continue to knock on the door. Guerreiro with another chance to swing one in.
Min 67 | Pulisic continues to prode down the right. This time no chance comes from it but Guerreiro wins a free-kick after handball out the other side, on the left. He stands over it now. Headered down and Monaco clear.
Monaco substitution: Bernardo Silva is replaced by Nabil Dirar.
Min 63 | Kagawa chests one down and into the path of Aubameyang but he needs to play some more headers and volleys before he can try that one in public. His technique is all off and he drives, or slices, it wide.
Min 62 | Guerreuiro chases down a ball from the left. He keeps it in before Bernardo Silva tries to kick it off him but the Portuguese left-back keeps it. He drives a cross across the goal but no Dortmund player willing to put their head to it such was the speed of it!
Min 60 | Dembélé chips one towards Auba, and he is so close to taking it down, but can't. Dortmund's attackers are really playing with confidence now.
Min 59 | Guerreiro whips a free in but Subasic collects with ease.
Min 57 | GOAL! GOAL! GOAL! Dembélé pulls one back. sahin out to Guerriero, who swings a cross in. Aubameyang with an unorthodox backheel before Kagawa puts it on a plate to Dembélé. The home crowd have refound their voice and dortmund have a renewed sense of optimism.
Min 55 | Dembélé wins a corner after taking on Jemerson and Glik down the right and nearly beating the two of them with his pace. The corner comes in and Buerki collects the header.
Min 52 | Yes. Pulisic in around the back and takes an excellent touch that takes him beyond the last defender. He squares but Monaco clear. Just second after and he is attacking from the right again. He pokes it to Dembele after going as far as he can but Dembele's shot is blocked. A completely different dortmund in this half.
Min 51 | Pulisic has already improved Dortmund. He gets the ball out wide from a sweeping pass by Kagawa and he puts it across the box. Dangerous ball, but Monaco manage to get it away.
Min 49 | Really risky ball back to Subasic by Glik with Aubameyang in chase. He nearly gets a toe to it before the keeper slides and gets it out for a throw. Risky business.
Min 47 | Dembélé hits it but it's well wide.
Min 46 | Really early chance for Dortmund. Jemerson takes Aubameyang down just outside the penalty area and recieves a yelloe card for himself.
Min 46 | Back underway as Dortmund try to get themselves back into this.
Dortmund substitution: Pulisic comes on for Schmelzer and Nuri Sahin replaces Sven Bender.
---
Borussia Dortmund 0-2 Monaco: first half summary
Monaco have had far less possession but also have a two-goal lead with a missed penalty to boot. Jardim needs to take credit here for how well his side are set up. They are frustrating the opposition and limiting them to half-chances along with mistimes passes and shots, which has left them reeling.
Much was made of the two French attackers for either side but a brief spell from Mbappé that saw him win a penalty that Fabinho missed and also saw him take the lead with a tap-in has given him the advantage over Dortmund's young talent, Ousmane Dembele.
An own goal from Sven Bender helped Monaco go two in front after 35 minutes.
Thomas Tuchel needs to make a change at half-time as his side look susceptible on the break and not good enough going forward to trouble the visiting Ligue 1 leaders.
---
Borussia Dortmund 0-2 Monaco: first half
HT at Signal Iduna Park.
Min 45+1 | Bernardo Silva throws a few shapes and makes some ground before spreading it out wide to Falcao, who has his shot saved. Monaco play the ball out from the back with pure confidence. Even under massive pressure, they know where their teammates are and know that they can find them.
We will have two minutes added on at the end of the half.
Min 45 | Ball in behind the back looking for Kagawa but it has too much hot sauce on it. Subasic comes out and seems to give Kagawa a bit of a right as he opts not to chase it any further.
Min 43 | Dembélé controls one of the ball across the box and pokes it towards the goal but Subasic boxes clear.
Min 42 | Yet another cross that is far too long and high for any of the Dortmund players occupying the penalty area.
Min 41 | Ginter booked for a late tackle on Lemar, who has been in the wars tonight, as they say. He picks himself up again though.
Min 40 | Dortmund enjoying 67% of possession so far. Monaco with just 33% but have had the better chances, looked more dangerous and lead 0-2 as the first half nears its end.
Min 38 | Another ball across the box by Dembele slips this time.
Min 36 | Dortmund have another chance. Guerreiro is offside though. Frustrating night for them so far.
Min 34 | GOAL! Bender with an own-goal. Raggi swings one in from the left, Falcao seemes to stand on the defender's hell and the Dortmund man headers into his own net. He wanted a free for a push but it was a second or two after Falcao made contact and it was hardly the reason he put it beyong his own keeper.
Min 34 | Another cross to Auba is too high but Dortmund win it again and continue to attack. Ginter has a shot with his left that falls to Dembele but he is offside. He missed anyway, but you get the idea that he wouldn't have if he didn't think he was offside.
Min 32 | Dortmund getting a little but more frisky up front. Dembélé has a run at Glik but his final ball is intercepted by a Monaco defender. Better from the home side. They're moving the ball forward with more speed.
Min 31 | Ball out wide to Schmelzer, who takes it down and inside Raggi with great technique. He crosses to Kagawa but the former Manchester United attacking midfielder can't get it on target as he turns it towards goal.
Min 28 | Mbappé down grabbing his ankle after Ginter gets a little rough with his marking of the striker. Free on the left that is swung in but it's too high for anyone from either Monaco or Dortmund to reach.
Min 27 | Tuchel out with his hood up and he tries to avoid the rain but he is asking for more from his team.
Min 25 | Lemar back up again after he turned himself into a human stapler. Dortmund on the attack now. They move the ball with immense speed as they rotate from right to left but Monaco staying disciplined and leaving no spaces unmanned.
Min 23 | Ooooh. A really bad fall for Lemar as he falls on his back and his legs flip over his head.
Min 21 | Mbappé in again. Falcao plays him through this time and Piszczek gets a foot in to put it out for a corner. The young Mbappé making it look so easy. Creating chances out of nothing and always a threat.
Min 19 | GOAL! Bernardo Silva drives forward. He passes out wide to Lemar, who finds Mbappé's thigh before it rolls over the line. He was a yard offside, as replays show. Very poor decision from the linesman and a stroke of luck for Monaco.
Min 18 | Mbappé is not done yet. He drives into the penalty area but dortmund get back and crowd him out of it. He was moving at such a high speed that even the slightest of poor touches was going to send the ball skidding away from him. He is causing Dortmund serious problems so far.
Min 17 | MISS! He drives it low and wide!Buerki dived the right way and he seemed to have it covered but he didn't have to lay a finger on it as Fabinho zips it wide.
Min 16 | Penalty! Sokratis pulls Mbappé down inside the penalty area after the French striker sneaks in behind him. He definitely made contact. Referee has no doubts. Fabinho steps up.
Min 15 | Guerreiro launches a ball to the back post and Aubameyang can't get to it but he chases it down before it leaves the field and gets it to Weigl on the edge of the box. His shot is way off target and he apologises to his teammates. There were better options around him.
Min 13 | Ginter finds Kagawa, he plays it wide to Dembélé but his lay-off to Schmelzer is slightly off it's target and it slows Dortmund down. Nothing comes of their most recent raid. No early signs of nerves from Dortmund. They are attacking well and controlling possession without doing too much.
Min 12 | A ball in from wide by Touré meets the head of Lemar but he is in an awkward position himself and was always going to struggle to get the ball on target. He doesn't, as it flies over.
Min 11 | Aubameyang with the first chance of the game. He is put through by Ginter and he fires over from a tight angle. Subasic was comfortable but a sign of how easy he can get in behind.
Min 10 | Glik fouled by Dembélé. The Polish defender is not happy but the French striker was purely going for the ball. Maybe a little too robust in his search for possession.
Min 9 | Touré's ball in behind looking for Mbappé is just a split second too late and he is ruled offside.
Min 8 | Piszczek with an ambitious ball in around the back but Aubameyang puts enough pressure on Glik to force a clearance that flies up in the air. He manages to get it away though.
Min 6 | Monaco yet to get into the flow of things. Sitting slightly deeper than Dortmund and allowing the home side to play it around at the back.
Min 5 | Aubameyang trying to get on the end of a through ball but Glik slides in and gets it back to Subasic, who clears. Dortmund with the better start but nothing doing yet as they continue to size up the opposition.
Min 4 | Silva raiding down the right. He finds Mbappé in the centre and with a drop of his hips, he nearly goes by Weigl before being pulled down.
Min 3 | Dortmund take control of the ball now. Sokratis driving forward and looks to Bender as he launches towards Kagawa but Monaco resolute at the back.
Min 1 | Plenty of action around the middle anywhere. Nobody has a second to take the ball and do anything as both sides seem intent to pressure their opponents. Buerki kicks a ball out over the sideline under pressure.
Min 1 | We are underway at Signal Iduna Park.
---
Borussia Dortmund vs Monaco live stream online: team news
Borussia Dortmund XI: Bürki, Bender, Dembélé, Guerreiro, Auba, Kagawa, Sokratis, Piszczek, Ginter, Schmelzer, Weigl.
Monaco XI: Subašić, Fabinho, Jemerson, Moutinho, Falcao, Silva, Raggi, Glik, Lemar, Mbappé, Touré
---
Borussia Dortmund vs Monaco live stream online: latest news
18:44 | Three huge cheers for Bartra as the fans wish him a "Get Well Soon".
18:36 | 'You'll Never Walk Alone' blaring for Signal Iduna Park now as it takes on special significance tonight.
18:29 | A whole load of respect swirling around Dortmud tonight. The Dortmund players are applauded onto the field by visiting Monaco and the Dortmund squad applaud them back as thanks.
18:20 | A video here with a Dembélé versus Mbappé head to head. I have said it before and I will say it again, we have been utterly spoiled with the quarter-final draw this year!
18:18 | Dortmund's CEO Watzke says, "I'm incredibly grateful to the team that they have made themselves available to play tonight."
18:10 | Marseille are the only team to ever beat Dortmund on home soil. That was back in 2011 when they lost 3-2. The other eight attempts ended in three draws and five losses. So, between that and Dortmund's home record, it might be difficult for Monaco tonight. We have, however, rarely seen such an energetic young and exciting team.
18:04 | Benjamin Mendy is out tonight. Not to leave the 22-year-old out of the pre-match talk, he is very highly-rated too and Monaco will be worse off without him. Oh, and another world class midfielder in the making, Tiemoué Bakayoko is out with ayellow card suspension.
18:01 | Silva and Lemar start on the wings with Moutinho and Fabinho protecting the back four in the pivot. Mbappé and Falcao will start up front. Touré, Glik, Jemerson and Raggi will be at the back starting from right-back across the line.
17:57 | Radamel Falcao has only started 11 games in the Champions League and has scored eight goals. He starts tonight as the captain of Leonardo Jardim's side.
17:47 | We have the Dortmund team news. It looks like we will have a back three of Sokratis, Bender, Ginter. Tuchel has selected a midfield of Piszczek, Weigl, Guerreiro, Schmelzer and then Dembélé, Aubameyang and Kagawa as the three attacking players.
17:45 | Dortmund will warm up with these t-shirts that they posted on their Twitter account just now in support of Bartra.
17:42 | A very interesting stat here for anyone thinking Monaco might win tonight. Dortmund are unbeaten in their last 32 matches at home and lost just one of their last 45 - a loss to PAOK in the UEFA Europa League in December 2015.
17:38 | Marc Bartra has taken to both Instagram and Twitter with a message for all the well wishes he has received:Hello! As you can see I am doing much better. Thanks for all your messages! All my strength to my team mates, fans and to @BVB for tonight!
17:31 | We are expecting team news any minute now. The incidents last night really confuse this game and the course it might take. Nobody knows how Dortmund, who you might have as favourites given it's at home, will react to last night. It could strengthen them or it could zap them of energy as I'm sure they've spent plenty of time thinking about what happened.
17:17 | He is not the only youngster who has a bright future ahead of him. Monaco's squad has an average age of just 25 and the likes of Thomas Lemar, Fabinho and Bernardo Silva will be fighting off suitors this summer. Manchester United reportedly have first refusal on Bernardo Silva. Atletico have been linked with Lemar and Fabinho is a bit like Mbapoé, he has been linked with a host of different clubs.
17:05 | Kylian Mbappé, who has courted speculation about his future for some time now, has two goals in the Champions League this year. Since the Manchester City game, he has made his full debut for France and has also been linked with the likes of Barcelona, Real Madrid, Manchester City and every other big club in the world. He's so good that one of the top three players in the world, Antoine Griezmann, says Mbappé is going to put them all on the bench!
16:51 | I got a chuckle out of one particular story where a football fan's Mother went to pick up one or two Monaco fans from the train station and came back with eight!
16:47 | The response from Dortmund fans has been widely applauded. Monaco fans, obviously needing places to stay after the game was postponed until tonight, were welcomed into houses across Dortmund. There was a hashtag set up #bedforawayfans and the images that emerged were truly eye-opening. Here is a gallery of some of the new friendships forged last night.
16:45 | Borussia Dortmund have lost seven of their last 10 Champions League knockout games.
16:40 | Some lovely images emerging of both Dortmund and Monaco fans wearing Bartra number five jerseys. It seems the whole place is united after the attack last night.
16:33 | AS Monaco score 15 goals in eight games. Their last tie against Manchester City was 12-goal thriller across two legs that they managed to survive. Make no mistake about it, the hye around this one is merited.
16:30 | Dortmund have scored 26 goals in eight games in this season's Champions League inlcuding eight against Legia Warsaw in the group stages. They are coming off a loss to Bayern Munich in the league that might have dampened the mood heading into the Monaco game.
16:16 | It seems that Lukasz Piszczek might be drafted in to play at centre-back in the spanish defender's absence. Matias Ginter and Sokratis will partner him in the back three while Marcel Schmelzer could play out at left wing-back.
16:13 | Borussia Dortmund's sporting director Michael Zorc has been to visit Marc Bartra in hospital and he is comfortable. Says he will watch the game from his hospital bed. Such an unfortunate set of events that has led to him not being available.
15:45 | Club CEO Hans-Joachim Watzke that Borussia Dortmund "are not just playing tonight for ourselves - we're playing for everyone".
15:15 | Here's more on the news that an arrest has been made in the wake of Tuesday's explosions.
14:25 | German prosecutors have been giving a press conference on Tuesday's events, confirming that two suspects are being investigated, with one arrest made. "We are treating this incident as a terrorist attack. An Islamic background is possible," lead prosecutor Frauke Koehler has said, per Deutsche Welle.
14:10 | With Real Madrid also in action in Germany today, law enforcement authorities are on "high alert" ahead of Los Blancos' Champions League clash at Bayern Munich.
13:25 | There has been criticism in the German media over the rescheduling of the match for 24 hours after the attack on the Dortmund team bus, but Watzke has told Deutsche Welle that "there was no alternative."
13:10 | It's sure to be a strange, highly-charged atmosphere at Signal Iduna Park this evening. "Now we need to try to come to terms with the shock," Dortmund CEO Hans-Joachim Watzke said yesterday. "We have to play again tomorrow. That will be a real challenge."
13:00 | The club took to Twitter today to thank home fans who'd shown solidarity with Monaco's travelling support.
12:50 | The explosions in Dortmund have brought out the best side of football fans, with many taking in travelling Monaco supporters for the night under the Twitter hashtags #bedforawayfans and #tableforawayfans.
12:00 | German police are understood to be investigating an 'Islamist link' to yesterday's blasts. The full story on that is here.
11:45 | Good morning - join us for build-up to this evening's rescheduled match, and of course all the latest developments surrounding Tuesday's explosions in Dortmund.
---
Borussia Dortmund vs Monaco: match preview
Dortmund and Monaco are to play one day later than planned, after the original fixture was postponed following an explosion near the Dortmund team bus, which hospitalised defender Marc Bartra.
AS English is reporting on the incident as news emerges.
Borussia Dortmund
Thomas Tuchel's side will hope that the Champions League can provide an antidote to their shaky form in the Bundesliga. At the weekend, Borussia fell to a 4-1 defeat at the hands of Bayern in Der Klassiker. They find themselves in fourth place, 17 points behind league-leaders Bayern.
Marc Bartra will be unavailable as a result of the injuries he sustained in the incident on Tuesday evening. Erik Durm, Andre Schurrle, and Mario Gotze are also injured. Marco Reus, Lukasz Piszczek, Julian Weigl, and Shinji Kagawa are in training following spells on the sideline. It is uncertain as to whether they will feature, given a lack of sharpness.
Tuchel's pre-match comments suggest that it'll be a flowing contest: "we will try to score as many goals as possible. If we have the ball, we will attack. It is an advantage that we are at home for the first game because we can go on the offensive."
AS Monaco
Monaco have taken both France, and Europe, by storm this season. Leonardo Jardim has sculpted a young team that plays irresistable, attacking football. They have already scored over 130 goals in all competitions this season, and eliminated Manchester City in the previous round.
Young striker Kylian Mbappé has stolen the headlines, and his impressive performances have caused speculation regarding a move to Real Madrid.
Highly-rated defensive midfielder Tiemoue Bakayoko is missing through suspension, while full-back Djibril Sidibe is also unavailable due to apendicitis.
Jardim's main concern in the pre-match press conference was his team's busy schedule: "against Dortmund the problem will not be possession, it will be having only two days to recover before we play in an international competition," he said. Monaco have a home match against Dijon on Saturday.
---
Borussia Dortmund vs Monaco: match facts
This is the first ever competitive meeting between Dortmund and Monaco.
Monaco have had a tough time against German opposition in this year's Champions League. They played Bayer Leverkusen twice in the group stages, drawing the home game 1-1, and losing 3-0 away.
---
Borussia Dortmund vs Monaco: potential line-ups
Borussia Dortmund XI: Bürki, Piszczek, Sokratis, Ginter, Schmelzer, Weigl, Dembélé, Kagawa, Pulisic, Guerreiro, Aubameyang
Monaco XI: Subasic, Al. Touré, Jemerson, Glik, Mendy, Moutinho, Fabinho, Bernardo Silva, Lemar, Mbappé, Falcao
---
Borussia Dortmund vs Monaco: match odds
Will we see a goal-fest? A 3-2 Dortmind win is available at 16/1.
Bet on Borussia Dortmund v AS Monaco
---
Borussia Dortmund vs Monaco: live streaming build-up