Anderlecht vs Manchester United Europa League 2016/17 quarter-final first leg: Match report, as it happened goals, action
Manchester United took the lead in the first half through Henrikh Mkhitaryan and looked comfortable before Dendoncker arrived from nowhere and gave Anderlecht a lifelineManchester United v. Manchester City live online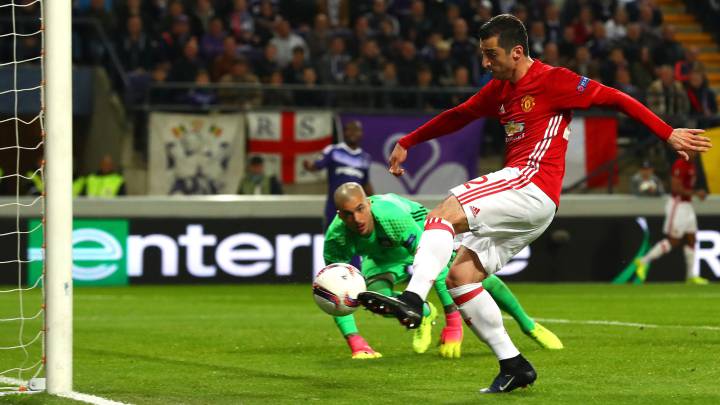 Anerlecht 1-1 Manchester United: match report
Manchester United remain in the lead despite a late equaliser from Dendoncker that sees them leave Belgium with a 1-1 draw after Henrikh Mkhitaryan had given them the lead in the first half.
Jose Mourinho made several changes from the side that won 3-0 against Sunderland last weekend and they started well despite some decent attacking spells by the home side. United came close when a cross made it's way to Zlatan in the six-yard box only for it to be saved by Ruben. The rebound by Lingard hit the post and as the game grew older, United started to take control.
United take the lead
Anderlecht were dropping deeper and relying heavier and heavier on the counter-attack as the half wore on but Henrikh Mkhitaryan struck before they could make it to the half in tact. A good move involving Ibrahimovic with the ball out to Valencia, a cross by Valencia and a good shot from Rashford that Ruben could only parry to the waiting Armenian. United had the away goal and it looked like they could go on to win two or three nil.
That wasn't the case though as Anderlecht arrived for the second half with more impetus about them and tried time and time again with the only thing letting them down there quality when it was time to shot.
Anderlecht level late
It looked like the game would peter out and Paul Pogba had a good chance to finish it when Ibrahimovic put him through on goal but Ruben saved yet again. Just minutes later, Anderlecht were level when Ivan Obradovic, Dendockner met at the peak of his jump and rifled home.
Anderlecht still have to go to Old Trafford and score but this is not the worst result they could have hoped for while United are left ruing plenty of chances that could have put them out of sight.
---
As it happened...
Anderlecht 1-1 Manchester United: second half
Min 90+3 | It looked like United would have a late chance for a corner but the ref blows it up.
Min 90+2 | Fosu-Mensah gets booked for launching himself into a tackle.
Min 90 | Free to Anderlecht. The crowd back in this one. Will the home side push on now for a winner? The home fans want them to.
Manchester United substitution: Fosu-Mensah replaces Mkhitaryan.
Min 88 | Pogba with another effort but he sends into the Belgian night sky.
Min 86 | GOAL! GOAL! GOAL! No, it's not! A absolutely thundering header from Dendoncker as he finishes off a cross. Really good finish.
Min 85 | This one is really fizzling out!
Min 83 | Ooooh, Pogba would have enjoyed that one. Zlatan pops it inside to him and he strikes it towards goal from a reasonable distance but Ruben saves. Corner. Fellaini gets his head to the corner but it doesn't have enough pace on it to beat Ruben.
Min 81 | Fellaini would have been whistled fairly hard if that went in. He has a shot that stings the gloves of Ruben in Anderlecht's goal.
Min 80 | Good effort and well work to Danni at the edge of the penalty area. He strikes it low and hard and United deflect it out for a corner. The set-piece nearly lands to an Anderlecht player but again, United scramble it away.
Min 78 | Fellaini, who starred for Standard Liege before a move to the Premier League with Everton is being whistled everytime he touches the ball.
Manchester United substitution: Fellaini replaces Rashford.
Anderlecht substitution: Teodorczyk replaces Kiese Thelin.
Min 74 | Zlatan makes it to the endline before pulling it back, but only as far as an Anderlecht player. Mbodji tries to play it out in his own six-yard box but Mkhitaryan jumps in front of it and flicks it up towards Mbodji's hand. He wants a penalty now but the referee waves it away too.
Min 72 | Bailly slips and allows Danni to steal in. He is away and loads of room in front of him but he opts to pull it back to Chipciu, with a poor pass. United manage to scramble it away. The home side want a penalty but there was no foul.
Min 69 | Tielemans lucky not to receive a booking now as he goes in slightly late on Mkhitaryan.
Min 67 | Obradovic is booked for a poor tackle on Rashford as Manchester United looks to counter-attack.
Min 66 | Danni with the ball going forward and he shoots but Bailly is watching him every step of the way and blocks his shot.
Anderlecht substitution: Stanciu is replaced now by Danni.
Manchester United substitution: Lingard is replaced by Martial.
Min 61 | United still not looking entirely comfortable but you get the sense that they do have the ability to turn the screw if they wanted. They're operating well below top gear.
Min 59 | What a chance. Tielemans plays Acheampong in on the left and he pulls it across to nobody but United clear only as far as Obradovic. His shot is dreadful though as he falls over while he is striking it. A let-off for United and Anderlecht should have done better.
Anderlecht substitution: Bruno is replaced by Chipciu.
Min 57 | Rashford the latest with a shot. He runs across the box, parallel to the goal, before unleashing a shot that goes straight into the chest of Ruben.
Min 55 | Darmian down the left and corkscrews a cross into the centre. Mkhitaryan gets a foot to it first time and it goes so close to curl into the top corner. That would have been a very special goal.
Min 52 | Tielemans in around the back now following a good move. His cross is blocked and falls to Pogba, who clears after taking it down. Anderlecht showing far more signs of life. They win another corner as Acheampong kicks it off Lingard.
Min 50 | So close by Anderlecht. Valencia clears off the line from a Bruno shot and Acheampong drives a volley off the right-back then for a corner. Acheampong back in again after being put through by Tielemans. Anderlecht knocking on the door.
Min 47 | Very dangerous free for Anderlecht as Carrick pulls down Acheampong and he gets a yellow card. Stanciu takes but he curls it high and over Romero's crossbar.
Min 46 | More action from Anderlecht.
---
Anderlecht 0-1 Manchester United: first half
HT at Constant Vanden Stock. Manchester United have gradually take control and Anderlecht really need some inspiration. The might bring on Teodorczyk at half-time because they need a goal. To think they can go to Old Trafford and win would be a little hopeful.
Min 45 | Mkhitaryan is lethal out of Manchester. He has scored in each of his last four Europa League games away from home.
Min 43 | Anderlecht remain chasing shadows. This could not be going any better for United. The home side seem keen to attack when given the chance but must be wishing for half-time now in order to regroup.
Min 41 | Corner for United but Mbodji clears again.
Min 39 | United retake control. Anderlecht need to keep battling here and not collapse. A goal is not vital just yet.
Min 36 | GOAL! GOAL! GOAL! Ibrahimovic lays it off to Valencia down the right. He swings in a first-time cross and Rashford shoots. Ruben gets down well to his right and saves but Mkhitaryan is there to tap it home. Advantage United now with that away goal and Mourinho is delighted.
Min 35 | Anderlecht seeing increasingly less of the ball. Manchester United yet to create that definitive chance but they seem to be getting closer.
Min 33 | Mkhitaryan tries to flick one over the top and he does by United players not alert to it and it bounces to Ruben.
Min 31 | Lingard is fouled by Appiah as he tries to go by the right-back and gets checked in the process. Zlatan stands over it. It's far enough out but he will probably fancy it. Which he does, but it doesn't have enough pace on it.
Min 29 | Mkhitaryan skips past the challenge of Nuytinck and plays it to Lingard but Mbodji gets himself back in time again. the central defender has save a Rashford hat-trick already!
Min 27 | Really nice ball over the top lands at Rashford's foot and he takes it down before Mbodji gets himself in the way. Mkhitaryan with the follow-up shot but it's blocked.
Min 25 | Ibrahimovic not looking very comfortable now after he was fouled but the referee plays on as United are in possession. Looks like it might be a dead leg?!
Min 24 | Mkhitaryan gets a yellow card for a really sneaky kick at the heels of Tielemans, who was streaking up the field.
Min 23 | Lingard swings a cross into and out the other side of the box as Rashford chases it down and keeps it in play. United starting to attack more sustematically now. Anderlecht having to make do with playing on the break.
Min 22 | Neither team really taking control of this one yet. United might have more quality, but Anderlecht are far from afraid. The home side have had a chance or two early on.
Min 19 | Rashford with a shot now but his effort looks nice, and delivers little, as it doesn't hit the target.
Min 18 | Very close to having the opening goal. The ball came in from the left and Zlatan gets a foot to it but Ruben saves. Lingard hits it off the post on the follow-up.
Min 17 | Anderlecht with another corner in as many minutes. A quick fright for United as Pogba scuffs it and it nearly falls to Mbodji. When it does come back in, no less than two Anderlecht players caught offside.
Min 15 | Sharp move by Anderlecht as Bruno drives a shot/cross across the box and thelin nearly turns it on target. He can't though as it came whizzing across the area.
Min 14 | Lingard wins a corner as Nuytinck puts it out over the end line. Mkhyitaryan swings it in but it can't make it beyond the front post. Anderlecht break.
Min 11 | Rashford tries to make his way into the box but Mbodji gets himself between the ball and Rashford forcing the young United striker to give away a free.
Min 9 | Acheampong with a shot that dribbles wide. Ambitious effort.
Min 6 | United confident at the back as they pass it around under pressure. Maybe a little too confident. Anderlecht nearly nick it off them but the visiting side escape. Even game in Belgium so far.
Min 5 | Romero comes out of his penalty are and tries to clear the ball but he misses and puts it out for a corner. He wants a free as Acheampong made contact after he kicked it. Referee says corner and no free.
Min 4 | Ball in around the back by Zlatan sees Rashford put Mbodji under pressure with his speed. The central defender gets it away with a sliding tackle.
Min 3 | Bruno with the chance to swing his foot at a shot just at the edge of the square but he misses it. Manchester United take it down now and try to gain control.
Min 2 | Kiese Thelin chests it down for Acheampong to have a strike but Bailly blocks it and puts it out for a throw.
Min 1 | We are underway in anderlecht.
---
Anderlecht vs Manchester United: team news
Anderlecht XI: Martinez, Kara, Bruno, Appiah, Nuytinck, Acheampong, Kiese Thelin, Tielemans, Dendoncker, Obradovic, Stanciu
Manchester United XI: Romero, Valencia, Darmian, Bailly, Rojo, Carrick, Pogba, Lingard, Mkhitaryan, Rashford, Ibrahimovic.
---
Anderlecht vs Manchester United online stream: latest news
20:54 | And another stat courtesy of OptaJoe: Zlatan Ibrahimovic has had a hand in 8 Europa League goals in 16/17 (5 goals, 3 assists), more than any player left in the comp.
20:53 | Anderlecht have won their last two home games against Manchester United, winning 3-1 in November 1968 and 2-1 in October 2000.
20:49 | Funnily enough, aside from the Club World Cup, the Europa League is one of the only trophy left for Mourinho to lift as a manager.
20:45 | Jose Mourinho knows this is the last chance saloon for them this season: "The special feeling is now it's the only competition we can win. We share our ambitions with seven other teams and we need to beat three of them. Anderlecht is the first. I try to share my special feeling with the players."
20:43 | The Belgian side have scored 21 goals in this season's Europa League, in their nine games.
20:38 | Anderlecht were knocked out of the Champions League qualification stage by United's opponents in the last round. They drew with Rostov away from home before losing 0-2 at home in the Constant Vanden Stock Stadion.
20:35 | Manchester United have not failed to score in a Europa League game since September when they lost 0-1 to Feyenoord, away from home. They have scored 18 goals since that Feyenoord game (eight games) and that includes a 4-0 victory at Old Trafford against the Dutch side in the return leg.
20:13 | Anderlecht's leading goalscorer, Lukasz Teodorczyk is on the bench. He has been linked with a move to Liverpool and is on fire this season with 20 goals for the club.
20:08 | De Gea has only played in three games in the Europa League this season, and they are all at the very start, so to suggest he is dropped might be an exaggeration. He is left out though, after manager Jose Mourinho telling him to focus on Manchester United and not a move to Real Madrid in the summer. United are reportedly not confident of keeping him with the Spanish side tracking him very closely.
19:57 | The big news regarding the teams is that David De Gea does not start in goals and Sergio Romero does. Luke Shaw is dropped, or rest, too. Mourinho makes four changes from the side that played against Sunderland and won 3-0 last weekend.
19:31 | Polish striker has been compared to Zlatan Ibrahimovic in terms of their styles. he has scored five goals in nine Europa League games this season and has 10 years on the Swede. Can he invoke some of Zlatan's magic tonight?
19:20 | Before the game, Pogba says, "People are looking me saying 'Pogba should score goals', 'Pogba should do this' - I think you are putting me like as a striker, defender and midfielder."
"But I just have to do my job: my job is to make the game. Sometimes if I can make the team win, I will do it.
19:09 | United's squad list: David de Gea, Sergio Romero, Joel Pereira, Antonio Valencia, Matteo Darmian, Timothy Fosu-Mensah, Axel Tuanzebe, Marcos Rojo, Eric Bailly, Daley Blind, Luke Shaw, Michael Carrick, Ander Herrera, Paul Pogba, Marouane Fellaini, Henrikh Mkhitaryan, Jesse Lingard, Zlatan Ibrahimovic.
Wayne Rooney is out with ankle pain while Ashley Young is not ready to feature yet after coming back from injury. Chris Smalling and Phil Jones remain out.
19:07 | Don't forget that there is other action in the Europa League tonight. Those fixtures include:
Ajax v Schalke
Celta Vigo v Genk
Lyon v Besiktas
18:55 | Tielemans has always been a pure talent. Former Anderlecht player, Paul van Himst, says "With his skills and quality, he forces opponents into mistakes. He can play the long ball and launch attacks. His age is not important.
18:53 | The day Zlatan scored those five goals, Tielemans played. He has just turned 17.
18:51 | Another scary thought for Anderlecht is that Zlatan really knows how to score against them. He scored five for PSG in the Champions League group stages during the 2013-14 campaign.
18:38 | Interestingly, René Weiler was appointed as the manager of Anderlecht after the club could not agree terms with Roberto Martinez. The former Wigan and Everton manager went on to take over the Belgian national team but would have inherited a really good young squad who are realising some of their potential in the Europa League this season.
18:32 | Another player, who has been drawing the attention of Manchester United, is Leander Dendoncker. The youngster has loads of energy and according to this piece, "his physical strength is remarkable, and he has put on a lot of muscle during the last year. He is intelligent, almost never loses the ball, and his decision making is improving all the time."
18:25 | Also a chance to have a look at Youri Tielemens, who Atletico Madrid among others, have been keeping an eye on in recent months. The Belgian does it all in midfield and has 18 goals in 43 this season for his side. He also has 11 assists and is veru highly-rated.
18:20 | And Zlatan has been directly involved in four goals in his four appearences at home in the Europa League this season. He was nominated for Player Of The Year in the Premier League earlier today and the 35-year-old is riding the crest of a wave at present. There were some who suggested that the Swede was finished and United were getting a player at the end of his career. He might be nearing the end but he's not finished yet! He has 28 goals in 43 games for Manchester United in all competitions.
18:14 | It might prove to be a tough one for Anderlecht next week as Manchester United are unbeaten in their last 16 home games in the Europa League (they have won 13 of those and drawn three). Away from home though, they have won two, lost two and drawn one.
18:12 | One player who has been the subject of criticism if Manchester United's Paul Pogba, but the fun-loving midfielder says people need to focus on the football and not the transfer fee ahead of the Anerlecht game. He says he loves life, loves the dance and loves football and that he will always enjoy playing. He would enjoy it tonight if United managed to pull of a win!
17:45 | We are expecting to see Luke Shaw get another run out tonight as he aims to prove himself to his manager and many fans. He cost the club 30 million pounds and after some public mocking from Mourinho has played the last two games and has a chance to show why the investment was made. Either that, or he'll put himself in the shop window.
17:22 | The other ties in the Europa League quarter finals are: Celta vs Genk, Ajax vs Schalke and Lyon vs Besiktas. All kicking off at 21:05 CEST.
17:08 | ...and if you wonder why United played at City's ground all you need to do is scroll down to our preview.
17:07 | These two teams have crossed paths in European competition just three times with United winning all of those ties. Curiously, Anderlecht were thrashed 10-0 in the second encounter at Maine Road on 26th September 1956. It remains the Belgian side's heaviest defeat and United's biggest win in Europe.

17:00 | United put in one last training session to prepare for tonight's game at the Aon Training Complex, Carrington yesterday. Here is a selection of images of that session.

16:41 | There are plenty of ways to experience tonight's game and here's our handy guide to save you the bother of searching.
16:29 | Whoever makes the Europa League final, they're going to be part of a post-season trophy-fest with Uefa deciding to move it closer to the Champions League final.
16:15 | With Zlatan feeling like Benjamin Button, what movie stories will we get out of tonight's fixture? The youngsters of Anderlecht - average age is 24 - they'll need to be wiser than their years.
15:52 | ...Anderlecht have some European pedigree having won the Uefa Cup Winners' Cup twice in the 70s and the Uefa Cup in the early 80s.
15:28 | The hosts have been crowned champions of Belgium a record 33 times...but have gone two years without hoisting the league trophy. This is something they're looking to rectify with new coach Weiler who replaced Besnik Hasi last summer.
15:03 | As Cristiano Ronaldo reached 100 goals in European competition last night, United's social media team remind us that it all started with the Portuguese star in red.
14:37 | Anderlecht midfielder Leander Dendoncker had high praise for Lukasz Teodorczyk. You can read more about him in the preview below.
14:27 | Which player featuring tonight was described a teammate like this? Answer in a few minutes...
"He knows how to keep the ball, to score with his head and with his feet. I think he has everything to become a really great striker"
14:08 | Belgian authorities have advised Manchester United fans without tickets for tonight's game not to travel to the stadium. More information is provided.
13:55 | "We are going to fight with everything, domestically and in Europe, to reach the Champions League." This was the clear message from Man Utd boss José Mourinho as his side head to Belgium before facing Chelsea at the weekend.
---
Anderlecht vs Man Utd: match preview
The day was 26 September 1956. The venue, Maine Road, Manchester (Old Trafford didn't yet have floodlighting). The score, Manchester United 10 - 0 Anderlecht. Just seven months ago saw the 60th anniversary of the Reds' biggest ever victory under the stewardship of club legend, Matt Busby. They had already won the first leg in Anderlecht by two goals to nil against, it cannot be forgotten, the champions of Belgium, a very much established footballing nation.
As Anderlecht welcome their more illustrious opposition to their home at the Constant Vanden Stock stadium tonight, they'll not be thinking about that fateful 12-0 aggregrate scoreline. Instead, the stuttering performances this season of a José Mourinho side will have been analysed to death by René Weiler and his backroom staff to see how they can take advantage of perceived weaknesses. But although United have failed to impress in the Premier League in the way that many had expected last summer upon the arrival of the Portuguese coach, serial winner, Zlatan Ibrahimovic, the world's record transfer in Paul Pogba, and the talents of Eric Bailley and Henrikh Mkhitaryan, the Red Devils are currently enjoying a run of 21 games unbeaten.
Anderlecht
For those that don't know, following the end of the regular Belgian first division, the Jupiler Pro League, in March, the top six teams go into the Championship playoff. Anderlecht currently sit top of this mini-table with a win and a draw so far. Even though playing at home, they come into this game as underdogs, however, Weiler will be targeting an upset, givng them a real chance to hold their own in the return leg. And with the scalps of Zenit St. Petersburg and APOEL Nicosia already in the bag, the purple and whites should not be taken too lightly.
Much of the media focus - when it's not on the high-profile visitors - will be on Lukasz Teodorczyk, the 25-year old from Poland. Already with 28 goals this season he's quick and can cause problems in the air, which could see him target Marcus Rojo in the United defense. Another player getting attention around Europe is Youri Tielemans, still a teenager but this will be his 169th appearance and he'll be looking to add to his 34 goals from midfield. This season his record is 18 in 43 and United will be running a risk if they give him too much time in the final third. Trying to keep Ibrahimovic quiet will be the physically impressive Uroš Spajić and Kara Mbodji, but even the best of the Premier League have struggled to do that this year.
It's been a quarter of a century since Anderlecht reached the quarter finals of a European competition. To go any further they'll need to overcome one of the giants.
Manchester United
The unbeaten run should not be belittled - afterall there was a certain Arsenal team that claimed a nickname on the back of that (albeit they also claimed a title) - but too many draws have meant that making one of the Champions League positions for next year is no longer in United's hands. Ask José Mourinho and he'd happily swap the run without loss for a few more three points. But with the league entry fading, so it focuses the manager and players on another route into the continent's showpiece competition, and there could quite conceivably be conversations in the anuls of Old Trafford that have reprioritised the objectives. Forget the league, win the Europa Cup. Two pieces of silverware and a place back in with the big boys would certainly suffice for a club in transition under a new manager.
We already know that Spanish goalkeeper David de Gea is out injured so Sergio Romero will step in. Not bad when you're back-up is the Argentine national choice - even if it's not the best time for La Albiceleste. In defence, Bailley and Marcus Rojo are the likely central pair, while the returning Anotonio Valencia and, resurrected Luke Shaw will be asked to work hard on either side. Pogba and Ander Herrera provide threats in the middle while Mourinho's tactics will determine whether Michael Carrick or his much younger colleague, Jesse Lingard join them. Up front, the team and fans will be hoping that Zlatan can continue to defy the doubters (if there are any still remaining) and provide the goals, ably supported by two of Mkhitaryan, Martial and Rashford.
A two-nil away win would certainly get the history-connecting story-tellers excited, but avoiding needing an Old Trafford floodlit comeback will be Mourinho's primary objective.
---
Anderlecht vs Man Utd: betting odds
A win for the home side could have punters happy with bookmakers paying out at almost 4/1 turning a shiny ten euro bet into €40. You're unlikely to get much back from a United win however the draw is being priced at arond 3/1. The first scorers market offers Zlatan at 2/1 while more adventurous returns can be found with Valencia (4/1), Teodorczyk (10/1) or Tielemans (12/1).
Bet on Anderlecht vs Man Utd in the Europa League now
---