Cristiano Ronaldo: "The two goals in Munich were incredible"
Real Madrid striker Ronaldo hit 100 goals in European competition with his two strikes against Bayern Munich in the Champions LeagueReal Madrid-Villarreal: LaLiga matchday 19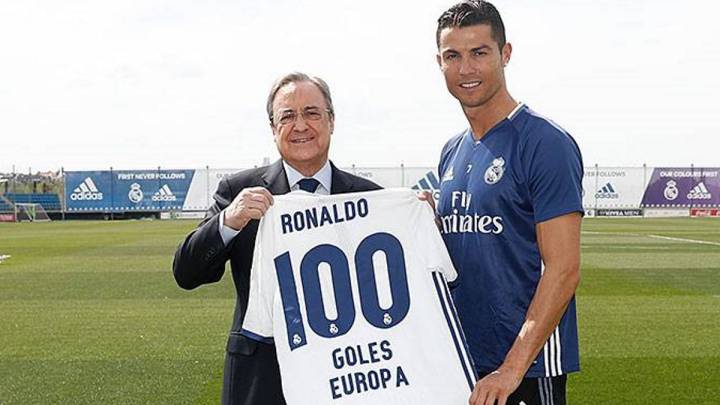 Cristiano Ronaldo scored his 100th European goal with his two strikes against Bayern Munich in the Champions League quarter-final, that saw Real Madrid come back from 1-0 to take a 2-1 lead back to the Spanish capital.
Ronaldo celebrates his 100 European goals
The Real Madrid player spoke about his haul, and his side's incredibly important victory, the day after the match:
Ronaldo: 100 European goals
It's a huge honour to score one hundred goals in Europe. Yesterday was a special day, with a very important victory. I'm so pleased. I want to thank Real Madrid for the chance to have such a brilliant career at the club and to my teammates too. Thanks to the club, my teammates and the fans.
Back to Ronaldo's European roots
When I started scoring in the Champions League I never thought I'd hit this number. For me it's an honour because it's such a hard target to reach. I'm over the moon and so happy. Yesterday, before heading out onto the pitch, I thought it was going to be a tough game, that Bayern would fight hard for it. But when they missed the penalty I was certain we would get into the match and the second half was going to be ours. I scored, but it could have been someone else.
Ronaldo's brace against Bayern Munich
I'd describe yesterday's goals in a very simple way: incredible. They were unique because we were losing and it was tough to turn the match around. We did it again and having scored those two goals I'm so pleased because I helped Real Madrid to win. Hopefully I'll get another brace in the Bernabéu.
We've got a slight advantage and I hope the fans get behind us and help us because it'll be a tough battle. Hopefully Real Madrid can win and we go through. We knew April would be a tough month, decisive, and I think the team look good. The gaffer has managed things really well, with rotations, and we're ready for the final straight.