Torres says Griezmann doesn't need to leave Atlético Madrid
In an interview with the BBC, Atleti striker Fernando Torres says Griezmann can realise his potential at Atlético despite a number of clubs said to be desperate to sign him.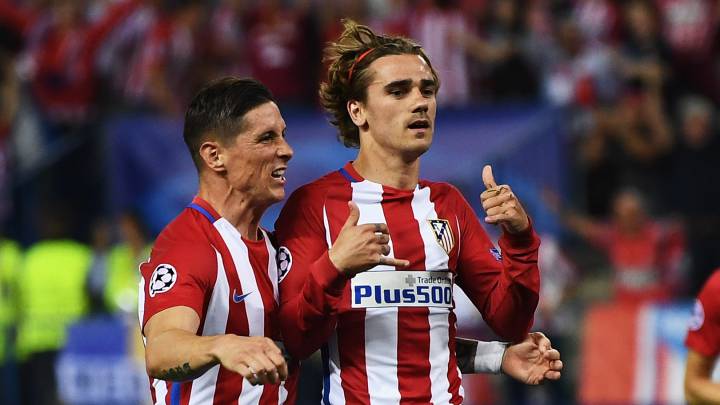 Fernando Torres has told the BBC that his teammate Antoine Griezmann doesn't need to move clubs in order to realise his full potential. In the interview with Torres, to be broadcast on Saturday during the much-loved Football Focus programme, Torres says: "Where are you going to go to improve what you have in Atletico?" he said. "Not many places in the world. I hope he can stay with us forever."
Griezmann's stock soaring
Griezmann scored the equaliser last weekend's derby against Real Madrid, and followed that up with the winner from the penalty spot against Leicester in the Champions League in mid-week, meaning his already soaring stock is higher than ever, with rumours of mega-offers from several clubs, in particular Manchester United, swirling around the French international.
Atlético Madrid are in negotiations to extend and improve Griezmann's deal at the club to try and ward off approaches.
Torres: not many sides can offer Griezmann what Atlético Madrid can
But Torres, back at his childhood club, doesn't see the need for Griezmann to take up the possibility of moving. "It's normal when young players become one of the best in the world, everyone wants to sign them, you can go to many other places in the world but they cannot offer what Atlético can right now: competing in the league, competing in the Champions League, one of the most respected teams in Europe - so there is no reason to leave", said El Niño.
Griezmann has the world in his hands
As Torres quite rightly points out Atleti are were in the Champions League final last year, and he played in the Euro final with France, so it doesn't appear that being at Atleti is holding Griezmann's career back, though the winner's medals may be yet to come. "I think he realises how difficult it is to become champion, but he is right there", said Torres, "He has the world in his hands."
Torres says promises were broken at Liverpool
Fernando Torres also talks about his time at Liverpool, where he talks of the broken promises by the owners: "I was in that situation where I wanted to be the best and I wanted to go to a team who give me the tools to become the best," said the striker. "The situation was different because when Rafa [Benitez] left and [Javier] Mascherano left and [Xabi] Alonso left, all the promises the owners made to the team were not true. I had everything at Liverpool. But then they sell the best players, the manager. So I had to find my own way. We were not building a team to win. That was the reality, the situation changed very much in six months."
LaLiga Santander
Leaders
Messi

12

Goals
Roque Mesa

1007

Passes
Steals
*Update 14 de abril de 2017