Real Madrid make history: 7 consecutive Champions League semi-finals
Madrid become the first club in history to qualify for the Champions League semi-final for seven seasons in a row, overtaking the previous record held by Barcelona.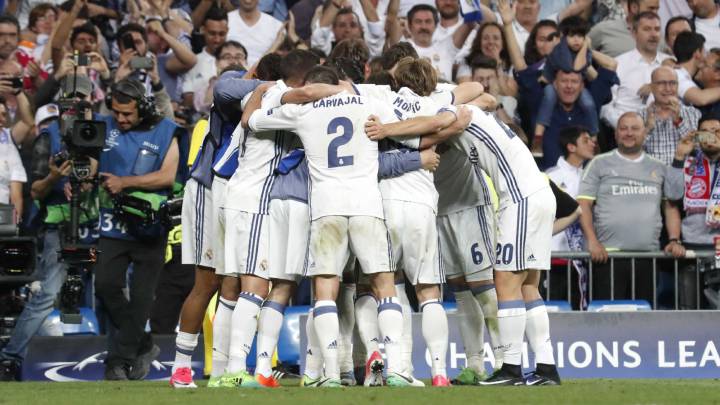 Real Madrid made history this evening by becoming the first club in history to make the semi-finals of the Champions League for seven consecutive editions - a feat no team has done in 62 years of the tournament. Los Blancos already shared the previous record with Barcelona of making the last four in six straight seasons - the Catalans achieved the feat between 2008 and 2013.
Four Real Madrid coaches, seven Champions League semi-finals
Four different coaches have guided Madrid into their last seven Champions League semi-finals. José Mourinho got the team there in 2010-11 after several years of being knocked out in the quarters or the Last 16 stage. The Portuguese coach managed to steer Madrid to the semis for three seasons running but his sides were eliminated by Barcelona (2011), Bayern (2012) and Borussia Dortmund (2013). In the following edition Carlo Ancelotti had taken over from Mou and beat Bayern (1-0 and 0-4) in the semis and Atlético in the final (4-1) to lift the long-awaited Décima (the club's 10th European crown).
The Champions League, Madrid's competition
Ancelotti's Madrid also made the semi-finals the following year only to be knocked out by Juventus. After him, Rafa Benítez and Zidane reached the semi-finals in 2016/17. The Spanish coach got Madrid through the group stage and Zidane took the reins for the first knockout round. Madrid staged a comeback against Wolfsburg (losing 2-0 in Germany and winning 3-0 at the Bernabéu) to equal Barcelona's record. Once again they met Atlético in the final and lifed the trophy for a record 11th time.