Monaco vs Borussia Dortmund live stream: match report and goals
Monaco take their place in Friday's Champions League draw after seeing off a lackluster Dortmund in a tie that sadly will be always remembrad for what happened off the pitchReal Madrid-Borussia Dortmund live online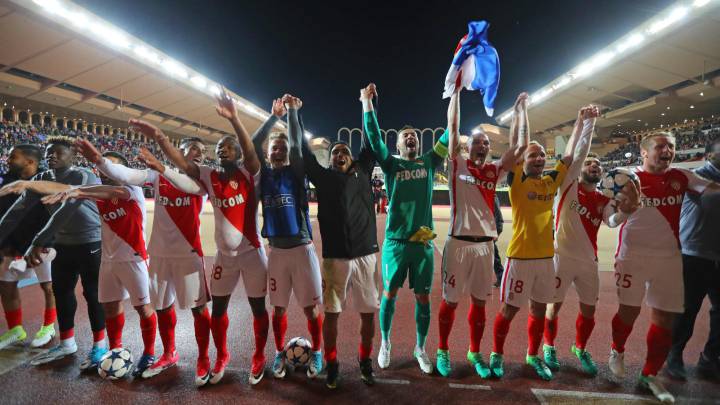 Monaco 3-1 Borussia Dortmund: (6-3 agg.) match report
For a period after Marco Reus scored for the German side , there was a a period early in the second period that prompted a flicker of belief from Borussia Dortmund that they could find the additional two goals needed on the night to take the tie to extra time. A disastrous first 45' had Tomas Tuchel's men on the rack after goals from the excellent young talent that is Kylian Mbappe and Colombian veteran Radamel Falcao had the home side in command with a 2-0 scoreline as the teams headed to the dressing rooms at the break.
Marco Reus briefly changed the dynamic of the night finding the net after stunning build-up play from Dembele (hastily brought into the fray by the Dortmund coach late.on in the first half). Dortmund pushed and probed and had Monaco playing deeply but on a night when the likes of Aubameyang and Reus failed to put in a performance to lift their team, the initiative wilted and Monaco re-grouped and Germain put the tie beyond question slotting home a third goal for the home side in the final ten minutes.
Not a good few days for German football after Bayern Munich's elimination last night at the Bernabeu.
This fixture will forever sadly be overshadowed after events last Tuesday in the Germany industrial city following the attack on the Dortmund team coach. prior to the first leg. The positive reaction from both sets of supporters faced with uncertainty and adversity and the newly forged friendships will live long after the 2016/17 Champions League trophy is handed over in Cardiff in early June.
Monaco 3-1 Borussia Dortmund: full time (6-3 agg.)
Min 92 | That's it, the home fans celebrate as AS Monaco deftest Dortmund and are in the Champions League semi-final.
Min 91 | This tie, sadly will be overshadowed for non footballing reasons after last week's bomb in Germany.
Min 90 | We'll have two minutes of added time
Min 88 | Let's not take anything away from the French side. The better side over two legs and the team who dispatched Pep Guardiola's Man City from the competition. The other sides will fancy playing the side from the principality but Jardim's team are afine fine side.
Change ASM : Raggi on Silva off
Min 85 | Aubameyang (who has been discreet in the second period) fires on target and forces the Monaco keeper to palm wide. Neither of Dortmund's big name players performed when needed most.
Min 85 | As we stand it will be Real Madrid, Atletico, Juve and AS Monaco in Friday's semi final draw.
Min 83 | That must be curtains for the visitors who now need three goals in the space of 7 minutes....
Min 82 | Gol gol gol. Monaco bag a third with Germain slotting hom with his first touch of the ball.
Min 79 | Change for the home side as Mpabbe makes way for Germain... a standing ovation for the 18 year old.
Min 76 | Can't help feeling that Dortmund have lost the impetus as Monaco go close, first Silva and then Bakayoko heads over. Less than 15' and Dortmund need two goals.
Min 73 | Reus strikes for BVB but no problem for Subasic. Once again, Dembele pivotal in the move
Min 72 | Card for Mendy as he clatters into Dembele, Pulisic on for Raphael, last throw of the dice for Tuchel.
Min 69 | Monaco seem to have weathered the brief BVB storm as the men in red and white start to take control of the game with hints of frustration creeping into Dortmund's play as the clock ticks down.
Min 68 | The Colombian No. 9 really has seen his carrer rejuvenated at the Ligue 1 outfit.
Min 67 | Monaco fans behind the goal get behind their team as Falcao is subbed for Dirar.
Min 65 | Falcao goes close to ending the tie but lobs the ball inches over the Dortmund crossbar. So close to bagging third for the home side.
Min 63 | The tie beautifully poised as Borussia push for another goal that will pull them back into the tie.
Min 61 | Diving header from Falcao goes wide as the Colombian dives bravely only to watch his effort drift wide
Min 60 | Possession: ASM 38-62% BVB
Min 58 | Jardim playing a dangerous game sitting so deep as another BVB goal is looking like a realistic possibility.
Min 56 | Dembele and Mbappe, a joy to watch two amazing young talents !
Min 54 | Just Mbappe and Falcao patrolling in the BVB half as Dortmund boss things in terms of possession.
Min 51 | Monaco sitting very deep....
Min 48 | Spellbinding build-up play from Dembele who flicks the ball back to Reus who half volleys hope and offers a glimmer of hope to the German side as Burki tips over what could have easily been a third for the home side.
Min 48 | Reus ...Tor ! Tor ! Tor !
Min 47 ! A tame left footed effort from Kagawa is easily dealt with by Subasic.
Min 46 | Another change at the break for BVB: Schmelzer on for Sahin
Min 46 | ...and we're underway in Monaco again
Half-time wrap:
Tonight's uphill task for Tomas Tuchel's men grew to Everest proportions after just 17 minutes this evening in the French principality after goals from Kylian Mbappe and Ramdamel Falcao put the Ligue 1 very much in the driving seat and barring an epic comeback from a huffing and puffing Dortmund side will be in Friday's semi-final draw.
The introduction of Dembele has lifted the German side but both Reus (who came close from a direct free kick) and Aubameyang will need to step up to the plate if the German side are to maintain options of being in the Nyon draw. Three goals minimum a necessity but as the German side push-on, the gaps get bigger in an already shaky looking rear-guard.
Monaco 2-0 Borussia Dortmund: live (5-2 agg.)
Min 45 | Our Slovakian match official Mr. Skomina calls time on the game with Monaco just 45 minutes away from a place in Friday's semifinal draw.
Min 43 | Monaco in control and one feels the French side have another gear... A double Bundesliga side exit on the cards after Bayern losing in Madrid last night...
Min 40 | Once again BVB work themselves into a great position with Dembele at the heart of the move, Kagawa's final ball was just intercepted as the Germans are awarded a free kick. Reus takes and Subasic saves.
Min 37 | A lull in proceedings as we head towards the interval. Dortmund really need some magic from Reus and Aubameyang and the recently introduced Dembele....otherwise it's an exit from the competition for the Bundesliga outfit.
Min 34 | The lack of atmosphere at the Louis II is the only gripe this evening. Not exactly "rocking" the 18.523 capacity stadium despite the French side with one foot in the 2016/17 Champions League semifinal.
Min 32 | Dortmund pushing on now and leaving bag spaces for Monaco to launch the counter attacks that they use so well. This game has more goals ....,
Min 28 | Early change from Tuchel realising his initial strategy wasn't paying off. The French youngster will inject some pace into the Dortmund attack.
Min 27 | Change for BVB, Dembele on Durm off
Possession stat after 25': Monaco 38-62 BVB
Min 23 | Monaco are a joy to watch when they move the ball around ... Mpappe, Bakayoko and Silva are so composed,
Min 21 | The German side look good going forward but are being taken apart with too much ease by the Ligue 1 side.
Min 19 | A massive uphill task on the cards now for Tuchels men ... Three goals needed just to take the game into extra time ....
Min 17 | Dormund looking so porous at the back with the red and white shirts slicing through the BVB defence, far too easy for the home side as el Tigre out-jumps his defender to nod home ....
Min 15 | Falcao makes it 2 !!!!
Min 14 | Reus rockets a delightfully taken free kick off the Monaco post, so close for the men in yellow
Min 13 | Monaco go close as Silva (totally unmarked) should have done better with his free header
Min 11 | Dortmund boss Tuchel has gone for the smart look tonight in Monaco rocking a fetching shirt, tie and mac look !
Min 10 | Excellent link-up play from Dortmund as Reus fires a shot straight at Subasic, better from the German side.
Min 8 | Subasic almost makes a mess of his clearance and let Aubameyang in ...sloppy from the Monaco stopper. Dortmund sluggish in the first ten....
Min 5 | What can one say about Kylian Mpabbe after the countless columns and headlines praising the 18 year old. Pure class and so confident for one so young !
Min 3 | Mendy's rasping shot was too hot to hold for the Dortmund keeper who parried the ball into the path of the young Monaco striker who slots home.
Min 3 | Gooooooooooooooooool, Mpabbe
Min 3 | What are the chances of extra time tonight, remember only a 2-3 scoreline will see us play 120 minutes.
Min 2 | Both sides in their traditional kits, Monaco with their red and white halved shirt and Dortmund in their classic yellow and black.
Min 1 | Off we go
---
Monaco vs Borussia Dortmund: latest news
20:48 | 3,000 Dortmund fans here tonight creating a mini version of the Yellow Wall...
20:47 | A fine red and white card tifo greets the home side in the compact Loius II stadium with all 18.523 tickets sold.
20:46 | Here come the sides, it's red & white versus yellow and black....
20:45 | A great night for the half and half scarf sellers...
20:44 | A fine rendition of "You'll Never Walk Alone" from both sets of fans. This new European football relationship between Monaco and Dortmund is great to see!
20:37 | Great to see Marc Bartra back with the Dortmund squad this evening as the Spaniard travels with the BVB expedition.
20:28 | Excessive traffic around the stadium due to new security measures has been cited as the reason by UEFA.
20:25 | Kick off will now be at 20:50
20:18 | For the German side: Sokratis Papastathopoulos, Ginter and Raphael (and sub Schmelzer) are the players for BVB who stand to miss a possible semi if the Bundesliga side avail if booked.
20:15 | Jemerson, Falcao and Lemar and sub Germain are just one booking away a suspension which would rule out a hypothetical semi-final first leg for the Ligue 1 outfit.
20:05 | It's an uncharacteristically chilly April evening in Monaco with a temperatura of just 10C and we may just see a scattered shower during the action at the Luis II.
19:55 | No starting place for Dembele in Tuchel's Dortmund starting eleven which has raised a few eyebrows!
Team news just in:
Monaco:
Subasic, Glik, Jemerson, Touré, Mendy, Bakayoko, Moutinho, Lemar, Silva, Mbappé,Falcao
Borussia Dortmund:
Bürki, Sahin, Reus, Guerreiro, Aubameyang, Kagawa, Sokratis, Piszczek, Ginter, Weigl, Durm
19:41 | Last 5 form for Dortmund: DWLLW
19:40 | Last 5 form for Monaco: LWWW
19:30 | Fancy an outside flutter on tonight's game in the principality? Greek BVB defender Papastathopoulos to score the first goal pays out at a "handsome" 29/1.
19:15 | ..and how are Dortmund faring in the Bundesliga I hear you ask...Tuchel's men lie in fourth and currently occupy a qualifying position for next season's UCL.
19:00 | This Monaco team are on a roll, Champions League quarter finalists and on top of Ligue 1 with a game in hand
18:30 | Borussia stat with kick-off just over two hours away: BVB has won 58% of their away games in European competition under Thomas Tuchel (7 wins, 2 draws, 3 defeats) !
18:00 | In case you can't get to a television for the game tonight here's our handy guide on how and where to watch it. Or, better still, you can join Paul right here on our live minute-by-minute coverage.

17:30 | Dortmund have five reasons for optimism as they go into tonight's match at the Stade Loius II.

17:00 | Dortmund limbered up for the game tonight with a 3-1 victory over Frankfurt last weekend during which Marco Reus made his eagerly-awaited return to action after a muscle problem, getting on the score sheet at the Westfalenstadion.

16:30 | Dortmund are seeking their second Champions League title after winning the tournament in 1996-97 while Monaco are bidding to reach the showpiece game for the first time since 2003-04, when the Ligue 1 side were runners-up to Porto.

15:30 | All eyes will be on Kylian Mbappé tonight as the brightest young star on the block looks to add to his lustre after bagging in both legs against Manchester City and scoring twice as Monaco edged Dortmund 3-2 in the first leg.

14:27 | Here are five reasons for Dortmund fans to be confident.
14:15 | Although Monaco take the edge, Tuchel has been talking very postively about his side's chances of progressing:
"I have brought a quality squad here and we are capable of winning by two clear goals. Our trademark is to try to score goals. We will attack from the first minute until the 90th."
13:55 | Just under seven hours to go until kick-off at the Stade Louis II and there is plenty of excitement building. Five goals were shared last week in Dortmund and many expect another goal-fest tonight.
---
Monaco vs Borussia Dortmund: match preview
In what should be a celebration of a fantastic five-goal thriller in the first leg in Germany, no one can forget the horrific acts that took place ahead of the originally scheduled Tuesday match. The 24-hour delay has been questioned by many, including the Dortmund coach, Thomas Tuchel, but the game went ahead and so we arrive in the principality of Monaco today with the home side leading by a single goal and with three away goals to play with. If Dortmund are to proceed, they are going to need at least two goals, with stress on at least.
---
Monaco
The Ligue 1 leaders are in fine form with five win from their last six (10 from their last 11 in all competitions) and come into this second leg as favourites to make it into the semi-final draw on Friday. Their home form in the Champions League should also be highlighted with only one loss this season - and they know where the goal is, as Manchester City already found out.
Kylian Mbappé has been making many a headline and he is most people's bet to be on the scoresheet again tonight. If they can restrict Dortmund's chances at their own goal then this game could be done as a contest early on. That said, the hosts will be without defender Djibril Sidibe, midfielder Boschilia and striker Guido Carrillo.
Borussia Dortmund
"All that happened last week has made us stronger. Now we have to play well and I'm convinced we can do that. We're ready and focused." The message is clear from Dortmund manager Tuchel and although they arrive as slight underdogs, there is plenty to be hopeful for a German presence in the semi-finals. A strong performance against Frankfurt at the weekend and the return of star player Marco Reus has lifted the players and fans, 3,000 of whom will be making themselves heard in Stade Louis II.
After the injuries to Marc Bartra in last week's attack, he is unlikely to feature and goalkeeper Hendrik Bonmann along with Erik Durm, Andre Schurrle and Mario Gotze are also missing. But with players like Reus and Pierre-Emerick Aubameyang up front, who's to say they can't turn it around.
---
Monaco vs Borussia Dortmund: match facts
- Monaco haven't reached the semi-finals of Europe's top club competition since the 1993/94 season, when the format was different.
- Dortmund have now reached the Champions League quarter final stage three times in the last five years.
- no team losing the first leg of the Champions League 3-2 have gone on the qualify for the next round.
- Monaco have conceded 15 goals in the Champions League this season, more than anyone else.
---
Monaco vs Borussia Dortmund: potential line-ups
Monaco XI: Subasic; Sidibe, Glik, Jemerson, Mendy; Silva, Moutinho, Bakayoko, Lemar; Mbappe, Falcao
Coach: Leonardo Jardim
Borussia Dortmund XI: Burki; Piszczek, Bender, Papastathopoulos, Schmelzer; Weigl, Castro; Dembele, Kagawa, Reus; Aubameyang
Coach: Thomas Tuchel
---
Monaco vs Borussia Dortmund: betting
It's advantage Monaco but interesting betting options provided by bookmakers for tonight's clash. Dortmund are slight favourites to win on the night but the home side given the better chance of qualifying for the next round. Maybe a double on that to happen will attract some punters.
Bet on Monaco vs Dortmund now.
---
Monaco vs Borussia Dortmund: live stream build-up