REAL MADRID
Cristiano and Sergio Ramos tell Lewandowski to join Real Madrid
Both Bernabéu players said to the Bayern Munich striker that Madrid was the place for him. Florentino Pérez also spoke with Lewandowski and asked about his familyChampions League semi-final draw: live online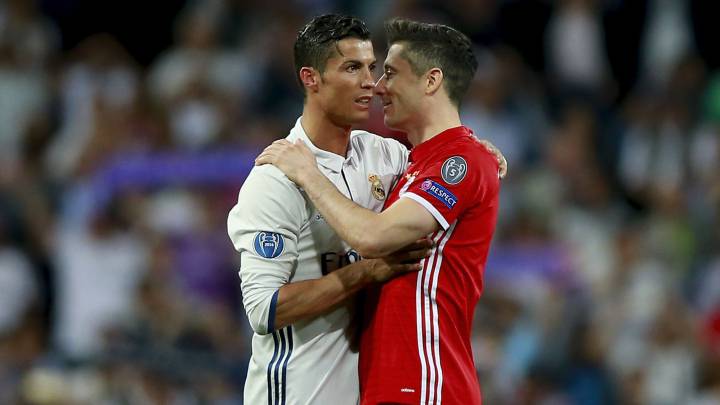 It's been written that Lewandowski went into referee Victor Kassai's office after the Real Madrid-Bayern Munich quarter-final clash, to take issue with the his poor decisions, but in reality the Polish striker was distracted by another conversation taking place at the time. It was one between Cristiano Ronaldo and Sergio Ramos, the two most influential players of the Real Madrid changing room who, after an exchange of compliments, they asked him, without reservation, to sign for Los Blancos. There was room for him.
Bayern Munich to Real Madrid would be career progression
This confirmation of Real Madrid's interest will surely have consecuences. Bayern renewed the Pole's contract only a few months ago until 2021 and as a result made the player the best paid in the Bundesliga. He went from eight million to 15 million euros per year with the add-ons taking his total salary to around 17 or 18 million euros. It had seemed that the new deal would remove interest from Madrid, but the appreciation between the two is mutual: in December 2015 Robert's sister gifted him with a shirt in Los Blancos' colours, a dream for the forward. The fact that Bayern fell in the quarter finals of the Champions League and that Madrid progressed yet again to the final stages makes it clear for Lewandowski that a potential move would be a step forward in his career.
Madrid's summer transfer soap opera
Florentino Pérez, who after watching Lewandowski score four goals against Madrid for Borussia Dortmund admiration and stated his desire for the player to wear white, had a minute-and-a-half exchange of words during the game at the Bernabéu. The president asked him about his wife Ana, who is pregnant, about her health and wished him luck for the rest of the season. This time the job of persuasion, maybe the first episode in the summer soap opera, was left in the hands of the two main captains.
Minimal Bernabéu impact, this time
Lewandowski, who didn't feature in the first leg of the quarter-final, did not want to miss the return fixture against Los Blancos despite his shoulder injury. The Bayern doctor advised him not to play, but he put pressure on to be able to help his side overturn the deficit. His involvement in the game was limited in terms of impact and physical strength but, in spite of that, he knows he has admirers at the Bernabéu who will attempt, if it is at all possible, to get him to Madrid in the near future...
The Pole did not reject this possibility



Champions League
Leaders
Messi

10

Goals
Verratti

488

Passes
Steals
*Update 21 de abril de 2017