Champions League and Europa League semi-final draw: as it happened, reaction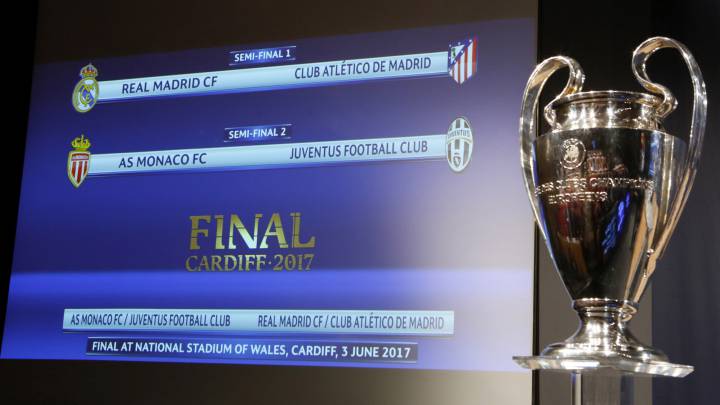 Champions League & Europa League: live semi-final draws
That concludes our coverage of the UEFA Champions and Europa League semi-final draws. Plenty to reflect on so stay with AS English during the day as we'll bring you the best in post-draw reaction and comment.
Many thanks for your company and we'll be back, same time, same place late August for the group stage draw of the 2017/18 competition.
Hasta Luego !
13:20 | The winner of Ajax-Lyon will be deemed the "home" team for the May final.
Champions League & Europa League: live semi-final draws
Europa League semi-final draw:
Ajax - Lyon
Celta - Man. United
13:17 | which leaves Celta Vigo talking on Mourinho and his Manchester United side.
13:16 | who face Lyon
13:15 | Draw time and the first name out is ...Ajax...
13:14 | Semi-final dates are May 4/11 (21:05 CEST kick-off).
13:12 | As was the case with the UCL draw, we'll also have the draw for the "home team" in Solna in the May 24 final.
13:12 | The draw will be conducted by Europa League ambassador Patrik Andersson.
13:10 | Manchester United firm favourites for the competition as UEFA's Giorgio Marchetti talks us through the draw procedure.
13:07 | Katy Perry-esque Europop now to accompany the "how they got there video"....
13:06 | "May the best team" win concludes Mrs. Erlandsson Slorach.
13:04 | Stockholm city representative Mrs. Erlandsson Slorach talks us through the joys of the Swedish capital city and commends the city for the positive response after the recent terrorist attack.
13:02 | You all know the drill now...smart videos of the host city...(Stockholm does look stunning) followed by a short video of how the teams made their way to the semi-final stage.
13:00 | Pedro Pinto back for part two of his double-header today.
12:59 | Back to Nyon....
12:54 | We'll all pleased for Celta Vigo as the Galician outfit qualified for their first ever European semi-final. Can they go all the way?
12:52 | Together to Stockholm is the UEFA strap-line for this years final
12:50 | We've swapped our Champions League mode for the brown Europa League number as the aspiring sides for the Solna final find out the semi-final match-up.
12:40 | Europa League imminent time as fans of Ajax (Holland), Lyon (France), Manchester United (England) and LaLiga's Celta Vigo anxiously await their fate.
12:25 | Don't forget, next up is the turn of Celta Vigo who learn their Europa League opponent in the 1300 CEST draw.
12:25 | Time to get the kettle on, we'll bring all post draw reaction to you during the draw and also the confirmed kick-off dates following the UEFA/TV rights holder meeting.
12:23 | At least we'll have one LaLiga representative in Cardiff.
12:22 | So... a Madrid derby !
12:20 | The winner of the Monaco v Juve game will be considered the "home" team in the Cardiff final.
UEFA Champions League 2016/17 semi-final draw:
Real Madrid v Atletico Madrid
Monaco v Juventus
12:18 | and AS Monaco face Juve.
12:17 | face .... Atleti
12:16 | Ok, preamble over...draw time .... first team....Real Madrid
12:15 | "Rushie" talks through each team and cries of "get on with it" ring out in the AS newsroom !
12:15 | Our resident Liverpool fan in the AS English office is excited to see Rushie !
12:13 | Final ambassador Ian Rush once again will make the draw today.
12:12 | We'll also draw the home/away team for the Cardiff final this afternoon too.
12:11 | Giorgio Marchetti (UEFA secretary) now guides us through the draw procedure and talks about the great reaction from Dortmund and Monaco fans after the bomb attack.
12:10 | "El Buitre" talks about Madrid reaching their seventh consecutive final as the guests leave the stage.
12:08 | Four club representatives take to the stage and talk us through how their clubs feel by reaching the semi-final. Pedro Pinto showing us his fine multilingual skills.
12:06 | Video time: How the four teams reached the semi-final stage, this should be short & sweet.... Big Coldplay-esque epic music bed for this one !
12:05 | Mr. Jones talks us through the global profile of Welsh football and talks about the Euro 2016 campaign when Wales reached the semi-final.
12:03 | Plenty of tastefully shot footage with "pumping" beats videos to follow... as Carwyn Jones (First Minister of Wales) takes to the stage.
12:02 | The build up and preamble will certainly take longer than the actual draw so hold tight folks.
12:01 | Our UEFA MC Pedro Pinto on call again today to oversee the draw procedure.
11:59 | Off to Nyon for the last time this season in the Champions League...it's semi-final draw time.
Champions League: build-up
11:55 | No Bundesliga representation in today's draws following the elimination of Bayern, Dortmund and Schalke this midweek.
11:53 | Favourites: (1st) Real Madrid, (2nd) Juve, (3rd) Monaco & (4th) Atletico is what the bookmakers are saying.
11:50 | Don't forget that we've also got the Europa League draw coming up one hour after the UCL draw at 1300 CEST. Celta Vigo the sole LaLiga side in the competition.
11:46 | Kylian Mbappe has been one of the stars of the 2016/17 Champions League with interest his services rocketing. A tug of way seems to be developing between PSG and Madrid for his signature.
11:42 | Exact match-day fixtures will be confirmed during the afternoon following the UEFA/TV rights holders meeting.
11:40 | Reminder: The first legs will be staged on Tuesday 2 and Wednesday 3 May, with the return games on 9/10 May.
11:36 | Join us at Real Madrid... Cristiano and Ramos tell Robert Lewandowski!
11:35 | The French Riviera seems to be the preferred destination for fans of Juventus and Real Madrid with Atleti fans looking to avenge Milan and face city neighbours Madrid in the semi.
11:30 | 1st, 1st, 1st & 3rd: current positions of the four clubs in their domestic leagues!
11:25 | Previous winners: Just Real Madrid with 11 European Cup hauls and Juve (2) are previous holders of the biggest prize in European football.
11:20 | A Uefa poll revealed: 39% feel Juve will lift the trophy on June 3, 38% tip Zidane's men, 14% opt for Monaco whilst just 9% see Atleti winning through in Cardiff.
11:15 | Hoping to get a ticket for the Cardiff final? Could be tricky as even the Super Platinum final tickets priced at 5.900 pounds a pop are sold-out!
11:10 | When are the semi-final games being played I hear you ask ! First legs will be staged on Tuesday 2 and Wednesday 3 (May) with the return legs a week later on May 9/10.
11:00 | Atleti fans hoping for Madrid in semis with Real Madrid fans preferring a Madrid derby in the final
10:40 | ...quick coffee break before we're back at UEFA HQ for the 13:00 Europa League draw.
10:40 | We'll have the live Champions League draw at 12:00 with all subsequent reaction to the semi-final ties...
10:40 | Our morning menu is the following...from now through to 11:45 we'll provide build-up and analysis ahead of the draw before heading live to Nyon at quarter to the hour of 12.
10:30 | An impressive seventh consecutive Champions League semi-final placing for Real Madrid
10:25 | Real Madrid are now the bookmakers' favourites. Here's how they see the sides chances in the competition and their respective possibilities of hoisting the trophy in Cardiff on June 3rd.
Bet on the UEFA Champions League now
10:00 | So two hours to go before.....as fans of Atleti, Madrid, Juve and Monaco bite their nails with apprehension.
Hello and welcome to AS English's live online coverage of the 2016/17 UEFA Champions League and Europa League semi-final draws. The ties will be decided at UEFA's headquarters in Nyon, on the banks of Lake Geneva. The Champions League draw will get underway at 12:00 (CET), and the Europa League draw will follow at 13:00 (CET). Check where you can watch both draws.
Champions League: who is in the hat?
AS Monaco
Leonardo Jardim's team have thrilled spectators both in Ligue 1 and the Champions League this season, with their fluid brand of football. Monaco's quarter final tie against Dortmund will be forever overshadowed after the bomb attack on the Dortmund coach ahead of the first leg but in footballing terms, despite being the "team that everyone wants to draw", this Monaco side should not be underestimated. A young team, spearheaded by the immensely-talented Kylian Mbappé, they sit above PSG in their domestic league. It has been rumoured that Mbappé will spark a bidding war among Europe's elite.
Real Madrid
The eleven-time winners of Europe's elite competition eventually won out after their second leg quarter final tie against Bayern Munich went to extra time. A 1-2 win at the Allianz had Zidane's men in a commanding position ahead of Tuesday's second leg but a Lewandowski penalty and Sergio Ramos og after Ronaldo had put Madrid ahead took the game to added time. Vidal's late and controversial dismissal changed the pattern of the tie as Madrid ran out 4-2 winners on the night but yet again polemic marred the win with two of Cristiano Ronaldo's goals coming in offside positions.
Juventus
The Italian champions cruised through the semi-final eliminating bookies' favourites FC Barcelona and in truth the tie was won in Turin with a convincing 3-0 first leg win. Another night of "the epic" beckoned at Camp Nou but the black and white wall did it's job in repelling wave after wave of Barça attack. Juve have been insatiable in Serie A in the last few years, picking up five consecutive titles. Going in to the Champions League draw, they look good to make that six-in-a-row; they are eight points clear of Roma in Italy's top flight.
Atlético Madrid
Cholo Simeone's team ground out a typically-astute 1-1 draw against Leicester City in the second leg after an unconvincing 1-0 fisrt leg win at home. With Atléti due to move to a new stadium at the end of the season, their fans will be conscious that each European night at the Calderón could be the last. Frenchman Antoine Griezmann is undoubtedly the star man; his flair and subtlety combine with Atléti's tactical solidity to create a formidable blend. They look to be out of the La Liga title race, so will pursue Champions League glory with great vigour.
Europa League: the final four
Celta Vigo
A hard fought 1-1 draw in Belgium against Racing Genk saw Celta secure their first ever European sem-final berth after a 3-2 win at Baliados in the first leg.
Manchester United
Mourinho's men secured a crucial away goal in a 1-1 draw in Brussels against Anderlecht and it took an extra time winner from Rashford to see the men in purple off with a 2-1 win at Old Trafford.
Ajax
The Dutch giants trailed to Schalke 3-0 in Germany last night before two late extra time goals saw the Amsterdam based side take their place in today's draw.
Lyon
It took a tense penalty shoot out to separate Lyon and Besiktas in Istanbul last night as the Ligue 1 side represent French interests along with Monaco in the last eight of both competitions.