Simeone: "Rumours about my players leaving don't worry me"
Atlético Madrid's coach spoke after his side gained a vital victory over Espanyol in Cornellà with Antoine Griezmann hitting the only goal of the game.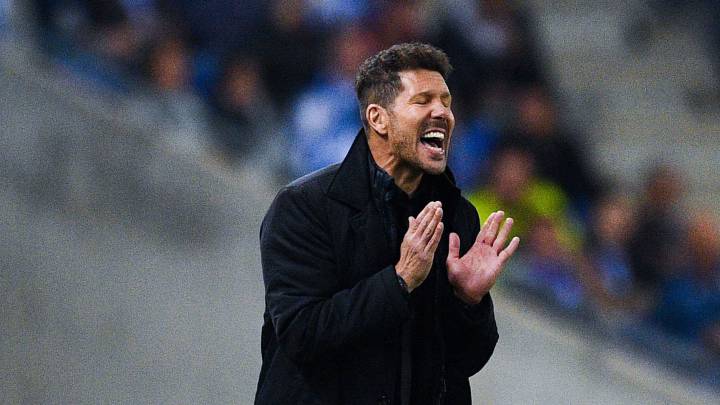 Diego Simeone faced reporters after his Atlético side sweated to grind out a crucial 0-1 away at Espanyol. Antoine Griezmann's late winner settled it with Jan Oblak keeping the hosts out with a series of magnificent saves.
Atlético sweat it out in Cornellà
Why do you think Atlético struggled so much in attack tonight?
Because our rivals played a good game, after such an important result mid-week in the Champions League, we needed to respond at a ground which has always been difficult for us and take the game to Espanyol, who are a very strong side who work well collectively; they take you into situations where it is easy for you to lose the ball then they'll hit you on the break. They gave us a lot of problems. The first half was quite chaotic but the game settled in the second half. It was a very evenly-fought game, and that the team managed to remain solid and effective in attack means we are going home with three very important points.
Victories in a demanding week for Simeone's team
The team responded despite the exertion of the Leicester game and without any changes to the side…
We've had a very tough week and had to play against some very complicated teams; Espanyol gave us difficulties like they always do - our games here have always been intense. Now we've got Villarreal coming up (on Wednesday), and for the players they have, they would also normally be battling for third place; they've gone off the boil a little, but they are a side with tremendous technical ability. After that we've got Las Palmas but we0re not looking any further than the Villarreal game.
The team's finally gained consistency - are you satisfied with how they're playing?
We started getting consistent results towards the end of 2016 and managed to carry that through into 2017. We have to maintain that - keep defending well and work as a team in every game, as well as provoking situations which improve our chances of winning. That's our strength. It's admirable what these players are doing. We could play a little better, but the team's winning.
Media speculation on Atlético's star players
Are you worried about the rumours that have been coming out about your players leaving to join other clubs?
No.
Why did you take Torres off and bring Thomas on at half-time?
I was trying to ensure we had more players in our second line of attack, so that Griezmann could link up with the others and play with his back to goal. The first 20 minutes of the second half were very interesting. It turned out well.