Messi plays while holding bandage to bleeding mouth
Lionel Messi played through the pain barrier in the first half at the Bernabéu, after a stray elbow from Marcelo caught the Argentine maestro in the faceBarcelona vs Deportivo La Coruña: LaLiga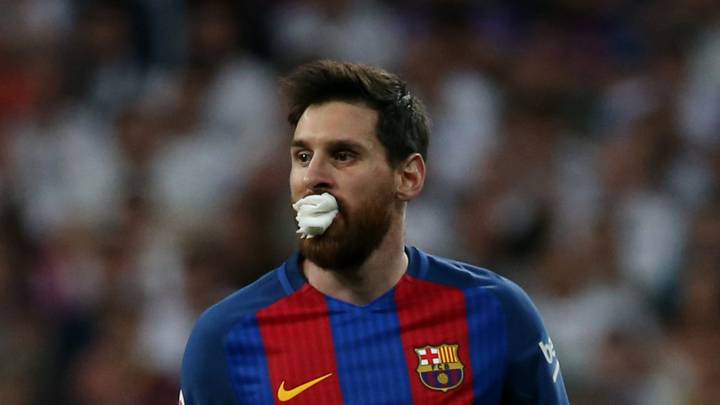 Lionel Messi lay on the Bernabéu turf with blood streaming from his mouth following a clash with Marcelo. Yet, the Argentine struggled on to score a sensational winner for Barça, despite holding a bandage to his mouth to stem the flow.
Marcelo and Messi clash
Marcelo and Messi clashed in the Real Madrid half of the pitch, after Marcelo had released a pass along the line. With Messi arriving late to close the Brazilian down, Marcelo's elbow caught him in the mouth.
The official referee of AS, Iturralde González, stated that the action was deserving of a red card: "Marcelo raises his elbow because he knows that Messi is there. He's doing it to catch him in the face. It's a clear red."
Lionel Messi hauled himself up, and after a brief period of treatment on the touchline, returned to action with a tissue pressed tightly to his mouth, to stem the flow of blood. He cut an extraordinary figure, dictating play in the midfield with just one arm free.
Messi scores winner
The Argentine recovered from the blow, and burst through the Real Madrid rear-guard on 33 minutes to pull Barça level in a crucial La Liga clash. Casemiro had opened the scoring for the home side.
With the last kick of the game, Messi was decisive once again, as he met a cut-back from Jordi Alba to secure a 2-3 win for Barcelona.