Ramos sent off for two-footed lunge on Messi
Madrid captain Sergio Ramos saw red in the second half of El Clásico, following a dangerous lunge on Lionel Messi. He exchanged insults with Pique afterBarcelona vs Deportivo La Coruña: LaLiga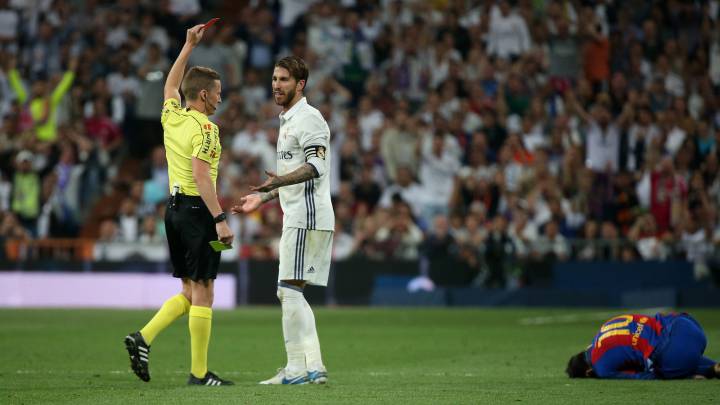 Sergio Ramos was sent off in the second half of El Clásico, with his side trailing 1-2 to Barcelona in a rip-roaring La Liga clash.
Sergio scythes Messi
With Real Madrid committing players forward in an attempt to draw level at the Bernabéu, Barça counter-attacked through Lionel Messi, who played on despite receiving an elbow to the face in the first half.
As the Argentine scampered down the right flank, Sergio Ramos steamed in and, with two feet off the floor, up-ended his opponent. It was a rash challenge, and referee Hernández Hernández brandished a deserved red card, Ramos' first of the season.
It proved to be a decisive moment, as Barça careered forward in the dying moments to win the match. When the ball fell to Messi, there was nobody to scythe him down. He slotted down to seal a 2-3 victory and keep the La Liga title race open.
Piqué and Ramos trade verbals
As Ramos trudged off the pitch and down the tunnel, he engaged in a rally of insults with outspoken Barça defender Gerard Piqué. In the days leading up to the match, Piqué had been riling the Real Madrid faithful, and their support for their team.
Ramos gestured with his hands to imply that Piqué was talking too much, before clapping his hands, and pointing to the Bernabéu crowd.