Who are Real Madrid and Barcelona yet to play in La Liga?
The title race is on following Barça's 2-3 last-gasp victory in El Clásico at the Santiago Bernabéu, find out which teams they still have to play.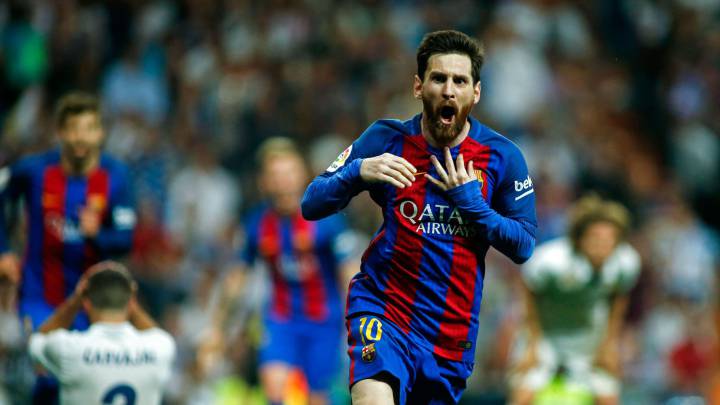 As they say in Spain, 'Hay Liga'. With one month to go, the race for the title is on.
Lionel Messi's dramatic last-minute winner at the Bernabéu moved Barcelona on to 75 points, along with Real Madrid, although Los Blancos have one game in hand.
Sevilla and Valencia to visit Bernabéu
Real Madrid appear to have the most challenging matches at home, on paper at least. Sevilla and Valencia are yet to visit the Santiago Bernabéu. Both sides have the individual quality to cause problems.
Zidane's side will have to travel away from Madrid four times, starting with a trip to Galicia to play Deportivo on Wednesday. They will return to Galicia for the penultimate match of the season, a rescheduled clash with Celta.
On top of their La Liga committments, Madrid also face a Champions League semi-final derby against Atlético.
Real Madrid fixtures
W34 Deportivo-Real Madrid (26th April)
W35 Real Madrid-Valencia (29th April)
W36 Granada-Real Madrid (6th May)
W37 Real Madrid-Sevilla (14th May)*
W21 Celta-Real Madrid (17th May)*
W38 Málaga-Real Madrid (21th May)*
*TBC
Barcelona derby awaits
Barça's trickiest test looks to be the derby against Espanyol in Cornellà. Luis Enrique's team also face a long trip to the Canary Islands to face Las Palmas, in their final away match of the season.
At Camp Nou, Barcelona will welcome bottom-placed Osasuna on Wednesday, before facing a sterner test in the form of Villareal
Barcelona fixtures
W34 Barcelona-Osasuna (26th April)
W35 Espanyol-Barcelona (29th April)
W36 Barcelona-Villarreal (6th May)
W37 Las Palmas-Barcelona (14th May)*
W38 Barcelona-Eibar (21st May)*
*TBC