Touré would rather play Manchester derby "without a ref"
Yaya Touré claimed today that Manchester City side were on the wrong end of refereeing decisions in their FA Cup semi-final defeat to Arsenal.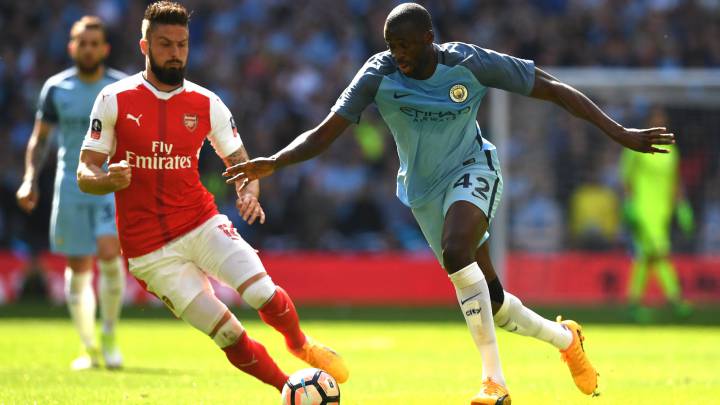 Yaya Touré has said he would prefer Thursday's Manchester derby to be played without a referee after complaining that Manchester City were castigated by poor refereeing decisions in yesterday's FA Cup semi-final defeat to Arsenal.
Refereeing goes against Arsenal in Cup semi-final
Match official Craig Pawson was in the spotlight after City were denied what appeared to be a legitimate goal before losing 2-1 to the Gunners at Wembley on Sunday. Sergio Agüero had a goal disallowed after the officials ruled Leroy Sané's cross had gone out of play before reaching the City striker, a decision which replays indicated was wrong and Touré said his side had also been denied a penalty early on in the game.
"I think the referees have to stop this. I am very disappointed. It is not the first time, there have been a couple of times", Touré explained.
When asked if the ball had stayed in play, Touré added: "Definitely; and it was a penalty and something more. But what can we do? If we talk about the referee the FA is going to come in for the punishment if we think like that, but I think I need to sleep and rest and forget this game. If we have to talk about referees, people are going to say 'we complain' but when we see the highlights, for me it is very disappointing".
Stakes high for Thursday's Manchester derby
Looking ahead to the derby with Manchester United, the veteran Ivory Coast international said: "Maybe on Thursday we are going to have a better referee or maybe play without a referee - I'd prefer that".
Liverpool, Arsenal, City and United battle for fourth place
Thursday's match could have a big impact on the race for a top four spot in the Premier League and the battle for Champions League qualification. Pep Guardiola's City are currently fourth, with José Mourinho's United just a point behind in fifth place and with both sides having played 32 of their 38 league games this season.
"It is a very big game, an important game", concluded Touré. "We have to do that job and we will see what can happen. We hope we are going to have a good referee".