Deportivo - Real Madrid: As it happened, goals, action, match report
Isco was the protagonist as Madrid swept Depor aside with goals from Morata, James (2), Lucas, Isco, and Casemiro. Andone and Joselu for the hosts.Copa del Rey 2017 last 16 draw: live online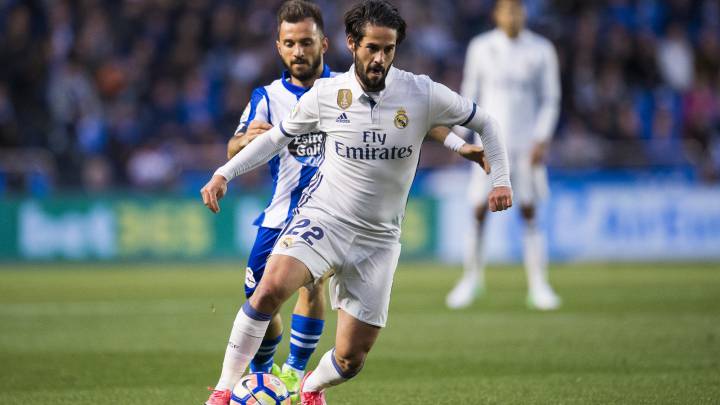 Deportivo La Coruña 2 - 6 Real Madrid: match report
One moment of skill encapsulated an ostentatious performance from Isco, who was the protagonist as a second-string Real Madrid side overpowered Deportivo in Galicia. With the ball on the edge of the box, the diminutive midfielder pirouetted, before flicking the ball towards Alvaro Morata with a backheel on-the-spin.
Isco scored a goal after 77 minutes, Madrid's fifth, to cap off a fine display, before leaving the pitch to bregrudging respect from the home support. The result leaves Real Madrid and Barcelona equal on 78 points at the top of La Liga, with the former having played one match less.
Real Madrid began the match under pressure to match Barcelona's positive result at home to Osasuna, who became the first team to fall to the second division this season. Zidane's team selection raised eyebrows; Marcelo and Nacho the only survivors from Sunday's Clásico loss.
Yet the visitors surged out of the starting blocks. Concerns regarding the strength of the team immediately subsided. Literally. The clock had barely registered 50 seconds when Morata latched on to a through ball from Isco, and arrowed a fierce shot in to the roof of the net.
In the early stages, Madrid launched attack, after attack, after attack. By the time James doubled the lead on 14 minutes, stabbing a low cross from Lucas beyond Germán Lux, Los Blancos had already let several guilt-edged chances slip by. Alvaro Morata, despite his early goal, was particularly profligate.
As Florin Andone, impressive in attack for Deportivo, turned a miscued shot by Gael Kakuta in to the roof of the net after 35 minutes, it looked like Real Madrid could be made to rue missed chances.
The home side imposed themselves on the match, they established a threat. Yet Lucas Vázquez put an end to any serious hope of a comeback, turning home from close range on the brink of half time.
The second half flowed with an enjoyable inevitability.
Isco created James' second goal on 66 minutes, dumbfounding the defence with a couple of quick stepovers threading a pass to Morata, who committed the 'keeper before setting up the Colombian to tuck the ball in to the bottom corner. Isco added one for himself ten minutes later, guiding a Lucas cross in to the near corner on the half volley.
Depor had one last hurrah, as Andone crossed for Joselu to glance the ball in to the bottom corner. But Real Madrid put further gloss on the result as substitute Casemiro drove a low shot in to the net with full time approaching
Zinedine Zidane returns to the capital safe in the knowledge that he can count on his second-string of players. In the case of Isco, it is a wonder how he can be classed as a second-string player. On current form, this won't be his last contribution to the title-race.
---
Deportivo La Coruña 2 - 6 Real Madrid: second half as it happened
FT whistle blows. A bonkers, eight-goal thriller goes comfortably in Real Madrid's favour at Riazor.
Min 90+3 | Çolak booked for whinging after a foul was given against Andone.
Min 90+2 | Joselu booked for a high foot. He throws two tattoo-covered arms in the air in protest. To be fair, he did win the ball.
Min 90 | Mariano is involved again. He heads a cross wildly over. He lacks subtlety, but has certainly given the Real Madrid attack an injection of dynamism.
Min 90 | Three minutes of added time.
Min 89 | Mariano has the ball in the net, but the offside flag was already up.
Min 87 | Casemiro hits a daisy-cutter from the edge of the box. It's fairly close to the centre of the goal, but it pushes past Tyton's limp palm with ease.
Min 87 | GOALLL! Casemiro from range.
Min 86 | Mariano commits Tyton, and the goalkeeper is on the floor. Somehow, Mariano fails to run past him, and the 'keeper stretches out a hand to claim the ball.
Min 84 | Really neat goal. Andone controlled the ball on the left hand side, shifted on to his right foot, and clipped a lovely cross on to the head of Joselu, who directs the ball in to the bottom corner. Great cross, clean finish.
Min 84 | GOOALLL DEPOR! Joselu!
Min 82 | Superb by Florin Andone to knock the ball past one side of Marcelo, and accelerate around the other side of him before crossing in. Luisinho steams in at the far post, but can't quite get there ahead of Danilo.
Min 78 | Real Madrid subs: That's Isco's last contribution. Casemiro replaces him, while Mariano replaces Asensio.
Min 77 | He's been sensational, and now he gets his goal. Isco ghosts in at the back post, waiting for a cross from the right, Lucas flashes the ball across to Isco, and he does very well to take the sting out of the cross and guide the ball inside the near post on the half volley.
Min 77 | GOOALLL! Isco!
Min 76 | Sidnei comes close! Emre Çolak whips an out-swinging corner in to the box, which Casilla strides out for, but fails to claim. It hits the head of Sidnei, rather than Sidnei heading the ball, and it flies over.
Min 74 | It's Depor's turn to attack, and they grab themselves a corner. Andone glances a header towards the back post, but can't get enough on it to guide it on target.
Min 72 | Real Madrid look very comfortable now. Their ball-players in the middle are dictating the tempo of the match.
Min 70 | He's at it again. Irresistable from Isco. He tries to set Morata free by spinning round with the ball at his feet, and back-heeling it on the turn. It doesn't quite come off, but it was a lovely piece of improvisation.
Min 68 | Isco is booked. He arrives slightly late on Andone, and treads on the top of his foot. A clear yellow, and the midfielder from Málaga looks apologetic.
Min 66 | Isco is the architect, again. He flashes a couple of stepovers, before sending Morata clean through. The rangy striker commits the 'keeper, before laying it off to James to tuck in to the bottom corner. There are Depor players on the line waiting to block, but he makes no mistake.
Min 66 | GOOALLL! James scores again!
Min 63 | The ball drops down to Danilo on the edge of the box after Lucas flicked it up for him, but he scoops it in to the lap of a Depor fan in the crowd. On balance, not the man you'd want the ball to drop to in that position.
Min 61 | Tyton is forced in to his first save. Morata uses Arribas as a sight-shield, obscuring the 'keeper's view, before bending a low effort towards the corner. Marcelo allows the ball to run through his legs, prompting cries of 'offside' from the blue and white defenders, but the referee lifts his arm and signals a corner. A Real Madrid player gets a head to the corner, but it amounts to nothing.
Min 59 | Sublime run from Marco Asensio. The youngster has a remarkable ability to shift through the gears, while retaining total control of the ball. He scythes through the Depor team, before laying it off to Lucas, who shoots wide.
Min 58 | Guilherme has a pop from 30 yards. He hooks it something horrible, and it skids well wide.
Min 57 | Deportivo sub: Gil hobbles off, Joselu trots on.
Min 55 | Well, it's certainly been a calmer start to proceedings than in the first half. Most of the match has taken place in the middle third of the pitch. Madrid look slick, but not hugely threatening. Depor appear content to allow Madrid to look slick but not hugely threatening.
Min 53 | Deportivo look to launch a counter attack following a Madrid corner. Gil chips a pass through to Andone, but Asensio gets back to cover.
Min 49 | Depor have started promisingly. They're attacking the goal in front of their most vociferous fans, who have made a right din all night. Nice feet by Gil to dance past Marcelo.
Min 47 | Luisinho appears to have moved up to left wing, with Navarro slotting in at left back. Mel ostensibly trying to sure up the left hand side.
Min 46 | The second half gets going.
Two changes at half time for Depor, as Tyton replaces Lux in goal (presumably enforced), while Navarro replaces Kakuta.
---
Deportive La Coruña 1 - 3 Real Madrid: half time talking points
The passing from both sides has been onurringly accurate. Depor have completed 89% to Real Madrid's 86%. Marco Asensio tops the individual ratings with a cool 100%.
Isco has been sensational in the first half. He's so slick, so intelligent. He can count himself incredibly unlucky not to be in the team on a more regular basis.
---
Deportivo La Coruña 1 - 3 Real Madrid: first half as it happened
HT - Lux punches the ball in frustration, and that's the last meaningful event of the first half. What an enthralling first half it was, too. Real Madrid raced in to a 0-2 lead after 14 minutes through Morata and James. It should have been more. Morata alone should have scored a hat-trick. It looked like that profligacy might haunt Madrid when Florin Andone pulled one back for Depor. With half time approaching, excellent play by Isco allowed Lucas to re-establish a two-goal lead.
Min 44 | Isco scrambles up of the floor, with the referee playing a great advantage, and plays the ball in to Marcelo's path. He arrows a low cross towards the six yard box, and Sidnei, back-pedaling, can only block the ball in to the path of Lucas, who slots home from close range.
Min 44 | GOOALLLL! Lucas!
Min 43 | Casilla comes close to calamity! The Madrid 'keeper flaps at a cross, and directs the ball straight on to Guilherme's shoulder. He looks perplexed, and the Real Madrid defence holds its collective breath as the ball trickles past the post.
Min 42 | The Riazor crowd are on their feet, roaring on their boys in blue and white. The home side have a corner. Depor go short, but it's cleared.
Min 40 | Luisinho commits another foul, this time on James, and that gives Madrid some room to breathe. Who'd have thought I'd be typing that when we had 20 minutes on the clock?
Min 39 | That goal has buoyed Depor. Gil has another go, curling a shot from the edge of the box. Casilla flings himself to his right and palms it away for a corner. It's cleared, but Depor keep coming back for more.
Min 37 | Free-kick to Madrid, to the side of the box. Luisinho commits too early, with Lucas facing up to him, and he takes down the nippy winger. James delivers a teasing inswinger, which is headed away.
Min 35 | Rather fittingly, the goal comes from a Kakuta miscue. The former-Chelsea winger chests down a cross, and shapes to shoot at the far post. He gets it all wrong, but his wild shot arrows directly to the right foot of Florin Andone. He has a rather more subtle touch that his team-mate, and guides the ball in to the roof of the net. Inexplicably, Depor are back in this.
Min 35 | GOOALLLL DEPOR! They're back in it through Andone!
Min 32 | How has Morata missed?! This is even worse than the last time he fluffed his lines. Seven yards out, with time to take a touch and shoot, he manages to find the face of a diving Lux, rather than the rippling net. He's earning his wage this evening, the Argentine 'keeper.
Min 29 | When Depor have possession, they put some tidy phases of play together. Juanfran and Luisinho have license to attack, with the two deep-lying midfielders able to cover. Yet the end product is lacking, at the moment.
Min 27 | The home side conspire to end their positive spell. Lux is placed under pressure by a sloppy back-pass and the ball falls to Lucas , one-on-one. He shoots low, and Lux, spread-eagled, just about manages to turn the ball around the post with the inside of his ankle. That could have ricocheted anywhere.
Min 26 | Five minutes of consistent Depor pressure results in a scramble in the Real Madrid box. Bergantiños is ready to let fly from near the penalty spot, but the offside flag goes up.
Min 24 | Possession is at about 45:55 in Real Madrid's favour, which seems remarkably low given the rip-roaring start they made.
Min 22 | Deportivo have a shot! It's Gil, who drifts in from the right to assume a position behind the striker. The ball drops down for him and he connects well with the shot, but it's straight at Casilla. The home side are belatedly growing in to this game. Guilherme swerves another shot just over the bar.
Min 20 | With 20 minutes on the clock, Depor settle in to a rare spell of possession. Kakuta soon puts an end to that, though. He has a real fondness for running down blind alleys.
Min 17 | Free kick in a perilous position for Madrid, after Bergantiños fells Lucas. It's right on the edge of the box. Isco fires a shot in to the wall and, for a split second, it looks like the ball might loop in to the path of a white shirted-player. Not quite, it bounces out for a corner, which is cleared.
Min 16 | Offside! The ball is in the Depor net once again, with Morata turning in Marcelo's low cross. But... the flag is up. Isco shifted the ball from his right foot to his left, before sliding a lovely through-ball to Marcelo. The Brazilian appeared to be in line with the defence there. A let off for the home side.
Min 14 | James charges towards the box, lays the ball out to Lucas on the right hand side, and carries on running. When Lucas flashes a low cross in to the box, James is ready and waiting to poke it beyond Lux with the outside of his left foot. The 'reserves' aren't doing too badly tonight.
Min 14 | GOOOALLL! The inevitable arrives. James the scorer.
Min 13 | Crikey, it's relentless. Asensio shaves the base of the post with a dipping shot from the edge of the box.
Min 11 | Morata feigns to shoot inside the box, and sends Arribas sliding towards the corner flag, with plenty of time, he can't find a way past Lux. He scuffs the shot along the ground. Another sublime chance goes begging.
Min 10 | Depor get a rare sight of possession, but it is squandered by Kakuta in the centre circle. He runs straight in to Kovacic. Deportivo will need to take better care of the ball, because they won't see much of it.
Min 7 | On come Madrid once again; it's wave after wave of white shirts swarming forward. Isco shoots from the edge of the box, looking to curl it in to the far corner. He isn't far away either. His shot has a lovely shape to it, but it flashes narrowly past the post.
Min 5 | Asensiooo.... no. The young midfielder twitches through a gap between Arribas and Sidnei, showing deft footwork, but Lux thwarts his left-footed shot from six yards out. He should have doubled Real Madrid's lead.
Min 2 | Isco nearly gets his second assist. He threads a delightfully-weighted, diagonal ball in to the path of a careering Lucas. On the edge of the box, Luisinho just about manages to stick a foot in.
Min 1 | Isco slips a neat pass through to Morata, who, on his right foot, drives a fierce shot in to the roof of the net. The 'keeper gets a flailing hand to it, but his Lux out on this occasion. What a dream response to Brça's rout of Osasuna earlier.
Min 1 | GOAALLLLLL! Alvaro Morata opens the scoring after 50 seconds!
Min 1 | And we're off! Morata gets us underway.
---
Deportivo La Coruña vs Real Madrid: team news
Deportivo XI: Lux; Juanfran, Arribas, Sidnei, Luisinho; Bergantiños, Guilherme; Gil, Çolak, Kakuta; Andone.
Subs: Tyton, Navarro, Albentosa, Joselu, Fayçal Fajr, Borges, John.
Coach: Pepe Mel
Real Madrid XI: Casilla; Danilo, Varane, Nacho, Marcelo; Kovacic, Isco, James; Lucas, Morata, Asensio.
Subs: Navas, Carvajal, Benzema, Casemiro, Mariano, Modric, Tejero.
Coach: Zinedine Zidane
---
Deportivo La Coruña vs Real Madrid: pre-match chat
20:26 | Marcelo will wear the captain's armband for Madrid.
20:21 | In trot the teams to receive their final instructions. Kick off is ten minutes away.
21:15 | Back in September 2014, Real Madrid absolutely spanked Deportivo at Riazor. They scored 8 of the goals in a 10 goal rout. Unsurprisingly, a certain Mr Ronaldo scored a hat-trick.
21:08 | The evening sun is glinting off the roof of Riazor, and the teams are warming up on the turf down below. The Madrid team have split in to two, and are playing 'keep-ball' in a square. Remarkable close-control on show.
21:06 | Let's take a look at Álvaro Tejero. Him and Zidane go back to when the Frenchman was in charge of Real Madrid's B Team. In fact, it was Zidane who promoted Tejero from the Cs to the Bs in 2015. His versatility will have helped him gain a place in the match-day squad. Although primarily a full back, he is capable of filling in at centre half, and in the midfield.
21:00 | Real Madrid's leading scorer in La Liga, who is playing tonight, is Alvaro Morata with 12 goals. In fact, he's Los Blancos' second top scorer behind Ronaldo, ahead of both Benzema, Bale, and Sergio 'We're in added time are we?' Ramos. Isco also has 9 so far this campaign, so they're not short of goals, by any means.
20:55 | Depor's next game after tonight is a trip to Pamplona to face Osasuna on Sunday. If they can't seal their survival tonight, where better place to do it than at the club rooted to the bottom of La Liga.
20:50 | For any nervous Depor fans out there, you can follow Leganés vs Las Palmas live. It's 0-0 as things stand, with about 15 minutes gone.
20:45 | Florin Andone continues to lead the line for Depor, with Joselu on the bench. The Romanian striker has enjoyed a fine season since his arrival from Córdoba in the summer; filling the void left by Lucas Peréz better than many imagined. He spoke earlier this week about his eagerness for tonight's match.
20:37 | A mere three changes for Pepe Mel's chaps. Arribas is in for Albentosa (who almost backchatted his way in to an early bath against Real Sociedad), Guilherme returns from suspension to replace Borges, and Gil is in for Fajr. The Branquiazuls really missed Gil's invention last time out in the Basque Country.
20:30 | You have to wonder whether the extent of the rotation in Real Madrid's ranks with give Depor a psychological boost ahead of kick off. If I was Pepe Mel, I would be looking to motivate my players with a 'they think they can come here and beat us with their reserves' type shtick.
20:24 | Young Tejero, called up from Real Madrid Castilla, takes a spot on the bench. Varane has been rushed back from injury to partner Nacho in defence. Zidane will be hoping that his decision to rush the French defender in to action doesn't take a turn for the Bale...
20:22 | It has been one year since Real Madrid last managed to score in a match. That's a run stretching 56 games and 151 goals of their own.
20:15 | TEAM NEWS! Zidane really has rung the changes. There are nine new faces, with Nacho and Marcelo the only two to survive Sunday's Clásico defeat.
20:00 | Isco is likely to play this evening, with Zidane opting to give some senior players a rest. Last time out, against Sporting, he scored two goals and completed 94% of his passes.
19:45 | With 22 red cards, the most recent of which prohibits him from playing tonight, Sergio Ramos is at the top of the 'naughty boy' list. Have a peruse of this pictorial of La Liga's historic hard-men.
19:30 | The match between Barcelona and Osasuna is underway at Camp Nou, and you can follow it minute-by-minute with Robbie's coverage. The result there has implications for both Depor, and Real Madrid. If Barcelona win, and Leganés beat Las Palmas, Deportivo will be assured of their place in La Liga next season. The Legánes game is a 20:30 kick off in Madrid, so Depor could know of their safety by half time at Riazor.
19:15 | Luis Enrique pulled out a big wooden spoon and began to stir the pot in his press conference ahead of Barça's clash with Osasuna. He suggested that he would rather have Real Madrid's fixtures, than the ones Barcelona have. Here's a reminder of who both teams still have to face.
19:00 | Real Madrid have the double in their hands, and it's the first time they have been able to say that since 2002-03. The league and European Cup double, that is. The big one. Although the Johnstone's Paints Trophy + League Two combination is not to be sniffed at.
18:35 | Depor only managed to muster one shot on target during their limp 1-0 defeat to Real Sociedad on Sunday.
18:20 | This fixture was an absolute cracker when the two teams met in 1999-2000, the year that Deportivo lifted the La Liga trophy for the first time. Depor prevailed 5-2 at Riazor, with a Roy Makaay goal and a Djaminha screamer, amongst others. Morientes and Hierro made the scoresheet for Real Madrid in the seven-goal thriller. More of that please, gents.
18:00 | Sánchez Martínez will be the man with the whistle between his lips at Riazor. He has officiated Depor four times this season, and they only lost one of those. Real Madrid are unbeaten in the five games that he has refereed.
17:00 | The Estadio Riazer used to be a tough place for a visiting Madrid side but in recent times it's been a happy hunting ground. Have a read of how things have changed.
16:19 | There are only five games left for both these teams in LaLiga. Much has already been made of the comparison between those of Barcelona and Madrid (with Luis Enrique actually saying he'd prefer those of his title rivals). Depor on the other hand have two away trips (Osasuna and Villarreal) and two home games (Espanyol and Las Palmas) after tonight.
15:49 | The AS Oracle has had a mixed time of it recently. "Football predictions are a tough gig!" he/she/it (we don't know) protests. Here is this midweek's selection.
15:14 | Much of the narrative around Madrid's trip north tonight is about the Liga title race which was blown open at the Bernabéu on Sunday. By the time the teams take to the field they'll already now how Barça got on. The current league leaders host bottom side Osasuna at the Camp Nou with kick off at 19:30 CEST. Our build-up is already well underway...
14:54 | Deportivo come into this game not certain of their status next season but do have some daylight between them and the relegation zone. Pepe Mel's team sit in 16th position, seven points ahead of Sporting in 18th and with a game in hand.
14:31 | In a Liga season that has seen various records fall, Real Madrid are still chasing another. Already with the most consecutive goals in the Spanish top flight, Zidane and co. now have their greedy eyes on Bayern Munich's record. Read all about it here.
14:03 | We're unlikely to see global viewing figures to rival that of Madrid's last match where an impressive 650 million tuned in to see Barcelona visit the Bernabéu.
13:46 | The home crowd at Riazor is limited to 34,600 but there will be several million keeping an eye on how the game pans out around the world. Here are some other ways you can do so.
13:34 | Depor manager Pepe Mel is not feeling any more confident at his teams chances against the Madrid giants just because some of the big name players are out. Asked about Zidane's 'Plan B' he said:
"They are great players. Isco, Asensio, Lucas, Morata... they played really well against Leganés, they took care of the game in Gijón...it doesn't make me feel any more relaxed that some are out, as others will come in."
13:17 | Real Madrid club members will have some extra spending money for their trip to La Coruña after Sergio Ramos' proposal of paying for their travels was accepted by his teammates. They'll also cover the price of the ticket. Nice!
12:55 | The rotation and use of Real Madrid's fringe players has generally proved successful this term and was something on the mind of AS editor, Alfredo Relaño, this morning.
12:41 | Zidane is giving some big names a rest for this evening's match meaning that the likes of Isco, James, Asensio and Morata are likely to be getting more minutes under their belt.
12:15 | Hello and welcome to our live coverage of Deportivo v Real Madrid in LaLiga Santander, match-day 34. Our live action takes place at picturesque seaside ground Riazor in A Coruña, with kick-off at 21:30 hours (CEST).
---
Deportivo La Coruña vs Real Madrid: match preview
Real Madrid travel to the north-western tip of Spain to face Deportivo La Coruña at El Riazor. Following Lionel Messi's last gasp winner for Barcelona in the Clásico on Sunday, the La Liga title race has burst back in to life.
Both teams now commence a mini-season of title-defining fixtures.
Deportivo La Coruña
Pepe Mel's initial impact when he took over as manager at the end of February has waned. His ten games in charge of the 1999-2000 La Liga winners can be split in to two identifiable parts. Depor went undefeated in his first four games, but in his subsequent six, they have only registered one victory, a 2-0 win against Màlaga.
Before the match, striker Florin Andone spoke of the team's desire to put an end to negative results against Real Madrid.
Yet, Real Madrid should be wary of stoic opposition, who have beaten Barcelona and held Atlético to a draw since Mel took over. What is more, Riazor is a notoriously troublesome stadium to visit. It may occupy a stunning position on the edge of he beach in La Coruña, but the crowd can be intimidating. Depor have lost just one of their last six matches on home soil.
Carles Gil, Alejandro Arribas, and Guilherme are available following suspension for the Depor, but Pedro Mosquera remains sidelined by injury.
Depor could be safe from relegation by the time the second half gets underway, if Barcelona beat Osasuna, and Leganés beat Las Palmas in the earlier kick offs.
Real Madrid
Los Blancos will not be at full strength for their trip to Galicia. Sergio Ramos' red card at the Bernabéu on Sunday evening means that Zinedine Zidane's side is threadbare in defence. Existing injuries to Pepe and Varane leave Nacho as the only fit centre half, although Varane may be rushed back to action to alleviate the problem.
In attack, Zidane also has fresh concerns. Gareth Bale limped off during El Clásico with a recurrence of a calf injury, meaning he'll miss both Champions League semi-finals against Atlético, as well as the clash against Depor.
The French coach defended himself against claims that he should not have rushed Bale back to action so quickly: "He was 100 per cent fit, he told me. Before the match everything was fine and he was training normally."
That said, the impressive form of Marco Asensio and Isco may mean Bale's absence is not so costly. Isco does not have Zidane's faith in high-profile matches, but against lowlier opposition such as Depor, he tends to feature.
---
Deportivo vs Real Madrid live online: possible line-ups
Real Madrid XI: Navas; Carvajal; Varane, Nacho, Marcelo; Isco, Modric, Kovacic; Asensio, Morata, Lucas
Deportivo XI: Lux; Juanfran, Albentosa, Sidnei, Navarro; Borges, Bergantiños; Kakuta, Fajr, Luisinho; Andone
---
Deportivo vs Real Madrid: match facts
Real Madrid have won their last eight matches against Depor in all competitions.
Both teams like to work the ball out to wide areas, and then cross the ball in. Real Madrid average 24 cross per game (2nd most in La Liga), while the Branquiazuls averages 23 per game (joint 3rd most in La Liga)
---
Deportivo vs Real Madrid: live stream match betting
Depor struggle to score, but will be well organised in defence. Real Madrid are at 10/1 to win 0-1.
Bet on Deportivo vs Real Madrid now.
---



LaLiga Santander
Leaders
Messi

12

Goals
Roque Mesa

1007

Passes
Steals
*Update 26 de abril de 2017
LaLiga Santander
Leaders
Messi

12

Goals
Roque Mesa

1007

Passes
Steals
*Update 26 de abril de 2017