Espanyol 0-3 Barcelona: LaLiga 2016-17 Match report, action, goals
Luis Suárez grabbed a brace and Ivan Rakitic scored once to give Barcelona 3-0 win in Luis Enrique's last Catalan derbyBarcelona vs Deportivo: LaLiga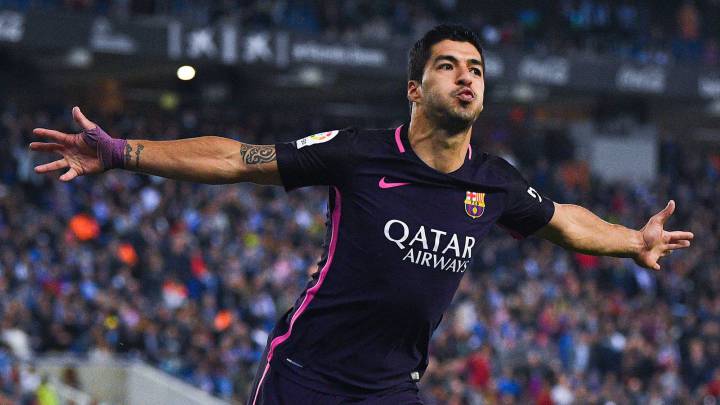 Espanyol 0-3 Barcelona: match report
All eyes were on the Cornellà on Saturday night after Real Madrid beat Valencia at the Santiago Bernabeú earlier in the day to ensure Barcelona had to win to keep pace with their rivals at the top of LaLiga.
A lightening fast start to the game resulted in a number of half-chances for both sides but with neither capable of breaking down the other. Espanyol were trying their best to prevent Barcelona from playing their normal game and were pushing high up the field, which is never advised against Luis Enrique's side. They managed well though and even troubled Barcelona on occasion with their gung-ho approach.
The second half started and Espanyol were starting to show signs of tiring. They were still up for the fight but their pressing was suffering Barcelona were starting to pick holes in their defense. They were also the subject of more prolonged spells of Barcelona dominance without being able to hold the ball in their opponents' half for long.
They seemed to be coping okay, before a Jurado backpass was intercepted by Luis Suárez who bore down on goal and slotted home to break the deadlock after fifty minutes.
Espanyol, running low on steam, knew they had an uphill battle to score and prevent Barcelona from tagging on any more. That's exactly what Barça did on 76 minutes when Lionel Messi made an excellent run, drew several defenders and passed to Rakitic, only for the Croation to sidefoot home with plenty of space created by Messi.
Espanyol's race had been run at that stage and Barcelona pushed for a third, and more if they could get it. They landed a third on 87 when Luis Suárez finished after Aaron mishit a clearance off the inside of his leg.
Barcelona had seen the Real Madrid result and responded in the only way they know how. Espanyol made it very tough for Barcelona and you have to wonder what might have been if it weren't for Jurado's silly backpass. Barcelona are back on top for the rest of the weekend and into next week as they try their best to spook Real Madrid into messing it up.
---
Espanyol 0-3 Barcelona: second half
FT: Barcelona move back ahead of Real Madrid but Real Madrid have a game in hand still. More difficult for Barcelona than the scoreline might suggest but once that first one went in, Espanyol knew that they had an almost impossible job to catch Barça.
Min 90+1 | Messi has a shot that forces a save from Diego Lopez. Up the other end and Gerard Moreno is offside from a cross.
Min 90 | Neymar in the penalty area. He thinks about shooting, then thinks about crossing, then thinks about turning back but he slips and ends up doing none of the above. Espanyol on the attack but fighting a losing battle at this stage.
Min 87 | GOAL! GOAL! GOAL! Messi lofts a hopeful cross into the box, Aaron tries to clear but the ball lands perfectly to Suárez who finishes with ease. three goals up and three points in the bag now, surely.
Min 86 | Espanyol have run themselves into the ground and since Piatti went off, they have really struggled. The battle between Caicedo and Piqué that was occupying the defender was helping Espanyol but they have not had a proper target since he went off.
Min 85 | Espanyol trying to make something happen now. They keep the ball for a spell but the ball out wide to Jurado has too much on it and he can't control it. frustrating for the home side as Barcelona flood their defense at the first sign of danger. They're very keen not to concede late.
Min 83 | Sergi Roberto tries his luck from outside the box but Diego Lopez saves again.
Min 82 | Messi with an effort that just won't fall to him. He eventually decides to swing a foot at it anyway but it takes a deflection and rolls to Diego Lopez.
Min 81 | Neymar does well to skip inside to defenders but his cross is blocked for a corner.
Espanyol substitution: Javi Fuego replaced by Marc Roca.
Barcelona substitution: Andre Gomes is replaced by Javier Mascherano.
Min 77 | GOAL! Lionel Messi makes an incisive run into Espanyol's penalty area, drawing men from all over, and he just pops it to Rakitic. The Croatian just sidefoots it beyond Diego Lopez, who was gone the other way. very difficult task for Espanyol now to come back from that.
Min 73 | Really nice move by Espanyol as they counter-attacl Barcelona. Leo Baptistao's touch lets him down and Umtiti sweeps up. Luis Suárez wins a free as Reyes bodychecks him. Free to Barcelona but again, too far out to shoot.
Min 71 | Jurado has a shot out on the left. He tests Ter Stegen but the German is equal to it.
Min 69 | Messi shoots but it was too far out as the sting was taken out of it by the time it hit Diego Lopez' gloves.
Min 68 | Javi Fuego takes Lionel Messi's legs from under him and gets booked. Free for the visitors in a dangerous position. Too far out to shoot (maybe) but Neymar and Messi stand over it.
Min 67 | Gerard Moreno gets his head on a cross but it dribbles to Ter Stegen. No power or purpose in that header.
Espanyol substitution: Hernan Perez replaces Pablo Piatti.
Min 63 | Neymar fouled as he makes his way into Espanyol territory. Ref tries to give him advantage but he is fouled again. Espanyol look to be tiring but you might say the same for Barcelona. It's just a bit of a whirlwind of a game at this point.
Min 61 | Espanyol break with Moreno. He passes to Leo Baptistao but his shot is blocked. Corner to Espanyol. Really hectic now.
Espanyol substitution: Caicedo is replaced by Leop Baptistao.
Min 60 | A lovely pass by Messi to Neymar. He sizes up his options and goes for a curler with his right. Looked on target but Diego Lopez gets his hand to it and flicks it over.
Min 58 | Aaron fouls Messi and receives a booking. Tackles flying in now as Piqué throws himself into a tackle with Caicedo too.
Min 56 | Neymar brings the ball depp into Espanyol territory. He tries to put it through and into the six-yard box but Diego Lopez saves and puts it out for a corner. Caicedo receieves ttreatment up the other end as he hit the ground holding his face under pressure from Piqué.
Min 54 | Piatti gets to it eventually and he tries to cut it back to Caicedo. Barcleona put it out for a corner.
Min 53 | Ball into the box nearly reaches Piatti but he can't get a head to it.
Min 51 | Javi Lopez catches Jordi Alba out on the sideline. The left-back is in some pain, it seems. But he gets back up and is okay.
Min 50 | GOAL! GOAL! GOAL! Luis Suárez slots home with the outside of his right. Jurado tries a ridiculous cross-field pass back towards his teammate but Suárez pounces. A dreadful error.
Min 50 | Jordi ALba apushes Jurado in the back and he wins a free as Espanyol look to ease the pressure.
Min 48 | Piatti clips Messi on the right of the penalty area. The Argentine ready to send it into the box. Neymar is the one who curls it in around the back of the defense. Espanyol clear again as Javi Fuego reaches and gets a foot to it..
Min 47 | Espanyol back on the attack and have a free on the right. Piqué headers it away.
Min 46 | Back underway in the Barcelona derby and still 0-0
---
Espanyol 0-0 Barcelona: first half talking points
As a result of the scattershot game that has unfolded, Lionel Messi can't get into a rythym either, which suits Espanyol down to the ground too. He has been forced to drop deep because it is like a warzone in the penalty area and just outside it.
Barcelona have struggled to systematically break down Espanyol. They are getting bodies forward and reacting to the game that is in front of them i.e a very fast-paced one. but they might prefer the chance to pass it around, and play Espanyol off the park that way. Quique Sahcnes Flores has done well to push Barcelona out of their comfort zone.
Espanyol are giving as much as they're taking but you can see that they lack that little bit up front. They are getting into decent positions and really testing Barcelona but have failed to take advantage. The same can be said for Barça but they have been slowly grappling back control. Espanyol's energy is faultless.
---
Espanyol 0-0 Barcelona: first half
HT: .... and breathe!
Min 45+1 | Suárez goes down in the box. Nothing. Neymar picks up the mantle and Espanyol get it away. Living are flying by the seat of their pants. It's working though.
Min 43 | Busquets does well to win the ball back from Piatti. The home crowd want a free but the referee says good tackle. Messi ends up getting a shot away but it is well off target.
Min 40 | After a lightening fast start, the game has slowed down as Espanyol are chasing Barcelona, and the visitors continue probing their opponents' defense. Messi not been as involved as he has been in recent weeks and it has been hectic in their forward line with plenty of physicality and long balls, which doesn't really suit him.
Min 38 | Neymar with a wonderful ball into Sergi Roberto and he gets a head to it. It looked like it beat diego Lopez but it hits the side netting. Very close.
Min 35 | Ball over the top by Javi Fuego is too long as Ter Stegen comes out to collect. We have been treated to a really open game to far. Neither side taking a step back but there have still not been too many clear-cut chances.
Min 32 | Really good ball into the box by Jurado that Piqué looks to have covered. Caicedo chases it down and nearly gets there in front of the defender. Throw to Espanyol. Jurado with another really good cross into the box but Gerard Moreno can't get his head on the end of it. Another good chance. Espanyol really testing Barça in the opening half an hour.
Min 31 | Messi with one of those balls over the top after he takes it on his chest but Luis Suárez makes a mess of it. He was offside to save his blushes but it looked like he was trying to pass that opposed to shooting first time.
Min 29 | Neymar catches Javi Lopez as Messi lofts one into the box in the vicinity of Jordi Alba. Free to the defender.
Min 27 | Espanyol corner. Reall good delivery but no Espanyol bodies or heads can get on the end of it.
Min 25 | Good corner from Neymar as Piqué takes it on his chest but he loses control of the ball and Espanyol break but Sergi Roberto gets it back to Ter Stegen. Neymar on the ground grabbing his knee after a collision. Up again, limping, but ready to continue.
Min 25 | Barcelona slowly but surely starting to dominate this one. Ivan Rakitic wins a corner.
Min 22 | Neymar fouled by Jurado on the left. Looked like he did follow through after Neymar changed direction and caught him out. Free from out wide that Neymar is ready to swing into the box. Diego Lopez collects.
Min 21 | Neymar skips by a couple of tackles and makes his way to the edge of the box. His pass goes to nobody though. Rakitic recovers and clips it into the box and espanyol scramble it away after a moment of doubt.
Min 19 | At this rate, no way Espanyol's attacking four make it into the second half. They're chasing Barcelona all over the place when they win the ball.
Min 17 | Busquets has a word with the referee and then throws the ball away after fouling Gerard Moreno. No yellow but I'd imagine he wasn't far off.
Min 15 | After dusting himself off, Rakitic has a shot from outside the box. It looks good but Reyes gets in the way and puts it out for a corner.
Min 14 | A sore one. Gerard Moreno sends Ivan Rakitic crashing to the ground and gets a booking for himself.
Min 13 | Barcelona starting to attack now in a more coherent fashion. Messi handball stops their latest raid but they are starting to grow into this one.
Min 11 | Neymar with the ball on the left. He cut inside and lets fly but his shot is blocked by Espanyol and they clear. Excellent atmosphere at the RCDE Stadium.
Min 9 | Caicedo remains heavily involved early doors. Umtiti fouls him as Espanyol continue to trouble the visitors. Quique Sanches Flores has set his side up man on man against Barça and it is working so far. Luis Enrique's side not up to the pace just yet.
Min 7 | Ball in behind the back to Jurado is chased down by both Alba and Piqué. The latter tries a backheel to his teammate but puts it out for a corner. Ter Stegen swings a lame punch at the corner but nothing comes of it.
Min 6 | Caicedo far better with the ball at his feet than he is chasing it. He lays it off to Jurado and with a great chance, he pulls his shot wide. Great chance but dreadful finish.
Min 4 | Caicedo a little over zealous in his pursuit of Messi as he takes him out of it after Messi had taken a touch. Messi is back up and Barcelona continue.
Min 2 | Sergi Roberto goes down and holds his knee as Javier Mascherano warms up. Piatti put him under pressure and he just looked to have fallen awkwardly. He is off the field for assessment and we will see how it works out for him.
Min 1 | Espanyol tear out of the blocks. They are pressing Barcelona up high. Ter Stegen with a beauty of a pass along the ground and straight down to Luis Suárez, who lays it off to Lionel Messi but his pass back to Suárez is off target.
Min 1 | We are underway in what is Luis Enrique's last Catalan derby as the manager of Barcelona.
---
Espanyol vs Barcelona live stream online: team news
Espanyol: Diego Lopez, Javi Lopez, David Lopez, Reyes, Aarón, Javi Fuego, Sánchez, Piatti, Jurado, Moreno, Caicedo.
Barcelona XI: Ter Stegen, Sergi Roberto, Umtiti, Piqué, Jordi Alba, Rakitic, Busquets, Gomes, Messi, Neymar, Suárez.
---
Espanyol vs Barcelona live stream online: latest news
20:35 | The two sides are polar opposites in terms of shots per game. Espanyol get nine shots off per game, which is the lowest in the league. Barcelona can almost double that number with 17.2 shot per game and that's the best in the league.
20:24 | Barcelona are top of LaLiga's possession stats with 62%. Espanyol are 8th with 45%. The home side tonight have a 75% pass success rate while Barcelona are top with 86%.
20:15 | Barcelona have not been scored against at Espanyol in their last four visits. They could make it five tonight, which would be their longest streak without conceding against their city rivals. Marc Andre Ter Stegen has 12 clean sheets in LaLiga this season but does not have one since the start of the month against Sevilla. He has conceded seven in the last four games.
20:09 | Gerard Moreno is Espanyol's very own fox in the box. He has scored 12 goals this season and 100% of them have come inside the box.
20:04 | Pablo Piatti has been in sensational form this year. He tends to operate on the left with Espanyol and could give Sergi Roberto a headache tonight.
19:56 | Espanyol make just one change from the team that drew with Sporting Gijón. Marc Navarro drops to the bench and David Lopez coming in.
19:50 | Team news is in for both side. MSN is back after Neymar served his three-game suspension. Suárez also comes back after being rested for the Osasuna game. Andre Gomes keeps his place in midfield and Luis Enrique goes back to two full-backs as Espanyol enjoy play down the wings.
19:40 | Luis Suárez is without a goal in his last three games and he was rested against Osasuna. He scored twice when Espanyol visited the Camp Nou in the reverse fixture of this game as Barcelona beat Quique Sanches Flores' side 4-1. Messi and Jordi Alba got the other goals.
19:34 | In his third year, it might be the first year as the manager of Barcelona that he does not win LaLiga as he did in his first two years. He is going for the third Copa del Rey in a row though and has that to play for. I'm sure he's not too keen to reflect on what he has achieved just yet though as there will be time for that in the summer and beyond.
19:32 | Barcelona are not three points behind Real Madrid again. They have Espanyol, Villarreal, Las Palmas and Eibar to play and will need Real Madrid to trip themselves up at some point. Luis Enrique has those four games and a Copa del Rey final before his career in Barcelona's dugout ends.
19:14 | Lionel Messi has been on fire lately (not literally). He has scored seven braces in his last 11 games. He is running away with the Pichichi award with 33 goals this season. The closest to him is Luis Suárez with 24.
18:52 | Real Madrid beat Valencia at the Santiago Bernabeú on Saturday afternoon putting all the pressure on Barcelona tonight. They are three points behind the leaders and anything other than a win would all but end their title challenge.
18:10 | Over in Paris, PSG have gone 1-0 up against Barcelona Femenís. Sabrina Delannoy converts from the penalty spot. PSG lead 4-1 on aggregate and Barça, with a mountain to climb.

17:50 | Alberto Undiano Mallenco will be in charge of the derby. The Pamplona-born ref, doesn't have too many fans in Barcelona - Blaugrana fans will remember his leniency in failing to send off Valencia's Enzo Pérez for a brutal challenge on Andrés Iniesta which left the midfielder sidelined for two months.

17:33 | A few more stats - Gerard Moreno, who was on target against Sporting mid-week, is Espanyol's top marksman with 12 goals, Piatti is next on 10, Léo Baptistao is the team's third top scorer with four goals to date.

17:15 | Quique Sánchez Flores listed young left-back Aaron Martín in his 19-man squad for the game. The defender, who turned 20 last week, shook off a calf muscle injury and could make his 17th appearance for the Pericos. José Antonio Reyes and Álvaro Vézquez were excluded from the list for technical decision while Óscar Duarte won't be back until next season as he continues to recover from an ACL injury.

16:50 | Espanyol's last home win in this fixture was a decade ago, at their old stadium in Montjuïc. Luis García, Raúl Tamudo and Rufete beat Víctor Valdés in the 3-1 win with Javier Saviola grabbing a consolation goal for Barça.

16:15 | In little under an hour's time, Barça's women's team, Barcelona Femení will be attempting to overturn a 1-3 deficit in their Women's Champions League semi-final return leg against PSG. It will be a tall order at the Parc des Princes, but the Blaugranas will make history if they manage it as no Spanish club has ever gone this far in the tournament.

15:50 | Home coach Quique Sánchez Flores says he is expecting "the best" Barcelona but still feels his Espanyol side have a chance of taking something from the game. "We are two completely different teams with contrasting styles, so we will need to be very cautious".

15:38 | Andres Iniesta's difficult season continues. He has been ruled out of the Catalan Derby.
14:32 | Having initially thought Messi's celebration at the Bernabéu was beautiful, when AS Editor Alfredo Relaño found out it was aimed at the Madrid fans, he changed his mind.
14:26 | Espanyol are expecting their largest turn-out of the season for this game. They've been stoking up the interest with a Messi-inspired poster.
13:49 | Barcelona coach Luis Enrique says he isn't bothered by Luis Suárez's five game goal drought, saying he's as much a creator as an onion-bag buster. Or words to that effect.
13:33 | We're just coming up to half an hour gone in the early Saturday game, with Real Sociedad playing host to Granada. Tony Adams' side need all three points at Anoeta to avoid being relegated today.
12:49 | Suárez bagged two in the reverse fixture at the Camp Nou when Barcelona ran out 4-1 winners, but hasn't scored in five games now and has never scored at Espanyol's ground. He'll be desperate to do some wrist-kissing today.
12:41 | Espanyol celebrate the return of Hernán Pérez, who missed the last two matches with injury.
Here's the 19 men who make up Espanyol's squad for the match against Barcelona:
Diego López, Roberto, R. Duarte, Víctor Sánchez, Víctor Álvarez, Gerard, Caicedo, Leo Baptistao, Aarón, Jurado, David López, Javi López, Hernán Pérez, Javi Fuego, Pablo Piatti, Diop, Diego Reyes, Marc Roca and Marc Navarro.
12:16 | The Barcelona squad has been announced, and the news is that Andrés Iniesta will play no part in this evening's match. He's got a niggle in his right leg and sits out.
Barcelona squad:
Ter Stegen, Piqué, Rakitic, Sergio, Denis, Arda, Suárez, Messi, Neymar Jr, Cillessen, Mascherano, Paco Alcácer, Jordi Alba, Digne, Sergi Roberto, André Gomes, Umtiti and Aleñá.
12:08 | Good morning. Just over eight and a half hours until the Catalan derby gets underway at the RCDE Stadium (which used to the Power8, and is commonly known as the Estadi Cornellà-El Prat).
Barcelona will start the match knowing what title rivals Real Madrid have done against Valencia at the Bernabéu, with that match kicking off at 16:15. Real Madrid and Barça are currently tied at the top of the table on points, with Barcelona having the edge on head to head, but Zidane's side holding a game in hand.
Espanyol vs Barcelona live stream online: match preview
The Catalan derby takes place on Saturday with Barcelona needing to remaining on the winning path in order to keep pace with Real Madrid regardless of what happens at the Santiago Bernabeú earlier on Saturday afternoon.
Espanyol
Quique Sanches Flores side fell to Barcelona 4-1 at the Camp Nou in the reverse fixtures of this tie and the Espanyol manager was forced to beg for forgiveness for his praise of Lionel Messi after the game.
Espanyol are without a win in the Catalan derby since 2008-09 when Ivan de la Peña landed a brace before Yaya Toure pulled one back for the blaugranas. They landed a hard fought draw the last time the sides met at RCDE Stadium in a game that turned very sour and saw as many as eight yellow cards.
A place in Europe was within Espanyol's grasp but their inconcistency has hurt them. They sit nine points being Athletic Club de Bilbao with just four games remaining and will have to be content with mid-table medicrity in Sanchez Flores' first season in charge - which is better than a relegation scrap.
They have won two, lost two and drawn one of their last five gamesas a sign of their inability to go on a decent run and propel themselves upwards in the table.
Barcelona
The big news for Luis Enrique is that Neymar returns after serving his three match ban for being sent off against Malaga and sarcastically clapping the fourth official. Since losing that Malaga game, and without Neymar, Barcelona have beaten Real Sociedad, Real Madrid and Osasuna. They have scored 13 goals in those three games.
Barcelona had the chance to rest some of his bigger names on Wednesday night with Luis Suárez, Samuel Umtiti and more sitting out but with Andres Iniesta not playing either, he is a doubt head of the Espanyol clash as the manager confirmed, "we will have to wait until tomorrow to see if he can be included in the squad."
Aside from Iniesta and possible Jeremy Mathieu, it seems Luis Enrique has a full squad to select from against their city rivals.
Espanyol vs Barcelona live stream: match facts
Espanyol are without a win in the Catalan derby in the last 15. They have drawn three and lost 12 during that spell.
Lionel Messi has hit the back of the net 15 times in the Catalan derby, which is more than any other player in the history of the fixture.
Quique Sánchez Flores has played at home against Barcelona on five occassions. He has won three and lost two of those games.
Espanyol vs Barcelona: live match betting
Fancy a punt on the little Argentine, Lionel Messi, scoring first? He is over 3/1 at the moment!
Bet on Espanyol vs Barcelona now.