Tottenham Hotspur v Arsenal Premier League: Match report, goals, action
Tottenham Hotspur confirmed themselves as the cream of North London's crop on Sunday afternoon with the help of goals from Dele Alli and Harry Kane in the second halfManchester United v. Manchester City live online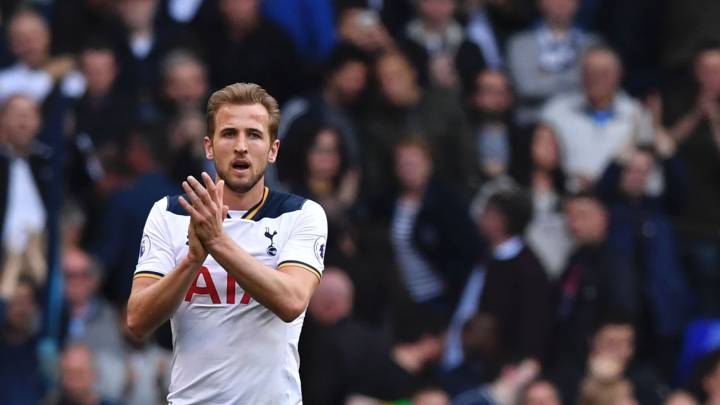 Tottenham Hotspur 2-0 Arsenal: match report
Tottenham were dealt a blow in the title race after Chelsea saw off Everton earlier in the day meaning they would need a complete implosion by Antonio Conte's side in the last four games of the season in order to lift the title.
They still had bragging rights to play for and a real chance to scupper Arsene Wenger's hunt for a top four spot in the North London Derby at White Hart Lane though. From the start, it seemed Spurs were on top of things as Arsenal struggled to stamp their authority on the game and never really got going as Wenger continued to test his 3-5-2.
Spurs were not to be trifled with and while they had a number of opportunities in the first half with none going in, they had an overall dominance on the game that felt like they could turn the switch at any point.
They started the second half and continued to test Petr Cech without being able to beat him. Spurs did not panic and they stuck to their game plan, safe in the belief that they would break down Arsenal sooner or later.
It turned out to be sooner rather than later as Dele Alli turned a rebound home after Eriksen did well to get himself into a shooting position before seeing his shot saved by Cech. Just two minutes later, Spurs were 2-0 when Gabriel Paulista pulled Harry Kane down and Spurs' talisman got up and slotted the penalty home.
It was a rough two minutes for Arsenal and it was a patch that they would not be able to come back from. They did try and they managed to have a couple of efforts on goal but that was more down to Spurs sitting back and closing the game down than Arsenal suddenly feeling inspired.
Pochettino and Spurs' title challenge may be almost over but based on this display, they are going in the right direction and will be a top four side for a long time to come and will challenge for plenty more Premier League titles if they happen to lose out on this one.
---
Tottenham Hotspur 2-0 Arsenal live stream: second half
Min 90+4 | Spurs throwing it around now and Welbeck comes in with a challenge on Vertonghen. The only one willing or able to really chase Spurs down to prevent them from completely making a joke of this one for Arsenal.
Spurs substitution: Sissoko replaces Dele Alli.
Min 90+1 | Kane takes it all the way down the line and wins a throw.
Min 89 | Lloris gathers a high cross by Bellerin. Too comfortable for the keeper. Welbeck has a look out to the right wing and asks him what he was trying to do. I doubt even Bellerin has a response.
Spurs substitution: Trippier is replaced by Walker.
Min 85 | Walcott has a chance after Ramsey plays it to him at the edge of the box. Good effort but too close to Lloris, who gathers calmly.
Min 82 | A rare Ozil sighting as he tries to thread one through to Walcott. He's offside though. This has been comprehensive by Spurs. Arsenal really struggling to figure out how to get into this one.
Arsenal substitution: Walcott replaces Giroud.
Min 80 | Kane with another shot but this one is very tame. Rolls into Cech.
Spurs substitution: Son is replaced by Dembele as Pochettino looks to close this one out.
Min 78 | Harry Kane the latest with a chance. The angle is awkward and he prefers his right foot, meaning Cech can close him down. He saves and puts it out for a corner. Alderweireld with a mean header that Cech beats away again.
Min 76 | Monreal gets booked now for a late tackle down around Kane's ankles.
Arsenal substitute: Hector Bellerin replaces Gabriel, who had an afternoon to forget.
Min 73 | Lloris smother the ball and Welbeck comes in and leaves a leg in. Alderweireld is not happy and tells the substitute about it. Michael Oliver sorts everything out.
Min 71 | Arsenal have huffed and puffed since the two goals but they have failed to really trouble Spurs.
Min 68 | A really strange one. Sanchez puts the ball out with his arm. It's a a corner but not a penalty? Strange one.
Min 68 | Yet again, Vertonghen with another shot that Cech does well to save. Arsenal really under the cosh.
Min 66 | Alderweireld with a header at the back post. gibbs blocks it for a corner.
Arsenal substitution: Welbeck replaces Granit Xhaka.
Min 63 | Wenger is up off the bench and trying to egg his side on. Danny Welbeck ready to come on now.
Min 60 | Can Arsenal respond. A slight mix-up at the back for Spurs and Giround wins it back but his shot is saved comfortably by Lloris.
Min 58 | GOAL! Harry Kane makes no mistake from the spot. Cech doesn't even dive.
Min 57 | Arsenal kick off, Spurs win it back and go up the field and Gabriel fouls Harry Kane. Penalty!
Min 55 | GOAL! GOAL! GOAL! Who else? Dele Alli turns Christian Eriksen's saved effort over the line. Alli won it back, played it to the Dane, who made space for a shot for himself. Cech saved and it bounced back to Alli and he made no mistake. White Hart Lane singing to their heart's content!
Min 54 | Ball over the top looking for Son finds him. But it finds him in an offside position.
Min 52 | Corner for Arsenal that falls to Giroud on the volley. It goes high and over but that was close! If it hit the target, Lloris had no chance with the speed it was travelling.
Min 51 | Poor pass by Paulista that Kane jumps in front of. He runs with it, makes an angle for himself and fires into Cech's chest.
Min 49 | Son with some fancy footwork before being tackled by Monreal. It falls to Trippier, who sends it to Wanyama and he sees his shot tipped over the bar by Cech. Corner. Son comes close from that too as his shot hits the side netting.
Min 48 | Dangerous ball by Sanchez into the box. He kind of toe-pokes it towards the goal and Spurs just about get it away.
Min 46 | We are back underway at White Hart Lane. Wenger strolls out after kick-off like a man without a care in the world.
---
Tottenham Hotspur 0-0 Arsenal live stream: first half talking points
Moussa Dembele, depending on his fitness might also be an option for Pochettino if he wants to switch things up. He might be the key to unlocking Arsenal. given Arsenal's lack of attack, there is hardly any need for both Dier and Wanyama back there.
Pochettino's took a hard line with Kyle Walker and dropped him for the game as he itches for a move away from White Hart Lane. They have missed him though and while you wouldn't expect Pochettino to cave in this early, it might prove helpful to introduce him at some point.
Spurs can be relatively pleased with the pressure in their final third. The reason Arsenal have been incapable of building is because of Arsenal's defender being shut down as they bring the ball out. There are times when it seems Spurs are playing with an extra player because they push forward but at the same time, never get caught short-handed at the back.
Tottenham have had a number of close chances but have failed to take any of them. Arsenal look nervy and have failed to really let the shackles off and are more concerned with Spurs' attack than their own.
---
Tottenham Hotspur 0-0 Arsenal live stream: first half
HT: Game failed to really get going but enough to suggest that a goal could really liven this one up. Tottenham the most proactive and looked the better side for most of the opening 45.
Min 45+2 | Poor Xhaka headed clearance lands to Vertonghen and he nearly beats Cech but he gets down well and beats it away for a corner.
Min 45+1 | Cross by Trippier is tame but Ramsey misjudges it and puts it out for a corner.
Min 43 | Neat through ball by Sanchez to Ramsey but Alderweireld is watching him every step of the way. Corner Arsenal. They keep possession and it results in a Gibbs cross/shot that nearly curls past Lloris. Much better now from Arsenal.
Min 41 | Chance for Wanyama, well maybe a quarter-chance. He blazes wide and wants a corner but referee knows better. Goal-kick.
Min 39 | Ramsey sees a gap in Spurs' defense and has a crack with his right foot. He nearly curls it around Lloris but the French goalkeeper gets down well to his left to save. Corner Arsenal that leads to more possession for the visiting side but no chance on goal.
Min 37 | Spurs been enjoying largest chunk of possession with 62%.
Min 34 | Vertonghen does now and his derby looks like it could be in doubt. He gives Poch the thumbs up though and appears to be okay.
Min 33 | He receives treatment and does, in fact, jog back on. He doesn't look entirely comfortable though.
Min 31 | Granit Xhaka looks to be crocked. He went down earlier and tried his bets to recover but he has gone down again and looks like he won't be able to continue.
Min 29 | Spurs with two corner in a row. Xhaka gets a header on the ball and sends it back to Cech.
Min 27 | Tottenham break from a corner that doesn't work out for Arsenal. Still nothing doing but their energy is proving hard to curb for Arsenal.
Min 25 | What a move by Spurs! Wanyama with a corkscrew pass (if that's a thing?) to Son, who steps inside Oxlade-Chamberlain with pure grace. He shoots but it is delfected only as far as Eriksen and his volley shaves the top of the bar. Another great chance. Arsenal win a corner up the other end as they try to respond.
Min 22 | Harry Kane is kept on side. Thinks about shooting first time but then decides to hold it up. He assesses his options and the does decide to shoot. His shot is blocked and Dele Alli is there to head the ball into the net...but he misses the target. That really was one of those 'it was harder to miss' chances.
Min 19 | Trippier with a corner that ends up in the Thames. That's how far off it was.
Min 18 | Son has been Spurs' brightest spark so far. He wins a free after a tangle with Xhaka. The Austrian is not happy and has a word with the ref but he needs to calm it down a little bit. Davies gets a cross in but it's deflected out for a corner as it hits the side netting.
Min 15 | The first 15 minutes has been Spurs passing the ball around and Arsenal chasing it but little or no attacking intent from either side.
Min 13 | Trippier tries to set Eriksen free but too much sauce on his pass. The Dane stopps before making a burst to get it but he was right the first time. No chance with the pace on the ball.
Min 11 | Gibbs in around the back but Lloris comes out and gets a touch to take it away from him. Honest from the full-back because he could have gone down and looked for a penalty.
Min 10 | Alli puts Koscielny under pressure and he puts it out for a throw. Son gets it and plays it back to Davies, who lets a cross into the box. Koscielny heads it into the air and Cech gathers cleanly under his crossbar.
Min 8 | Not the greatest start but if we were to score the first round, would have to sya Spurs shade it. Trippier tries to get it forward to Kane but his longish ball is too long.
Min 7 | Eriksen with another corner and the big Belgian, Toby Alderweireld gets his head to it at the front post. He directs it back towards goal but he can't keep it down.
Min 5 | Eriksen with a cross into the box but it comes off Koscielny's head and out for a corner. Gabriel gets his body in front of it and puts it out for another corner.
Min 1: We are underway!
---
Tottenham Hotspur v Arsenal live stream online: team news
Tottenham starting XI: Lloris, Davies, Alderweireld, Vertonghen, Trippier, Wanyama, Alli, Dier, Eriksen, Son, Kane.
Arsenal starting XI: Cech, Gibbs, Gabriel, Koscielny, Monreal, Ramsey, Xhaka, Chamberlain, Ozil, Sanchez, Giroud.
---
Tottenham Hotspur v Arsenal live stream online: latest news
17:28 | Two teams lining up in some form of 3-5-2 or a 3-4-3. Basically, there will be three defenders for both sides and that is going to make for plenty of attacking action.
17:26 | The players make their way out of the tunnel at White Hart Lane and exchange handshakes. It's all very amicable to start. I doubt that lasts.
17:19 | This is Arsene Wenger's 50th North London Derby. His first was a 3-1 win in 1996. Will this be his last? Pochettino has managed five and is unbeaten in all five! No manager has ever started their career as Spurs' manager unbeaten in five North London Derbies.
17:15 | After all the craziness we have seen today including two draws for the Manchester sides, Arsenal still need some help. They currently sit in sixth with two games in hand but six points off both Liverpool and Manchester City with worse goal difference than the two. They can leapfrog Manchester United, who are five points ahead of them if they manage to win their two games in hand.
17:07 | Pochettino has mad a big stance here by dropping Kyle Walker. The right back has been in excellent form this season but wants to leave the club reportedly. He has plenty of offers on the table but Poch has no interest in playing a player in a huge game if his mind isn't on the prize.
17:04 | Well, that 0-3 victory for Chelsea over Everton at Goodison Park could very well be the end of Tottenham's title hopes. They were slim to begin with but now, with four games left and three of them at home against teams in the both half, this is Chelsea's Premier League title to lose. As it has been. Plenty to still play for for Spurs today with bragging rights on the line and the chance to knock Arsenal and Arsene Wenger's chances of a top four finish on the head.
16:57 | Dembele is not fit enough to start but he does make the bench. Meanwhile, Laurent Koscielny is fit to start, which comes as a massive boost for Arsene Wenger. Kieran Trippier and Ben Davies start at the full-back position. Kyle Walker is on the bench.
16:36 | Tottenham Hotspur are unbeaten in their last five North London Derbies. They have drawn four and won one. The club have never gone six unbeaten in the game.
16:32 | Harry Kane says Spurs have bigger fish to fry than worrying about Arsenal and what they're doing. That's sure to rub some salt in the wounds and it certainly spices things up for today: "For the fans, it would be great to finish above Arsenal and actually do it by winning against them but, from our point of view, we've got bigger things to look forward to. We've got to try and win that game to keep the pressure on Chelsea as much as we can."
16:27 | This could be a real shootout today with Alexis Sanchez and Harry Kane in cracking form this season. Kane has 20 goals in 25 games this season while the Chilean has 19 in 32 games.
16:24 | Mauricio Pochettino is hoping the fans can play a factor today, "They can play a part in our last two games, like they are playing [a part] in this season. They were fantastic and they helped a lot the team."
16:00 | Spurs striker Harry Kane famously started out at Arsenal (and was at Watford for a spell) before joining Tottenham but there is no doubting where the England forward's heart is these days. Kane is in exalted company after hitting the 20-goal mark in the Premier League this season: along with Leo Messi, Cristiano Ronaldo and Alexandre Lacazette he is the only player to have done so in the last three consecutive seasons in Europe's top leagues.

15:00 | Spurs have also suffered just one defeat in 18 Premier League games and won their last eight on the trot and their last 12 in a row at White Hart Lane, where they remain the only unbeaten side in the Premier League at home, with 15 wins and two draws.

14:30 | History is on Tottenham's side today, with Arsenal winning only once in their last eight Premier League visits to White Hart Lane, a 1-0 victory in March 2014. The other seven fixtures have reaped three draws and four Spurs wins.

14:00 | It's a big day at the top of the table with Everton hosting leaders Chelsea at Goodison Park before the North London Derby. Premier League top scorer Romelu Lukaku will certainly fancy getting on the score sheet against his former employers and a defeat for Chelsea on Merseyside would throw the title race wide open if Spurs beat Arsenal at White Hart Lane.

13:30 | It has been 21 years since Tottenham finished above Arsenal in the league, a cause of much mirth among Gunners fans who have termed the annual event St Totteringham's Day. But if Mauricio Pochettino masterminds victory over Arsene Wenger today Spurs will move to 77 points and leave Arsenal on 60 with the Gunners having five games remaining in the season.

12:55 | Bright enough start ot the day in north London, but the clouds will be scudding in for the start of the match with the possibility of rain.
12:15 | Five and a quarter hours to go until kick-off at White Hart Lane, in what will be the last time these two teams meet there. Spurs are off to a new stadium, and while that's being built they'll be playing at Wembley next season. The last side to play at White Hart Lane, which has seen some 118 years of service, will be Manchester United.
Tottenham Hotspur v Arsenal live stream online: preview
Tottenham would love nothing more than to end the season above their north London foes in the Premier League standings but manager Mauricio Pochettino has bigger ideas. Everton could do Spurs a big favour by beating Chelsea at Goodison earlier on Sunday – such a result, coupled with a Tottenham victory today, would reduce the distance between first and second to just one point going into the final three games of the season, with scraps against West Ham, Manchester United, Leicester and Hull all looming. Spurs remain the only side capable of catching Chelsea but to do so, they must win today – the last time this fixture will be played at White Hart Lane.
Four of the last five Premier League meetings between these two clubs have ended level with Spurs winning the February 2015 home meeting and Arsenal sneaking a 0-1 triumph the previous season. Gunners boss Arsène Wenger is confident that his team can still muscle their way into the top four and qualify for the Champions League Play-Offs. His team sit just outside the European places on 60 points but with a game in hand over both of the Manchester teams (United have 64 points, City have 65) and having played two games less than Liverpool who are on 66 points ahead of their trip to Watford on Monday.
The battle to secure those European berths will almost certainly go down to the final day, and if Wenger's wish is to come to fruition, Arsenal will need to beat United, Southampton, Stoke, Sunderland and Everton as well as Spurs – in theory, that would give them 75 points and leave them needing either City or Liverpool to suffer at least one defeat and a draw.
Tottenham team news
Mousa Dembélé is Pochettino's main doubt. He will undergo a late fitness test to see how his ankle is after he took a knock in Wednesday's 0-1 win over Crystal Palace but he is expected to start. Goalkeeper Michel Vorm is available again but Hugo Lloris may well maintain his place in the side. Left-back Danny Rose is back training but not match-fit after his recent knee problem.
Man to watch: Harry Kane. Spurs most prolific goal scorer with 20 goals – just four behind the top scorer in the Premier League, Everton's Romelu Lukaku, is lethal in front of goal. He will be the man Spurs will be seeking to pick out as he probes Arsenal's back three. Kane also a poses a serious threat if Spurs win any free-kicks anywhere close to the Arsenal area. Oxlade-Chamberlain, Bellerín and Monreal are in for a torrid time…
Arsenal team news
Wenger gave updates on all of his injured players ahead of the game. Laurent Koscielny picked up an injury to his right knee in the mid-week win over Leicester and the manager says he has a 60% chance of returning against Tottenham. Ex-Valencia man Shkodran Mustafi will definitely sit out the game – he has a thigh problem and is estimated to be sidelined for the next fortnight. Alex Oxlade-Chamberlain meanwhile should start after being rested against Leicester. Wenger said that even with more defenders in the sick bay than he would like, he will still be able to muster up a makeshift defence, and continue playing with three centre-backs if he decides to stick with the 3-4-3 system he's been using since the start of the month. Spanish pair Lucas Pérez with a thigh injury, and Santi Cazorla - recovering from surgery on his ankle, remain on the casualty list.
Man to watch: Alexis Sánchez. The Chilean has been as dependable as ever, even while his future remains unclear. He played a vital role in propelling the Gunners to what will be their third FA Cup final in four years with his extra-time winner against Manchester City – a victory which has boosted confidence no end among the Arsenal squad as the season hurtles towards its conclusion.
________________________________________
Tottenham v Arsenal: possible line-ups
Tottenham: Lloris; Dier, Alderwerield, Vertonghen, Trippier, Wanyama, Nkoudou, Son Heung-min, Dele Alli, Eriksen, Kane.
Arsenal: Cech; Bellerín, Oxlade-Chamberlain, Monreal; Gabriel, Coquelin, Xhaka, Gibbs, Giroud, Özil, Alexis Sánchez.
---
Tottenham Hotspur v Arsenal betting odds:
Pochettino's high-flying Spurs are, understandably, the bookies' choice to take all three points – a Spurs win is at 8/1 while an Arsenal victory is paying 12/1. A goal scored in the first minute of play pays 34/1 and if South Korean forward Hueng-min Son opens the scoring, a five euro bet would earn you 35 euros – and if he grabs another, 50. The odds on Mesut Özil scoring the opener is 12/1, or grabbing a hat trick, 100/1!
Bet on Tottenham v Arsenal in the Premier League now