Times confirmed for penultimate round of La Liga matches
Real Madrid and Barcelona will both play on Sunday 14th May at 20:00, while the rescheduled match between Celta and Madrid will take place on the 17th.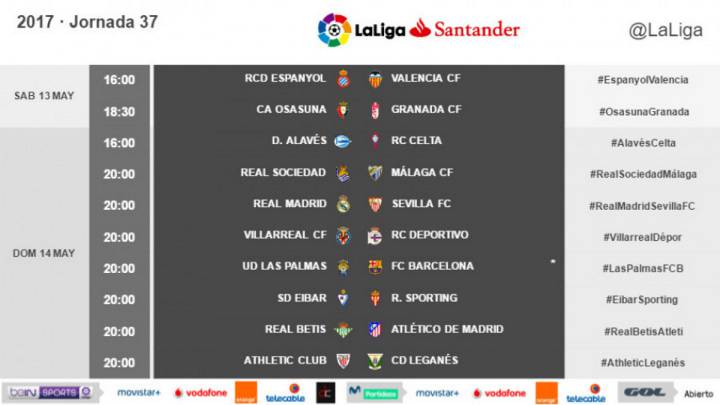 La Liga has released the schedule for match week 37, the penultimate one of the 2016-17 campaign. The matches will be played on the 13th and 14th of May.
Madrid and Barcelona to play on the Sunday evening
Real Madrid will play against Sevilla on Sunday evening at 20:00 (CEST), while Barcelona will visit Las Palmas at the same time.
Madrid's game in hand against Celta Vigo will be played on the 17th of May, according to Javier Tebas, between the penultimate and ultimate rounds of fixtures,
Espanyol and Valencia to start things off
Espanyol will host Valencia at 16:00 on Saturday the 13th of May, while the next match will be a battle between two already-relegated teams, as Granada travel to Osasuna.
On Sunday the 14th, Alavés will play Celta at 16:00, before the following matches get underway at 20:00:
Real Madrid-Sevilla, Real Sociedad-Málaga, Las Palmas-Barcelona, Betis-Atlético, Athletic-Leganés, Eibar-Sporting, Villarreal-Deportivo.