Real Madrid 3-0 Atletico Champions League: Match report, goals, action
Cristiano Ronaldo scored a hat-trick as Real Madrid beat Atletico Madrid in a game that the visitors could simply not get into and one in which they never really troubled Keylor Navas.China vs Wales: China Cup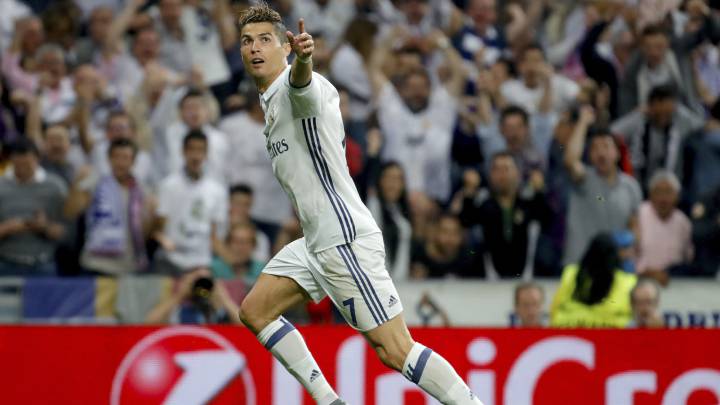 Real Madrid 3-0 Atletico Madrid: match report
Cristiano Ronaldo, as he so often does, stole the show at the Santiago Bernabeu with a hat-trick that all but ended Atletico's hopes of making it to a third Champions League final under Diego Simeone's watch.
Atletico were missing their two right-backs and his back-up but it was the overall display that wound up being the talking point for Atletico. They lacked intensity, organisation at times and any coherent strategy for getting the ball into the box.
Real Madrid sat back and soaked up much of Atletico's attack and pounced like masters of the trade. The game looked beyond Atletico to start when Ronaldo headed home after a mishit Casemiro cross after ten minutes.
Atlético took control but failed to make anything of it
The visiting side grabbed control of it from that point and continued to try and break down Real Madrid. Zidane's side were willing to concede possession at times, safe in the knowledge that Atletico would struggle to hurt them in key areas.
The second half started and it was much of the same. Atletico were desperate for an away goal and Real Madrid knew it. The game threatened to peter out, before Ronalo struck again.
Ronaldo strikes, and strikes again
Marcelo was out to the left and he played the ball to Benzema. The French striker poked it towards the side's talisman and despite Filipe Luis' best efforts, Ronaldo took control of it and walloped it into the back of the net.
Atletico's nightmare was compounded when Lucas Vazquez went down the line and pulled the ball back before Casemiro elegantly stepped over it, allowing it to roll to an unmarked Ronaldo on the edge of the six-yard box. It was over and done with at that stage and Atletico knew it.
There is still another 90 minutes to go but if Atletico, deflated from three years of Champions League beating at the hands of Real Madrid, can pick themselves up, it will be a Herculean effort. Real Madrid, on the other hand, have the chance to rest some of their starters and play the "B" team, who are just as dangerous as the "A" team in causing havoc.
---
The Champions League second leg of Atlético Madrid vs Real Madrid from the Calderón is brought to you live by AS English who will be building up throughout the day.
As is usual on a big European night, the memers were busy, generally pointing and laughing at everybody.
One downside from the match: it was confirmed Dani Carvajal is out injured with a hamstring injury.
---
Real Madrid 3-0 Atletico Madrid live stream: second half
FT: Martin Atkinson blows full time on a forgettable night for Atletico and a very memorable one for Real Madrid and Cristiano Ronaldo.
Min 90+2 | Three minutes of added time. Atletico fans continue to sing but to no avail. Real Madrid throwing the ball around now with Atletico well and truly shot.
Min 90 | Atletico continue to push forward but to no avail here. This tie, you fear, is over! In one of the hotly-contested games in recent memory, Atletico have failed to show up. Ronaldo did though.
Min 88 | Ball across the box by Marcelo. Filipe Luis waits for it and Modric sneaks in, takes it down and vollies just wide. Nearly 4-0.
Min 86 | GOAL! GOAL! GOAL! Ronaldo again with another goal. Hat-trick. Lucas Vazquez with the pull-back, Casemito steps over it and it lands to Cristiano Ronaldo on the six-yard box. He is never making a mistake from there.
Min 85 | Ramos with a ball over the top in search of Vazquez but Oblak is out like a light and collects. five minutes for Atletico to make a game out of this.
Min 82 | Kroos drives forward and gets it to Ronaldo, who gets taken down by Savic but the referee plays advantage. The ball makes it way out to Vazquez but Godin watches him and eases him out over the line.
Min 80 | Atletico are in trouble here. They have nothing going forward. Asensio, on the other hand, bamboozles a couple of Atletico players and lets a lovely cross into Lucas Vazquez. he mishits it as he arrives into the box. Decent chance that was hard to execute.
Real Madrid substitution: Karim Benzema is replaced by Lucas Vazquez.
Min 77 | Gaitan hesitates with the free and everyone moves. The second time he runs up to it and does kick it, half the Atletico side are offside (well, maybe that's an exaggeration).
Min 75 | Angel Correa breaks free and his cross nearly makes it to Torres but Real Madrid clear again. It falls to him again but he goes backwards.
Min 73 | GOAL! GOAL! GOAL! He is so dangerous. Cristiano Ronaldo makes it 2-0 just like that. Ball into Benzema by Marcelo. He shrugs off the challenge of Godin before playing it to Ronaldo. Filipe Luis gets a foot to it but it lands just lovely to the Portuguese from the edge of the box and he absolutely buries it.
Min 72 | Savic all over Ronaldo's back as a free comes in from Koke. Easy decision for the referee. Game has reached a point where it might just peter out. Real Madrid have negated Atletico Madrid at every turn and Real Madrid haven't looked sharp since the opening exchanges. A stalemate. But a stalemate that Real Madrid will be delighted with.
Min 70 | Filipe Luis needs to be careful. He went in late on Nacho before having a kick at Luka Modric just moment later. Both frees and the Bernabeu want him punished but Martin Atkinson believes a chat will do for now. Next time might be different though.
Min 69 | Gaitan with the ball out side. He tries to beat three Real Madrid players and fails before Asensio starts a counter-attack. Lucas clears.
Atletico Madrid substitution: Correa replaces Yannick Carrasco.
Real Madrid substitution: Asensio replaces Isco.
Min 67 | Kroos plays it out wide to Benzema and the French striker doesn't know what he's doing. He launches it up into the air in a shot that looked a little but like a cross but ended up being neither.
Min 66 | Modric fouled as Real Madrid enjoy a spell of possession. Atletico sitting deep. Marco asensio is getting ready to come in.
Min 64 | Koke tries a cross-field pass to Torres. Isco comes in late again and is lucky not to receive another yellow for that one. Silly foul.
Min 62 | Gabi has a nibble on isco's ankles but he continues his run. The malagueño tries a chipped pass towards Benzema but Oblak comes out and collects.
Min 60 | Griezmann with a cross after another good spell by Atletico Madrid. His cross can't find a teammate though as Torres is late to the party. Atletico win it straight back and Koke tries a shot from downtown. It goes well wide. Atletico looking better as the game grows older but still lacking the movement and cutting edge pass to make a difference.
Atletico Madrid double substitution: Gameiro and Saul make way for Gaitan and Fernando Torres.
Min 57 | A good spell for Atletico ends with Carrasco driving high and over the bar.
Min 55 | Carrasco in a good position on the edge of the square. He tries to cross low instead of chipping it towards the goal. It comes back out to him. He goes back to Saul and Atletico eventually lose out.
Min 53 | Nacho makes strides forwards and gets taken down by Saul. Booking for Atletico's midfielder. He has been very quiet in this game. Seems to be passing him by. Nacho with a good early start.
Min 51 | Atletico with a decent chance but Carrasco looks out to his left and Filipe Luis is nowhere to be seen. He twists and turns and goes down under a tackle from Ramos but no free. Ramos leans in on the Belgian and lets him know what he thinks of him trying to win a free.
Min 49 | Ramos with a late tackle on Griezmann and Atletico win a free that is aimed at Lucas. Real Madrid get it away though.
Min 48 | Isco takes Lucas down and receives a booking. Replays show he came down on his ankle after he cleared the ball. A nasty one but maybe not dirty. Just slightly overzealous from Isco.
Min 47 | Ronaldo goes down under a tackle from Savic. Free to Real Madrid now as they look for a second and try to build.
Min 46 | We are underway.
Real Madrid substitution: Nacho replaces Dani Carvajal.
---
Real Madrid 1-0 Atletico Madrid live stream: first half talking points
Isco has been his usual self as he floats around the centre, picking passes and causing a general nuisance of himself for Atletico. Helped by Modric's patience and calm just behind him and Real Madrid always look dangerous when on the ball in central areas.
Dani Parejo, who scored a rasper of a free-kick at the weekend and almost handed Real Madrid a draining draw before Marcelo came to life and won it for the home side, was abused as he entered the game tonight by Real Madrid fans.
It looked like Real Madrid had Atletico's number for the first 15 minutes. Atletico grew into the game though and will feel unlucky, maybe, not to have levelled things up. They still haven't create any clear chances aside from Gameiro's one that came at him very fast.
Real Madrid have scored in 59 games now in a row. It is an all-time Spanish record. It came quite early too with just under 10 minutes gone.
Big half-time talking point is Carvajal. He fell heavily after jumping with Saúl right at the end of the first half, and went off the pitch. Nacho started warming up, but he wasn't substituted on, so presumably if Carvajal has recovered over the break he'll come out for the second half.
Massive moment was Navas' save at the feet of Gameiro. That had 1-1 written all over it.
---
Real Madrid 1-0 Atletico Madrid live stream: first half
HT: That's all from the first 45 minutes. No substitution on for Carvajal as they might try and fix him up at the break. Nacho his most likely replacement though.
Min 45+1 | Carvajal goes down as Filipe Luis goes by him. He wants the ball put out of play or the referee to stop the play but play continues. Casemiro clears. He applauds Martin Atkinson as he comes over to him. He is back up but his race is run. Nacho warms up and gets ready to come in.
Min 45 | Marcelo raiding down the left again but Lucas gets a foot on the ball and puts it out fo a corner. Godin headers away.
Min 42 | Lucas with a dangerous cross to the back post. Carvajal gets a foot to it as it goes up into the air and Navas wins it cleanly in the air.
Min 40 | Play stopped now as Casemiro lies injured. Turns out he caught an elbow in the mouth from his own player as Ramos and Godin challenge for the ball.
Min 39 | Carrasco with a cross and Koke nearly gets a flick on it, or might just nick it, before Ramos puts it out for a corner. Ronaldo tries to clear with a volley but he slices it out for another corner with Koke standing over it.
Min 39 | After a decent spell by Atletico, it looks like Real Madrid are ready to take control again. They need to be careful not to settle with this lead because they invited Atletico onto them for long spells.
Min 37 | Ball out wide to Carrasco and he tries to cross but Ramos gets a foot on it and it falls kindly to Marcelo.
Min 35 | Another spell of Real Madrid dominance. Modric and Carvajal are on the wrong page though and the Croatian gives a pass just ahead of the Spaniard and it goes out for a throw. Real Madrid with another mix-up at the back and the ball falls to Gameiro with Griezmann in support but Varane recovers and wins it back. Really nervy moments there for Real Madrid.
Min 32 | Griezmann clips it towards Godin after deciding it was too far out to shoot. It lands to the defender but he gets his angles all wrong and drives it wide and up into the air. Really good idea by Atletico, who have been looking increasingly dangerous. Real Madrid looking just as dangerous when they get the chance to attack though.
Min 31 | Carrasco win the ball in the middle and makes a surging run. He turns back with Carvajal for company and the right-back gets too close for comfort as he fouls the Belgian. Free in a dangerous position for Atletico.
Min 29 | The first proper look at Ronaldo versus Lucas and the Portuguese buys himself a yard before letting a dangerous cross into the box. Benzema with the chilena is off target but a really decent chance.
Min 28 | Koke starts an attack, gets it out to Filipe Luis and he plays it inside to Griezmann. The French man flicks it back to Koke, who loses out as he is in a crowd when he receives it.
Min 26 | First booking of the game. Koke is the man as he pulls down Luka Modric, who is trying to counter, after a decent spell by Atletico.
Min 24 | Lucas makes a slight mistake, allowing Benzema in with the ball, but he recovers well and gets a tackle in to win it back. Atletico continue to fight the tide. Cross by Marcelo is boxed clear by Oblak before Modric picks it up and lets fly. Oblak seems to have it covered but it was very close as it goes just inches wide.
Min 22 | After a foul by Carvajal on Koke, the midfielder gets up and swings it in. Varane gets a head to it and puts it out for a corner. Koke takes that too and Real Madrid clear again.
Min 20 | Carvajal with another weaving run deep into Atletico territory. He plays it across the box and Benzema has a shot but Oblak saves.
Min 19 | Atletico don't look too bad in the final third and have looked dangerous for spells. The problem for them is when they invite Real Madrid onto them. Far more chances than we thought there would be.
Min 17 | Koke with a wonderful ball in behind to Gameiro. He gets to it ahead of Navas but his touch takes it right onto the glove of the Costa Rican. Gameiro goes down but it was an excellent save by the keeper.
Min 16 | Kroos whips in the corner and Varane gets his head to it. Oblak does so well to get down, fully stretched, and save. Another corner.
Min 16 | Marcelo gets into the penalty area and tries a cross. Savic is in the way and Real Madrid think it was a handball. Martin Atkinson doesn't though. Corner.
Min 14 | Isco does well to keep possession with Savic putting him under pressure. He throws it back to Kroos, who gives a ball into Ronaldo. Real Madrid's number nine flicks it towards Benzema but Savic clears again.
Min 12 | Real Madrid take control back again with Atletico chasing shadows. They surely can't expect to soak up this type of pressure for 80 more minutes.
Min 10 | GOAL! GOAL! GOAL! That was coming. Ronaldo headers home and gives Real Madrid the lead. Ramos with a cross that Savic headers half-clear before Casemiro sends in another cross with the Portuguese waiting in the box to nod home. Far too easy for Real Madrid.
Min 8 | Gabi fouls Ronaldo and Kroos stands over the free. Nothing comes of it but Real Madrid keep the pressure on. Casemiro tries to chip one towards Ronaldo but Lucas headers it out for a corner.
Min 7 | Carvajal makes his way into the box after a neat one-two with Isco. Oblak palms it away but only into the path of Benzema but his shot is deflected out for a corner by Oblak. Really good chance for the home side.
Min 6 | Ronaldo has moved out to the right now having started on the left.
Min 5 | Some rhythm to this one now as Real Madrid get a hold of the ball. Atletico not sitting back as deep as many imagined they would. Pressing high and seeing rewards too!
Min 4 | Mistake at the back sees the ball land to Carrasco. He plays it to Gabi but he loses it. Ronaldo has a shot up the other end but it goes high and wide.
Min 2 | Lucas fouls Ronaldo on the right. the ball makes its way over the the left and Atletico win it back. Carrasco puts Gameiro through but Navas comes out and collects. Dangerous ball with the French striker trying to use his pace to cause problems.
Min 1 | Ball bouncing around with no team able to get it down just yet. Real Madrid eventually do and try to build from the back. Kroos is fouled by Griezmann.
Min 1 | We are underway as Martin Atkinson blows his whistle. Electric atmosphere in the Bernabeu, as expected.
---
Real Madrid vs Atletico Madrid live stream: lineups
Real Madrid XI: Navas, Marcelo, Ramos, Varane, Carvajal, Modric, Casemiro, Kroos, Isco, Benzema, Ronaldo.
Atletico Madrid XI: Oblak, Savic, Lucas, Godin, Filipe, Gabi, Saul, Koke, Carrasco, Griezmann, Gameiro.
---
Real Madrid vs Atletico Madrid live stream: latest news
20:38 | If this is going to be as abrasive as we imagine it to be, Martin Atkinson might need to get out his yellow cards earlier than he usually does.
20:31 | And another reminder that Diego Simeone wants his team to compete with the passion of a fan tonight at the Bernabeu.
20:26 | Diego Simeone started his career with three defeats to Real Madrid. he has steadily improved and, you could say, dominated them for a spell. Since Zidane rode into town, however, he has won just once, drawn once and lost twice.
20:22 | Diego Simeone's right-hand man, Mono Burgos, confirms that Lucas Hernandez will start at right back.
20:16 | Real Madrid have scored in 58 games in all competition and look to make it 59 tonight. It is a Spanish record as no team has ever done it before. They have scored 158 goals in those games.
20:09 | What a show! Atletico Madrid fans arrive for the game at the Bernabeu.
20:08 | It really is neck and neck in their last 23 games. Atletico have won eight, Real Madrid have won nine and they have also drawn six times.
20:06 | Atletico's talisman has scored just five times in 21 games against Real Madrid. Griezmann, however, has scored or assisted in 50% of Atletico's goals in the Champions League since last seaon. He has scored 12 and assisted with three.
20:00 | Cristiano Ronaldo made it to 100 goals in European competition when he scored a brace against Bayern Munich at the Bernabeu. Can he add to that tonight? In 27 games against Atletico, Ronaldo has scored 18 times. There are only two teams that he has scored more goals against and they are Sevilla and Getafe.
19:53 | There does seem to be some debate over whether Lucas Hernandez or Stefan Savic will start at right-back. In my opinion, it has to be Lucas because Godin and Savic have created a solid if not spectacular partnership in the heart of Atletico's defense and there is no reason to mess with two vital areas when it could be just one affected.
The other reason being that Savic can hardly be considered a better option at the full-back position as Lucas knows how to play the role and what Simeone expects of his full-backs even if it is on the other side of the field. He also has the profile of a full-back including dribblinf ability and a willingness to move forward unlike Savic.
Savic, as a full-back, is far to rigid and will provide zero attacking presence out right, which would just invite Marcelo onto them. Lucas might not raid down the right tonight but his passing and the possibility of combinations with Koke will at least cause Real Madrid to sit back even if just a little. Lucas has speed, pace and power and will be protected by Koke down the right and will also be able to live with Ronaldo, which is something that Savic might struggle with.
19:45 | Here is all the team news in handy article as Isco starts on the biggest stage and so does Lucas Hernandez for Atletico.
19:40 | Atletico will wear their black and gold strip tonight for fear of any clash of strip. There was some speculation that Atletico wanted to wear their black strip due to being beaten in the rojiblanco in the last three Champions League games against Real Madrid. The ruling comes from the top though as UEFA want it that way..
19:35 | Atletico Madrid line out as expected also. Lucas Hernandez starts at right-back, a position that is foreign to him, while Kevin Gameiro starts up front. The Frenck striker will be needed to break down Real Madrid and keep them honest on the counter attack.
19:30 | Zinedine Zidane has not pulled many surprises in his starting eleven but the selection of Raphael Varane over Nacho is the only wrinkle of a difference. We weren't sure whether we would see Nacho and Ramos or the pair that has been selected. Meanwhile, Isco starts in place of Gareth Bale, another one that many expected after Isco was rested for the visit of Valencia in LaLiga at the weekend..
19:23 | Carvajal also says that "when Isco gets the ball, it's pure magic", which correlates with Isco's own belief that when he steps on the field, he feels like it's magic.
19:21 | Dani Carvajal has had an incredible season. He, however, does not believe that he is the best right-back in the world. Both him and Marcelo will be vital for Real Madrid tonight as they look to take advantage of 1) Carrasco's recent injury concerns and 2) Atletico's lack of a right-back.
19:15 | Diego Simeone equalled Luis Aragones' away record with 15 records outside of the Vicente Calderon without defeat. Their 5-0 win over Las Palmas at the weekend outdid Aragones' record during the 1984-85 season.
19:09 | Atletico Madrid have held onto the ball 50% of the time they have played in the Champions League. Real Madrid are slightly ahead of them in that regard with 52%. Many expect Real Madrid to own the ball against Simeone side tonight but the disparity between the two sides is not massive.
19:07 | Isco thinks football is magic. There is certainly magic in his boots! "I'm lucky to have had the support of the Bernabéu crowd since the first day I stepped out on to the pitch. It's easier that way. Football is magic for me, it's a special feeling every time I walk out on to the pitch and touch the ball. That's how I would define what magic is".
19:01 | Antoine Griezmann has had his heart broken by Cristiano Ronaldo now in two finals in the last year. Tonight and over the two legs, he has the chance to exact just a slice of revenge. He won't be thinking that, of course, but tonight could be huge if he is to ever edge Ronaldo out as the kind of Madrid.
18:55 | We are preparing for the team bus to leave Valdebebas as the fans are ready to cheer on their team at Sagrados Corazones for the "Quedada Blanca" or the white rendezvous. It should be a massive crowd and it should be a special atmosphere. There are almost 1,000 accredited journalists at the game today with the game being shown in 229 different countries.
18:42 | Real Madrid have failed to keep a clean sheet in their last eight games with the last one coming against Alaves when they won 3-0. They have not kept a clean sheet in any of their Champions League games this year.
18:35 | Zinedine Zidane is known for giving nothing away in press conferences. He teased us with a "we'll try something new against Atletico" comment that has us baffled. Is he bluffing and what could it possibly be that he is going to try?
18:33 | Three of the players that played for Real Madrid that night will, or should, feature tonight in Marcelo, Ramos and Cristiano.
18:29 | Real Madrid have not failed to score in their last 35 home Champions League games. Another figure that is good enough to make it a record. Barcelona were the last side to keep a clean sheet at the Santiago Bernabeu in the Champions League back in 2011.
18:25 | Real Madrid are top scorers in the Champions League this year along with Borussia Dortmund with 28 goals. They have conceded 15. Atletico are far less prolific in front of goal and have only scored 13 in 10 games but have only conceded five. Juventus have conceded just two though.
18:22 | Atletico Madrid's cult figure, Profe Ortega, was filmed insisting that the gras at Real Madrid's Santiago Bernabeu be watered before the game today. He was having a chat with Paul Burgess, Real Madrid's groundsman and wasn't happy with the response when asked if he would be watering the pitch today for the game. He got his way in the end!
18:16 | Real Madrid have scored 28 goals in the Champions League this season. Six with the left foot, 14 with the right, six headers, two own goals (for), 20 inside the area and six outside the area. I'm sure they will find Atletico suffocate them in their penalty area tonight so it might take one of those screamers from outside the area to unlock Atletico.
18:11 | There's an interesting piece in the newspaper today regarding Casemiro. He is a man widely considered lucky not to receive more bookings but he is the 33rd on the list of players with most fouls in the top flight this season in LaLiga. he receives a card every 5.8 fouls. Real Madrid have committed 95 fouls in the Champions League, which is the 14th highest while Atletico have committed just 84. They are 19th on the list.
18:08 | Real Madrid have made the Champions League semi-finals for the seventh year on the trot. That is a record for the competition! They've also added their 11th and 12 titles in the last three years.
18:03 | Atletico Madrid have been beaten four times in four years by Real Madrid in the Champions League. Last year caused the manager to take stock of his situation with many believing he might leave. Juanfran, the man who missed the penalty, wrote a heartfelt letter to fans asking for forgiveness.
18:00 | Former Real Madrid striker Jesé recently opined that Antoine Griezmann "isn't good enough to play for Real Madrid." We suspect the France striker would not look out of place at the Bernabéu and he'll have another chance tonight to prove as much after bagging three times against Madrid so far in his Calderón career.

17:40 | Atleti boss Diego Simeone has equalled the club's best-ever run of games away from home this season going into tonight's clash at the Bernabéu.

17:20 | Not a lot of people know this, but Real Madrid and Atletico Madrid have adjoining streets in the Spanish capital.

17:00 | Resident AS referee Eduardo Iturralde González gives his view on tonight's man in the middle, Martin Atkinson.

16:40 | The last time Atletico and Real madrid met at this stage in Europe was in the semi-finals of the European Cup in 1958-59. It required three games to separate the sides in the days before away goals.

16:20 | Atletico have confirmed they will be wearing their black away kit in the Bernabéu this evening. In the last three European encounters between the sides Atleti were bedecked in their traditional red and white - and lost all three.

16:00 | Real Madrid and Atletico have played each other 214 times across all competitions down the years, with 630 goals being rattled in (Real Madrid 357, Atletico 273). Ahead of this latest meeting between the capital city rivals we've had a look at some stats and figures.

15:30 | Real Madrid beat Bayern Munich to set up this semi-final with Atletico, with Cristiano Ronaldo grabbing a not uncontroversial second-leg hat-trick. So when Twitter suggested to Bayern's community managers that they follow the Portuguese star, this was their response.
15:15 | Tonight's referee is England's Martin Atkinson. It'll be the official's fifth Champions League game involving Real Madrid, and his fourth featuring Atletico.
15:00 | Despite wearing their home colours in each of their Champions League clashes with Real Madrid in the last three years, Atletico Madrid are to play in black tonight.
14:15 | It's two years since Real Madrid last suffered defeat at the Bernabéu in the Champions League - can you remember who they lost to...?
13:35 | While Diego Simeone has a selection poser at right-back ahead of this evening's match at the Bernabéu, Zinedine Zidane has a couple of dilemmas of his own...
13:25 | Atletico Madrid's captain, Gabi Fernández, also spoke on Monday - telling reporters that Los Rojiblancos must "control our emotions" as they bid to avoid a fourth straight Champions League exit at the hands of their city rivals.
13:10 | Speaking of Ramos, the Real Madrid skipper's choice of atttire as he joined up with the squad for its final pre-match preparations was, ahem, interesting...
13:00 | Real Madrid captain Sergio Ramos also had his say on the eve of today's Champions League first leg, telling Los Blancos' fans: "We'll fight for you".
12:50 | Meanwhile, Atletico coach Diego Simeone declared: "The team has to compete like a fan would".
12:35 | Both coaches spoke to the media on Monday - here's what Real Madrid boss Zinedine Zidane had to say.
11:50 | With Juanfran and Sime Vrsaljko unavailable - as well as the versatile José María Giménez - Atletico Madrid coach Diego Simeone has a bit of a quandary at right-back. We've taken a look at his options in the position.
11:00 | "All eyes across Europe turn to the Spanish capital" says AS editor Alfredo Relaño as he looks ahead to this evening's 'Euroderbi' in his column today.
10:45 | Exactly ten hours to go until kick-off at the Bernabéu: here's all the info you need on how and where to watch the Champions League clash.
10:00 | Good morning! Join us for the build-up ahead of this evening's Champions League derby!
---
Real Madrid vs Atletico Madrid live online stream: match preview
Real Madrid and Atletico face off in the knock-out stages of the Champions League for the fourth time in four seasons with Tuesday's visitors having been seen off on the previous three occasions. The final of the 2013-14 competition was the first between two teams from the same city in the history of the European Cup and Champions League and Atletico were agonizingly close to securing a first triumph in either format of the tournament until Sergio Ramos' 93rd-minute header sucked the wind from the Rojiblancos' sails and paved the way for a further three Madrid goals in extra time.
The following season the sides met at the quarter-final stage, Javier Hernández handing Real Madrid a 1-0 aggregate victory with a late goal in the Bernabéu in the second leg.
In the 2015-16 final Atletico turned the tables on Madrid, forcing extra time through Yannick Carrasco late on after Ramos had put Zinedine Zidane's side ahead in the first half. The game went to penalties – Antoine Griezmann having uncharacteristically fluffed a spot kick in normal time – and the watching world was treated to Cristiano Ronaldo's torso-flexing celebration after the Portuguese buried the decisive fifth.
The only other European meeting between the sides came more than half a century earlier in the 1958-59 European Cup semi-finals. Madrid won the first leg 2-0 and Atletico triumphed by a single goal in the return fixture, leading to a play-off at a neutral ground in Zaragoza's La Romareda. Madrid won that contest 2-1 to reach the final, where they beat Stade Reims to claim their fourth consecutive European Cup.
Real Madrid
Zinedine Zidane's reputation will be as burnished as old big ears after a generous coat of brasso if the Frenchman becomes the first manager since Arrigo Sacchi to retain Europe's highest club honour. To do so, Zidane will first have to break down the stingiest defence in LaLiga and the second tightest in Europe over two legs. The first will be pivotal against a side who have not conceded a single goal at home in five European Cup semi-finals to date.
With that in mind Zidane has some key decisions to make in attack. Ronaldo is certain to start but in the absence of Gareth Bale and in light of Karim Benzema's continuing search for his best form the Real boss may elect to shake things up for Tuesday's opening leg. Marco Asensio has been in scintillating form and Álvaro Morata's strike rate is considerably better this season than Benzema's. James Rodríguez's recent performances have done his chances of being asked to fill in on the right of a front three no harm but Lucas Vázquez offers more protection for Dani Carvajal and the canterano's ability to run a full back ragged may be key against a patched-up Atletico defence.
Raphael Varane is back in contention for a start in the centre of Real's defence but it remains to be seen if Zidane runs the risk of another breakdown from the France international or plays it safe with the increasingly impressive Nacho, who played the full 210 minutes of the quarter-final against Bayern and has been a reassuring presence in LaLiga, where he has completed the full 90 in 16 of Madrid's last 20 fixtures.
Atletico Madrid
Diego Simeone faces a selection headache at right back with three of his senior players in that position – José Giménez, Juanfran and Sime Vrsaljko – ruled out of the game.
Whoever the Atletico coach selects to fill in will face the onerous task of shackling Ronaldo and Marcelo in the first instance and probably the marauding Asensio later on, a player who revels in running at flagging full backs.
One of the most fascinating duels will be between Gabi and Casemiro. The Atletico captain will need no cajoling from Simeone – himself an enthusiastic purveyor of the dark arts – to give the Brazilian a nudge as he walks his weekly red card tightrope. Simeone will also seek to gain midfield dominance and prevent Real from controlling the tempo of the game by deploying his usual pressing tactics from the front.
Antoine Griezmann and Kevin Gameiro are likely to form a partnership in attack that will be tasked with pulling the central defenders around to open spaces for midfield runners to exploit. The return to fitness of Yannick Carrasco will be vital to that aim and the Belgium international will join forces with Saúl to give Marcelo and Dani Carvajal good reason to curb their attacking forays.
---
Real Madrid vs Atletico Madrid live stream: possible teams
Real Madrid: Navas; Carvajal, Ramos, Varane, Marcelo; Casemiro, Modric, Kroos; Ronaldo, Benzema, Vázquez.
Coach: Zinedine Zidane
Atletico: Oblak; Savic, Godín, Lucas, Filipe; Koke, Gabi, Saúl, Carrasco; Griezmann, Gameiro.
Coach: Diego Simeone
---
Real Madrid vs Atletico Madrid live online: selected match odds
The camel coats are not forecasting a high-scoring affair in the Bernabéu and the shortest odds available are on a 1-0 home win (6/1) or a 1-1 draw (13/2). Cristiano Ronaldo and Antoine Griezmann lead the first goal scorer stakes at 10/3 and 11/2 respectively while Sergio Ramos is chalked up at 16/1 to find the net first.
---
Real Madrid vs Atletico Madrid: live stream build-up