Atlético Madrid appeal for offside on Ronaldo's goal
Atlético Madrid's players and fans were convinced Ronaldo was offside when he scored Real Madrid's opener in the Champions Leauge semi-final first leg.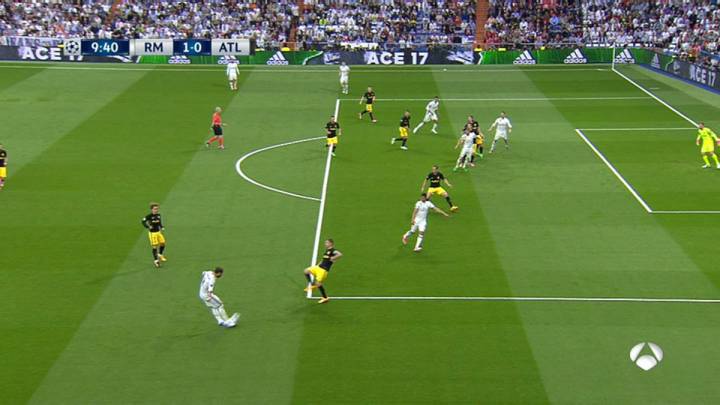 The first moment of controversy in the Real Madrid - Atlético Madrid Champions League semi-final first leg was served up as Cristiano Ronaldo nodded home the opening goal for the home side with just under 10 minutes gone.
Atlético Madrid protest Ronaldo's goal
The Atlético Madrid players appealed furiously for offside as did their fans in the ground, and on social media around the world.
Ronaldo in offside position, originally
Ramos send a cross over from the right into the middle of the area, and at that moment Cristiano Ronaldo was indeed in an offside position. However he never got the ball in that piece of action, with Savic clearing it, but only as far as Casemiro. When the Brazilian put the ball back into the danger zone, Cristiano Ronaldo had moved back into an onside position, and he gobbled up the chance, heading home with no offside flag raised.
Assistant referee correct
According to the laws of the game, and confirmed by our resident referee Iturralde González, match referee Martin Atkinson and his assistant referees were spot on.
The relevant rule on when a player in an offside position commits an offside offence is as follows:
A player in an offside position at the moment the ball is played or touched by a team-mate is only penalised on becoming involved in active play by:
interfering with play by playing or touching a ball passed or touched by a team-mate or
interfering with an opponent or
gaining an advantage by being in an offside position.
As Ronaldo didn't do any of these things he wasn't offside when Ramos played the ball in, and the goal was perfectly legal.