Another tweet from Atleti in their #TheyCantUnderstand campaign
"I love you for your principles" was the latest instalment from the official Atletico Madrid Twitter account as they build up to Wednesday's game.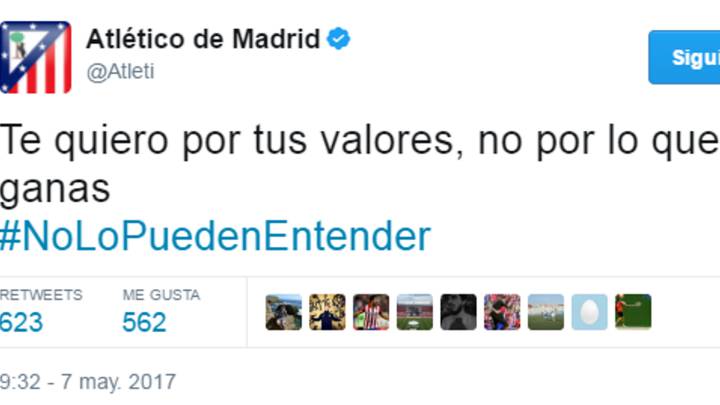 Last Tuesday at the Bernabeu, Real Madrid fans taunted Atleti supporters with a banner bearing the motto, "tell me how it feels" alluding to the two Champions League finals which saw "Los blancos" win out on both occasion.
Atlético Madrid hit back on Twitter with each tweet relating to the second leg accompanied with the hashtag #NoLoPuedenEntender (#TheyCantUnderstand) with the latest offering being a simple but poignant: "I love for for your your principles, not just because you win"
This follows the message posted yesterday at 21:30 CEST stating: "Magnanimous in victory, gracious in defeat" along with the #NoLoPuedenEntender hashtag.
The tweets inevitable generated countless replies from fans of both sides with the inevitable stream of positive and negative comments.