Zidane: "Every game is a final and tomorrow is another one"
The Real Madrid boss warned his players about complacency after the 3-0 victory in the Bernabéu: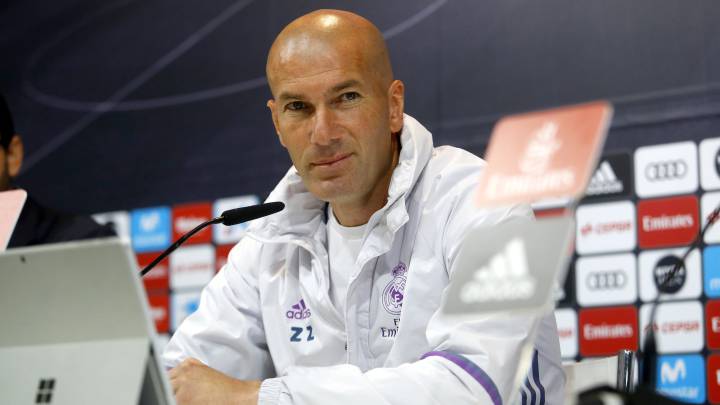 Real Madrid coach Zinedine Zidane spoke to the press ahead of his side's return leg fixture against Atlético in the Champions League semi-finals.
Will you be surprised if your team fails to score in the Calderón?
"Quite the opposite and we're going to try and play and to score as we always do. We're not going to change anything about what we want to do."
Do you know Vinícius Junior?
"Who? No, I don't know him personally, but I know people are talking about him."
Do you think it unfair that your work this season boils down to the next five games?
"Failure is not doing everything in our power to be at the stage we are now on top of the eight to nine months the players have worked with great professionalism but that's football. Every three days we have the chance to demonstrate what we are doing and it will be the same on Sunday. Injustice or failure is not giving the best of yourself."
Will you go for the game from the first minute or are you worried that Atlético will hem you in?
"I'm sure we'll be made to suffer but we will follow our own path. We'll give it everything and from the first minute, of course."
Zidane: "You can't avoid the history of this club"
Do you talk to your players about what they can achieve or is it best not to?
"You can't avoid the history of this club and on the contrary that helps when you're preparing for things like this. Then you have to show it and tomorrow is a chance to show that we want to do everything we can to reach the final."
Pepe is available, Varane is back; will Nacho play as a full back?
"We know that Nacho is a central defender but he can play in any position in defence. Pepe is fine and Rapha too. We're all ready apart from the injured players."
Atlético: "The two finals don't mean anything"
What has changed when Real Madrid play Atlético since you arrived?
"A lot of things I think, but whatever happens you have to show up. We've won two finals and we can't think about those things tomorrow. It's a different game. We have our weapons and they have theirs. That we won the two finals doesn't mean we're going to go through and if we start thinking that we'll be mistaken."
At this stage are the players or the coach more important?
"All of us are, we're in the same boat with the fans. We're at the end of the season now and we like that, every game is a final and tomorrow is another one. We've got three league games left but we're only thinking about tomorrow."
How do you avoid your players thinking that the tie is already won?
"I don't think there'll be a problem with their attitude, we all know the risks. We have to play a perfect match to go through, we need to remain calm and take it as just another game."