Atletico 2 - 1 Real Madrid: As it happened, goals, action, match report
Saúl and Griezmann scored early to give Atlético hope of a comeback, but Isco stabbed home a rebound before half time to assure Madrid's path to CardiffNigeria B - Atlético Madrid: friendly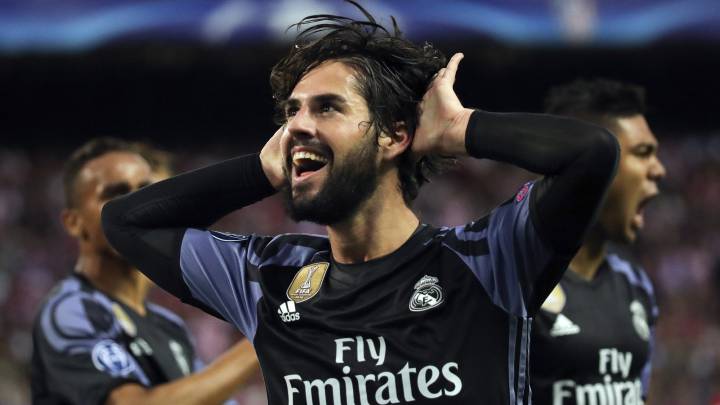 Atlético Madrid 2 - 1 Real Madrid (2-4 agg): match report
Fernando Torres barked a volley of insults at Cristiano Ronaldo, leaning beyond the referee to ensure the Portuguese received the full force of his frustration. Ronaldo just grinned back at him, teeth shining beneath the Calderón floodlights. That exchange, just before half time, encapsulated Atlético Madrid's victory against Real Madrid, which was ultimately insufficient to prevent Champions League elimination. The home side growled, they were full of fervour. But Real Madrid stayed cool to inflict a fourth consecutive European defeat on their city rivals.
Despite early goals from Saúl and Griezmann, Isco's close-range strike just before the break calmed Madrid's nerves, and steered them through to a Champions League final against Juventus in Cardiff on June 3rd.
Atlético were valiant and dogged. They bid farewell to the Champions League, and the Estadio Vicente Calderón, with their heads held high.
On a night where the Calderón fizzled with atmosphere, it looked for a while like Atlético might complete the challenge that they had set themselves with a 3-0 defeat in the first leg. Simeone's team flew frenetically out of the blocks. They played to the beat of their fans, who before kick off had held up a defiant display: 'Proud to not be like you', directed at their city rivals.
With 12 minutes on the clock, Saúl rose higher than the Madrid defence to guide Yannick Carrasco's corner beyond a desperate Keylor Navas. It was just the start that Atlético needed.
Four minutes later, Fernando Torres drew a foul from Varane inside the box. The Frenchman clipped his heels as Torres sought to carve out space to shoot, and the referee pointed to the spot. Antoine Griezmann struck a poor penalty. It wasn't particularly powerful, and it wasn't particularly well placed. But as the ball pushed past Keylor Navas' outstretched palm, the Calderón did not care one jot. The comeback was on.
The game began to settle down after a gung-ho start. Real Madrid found their feet, and felt their way in to the match as play became increasingly scrappy. After 42 minutes, Zidane's side scored that crucial away goal. Karim Benzema faced up against three Atlético defenders by the corner flag. The Frenchman shuffled the ball from his right foot to his left, and accelerated beyond Godin, Savic, and Giménez in an instant. He has the presence of mind to lay the ball back to Toni Kroos, who took aim. Jan Oblak parried his low shot, but only in to the path of Isco, who stabbed home.
Ronaldo 'shushed' the home support in celebration. Atlético trudged, deflated, in to the dressing room at half time.
The goal capped off a mesmerising performance by Isco. The diminutive midfielder ghosted in to space throughout the match, hovering in the gaps between the Atlético lines. His movement was too intelligent for Gabi to track.
Atlético failed to grasp the initiative in the second half. They spluttered, but could not score the goal that would have rattled Madrid. On the 66th minute, Atleti's golden chance came and went. The majestic Carrasco cut in from the left flank, and curled a shot towards the far corner. Navas was equal to it. Gameiro thrust his head towards the rebound, the shot looked destined to nestle in the net. Again, Navas was equal to it.
The Atlético players seemed to comprehend the importance of that moment. Thereafter, Madrid eased in to control. Cristiano Ronaldo, otherwise anonymous, directed a shot in to the bottom corner, but the goal was ruled out for offside.
As the match approached full time, rain began to pour down from the Madrid sky. It added to an already-emotional atmosphere. Diego Simeone stood on the touchline with his chin held high, but his Champions League dream was washing away. Real Madrid's bench sprinted on to the pitch as the referee raised his arm to the sky and blew the final whistle. It was a European goodbye to the Calderón, but really, this tie was won at the Bernabéu.
---
Check out the best photos and images from a frenetic night at the Calderón.
---
Atlético Madrid 2 - 1 Real Madrid: second half as it happened
FT | Real Madrid will play Juventus in the Champions League final in Cardiff.
Min 90 | Two minutes added on. The biblical rain has added to the atmosphere inside the Calderón. Madrid are retaining possession, straight out of the game-management textbook.
Min 88 | The rain begins to pour down at the Calderón. A dosage of pathetic fallacy as Atlético huff-and-puff out of the Champions League.
Min 87 | Madrid sub: Morata for Isco.
Min 87 | Real Madrid look the more likely to score at the moment. Atlético are frantic, Madrid measured. Griezmann flings a cross in, but it's too deep. Navas collects the ball for a goal kick.
Min 86 | Correa booked for barging in to Ronaldo off the ball.
Min 83 | Thomas lofts a ball in to the path of Gameiro, who made an intelligent run. But once the ball reaches him, Gameiro fails to get a shot away, or find one of his team-mates. He gets in to good positions, but has lacked quality on the ball this evening. We're entering Barça-PSG time...
Min 80 | Neat interplay between Griezmann and Carrasco almost sends the former through on goal. Varane is on hand to make a last-ditch tackle and keep Atléti at bay. The home side are in the ascendancy, but it is increasingly looking like that aneamic performance at the Bernabéu will prove a hurdle too high to overcome.
Min 78 | Correa almost makes an immediate impact. The scampering Argentine wriggles in to space on the left side of the box, and flashes the ball across the face of goal. With Gameiro hovering, Madrid just about clear their ranks.
Min 77 | Subs all round: Simeone sends on Correa for Koke; Zidane replaces Casemiro and Benzema with Vázquez and Asensio.
Min 75 | Madrid appeal for a penalty, as Benzema's dancing run is halted by Thomas. The Atléti man got a touch on the ball, however. A faint touch, but a crucial one.
Min 74 | Oooh, Marcelo shapes a sumptuous cross to Benzema at the far post. The Frenchman stoops, and sends a diving header narrowly wide. That was all about the delivery from the Brazilian full back.
Min 72 | Gabi delivers a free-kick from the right. It sails beyond everyone, and Madrid recoup possession. Correa is receiving his final instructions on the touchline.
Min 70 | Koke chips a through-ball to Griezmann, who swivels to send a sharp, left-footed shot towards goal. Navas pats the ball on to the ground at the near post. It was a half-chance, and those aren't really enough for the home side.
Min 68 | Cholo Simeone strokes his chin on the touchline, pondering his next move. Meanwhile, Ronaldo directs Modric's long-range shot in to the net, but the linesman raises his flag. That looked very close.
Min 66 | Big, big double save by Keylor Navas. He was equal to Carrasco's far-post effort, and threw himself of Gameiro's header on the follow-up.
Min 62 | Carrasco, now out on the left, flies beyond Ramos before delivering a teasing, low cross. It was in the perfect area, but neither Griezmann nor Gameiro had made a run.
Min 61 | Gabi is sailing extremely close to the wind. Already on a yellow, the Atléti captain arrives late on Casemiro. That should have been a second booking.
Min 59 | Atlético's hardcore section of support bounce in unison behind the goal. The fans are playing their part, but the players in red and white are running out of time. They can't get a foot-hold on the match.
Min 58 | Madrid threaten to draw the curtains on tonight's performance with a second goal. Marcelo finds Ronaldo with a cut-back, but the Portuguese' shot skids wide of the near post.
Min 56 | Double sub for Atléti: Gameiro for Torres, Thomas for Giménez.
Min 55 | Atléti look winded, a little stunned. That away goal has rocked their confidence, and Real Madrid have had the best of the second half, by far. Isco is floating around like a malevolent wasp. He flashes a low shot narrowly wide.
Min 53 | Griezmann floats a diagonal ball across the box to Carrasco. The Belgian does well to bring it down on his chest, under pressure from Marcelo, but he can't get the ball under close enough control to muster a shot.
Min 49 | Giménez steams in to meet a loose ball on the edge of the box. He hammers a shot towards goal, and is upended by Isco. The Uruguayan flips around in the air before landing like a sack of spuds. No card for Isco. Griezmann goes for the near corner, but sends it narrowly over.
Min 47 | Real Madrid are straight on to the front foot. Kroos cuts in from the left towards the box, is clothes-lined by Griezmann, and Ronaldo has the chance to stand up straight and breath heavily over a dead-ball situation. He strikes it well. The ball sails through a crowd of players and Oblak parries away.
Min 46 | Atléti get the ball rolling. Simeone watches on, pensively, as the referee blows his whistle. A monumentous half of football awaits his Atlético players. It's vital that they start quickly.
---
Atlético Madrid 2 - 1 Real Madrid (2-4 agg): half time talking points
That was a cruel blow for Atlético, who will need to find it within themselves to overcome the disappointment, and start the second half in the same way they started the first: like an irritated greyhound tearing out of the traps.
I would be surprised if this match finishes with 22 players on the pitch. Five players have received yellow cards already. At the end of the first half, tensions boiled over as Torres barked abuse in to the ear of a grinning Cristiano Ronaldo. If the game gets beyond Atlético, you sense they may lose their cool.
Isco's goal was historic. It pulled Real Madrid level with Bayern Munich in the 'scoring goals in consecutive games' stakes.
---
Atlético Madrid 2 - 1 Real Madrid: first half as it happened
HT | Isco's close-range finish is a punch in the stomach to the Vicente Calderón. Atlético had raced in to a two-goal lead courtesy of early goals from Saúl and Griezmann. Real Madrid pulled one back on 42 minutes to leave Atléti facing the daunting task of needing three more goals in the second half.
Min 45+3 | Savic stoops to head a deep cross wide, and that will be that for the first half.
Min 45 | There will be two minutes of added time. Possibly more, given that Keylor Navas is down receiving treatment following a coming-together with Torres.
Min 43 | Giménez was ball watching for that Madrid goal. Really poor. Atlético now need three more.
Min 42 | GOOAAALLL! Isco! Benzema inexplicably beats three defenders at the byline before laying the ball back to Kroos 18 yards out. Oblak gets a strong hand to his shot, but cannot prevent Isco turning in the rebound from close range. There were murmurings that Benzema had run the ball out of play, but he kept it in with neat footwork, switching the ball from his right foot to his left.
Min 41 | After starting the match at a rip-roaring pace, Atléti will now be glad to get to half time and collect themselves. Zidane's side have seized the initiative in the last five minutes.
Min 39 | Two banks of four as Atléti remain stoic in the face of Madrid's probing possession.
Min 36 | Isco fouls Griezmann, Gabi appeals a tad too vociferously for a booking, and receives a yellow card himself. He screams in the face of the referee, Jamie Vardy-style, and ought to get his emotions under control. It's very scrappy at the moment, although Carrasco is punctuating the scrappiness with some gorgeous, meandering runs.
Min 33 | Godin comes straight through the back of Ronaldo as the two challenged to an aerial ball on the half-way line. He's booked, as is Ramos, presumably for incessant whinging. Ronaldo receives treatment on the turf, while Godin raises his arms to orchestrate the Calderón.
Min 32 | Casemiro sends a searching ball out to Marcelo on the left-flank. The Brazilian full-back is consistently in space, as Giménez, a natural centre-half, edges towards the centre of the pitch. A period of Madrid possession is cut short, and Atléti look to break through Griezmann, who is scythed down.
Min 28 | Now it's Griezmann's turn to go in hard on Modric. The Croatian is being roughed up. Surprisingly, referee Cakir keeps his cards in his pocket.
Min 27 | The game has settled down a little. It had to at some point. Much of the play has taken place in the middle third of the pitch during the last few minutes.
Min 25 | Isco has made a superb start. He's drifting between Atléti's defensive lines, occupying those elusive pockets of space. Simeone will have to ensure his defence and midfield remain close together, in order to keep that space to a minimum.
Min 23 | Godin sprints towards the byline and upends Modric with a hard, but fair tackle. That's the essence of a derby, right there. The Uruguayan was not going to lose that clash. Madrid settle in to a spell of possession around the Atléti box.
Min 20 | Real Madrid, clad in black shirts this evening, have responded to this rocky start with a series of corners. The Atlético defenders commandingly cleared each one. Diego Simeone is snarling in his technical area, Zidane shuffles up and down, directing his players with a point before returning his hands to his trouser pockets.
Min 18 | Griezmann goes in strongly on Isco, leaving the Madrid player in a heap. The referee gives a foul to the away side, which appears harsh.
Min 16 | GOAAALLLLL! Griezmann scores! It's not on, is it? The Frenchman strikes the ball to Navas' left. The Costa Rican gets a palm to it, as he did with Saúl's opener, and he'll be disappointed not to have saved that. As Jim Marshall said, the volume goes up to 11.
Min 15 | Penalty to Atléti! Varane trips Torres. Griezmann to take.
Min 14 | One goal down. The Atléti supporters are on their feet, frantically waving their scarves above their heads. They have a glimmer of hope.
Min 12 | GOOAAALLLLLLLL! Atléti take the lead through Saúl. The midfielder rises at the near post to meet Carrasco's out-swinging corner, and nods beyond a flailing Navas. Cristiano Ronaldo was the man who should have been marking Saúl.
Min 8 | After that fine Oblak save, Atléti gallop up the pitch. Carrasco bulldozes his way through two challenges and strides in to the box. He tries one trick too many, and is dispossessed. Nevertheless, Carrasco is having a lot of joy in the space vacated by the perpetually-marauding Marcelo.
Min 6 | This is being played at a million miles an hour. Savic enters the book for a foul on Isco on the touchline. From the set piece Casemiro leans over and sends a header towards the far post. Oblak launches himself to save it with the palm of his left hand. It's so, so frenetic. 80 more minutes of this is a tantalizing prospect.
Min 5 | Koke gets a light touch on a Carrasco cross, and forces Navas in to a smart save at his near post. The Atléti player strides towards the corner flag with purpose, but his delivery is headed over.
Min 4 | Danilo gets himself booked in the early stages. His loose first touch allows Luis to steal possession, momentarily, before Danilo hooks a high foot towards the face of the long-haired left back.
Min 2 | Atléti get their first shot away. Griezmann has a pop from 25 yards, but it flies over and in to the bouncing Atlético crowd. Moments earlier, Ramos looked in pain following an aerial challenge with Torres. He held his shoulder on the turf, but has hauled himself up to continue.
Min 1 | Benzema rolls the ball back from the centre spot. Whistles immediately ring out. We're underway!
---
Atlético Madrid vs Real Madrid: team news
Atlético XI: Oblak; Giménez, Godin, Savic; Carrasco, Koke, Saúl, Gabi, Filipe Luis; Torres, Griezmann.
Subs: Moyà, Tiago, Correa, Lucas Hernández, Gameiro, Thomas, Gaitán.
Real Madrid XI: Keylor; Danilo, Varane, Ramos, Marcelo; Casemiro, Modric, Kroos; Isco, Benzema, Cristiano.
Subs: Casilla, Nacho, Rodríguez, Kovacic, Vázquez, Asensio, Morata.
---
Atlético Madrid vs Real Madrid: pre-match chat
20:43 | And... out they come, let by Gabi and Sergio Ramos. Once again, a deafening din of 'Atleeeeti' reverberates. It gives way to the Champions League anthem, which plays for the last time at the Calderón.
20:41 | The teams gather in the tunnel. The crowd is expectant.
20:38 | And up it goes between the two tiers of the Calderón. The fans hold up red and white card to paint the stadium in the colours of Los Rojiblancos.
20:34 | A reminder of the tifo that we'll see shortly. 'Proud to not be like you', quip the Atléti fans towards their neighbours.
20:30 | Kevin Gameiro turned 29 yesterday. Diego Simeone has wished him many happy returns by dropping the Frenchman to the bench. He missed a key chance in the first leg at the Bernabéu.
20:26 | Profe Ortega, Atlético's cult-status fitness coach, is putting the home players through their paces with a series of stretches that have sent my hamstrings cowering behind the sofa, so to speak.
20:23 | Empty red, white, and blue seats are beginning to be filled up by nervous Atléti fans. In the background, Madrid looks resplendant on a fine May evening.
20:19 | Regrettably, the build-up to the match has been marred by violence outside the stadium. Bottles were thrown, and the police charged at a group of Atlético supporters.
20:16 | The Atlético team emerge from the tunnel to commence their warm-up. The ground erupts with a roar of 'Atleeeeti, Atleeeeti'.
20:13 | 2600 fervent Madridistas will populate the Calderón away end tonight. They have travelled to the south of the city in a convoy of buses, and can be sure of a hostile reception.
20:08 | Cüneyt Cakir will be the referee for the match this evening. According to AS' resident referee, Iturralde González, he's the ideal man to handle a high-pressure match.
20:02 | Here's a full run-down of the team news from the Calderón, as Cholo Simeone appears to shuffle his tactical pack.
19:56 | Danilo is the one who will fill in for Carvajal at right-back. That's not unexpected. He has been a regular in that position when Zidane has fielded his 'B Team' in La Liga.
19:46 | AS understands that Simeone will deploy a 3-5-2 formation, with Giménez as one of the central defenders, and Carrasco operating as a wing back.
19:33 | There will be 850 journalists at the Calderón present this evening, arriving from over 30 countries.
19:25 | The 'A Team or B Team' debate has been much discussed in the bars of Madrid over recent weeks. Zinedine Zidane has a stupendously-deep squad from which to choose his starting XI. When called upon, the 'reserves' have been superb, as Sid Lowe explains in this La Liga round-up.
19:16 | Looking ahead to the how the teams will line up this evening, both managers have concerns regarding the right-back position. For Atléti, Juanfran, Vrsaljko, and Giménez are all less than 100% fit. For Madrid, Zidane will need to decide whether Danilo or Nacho steps in to cover for the injured Dani Carvajal.
19:05 | Amongst a star-studded Madrid line-up, was Gabriel Heinze, 'El Gringo'. While at Manchester United, the Argentine defender incurred the wrath of Sir Alex by attempting to force through a transfer to Liverpool. Fergie would not stand for that, and Heinze was sold to Madrid. Not a bad alternative, really. 'But what is Heinze doing these days?', you (probably) cry. He's cutting his teeth as a manager in Buenos Aires, with Argentinos Juniors, and he's doing rather well.
18:55 | Ooh, a tasty statistic courtesy of WhoScored... The last time that Real Madrid lost by over three goals in the Champions League, without scoring themselves, was against Liverpool at Anfield in 2009. Xabi Alonso and Alvaro Arbeloa donned the Liverpool shirt that evening, but both later went on to sign for Madrid.
18:43 | Diego Godín, Atlético's Uruguayan colossus, will be suspended for the remainder of the La Liga season. The centre-half has received a three-match ban after he was sent off for two bookable offences against Eibar, and proceeded to advise the referee to 'get some glasses'. That suspension doesn not apply to tonight's game, though.
18:30 | The final match at the splendid ground that sits on the banks of the Manzanares River, will be the league clash against Athletic Club on Sunday 21st May. Unsurprisingly, that fixture sold out many moons ago. Here's the rest of the La Liga games scheduled for that weekend. It looks likely that Real Madrid will pip Barcelona to the title, but here at AS English we're always reluctant to rule out a late twist in the plot.
18:14 | Tonight will be Atlético's penultimate match at the Calderón. In The New York Times, Rory Smith wrote a fine article about the allure of the old ground, and the pragmatic need to move on to a new home.
17:40 | While no side has ever overturned a three-goal (or even a two-goal) deficit in a Champions League semi-final, Atlético's fellow LaLiga club Barcelona did manage it in the old European Cup, qualifying for the 1985/86 final by beating IFK Gothenburg on penalties after matching the Swedes' 3-0 first-leg win in the return.
17:20 | With just under three and a half hours to go until kick-off, here's a reminder of how and where to watch (accompanied by our magnificent live text, obviously).
16:50 | At the UEFA lunch for Atletico Madrid and Real Madrid today, Enrique Cerezo, the president of the Atletico Madrid said that "the famous Theo will not be on the menu" and said that relations between the clubs are magnificent.
16:36 | Mono Burgos did an excellent interview recently and he spoke of everything including his role at Atletico Madrid, which is telling Diego Simeone the truth.
16:26 | There is so much talk of this being the end of the road for Diego Simeone's Atletico Madrid and the team that really challenged Real Madrid and Barcelona at the top of Spanish and European football. That might have some merit but there is a belief he will remain at the helm for another year as the club moves to the Wanda Metropolitano. They did, however, record just one shot the lst day, which was the lowest total for Atletico Madrid under Diego Simeone.
16:04 | The atmosphere is set to be turned up to 11 tonight but there is a chance that an early goal could end Atletico's dream of a comeback. Here are five goals that silenced the Vicente Calderon in the past.
15:45 | Atlético will look to their 4-0 victory in the Calderón in the 2014-15 Liga for inspiration this evening, when Saúl, Antoine Griezmann, Tiago and Mario Mandzukic all scored to inflict defeat on Real Madrid.

15:30 | Alfredo Relaño believes that Simeone and Ramos are redefining both clubs' places in the Madrid derby. Simeone says that if he needed to say a word to motivate his players tonight then he would have to walk away. The players know how important this game is and he also said that he believed Atletico could do the impossible.
15:03 | Gareth Bale will not be available tonight but he is keen to get his fitness back and is convinced that Real Madrid will win the Champions League.
14:34 | Just as we are gearing up for the game and thought both camps had gone underground until later tonight, reports have emerged that Atletico Madrid will display a banner saying "Proud to not be like you" as the war of words and messages escalates. That should really infuriate Real Madrid provided UEFA approve it.
14:06 | And just in case you were wondering if Atletico have ever come back before? There is a precendent. Check some of them out here.
13:49 | On the David de Gea front, Manchester United are keen to show Real Madrid that they are not going to give up on the Spanish goalkeeper without a fight. They released their new kit recently and have De Gea in the promotion for it meaning they plan on having him around next year! Manchester United will resist any attempts Real Madrid make on their goalkeeper.
13:43 | In case you didn't have the chance to see the game last night where we found out who out first Champions League finalist is, you can read how it happened here along with a match report as Juventus well and truly defeated Monaco despite winning by just one goal. If it is either Real Madrid or Atletico, they will have their work cut out for them.
13:23 | And just a reminder as to what sparked all of this. There was a banner poste at the first leg by Real Madrid and they took a dig at Atletico over the two lost finals. That resulted in an Atletico fan responding to the tifo about values and whatnot.
13:09 | The they can´t understand social media campaign was all about values and the like. It made it somewhat of a class warfare as Real Madrid's rich history was brought into it although covertly. Sergio Ramos responded and said, "Anyone would think we were raised in Berverly Hills". He was also mum on the Theo signing, as you would expect him to be: "It's not the time to talk about signings. If the time comes to open the door to a new team-mate after the season's over, then we'll do that."
12:54 | Gabi says his Atletico Madrid side "never give up". He also says that the team have to reach the same level as the players. We are sure to see one of the most special nights in the history of Atletico Madrid tonight and win, lose or draw, based on Gabi's comments, we can expect to see them going down swinging.
12:40 | Following a rash of injuries that saw Atletico Madrid turn to Lucas Hernandez and then Thomas Partey for their most recent LaLiga clash, Diego Simeone can count on everyone bar two of his players for the visit of Real Madrid. He is missing Sime Vrsaljko and long term absentee Augusto Hernandez. That means he has Juanfran back and he also has Jose Gimenez as his back-up.
12:32 | Real Madrid are facing into their busiest summer in a while. They could be coming off the best season in the last number of years and are facing into one of the biggest games of the season but plans are already in motion for the summer. Who is on their list? There are quite a few names.
12:01 | Not that the game needed any extra spice in the soup but Theo Hernandez' medical that would see him complete a move to Real Madrid certainly did just that. Previously, Atletico had started a social media campaign that included the #TheCantUnderstand slogan highlighting the values of Atletico Madrid over Real Madrid.
11:42 | The New England Patriots came back in last season's Super Bowl. The Cleveland Cavaliers came back in last season's NBA Finals. And Antoine Griezmann posted a montage of these comebacks with some Killers' music to hype up the game tonight! He also added some of the goals from Atletico's 4-0 victory over Real Madrid at the Calderon two years ago. Excellent motivation ahead of a massive night in Atletico's history.
11:17 | As well as much of the focus this week being on the two legs, Real Madrid's signing of Atlético's Theo Hernández also hit the headlines. This wasn't supposed to happen. AS editor Alfredo Relaño also suggested it was "bad timing" on behalf of Florentino Pérez.
10:58 | One man who will not be on show tonight, Gareth Bale, is desperate to be fit for the Champions League final in Cardiff, the city he was born in almost 28 years ago.
10:37 | Waxing lyrical for you on the live-feed tonight will be the young man with a gift for painting pictures with words, Matt McGinn. There are, of course, inferior ways to enjoy the semi-final and we've put together a guide.
10:18 | Last night saw Juventus book their place in the Cardiff final with a 2-1 win over Monaco (4-1 on aggregate). Here's what happened.
10:04 | Anyone who thinks this game is a dead rubber is mistaken, certainly that's the view of Atlético Madrid's manager, Diego Simeone. Read what he said after the first leg about "nothing being impossible" for his side.
09:49 | There were several players that impressed on the night - Toni Kroos, Marcelo and Isco all getting specific plaudits - but one man in particular made the world's headlines, once again. Cristiano's hat-trick included his 400th goal for Los Blancos.
09:41 | What do you mean you've forgotten what happened last Tuesday? Oh, OK then, here is how it all went down at the Bernabéu in the first leg.
09:32 | Few people expected the second leg to start with a three goal advantage for either side, but after arguably their performance of the season, Madrid turn up with it all to lose. Atlético have a mountain to climb but if you've been following our news and chat for the last few days you'll know that they are more fired up than a blind, one-legged knight covered in lighter fluid who stumbles across an angry dragon. Check out our preview below.
09:18 | Good morning from the Spanish capital!! OK. On a scale of 1-10 how excited are you about the Madrid derby that kicks off in less than 12 hours from now? (you can actually comment at the bottom of this article if you'd like). As you can probably imagine, things are already heating up in the city and we aim to give you as much as that as possible through the words and images on this page. Stay with us...
---
Atlético Madrid vs Real Madrid live stream: match preview
Real make the short trip across Madrid for the final European fixture at the Calderón, which Atlético are to leave this summer after over 50 years at the ground.
And, having established a handsome 3-0 advantage in last Tuesday's first leg, Los Blancos are the overwhelming favourites to progress to the final in Cardiff.
Atlético Madrid
After an anaemic display at the Bernabéu, Atlético will have to raise their game a number of notches if they're to complete a famous turnaround in the return.
Los Colchoneros, who stayed on track for a third-place LaLiga finish with a narrow win over Eibar on Saturday, need at least three without reply to have any hope of avoiding a fourth straight European exit at the hands of their near neighbours.
Their recent past does include a 4-0 home walloping of Real in a 2015 league clash, but Champions League history is not on their side: no team has ever overturned a last-four deficit higher than one goal in Europe's premier club competition since its inception in 1992.
It's imperative that Atleti stop Real from scoring an away goal - and they can take heart from their record of having never conceded in any of the five European Cup semi-final home legs they've previously contested.
However, they host a side who no-one has managed to prevent from netting in a whopping 60 games - a streak stretching way back to April 2016.
But speaking in the run-up to the second leg, boss Diego Simeone has been at pains to sound a note of optimism and defiance, declaring: "On Wednesday we have a very difficult game, impossible for many, but not for us, nothing is impossible".
Real Madrid
The holders and 11-time winners out to reach second straight tournament final and set up the opportunity to secure a third continental crown in four years.
Should they book their ticket to Wales, moreover, Real will also have the chance to become the first club to retain the European title in the Champions League era.
Zinedine Zidane was able to rest most of his expected XI in Saturday's LaLiga victory at Granada, which kept Madrid in the frame for a first league championship since 2012.
And that 4-0 triumph at Los Cármenes means Los Blancos will equal Bayern Munich's record of netting in 61 straight games if they score on Tuesday night.
Among those given a breather in Andalusia was first-leg hat-trick hero Cristiano Ronaldo, who has hit a whoppìng eight goals in his last three Champions League appearances - and grabbed a treble the last time Real were at the Calderón.
Despite Real's three-goal lead, however, Zidane insisted his team need to "play a perfect match", adding: "We need to remain calm and take it as just another game."
Further spice has been added to a build-up already marked by the fall-out from tifo-gate with the news that Atlético youngster Theo Hernández, who has been a LaLiga sensation on loan at Alavés this term, is set cross the capital to join Real.
---
Atlético Madrid vs Real Madrid live stream online: possible line-ups
Atlético Madrid XI: Oblak, Juanfran, Godín, Savic, Filipe Luís, Koke, Gabi, Ñíguez, Carrasco, Griezmann, Gameiro
Coach: Diego Simeone
Real Madrid XI: Navas, Nacho, Ramos, Varane, Marcelo, Kroos, Casemiro, Modric, Isco, Benzema, Cristiano
Coach: Zinedine Zidane
---
Atlético Madrid vs Real Madrid: live stream online betting odds
It's fair to say that the bookies are not confident of Atlético Madrid's chances of a memorable comeback in Tuesday night's 'Euroderbi': the hosts are priced at 17/1 to knock Real Madrid out, while the visitors are just above evens to complete the job.
Place your bet on Atlético Madrid vs Real Madrid now
---
Atlético Madrid vs Real Madrid: live build-up