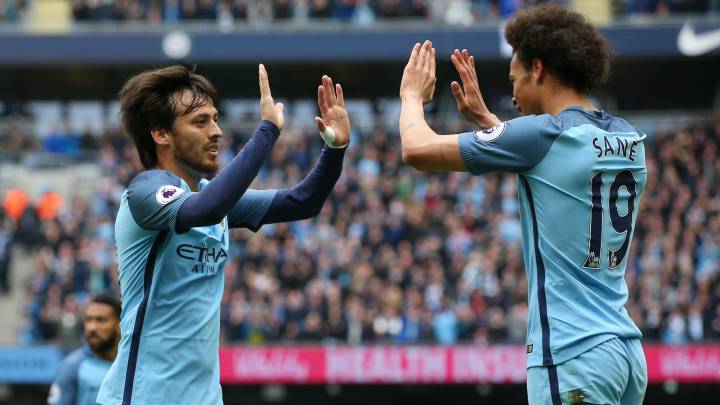 Manchester City 2-1 Leicester City: match report
Pep Guardiola helped himself and his side to third place in the league until at least Monday when Liverpool play West Ham thanks to a first half burst that saw them nab two goals in the space of seven minutes. The problem is that they were hardly convincing aside from that.
Man City started to dominate the game and with Leroy Sane on form down the left, they were starting to create more and more as the game continued. He was vital in their first on 29 minutes when he cross to David Silva and the Manchester City creative midfielder struck to give his side the lead. Raheem Sterling was just a fraction offside as Silva took the shot and he made an effort to hit the ball but he missed and so the ref said he was not interfering. Leicester City players were less convinced though.
Sane at it again
If there was debate over the first goal, there was none of the second. Leroy Sane was fouled by Benalouane inside the square and referee, Robert Madley, made the easiest decision he would make on the afternoon. Gabriel Jesus, the 19-year-old phenom, stepped up and coolly slotted the ball past Kasper Schmeichel, sending him the wrong way in the process.
This was starting to get worrying for Leicester but Shinji Okazaki, a man who had not scored in 23 games, stepped up and volleyed Leicester back into the game after 42 minutes with half-time approaching fast.
The second half started much like the first with tame attacking efforts by both sides. City might have been happy with the lead and Leicester couldn't figure a way into the game.
The biggest talking point of the opening 20 was when Marc Albrighton took an elbow to the cheek off Fernandinho and had a massive lump under his eye with no punishment for the City player. It was heating up and that seemed to suit leicester more but they were still not able to create anything meaningful.
Penalty talking point
The ref had another handy decision to make when Riyad Mahrez went around Gael Clichy and he was taken down inside the penalty area. He pointed to the spot without a second thought. Mahrez stepped up and kicked it with his left but he slipped as he did so and it hit off his right foot. it went in but it was disallowed.
With ten minutes remaining, would Leicester be able to create another chance as good as that one for Mahrez? The answer to that question was no, and they hardly threatened either. The same can be said for Man City as a tepid second half with little ambition drew to a close. Pep won't mind though as his side grabbed the third spot in the Premier League and with two games left, they have their fate in their own hands. Craig Shakespeare's work has been impressive and they are unlucky not to have nicked a point but ultimately their efforts came to little.
---
Manchester City 2-1 Leicester City live stream: second half
FT: That's all she wrote at the Etihad.
Min 90 + 6 | Leicester want a corner but referee says no. Looked like Gray kicked it off Zabaleta.
Man City substitution: Gabriel Jesus replaced by Jesus Navas.
Min 90+3 | Slimani makes it down the line and should pull it back but he kicks it into a load of bodies in the center and City clear.
Min 90 | We have seven minutes added time at the Etihad. And maybe more as Otamendi goes down in a heap after Ndidi has a shot and he throws himself in front of the ball.
Min 87 | Corner to Leicester as Vardy does win it this time! Kompany with a towering header to get it away.
Min 84 | Vardy wants a corner as it comes in at the front post but referee says no.
Man City substitution: Zabaleta replaces De Bruyne.
Leicester substitution: Albrighton is booked and just as he is, on comes Demarai Gray in his place.
Man City substitution: Aguero replaces Raheem Sterling.
Min 78 | Really harsh. Mahrez slips and kicks the ball of his standing right foot as it heads to the net. The referee says he kicked it twice and it's ruled out. difficult one to take for Leicester.
Min 76 | PENALTY! Mahrez, who has done nothing of note, turns Clichy and he gets dragged down by the full-back inside the area. Referee has a handy decision to make!
Min 74 | Clichy with an effort from way out now. No chance. Schmeichel has his hands up waving it away as it leaves Clichy's boot. He knew that one wasn't troubling him.
Leicester City substitution: Slimani replaces Okazaki.
Min 72 | Fuchs is booked for a possible foul on Gabriel Jesus. Unclear what happened though.
Min 70 | Sane with an effort off his right but it's as tame as the last 20 minutes have been. Sterling through not and looking dangerous but he is blocked by Benalouane. Corner to City.
Leicester substitution: Amartey replaces Andy King who doesn't look comfortable as he comes off.
Min 65 | Albrighton down in a heap after catching an elbow from Fernandinho. Really sore one! He is really not happy. There is a massive lump under his eye and he shows the ref but he doesn't want to know about it. He must have thought it was an acident.
Min 63 | Game gets going now. Yaya Toure has a crack from outside the box and it is blocked. He wants hand ball but referee waves it away. Then Leicester break and Okazaki is fouled by De Bruyne and he is certainly not happy with that one.
Min 61 | Sane with a run down the left and a cross but nobody is waiting at the other end of it.
Min 57 | Yaya Toure gets the ball away for a corner to Leicester. Albrighton swings it in and Toure gets it away yet again.
Min 55 | Not much going on by way of goalmouth action in this half. Plenty of play aroud the middle and false starts but neither team have really threatened.
Min 53 | Sterling has a cross and Albrighton hits the ground. It hit the midfielder square in the face. Sterling's protests for a penalty fall on deaf ears and he gives up on the claim when he sees Albrighton's face is bleeding where he caught the ball.
Min 52 | Leicester have started the second half better but still look to be under pressure. you get the feeling that City have another gear.
Min 48 | Yaya Toure fouls Okazaki as he tries to break free. Vardy eventuall does spearhead a counter and cross to Albrighton but his effort is tame.
Min 47 | Long throw is headed away by City but it falls to Albrighton wh drives it high and wide.
Min 46 | We are back underway at the Etihad.
---
Manchester City 2-1 Leicester City live stream: talking points
AS IT STANDS: Manchester City are in third place with two points to spare over Liverpool.
Leicester City are decimated in defense but Danny Simpson is have problems with Leroy Sane out on the left. He assisted both goals and also created plenty more outside of that. With players like Silva and De Bruyne able to find him almost every time and with the confidence to look for him even in the tighest spaces, Simpson has been unable to live with the German.
Leicester have regressed as the game has continued and Jamie Vardy has barely had a kick in the second half of that first 45. They need to find a way to get him on the ball in open space because he has shown he can taken on Otamendi and Clichy for pace. They will have to do it in a way that does not mean launching long, hopeless ball up front.
---
Manchester City 2-1 Leicester City live stream online: first half
HT: Three goals is not a bad return. City have been dominant but a great finish by Okazaki is enough to keep Leicester in this one.
Min 45 | Sane with another dangerous ball across the box and Sterling turns it back towards goal but Schmeichel saves.
Min 44 | Courtesy of OptaJoe, "Shinji Okazaki has ended a run of 23 games in all competitions without scoring for Leicester. Rocket."
Min 42 | GOAL! That is one way to do it. Okazaki sends a shot to the roof of the net. It was part chilena, part straight-up volley. Great response from the former Premier League champions.
Min 40 | Leicester started well but Vardy hasn't had a touch in the last 15 minutes! (Not sure if this is actually correct but it's not far off). It is partly got to do with their own ability but also because Man City are just dominating. Leicester have to figure out a way to trouble City's defense.
Min 38 | Sane has been causing all sorts of problems for Leicester City. He has been involved directly in the two goals and has been giving Danny Simpson an awful time of it.
Min 35 | PENALTY! City win a penalty as Sane is taken down by Benalouane. The most obvious penalty you will ever see. Jesus sends Schmeichel the wrong way and makes it five goals in ni appearences for City in the league.
Min 32 | Another corner for Man City as Simpson shadows ane and gets a toe on the ball as he tries to go aorund him. All Man City.
Min 28 | GOAL! That was coming. Silva with the finish but Leicester are not happy. They think it was offside. After Silva's shot, there was a player in an offside position and they think he interfered. Sane delivered the cross and Silva shot with Sterling swinging a foot at it, and missing, on its way to the net. Would have been harsh. Will have to break out the rulebook for that one!
Min 27 | City's light knocks on the door are getting louder. Sterling cuts inside and squares it right across the box. It could easily have been turned in but it goes the other way. It rolls to Clichy but he opts not to shoot with too many players in his way. He plays it to Silva and he does shoot. But it goes out for a corner. Another deflection and continued pressure from City.
Min 25 | Schmeichel nearly caught out by his own player. De Bruyne has a shot and Benalouane catches it with his knee as he nearly steers it beyond his goalkeeper. Corner but could have been 1-0 as Schmeichel was gone the other direction.
Min 23 | Another half chance for City. Clichy with the cross to Sterling and his volley is deflected out for a corner. Sane ready to deliver.
Min 20 | Excellent kick-out by Schmeichel sets Vardy away and he is fouled by Clichy. Free comes in and City get it away.
Min 19 | First real chance for City. Otamendi heads a poor clearance into Silva's path and he pulls it back to Sane but the German needs to get his foot straightened because his shot goes well off target. They win a corner though.
Min 17 | Sterling kicks it five yards ahead of himself and gets a step on Chilwell but the left-back recovers with the help of a push-off on Sterling's chest. He slides in and gets the ball away but Sterling is not happy as he has a word with the ref. Throw to City. Robert Madley has a word with the English winger.
Min 15 | Really sharp counter byt City sees Youre play it to Gabriel Jesus and he sets Sterling away but Schmeichel is off his line like a light and drives it a kick out over the sideline. Leicester under pressure here but City not creating a whole bunch either.
Min 14 | Silva looks for Sane now but it's in too tight a spot and he runs out of space. Schmeichel clears before Man City take off again on the attack. Yaya Toure with the cross and Schmeichel with the two-fisted clearance.
Min 12 | De Bruyne looks for Sane this time with a through ball after a probing run. He's inaccurate though and Schmeichel gathers.
Min 11 | Yaya Toure looks for Sterling with a throughball but he misjudges the winger's speed and gives him too much work to do.
Min 10 | City looking to take control of this one now. Silva bee scarcely involved. They are looking for Sane out on the left-hand side almost every time. He seems to have a run on Simpson too. Leicester's time to attack, in the meantime, and Albrighton has a shot that Willy Caballero gets his body behind to save.
Min 9 | Leicester win a corner and it arrives onto the head of Ndidi. He can't get over it though and he heads over the bar. He had plenty of space in the six-yard box. A corner, perhaps, for City.
Min 8 | Sterling bundled out of the way by Albrighton, illegally too, as the former Liveprool man wins the free. De Bruyne delivers after receiving the free from Yaya Toure but Schmeichel collects.
Min 6 | Ball over the top makes its way to Gabriel Jesus but he can't do anything with it after battling with Fuchs to win it.
Min 5 | Vardy shows off his speed and gets in behind Otamendi, who had a yard or two on him when the pair set off. His shot leaves a lot to be desired though.
Min 4 | Corner swung in by Sane and Fernandinho meets it with a header but he puts it wide. Plenty of pace on the corner and the header. Schmeichel would have struggled if that was on target!
Min 3 | Ball in around the back by Sane is put out by Fuchs. Tame start to this one!
Min 1 | We are underway at the Etihad.
---
Manchester City vs Leicester City live stream online: team news
Man City: Caballero, Fernandinho, Kompany, Otamendi, Clichy, Yaya Toure, De Bruyne, Silva, Sterling, Sane, Gabriel Jesus.
Leicester City: Schmeichel, Simpson, Benalouane, Fuchs, Chilwell, Mahrez, Ndidi, King, Albrighton, Okazaki, Vardy.
---
Manchester City v Leicester City live stream online: build up
13:21 | John Stones is fit enough to make the bench but has not been selected to start and Sergio Aguero, the hero of five years ago is in the same situation. It's the first game in five that John Stones has made it into the matchday squad. Aguero just missed City's 5-0 thrashing of Crystal Palace.
13:15 | We are hoping for a goalfest today as Leicester City are missing their two first choice centre-backs in Wes Morgan and Robert Huth. They will be replaced by Yohan Benalouane and Christian Fuchs, who himself will be replaced by Ben Chilwell at left-back.
13:12 | Riyad Mahrez is linked with a move away from Leicester City this summer with Tottenham Hotspur circling for the attacking midfielder. Another player who could be on his way out of his club is Nolito at Manchester City. The former Celta Vigo attacker admitted he might have to leave the Etihad in order to play more minutes next season.
13:07 | Leicester City are looking for their first back-to-back away wins since April 2016 on their way to the Premier League title when they won three away from home in a row.
12:52 | It has been five years to the day since Sergio Aguero scored that goal against QPR to give them a 3-2 win and Manchester City the Premier League title, their first championship since 1968.
12:39 | Guardiola was complaining about not scoring goals and has Aguero available to him but opts for Gabriel Jesus. The 20-year-old has played in seven games for City and scored four with two assists. I don't think finishing is a problem for the young Brazilian.
12:26 | Pep Guardiola is more similar to Jose Mourinho as you might think. Both managers' sides have struggled massively in front of goal this season. Pep said, "Throughout season we've created lots of chances - 19 v Utd - problem is converting into goals. That is what has held us back."
11:55 | City's form is no less choppy than Leicester's: LWWDDW. They are unbeaten in their last five, however,
11:43 | Vincent Kompany played just three times in Man City's first 30 Premier League games. He has started five of their last six games, however, as the club captain looks to string a number of games together to ensure Pep and City that he is worth keeping around.
11:12 | WLDLWW - Leicester's form dipped to an extend after the initial run of form that saw Craig Shakespeare drive his team out of the relegation zone but they have remained at a decent level and are coming off the back of two wins in their last two games.
10:39 | Manchester City have won just two of their last seven meetings with Leicester. Despite really struggling earlier in the season, Leicester dismantled City 4-2 with a hat-trick coming from Jamie Vardy, the man linked with Atletico Madrid recently.
10:05 | One player who has impressed mightily this season before injury was Gabriel Jesus. He is back now and Pep Guardiola says he has Europe in his hands.
9:43 | Man City could leapfrog Liverpool today with a win. Liverpool don't play until Monday night against West Ham but this City have a game in hand. Finishing third would be a lot handier for Pep in his first season as he won't have to contend with Champions League qualifiers if he lands that spot. Jurgen Klopp, of course, will be thinking the same but it's up to Man City as to what happens.
8:45 | Good morning! Wakey wakey, rise and shine, and let's get stuck straight in to the build up for this Premier League clash. Chelsea won the league last night with a 0-1 win at West Brom, but the race for Champions League football remains very much alive.
---
Manchester City v Leicester City live stream online: preview
Pep Guardiola's Manchester City have lost just once in their last 10 league outings although it must be added, half of those games ended in draws. This is a game his team must win to keep their ambitions of a top-four finish alive. City are just one point behind Liverpool but with a game in hand, while Arsenal, who travel to Stoke later on Saturday, are hoping the Mancunians will stumble so that they can take the final Champions League berth.
A City win would bump them provisionally up to third on 72 points, obliging Liverpool to conquer West Ham at London stadium on Sunday. It's a psychological battle which will be played out on repeat until the Premier League reaches its climax a week on Sunday. Before it does, Guardiola's team travel to the Hawthornes for their game in hand on Tuesday night while almost at the same time, Arsenal will be trying to get a result against relegation-hit Sunderland. A City win coupled with a United defeat to Spurs would ensure Guardiola's team finishes above their city rivals in the final standings.
Leicester have settled in the middle order and don't have many options to finish higher. Their recent form has been encouraging – just two defeats from the last 10 games – against Everton and a narrow 1-0 defeat away at Arsenal. They go into this on the back of victories against West Brom and Watford which positioned the team ninth on 43 points. Not bad at all for a side who were just one point off the drop zone back in February forcing directors to sack manager Claudio Ranieri. It's important not to forget that the Foxes did win this fixture 3-1 last season on their march towards the Premier League title.
Manchester City team news
John Stones and Sergio 'Kun' Agüero make the list – the defender has been sidelined with a muscular injury which made him miss the team's last five games while Agüero was taken off with a suspected groin injury in the 2-2 draw with Middlesbrough a fortnight ago. Willy Caballero will guard the City net in Claudio Bravo's absence – the Chilean keeper and Ilkay Gundogan are the only players who are unavailable.
Once the game is over, the City boss said he has other important duties to attend to – buying Yaya Touré a cake for his 34th birthday…
Man to watch: David Silva. He was back among the goals in last week's 5-0 humbling of Crystal Palace – his first league goal since the start of February. Silva's a joy to watch even when he isn't scoring. Hypnotic skills, vision, control and an innate ability to be in the right place at the right time, all of that makes the Spain international a constant threat. He will be making his 50th appearance in what has been a busy season – his seventh at the club.Leicester City team news
Leicester City team news
Craig Shakespeare confirmed that he will be without Danny Drinkwater for the remainder of the campaign – the midfielder suffered a Grade I thigh strain last week against Watford. It's the latest setback for the Foxes who have central defensive pair Wes Morgan (hamstring) and Robert Huth (foot) ruled out while Nampalys Mendy is nursing an ankle problem and will also miss the trip up north to the Etihad.
Man to watch: Riyad Mahrez. Leicester's very own Isco can turn on the magic whenever the team is in need of inspiration. The 26-year-old Mahrez has been linked with a move away from the King Power even if this season he has not quite matched his breath-taking performances of last year. He capped a century of Premier League appearances with a goal against Watford last week – and that could be just the kind of motivation he needs to take City to task on Saturday.Manchester City v Leicester City: possible line-ups
Manchester City v Leicester City live stream online: Possible teams
Manchester City
Willy; Fernandinho, Kompany, Otamendi, Clichy; Yaya Touré, Sané, De Bruyne, Silva, Sterling, Gabriel Jesus.
Leicester City
Schmeichel; Simpson, Benalouane, Chilwell, Fuchs; Mahrez, Ndidi, King, Albrighton, Okazaki, Vardy.
Manchester City v Leicester City live online: Odds
No surprise that City are odds-on favourites to be lounging in the heady glow of a win come Saturday afternoon, still Leicester are 10/1 to pull off what would be a memorable home and away double over the Sky Blues. Foxes' Japanese midfielder Shinji Okazaki is at 13/1 to be the first scorer and at 100/1 to go home clutching the matchball. Birthday boy Yaya Touré is at 9/1 to hit the winner, just in time for his big day…
Bet on Manchester City v Leicester City in the Premier League now.