Las Palmas 1 - 4 Barcelona LaLiga: goals, action, match report
Neymar struck a hat-trick at Las Palmas to keep Barça in the hunt for the La Liga title. Suárez also scored, while Bigas found the net for Setién's teamBarcelona vs Valencia: Copa del Rey semi-final 17/18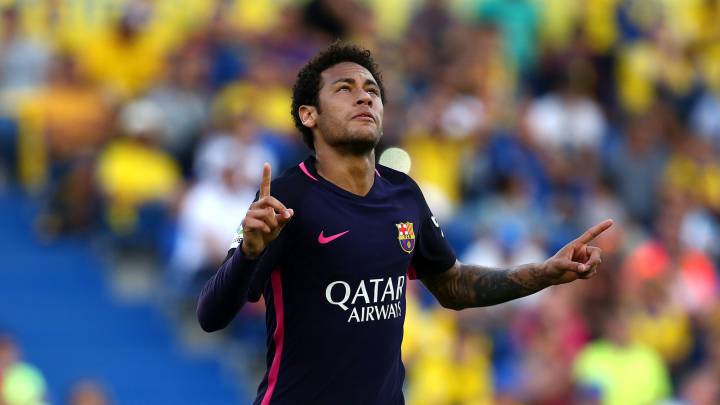 Las Palmas 1 - 4 Barcelona: match report
Neymar scored a hat-trick in Gran Canaria to keep Barcelona in the running as the La Liga title race enters its final week. As is so often the case in Spanish football, the focus is on two teams. Back on the Spanish mainland, Real Madrid also beat Sevilla by a scoreline of 4-1, to leave things in much the same position as they were before the matches kicked off on Sunday evening. Barcelona sit on top of the table due to their favourable head-to-head record with Madrid, but Zidane's side travel to Celta Vigo in midweek with a chance to regain the lead.
Barcelona eased themselves in to the driving seat with two quickfire goals from Neymar and Suárez, in the 25th and 27th minutes. Las Palmas temporarily gained a foothold in the game, as Pedro Bigas scored just after the hour mark. Yet two more goals from Neymar put the result beyond doubt in the sun-drenched Canary Islands.
Since manager Quique Setién announced in March that he will leave the club at the end of the season, Las Palmas have waned. To say they were 'on the beach' would be an understatement. They had moved to the beach, opened up a bar, and were serving piña coladas with miniature umbrellas and Mariachi music. A strong start to the season had afforded them such a luxury.
Luis Enrique received bad news just before kick off, as Javier Mascherano limped out of the warm-up with injury. Marlon, a 21-year-old defender on loan from Fluminense, took his place in an already below-strength back line.
Yet referee González González gave Barcelona a generous slice of good fortune after just six minutes. Lucas Digne, playing out of position at right-back, hauled down Jesé as the former-Real Madrid charged towards goal. Digne denied a clear goalscoring opportunity with a cynical foul, yet when the referee reached for his pocket, a yellow card emerged.
After 25 minutes, Barça built upon their good luck. Busquets found Iniesta with an elaborate flick, and the diminutive playmaker showed his continuing importance to this Barcelona side with a sumptuous pass in to the path of Luis Suárez. The Uruguayan barely broke his stride, before rolling the ball across the face of goal for Neymar to finish from close range.
The away side soon doubled their lead. Neymar turned provider for Suárez. The Brazilian split Las Palmas' defence with a curled pass from the left flank. Suárez' run was perfectly timed, and he dinked the ball over the onrushing Varas and in to the bottom corner.
The match gently undulated towards the half time break. With news coming through from the Bernabéu that Real Madrid were leading Sevilla 2-0, it seemed very much 'as you were' in the La Liga title race.
Yet Las Palmas awoke from their slumber as the second half got underway. The yellow-shirted players looked fresh, rejuvinated. When Pedro Bigas steamed forward from centre-half to apply the finishing touch to a counter-attack, it was thoroughly-deserved. Jesé Rodríguez said earlier this week that he would relish the chance to de-rail Barça's title charge. He buzzed around the pitch, a thorn in Barcelona's side.
The away side did not panic. They took a deep breath, and shifted up a gear. Neymar put them at ease four minutes later, nodding Rakitic's bouncing cross in to the bottom corner. Suárez threw himself towards the ball in an attempt to get a touch. He didn't, and luckily so, as he was standing in an offside position. Another four minutes passed before Barcelona scored his fourth, and Neymar his third. Jordi Alba careered up the left flank before rolling the ball inside to Neymar who, with the daintiest of touches, poked the ball beyond Javi Varas.
All eyes now turn to Galicia. On Wednesday Celta will host Real Madrid at Balaídos. Zinedine Zidane's side have control of the La Liga title race, but only just. Barça are clipping at their heels, waiting for a slip-up, waiting to pounce.
---
Las Palmas 1 - 4 Barcelona: second half live stream
FT - A Neymar hat-trick and a goal from Suárez keep Barcelona hot on Real Madrid's heels. Pedro Bigas scored for the home team.
Min 90+1 | Oooh! Irresistable footwork from Messi, who wriggles away from Michel's attention before shooting with his left foot. Varas flies through the air to save with his right hand. Barça's corner leads to a galloping Las Palmas counter attack, but the ball ends up in Ter Stegen's arms. The game has become a lung-busting, end-to-end affair.
Min 89 | But Las Palmas aren't down quite yet. Boateng is in acres of space at the far post when the ball is chipped towards him. He takes a touch, and thunders the ball across goal. Marlon does well to clear ahead of Jesé's arrival.
Min 87 | They nearly do concede another... Denis Suárez hits a snapshot over the bar, after Las Palmas had failed to clear in their own six-yard box. The home support remain in good voice.
Min 86 | Barça are now consistently launching attacks where they have a numerical advantage over Las Palmas. The home side are leaving themselves very exposed to conceding another.
Min 85 | Messi whips the free-kick in to the head of a player in the wall. That'll sting.
Las Palmas sub: Castellano for Viera.
Min 84 | Messi tries to sneak through a gap between Viera and Mesa. The Las Palmas pair show superb teamwork to jointly scythe him down. The Argentine stands over the ball, 30 yards out.
Min 81 | The away side are playing with width, making the pitch big, and sapping the remaining energy from Las Palmas legs.
Min 80 | Barcelona aren't far from their fifth. Neymar's low cross is deflected, and time stands still as the Las Palmas defence, in unison, completely fail to react. After what seems like an age, Lemos hoofs it clear with Busquets bearing down.
Barça subs: Alcacer and Denis Suárez for Luis Suárez and Rakitic.
Las Palmas Sub: Hernán for Montoro.
Min 77 | Messi fizzes a shot towards the near post. It's just wide, kissing the side netting on its way out for a goal kick.
Min 76 | For all their flair and vivacity with the ball, Las Palmas really do lack robustness. This result is just one part of a wider collapse in the last couple of months.
Min 74 | Viera is felled in the centre circle by Neymar as he looked to launch a counter attack.
Las Palmas sub: Halilovic for Momo.
Min 71 | GOAAAAALLL! Neymar! It's his hat-trick! Alba plays it in to the path of the Brazilian, and he gets the faintest of touches to send the ball beyond the outstretched Javi Varas.
Min 70 | Las Palmas look a little dumbstruck by that goal. Minutes after clawing their way back in to this match, barça snatch it away from them.
Min 67 | GOOOAAALLL Barça! There goes the wind from Las Palmas' sails. Neymar with a header. Rakitic teases a ball across goal. It's just too high for Suárez, but bounces off the turf and Neymar heads it in to the corner with unerring accuracy. Suárez threws himself towards the ball but doesn't get a touch, which is lucky, as he was offside.
Min 65 | Well, it has been coming. Las Palmas looked as good as gone at half time, but they made a sparky start to the second half. The yellow-shirted players have got the wind in their sails now.
Min 63 | GOAAAAL Las Palmas! It's Pedro Bigas up from the back to join a counter-attack. The centre-half carried on running, Forest Gump-style, and bent his run nicely to meet Boateng's cross at the near post and finish across Ter Stegen on the slide.
Min 60 | Jesé stings Ter Stegen's palms! He dashes on to a through-ball and shoots low across goal with his right foot. It poses few problems for the 'keeper, who crouches down and blocks the ball.
Min 58 | Gomes has slotted in at right-back after that change. The fact that one make-shift right back has replaced another make-shift right back is indicative of the lack of depth that Barcelona have compared to Real Madrid.
Barça sub: André Gomes replaces DIgne.
Min 55 | Messi to Alba, back to Messi. The Argentine shapes to shoot, and the ball looks to be curling in to the top corner. Mauricio Lemas gets a crucial deflection on the ball with his thigh, and sends it out for a corner. The 'keeper didn't appear to be getting there. Las Palmas clear at the near post.
Min 53 | A dangerous ball comes in from the left towards Jesé. Umiti defends it well, and was being fouled by the Las Palmas forward at the same time. The referee gives a shrill whistle and Barça restart with a free-kick in their own box.
Min 52 | Las Palmas have a free-kick 25 yards from goal, after Busquets clattered through Viera. Momo takes left-footed... and sends the ball careering in to the crowd. Nevertheless, a solid start from Setién's side.
Min 49 | Oooh the home side go close! Momo beats Alba and powers a cross towards Boateng. The makeshift striker gets his head to it at the near post, but the ball flies wide. It came at him so quickly, he didn't have time to adjust his body.
Min 47 | Michel gets forward from right-back to whip a cross in to Ter Stegen's six-yard box. The German goalkeeper is the only one there to claim it.
Min 46 | Las Palmas re-start the match, and almost immediately concede a third following a defensive mix-up. Varas spares his team-mates' blushes.
---
Las Palmas 0 - 2 Barcelona: half time talking points
The sun has set behind the sparsely-populated Estadio Gran Canaria. The sprinklers are on, greasing up the surface for some second-half action. Out trot the teams.
Barcelona have dominated possession (40:60), but have only mustered four shots to Las Palmas' three. Clearly though, the visitors have been more clinical.
The main talking point, or 'polemic' if you will, came way back in the 6th minute. Jesé was bursting through on goal, and Digne hauled him down. It was a clear goalscoring opportunity, and it was an inexplicable decision to not give the Frenchman a straight red card.
Real Madrid are leading Sevilla 2-0 at the Bernabéu. At this stage, it's 'as you were' in the La Liga title race.
---
Las Palmas 0 - 2 Barcelona: first half live stream
Referee González González blows the half time whistle. Barça are coasting in Gran Canaria.
Min 45 | One minute of added time is indicated.
Min 44 | The game is undulating towards half time at a leisurely pace. Barça are in total control, while Las Palmas are busy arranging their sun-loungers.
Min 42 | Neymar tries to emulate Dennis Bergkamp's trademark skill, controlling the ball with one foot while simultaneously knocking the ball past the defender. He succeeded, but it all took place in the six-yard box, and as a result, Varas was able to smother it before the Brazilian could pull the trigger.
Min 40 | The home side had a promising three or four minute spell. Alas, it came to nothing, and now Barcelona are slapping the ball around with confidence and incision.
Min 38 | The Las Palmas 'keeper comes out of his box to collect the ball from the feet of Neymar, and keeps dribbling, and then keeps dribbling a little further before laying it off to Mesa. Don't get ideas above your station, Javi Varas...
Min 36 | A loose ball spins to Boateng on the edge of the box, and he hits it wide on the turn.
Min 33 | Momo races on to a through ball, and manages to get a toe to it before Ter Stegen arrives. Unfortunately for Las Palmas, he only manages to toe it in to Ter Stegen's arms. It wasn't easy, but it was a half-chance, and you sense that the home side will have to feed off that kind of opportunity.
Min 31 | Las Palmas deliver a brief reminder that they are in fact still playing. Roque Mesa hits a low shot from 25 yards, but Ter Stegen dives to his right and claims with ease.
Min 30 | Messi curls a cross in to 'the mixer'. Suárez leaps to meet it, but the linesman raises his flag for offside. It was a harmless header in any case.
Min 29 | Pressure? What pressure? Barça have seized control of this match in clinical fashion.
Min 27 | GOAAALLL! Suárez makes it two! What a pass, and what a finish. Neymar plays a pinpoint pass from the left-flank, and Suárez dinks the ball over the onrushing 'keeper and in to the bottom corner. It was a tidy finish, but that was all about the defence-splitter from Neymar.
Min 25 | GOAALLLL! Neymar! What a sumptuous goal. Busquets executes a neat flick to get himself away from a crowd of yellow shirts and lay the ball to Iniesta. Barça's number 8 splits the defence with an outside-of-the-boot pass to Suárez, who squares the ball to Neymar for an easy finish.
Min 23 | News is filtering through that Real Madrid are winning 2-0 against Sevilla. The pressure is on, Barça.
Min 21 | In the end, Viera walks off under his own steam. He was holding his head, but looks fine to continue. Play resumes with a Las Palmas attack, but Digne gets the better of Jesé.
Min 20 | Viera is down in a heap following an aerial clash with Lucas Digne. The stretcher-bearers trot on, followed by a golf buggy with another stretcher. Digne, already on a yellow, is treading a fine line.
Min 18 | Jesé does well to beat Alba on the right and dash to the byline before cutting the ball back towards the penalty spot. It was an intelligent idea, but Busquets' positioning was equally intelligent (as we are accustomed to), and he is well positioned to mop up and emerge with the ball.
Min 16 | Las Palmas are shaping up in a 4-3-2-1 Christmas tree formation when Barça have possession. It's making it difficult for the Barcelona players to find pockets of space between the lines. The away side are gently increasing the pressure.
Min 13 | Messi thumps a shot from the edge of the box, but it is blocked by the considerable frame of Bigas. It bounces back to Messi, but he is unable to carve out the space to create another chance. There were a few shouts for handball, but it was straight in to the defender's mid-riff.
Min 10 | Las Palmas have settled in to a prolonged spell of possession. Their pass-and-move style is very pleasing on the eye, but they aren't threatening Barça. It's all taking place in 'safe' areas of the pitch from the visitors' perspective.
Min 6 | Digne is incredibly lucky to still be on the pitch. Jesé speeds past him on the right and, bearing down on goal, Digne hauls him down just outside the box. The Frenchman receives a yellow card. But that was a clear, clear goalscoring opportunity. The subsequent free-kick dips in to the awaiting arms of Ter Stegen.
Min 5 | Barça come close again. Messi gains a yard of space and rolls the ball teasingly across the face of goal. Suárez was waiting to pounce at the far post, but Lopes turned it behind.
Min 3 | Iniesta and Messi come within inches of linking up in exquisite fashion. Messi made a diagonal run in to the box from the right, and Iniesta whipped a superb pass in to his path. Varas was alert, and sped out from his line to claim the ball. That would have been textbook Iniesta-Messi.
Min 2 | It's Las Palmas that make the first foray forward. They win a corner, which is taken short and cleared by Barça.
Min 1 | Suárez rolls the ball back to Umtiti to get proceedings underway. Marlon looks to have slotted in alongside the Frenchman at centre-half, with Digne at right-back.
---
Las Palmas vs Barcelona: team news
Las Palmas XI: Varas; Macedo, Lemos, Bigas, Lopes; Montoro, Viera, Mesa; Momo, Boateng, Jesé.
Barcelona XI: Ter Stegen; Mascherano, Umtiti, Digne, Alba; Rakitic, Iniesta, Busquets; Neymar, Suárez, Messi.
---
Las Palmas vs Barcelona live stream online: latest news
19:57 | A forlorn-looking Mascherano trudges along the touchline and takes his place on the bench.
19:54 | As you would expect at this time of year, Las Palmas is bathed in glorious sunshine.
19:51 | Confirmation that Mascherano is injured, and Marlon will take his place.
19:49 | Lionel Messi has never scored against Las Palmas in Gran Canaria. That said, he scored against them in January to complete his set of goals against current La Liga teams.
19:42 | Javier Mascherano has suffered an injury problem in the warm-up, which could see Marlon thrust in to the action. That would give an already shaky-looking defence a decidedly porous appearance.
19:38 | Barça have found the net at least three times in eight of their last nine La Liga matches (thanks for that, WhoScored). You wouldn't bet against them delivering a similar drubbing to Las Palmas.
19:33 | Elsewhere in La Liga, Sporting Gijón will be relegated if they fail to beat Eibar. That would seal safety for Deportivo La Coruña and Leganés.
19:28 | Las Palmas have not been involved in European competition since the 1977-78 UEFA Cup, where the islanders fell to defeat against eventual champions Ipswich Town (Ipswich Town!) in the second round.
19:24 | One for fans of mundane statistics: this will be Lionel Messi's last La Liga away match as an unmarried man. He's tying the knot with his other half in Argentina this summer. Aww...
19:18 | Prior to their promotion to the top flight in 2014/15, Las Palmas had been languishing in the second tier (or lower) for 13 seasons.
19:15 | Despite their shoddy form of late, Las Palmas have remained strong on home soil, losing just one of their last five. The fact the journey to the Canary Islands is significantly further than any other away trip in La Liga could have something to do with that.
19:04 | Here's the full run-down of how the teams will line up at the Estadio Gran Canaria. You'd have thought the Boateng and his fellow attackers will be licking their lips...
18:54 | So, the teams are in and it's an unfamiliar-looking defence for the visitors.
18:38 | The AS English oracle, in his/her/its infinite wisdom, has predicted an away win. See how they see the rest of this round of La Liga fixtures panning out...
18:26 | LWWWWW is how Barça have done, by contrast. Luis Enrique's lads have won five on the bounce since falling to a 2-0 defeat at Málaga. That run includes, of course, the 2-3 Clásico victory at the Bernabéu, sealed in the last minute by a certain Lionel Messi.
18:22 | WLDLLL is how Las Palmas' recent form looks. It doesn't make for great reading if you're from Gran Canaria. That last win came against Real Betis back on the 9th April.
18:14 | Kevin Prince Boateng is back from suspension this evening. What better excuse to read this fascinating interview with the man himself for The Guardian... he talks Mandela, Las Palmas, and Klopp.
17:48 | The Barça players will clearly have a single focus tonight but their fans are more than likely to have our live feed open keeping an eye on the Madrid game. How do you hold a tablet with crossed fingers?
17:30 | Luis Enrique has taken the unusual step of listing three goalkeepers in his squad - Ter Stegen, Cillessen and Masip made the list.

17:00 | Neymar amused Leo Messi in training ahead of the game, doing a pretty passable impression of Antoine Griezmann's goal celebration.

16:30 | Tonight's games are of course taking place at the same time so when Barça take to the pitch in Gran Canaria Real Madrid will be doing the same in the Bernabéu against Sevilla. The two clubs are neck and neck in the title race with Barça ahead courtesy of direct results between the sides. Real though have a game in hand remaining at Celta, to be played next Wednesday.

16:00 | Good news for Barça as the club confirm that Gerard Piqué has been discharged from hospital after undergoing tests on a stomach virus. Doctors have told the defender to follow a course of treatment at home.

15:30 | It's the leakiest defence outside the bottom three against the highest scorers in the division, Barça having bagged 108 already this season. What odds on a 0-0? Not surprisingly, you can get 51/1 on there being no goalscorer in the Estadio Gran Canaria.

15:00 | In the reverse fixture in Camp Nou Barça stroked five past a hapless Las Palmas side. You can revisit that match here.

14:30 | Candidates to replace Setién at Las Palmas? It's an eclectic list including Brian Laudrup, Frank Rijkaard and former Barça boss Tata Martino.

14:00 | Barcelona have started sniffing around for new players for next season and Borussia Dortmund's Ousmane Dembélé has apparently expressed an interest in replacing Paco Alcácer as bench-warming back up to the MSN next season.

13:30 | Jesé, on loan at his home town club from PSG, said before the game that he would love to score against Barcelona and help former club Madrid to the title.

13:00 | Luis Enrique is of course just three games away from his Barcelona retirement, the current manager's swansong coming in the Copa del Rey final against Alavés in the Calderón. Whither Lucho next season? Well, if the Italian press are on the money, Inter are preparing to splash theirs this summer and are eyeing Luis Enrique to lead the club back to glory.

12:30 | Las Palmas have been at sixes and sevens since Quique Setién announced in March he would be leaving the club at the end of the season. One win in eight games since then has seen Las Palmas slump to 14th in the table.

12:00 | The Barcelona boss said in his pre-match press conference that his side would fight for the title until the final waltz next weekend. Barça need Real Madrid to slip up at some point and our tipster believes that might occur this evening when Sevilla visit the Bernabéu.

11:30 | Luis Enrique may elect to switch to a back three in Las Palmas as Gerard Piqué has joined the list of absentees after being hospitalised with a stomach virus. Sergi Roberto is suspended and both Aleix Vidal and Jeremy Mathieu are injured while Lucas Digne is a doubt with a hamstring problem.

11:00 | Good morning! Join us for all the build-up ahead of Las Palmas vs Barcelona at the Estadio Gran Canaria!
---
Las Palmas vs Barcelona live stream online: match preview
Barcelona travel to the Estadio Gran Canaria on Sunday to play a Las Palmas side who have been ambling towards the end of the season since Quique Setién announced in mid-March that he would be leaving the club at the end of the current campaign.
Setién's decision was made public the day after his side beat Villarreal 1-0 and since then Las Palmas have been beaten in six of their last eight Liga fixtures and shipped more than three goals in five of them. It is a frustrating end to the campaign for home supporters after a brisk start to 2016-17 had Las Palmas firmly embedded in the top 10 and within touching distance of the European places before the winter break.
2017 has been more horror story than fairy tale as the club has lurched from one disaster to another. January big-name signing Jesé has failed to have an impact while the side's early season star performer Kevin Prince-Boateng's form has tailed off significantly. Breaking point for the fans came in the 5-0 defeat to Atlético two weeks ago, when the players were booed off at half time. That abject performance was followed by defeat against Sporting, who recorded just their sixth win of the campaign in El Molinón. Setién has failed to spur his players to even lacklustre heights in the run-in and Barcelona will look to capitalise against a defence with the worst record outside the bottom three.
The visitors know that to have any chance of defending their Liga title they must win their final two games and hope that someone does them a favour elsewhere. If Las Palmas play as they have in recent weeks they'll at least get one in Gran Canaria.
Las Palmas
The home side will welcome back Marko Livaja after the striker's three-game ban and will pin some of their hopes on the combative Croatian being able to torment Barça's makeshift back line and open some spaces for his teammates. Setién will have to contend with the absence of hard-working utility forward Tana and left back Dani Castellano but Boateng will be available again after serving a one-match suspension during the loss to Sporting.
This is the kind of game that might bring the best out of the mercurial former AC Milan player and one constant this season has been the excellence in midfield of Roque Mesa, who is the league's second-highest pass provider behind Sevilla's Steven N'Zonzi. At the back it doesn't bode well for the home side, who lead the table for penalties conceded this season with 11 and rank second in terms of goals conceded in the first half. Setién's side will need to be more prudent in the opening 45 minutes to have any chance of stifling Barça's attacking front three.
Barcelona
Luis Enrique faces a selection dilemma at the back, with Sergi Roberto suspended, Jeremy Mathieu injured and Gerard Piqué unavailable due to a stomach virus, while Lucas Digne is a doubt with a hamstring problem. The Barça coach may opt to switch to a back three, which he has experimented with this season before moving back to a four in recent weeks.
Marlon Santos has received a call-up to the senior squad and could be in line for a debut while the rest of the side largely picks itself: Ivan Rakitic, Andrés Iniesta and Sergio Busquets in midfield with Leo Messi, Neymar and Luis Suárez ahead of them.
Barcelona were at times on another planet in defeating Villarreal 4-1 last weekend and despite defeats at Depor and Málaga in recent weeks, away wins in the Bernabéu and a comfortable derby win over Espanyol have kept Luis Enrique's side within touching distance of defending their Liga crown. The Barcelona coach said his side would fight until the final day to retain their title and only victory in Las Palmas will keep that option alive until next weekend.
---
Las Palmas vs Barcelona live stream online: possible line-ups
Las Palmas
Las Palmas XI: Varas; Macedo, Lemos, Bigas, Lopes; Hernán, Mesa; Jesé, Viera, Halilovic; Boateng.
Barcelona
Barcelona XI: Ter Stegen; Mascherano, Umtiti, Digne; Gomes, Rakitic, Busquets, Iniesta; Messi, Suárez, Neymar.
---
Las Palmas vs Barcelona live stream online: selected betting odds
The camel coats have a Las Palmas win down at 20/1, with Barcelona heavy favourites at a smudge above evens. Kevin Prince-Boateng is chalked up at 18/1 to score the opening goal while Leo Messi is unsurprisingly short odds to bother the onion bag first at 3/1.
Bet on Las Palmas vs Barcelona in LaLiga now.
---
Las Palmas vs Barcelona live stream online: live updates
---