"Cristiano Ronaldo is all power; Greaves was just like Messi"
With Cristiano on the verge of breaking Greaves' record, Guillem Balague talked to the Englishman's friend who played with him at both Chelsea and Tottenham.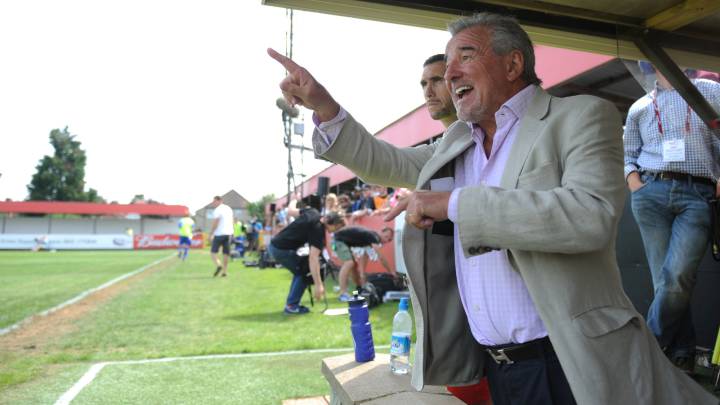 Jimmy Greaves and Terry Venables were born just seven miles apart and with a difference of only three years and 35 days. Their footballing careers would collide when they played together for Chelsea, and then later at Tottenham Hotspur. Venables, now the owner of La Escondida hotel in Alcoi, spoke to me about his dear friend.
Do you remember the first time you met Jimmy Greaves?
Funnily enough I do. Jimmy was three years older than me and he used to play in the Under 11 and absolutely everyone was talking about him. "Who is this kid," they used to say. I would go and watch him play and he was something special. I used to watch him and say, I want to do that and I would find myself after the game watching him walking down the street to catch the bus to see if there was anything I could learn from him just from seeing the way he walked. He was just something different.
Just how great a striker was Jimmy?
You need to understand just how good Jimmy was a a player. If you look back at his figures he has got lots of four or five goals a game. He was incredible you couldn't believe how talented he was. Basically we were all working hard and training. Jimmy was just brilliant. And her did it on a regular basis. He played the right way and he was just too quick for them
How was he in training, was he dedicated?
He didn't really need to be. Jimmy was just fantastic. I repeat, you had to see it to believe how talented he was. People would work hard in training but he could do anything. If we played small sided games Jimmy would sometimes play in goal. He was great, a lovely man. Actually he reminds me much more of Leo Messi than he does Cristiano Ronaldo. A sort of Dickensian type of character, like the Artful Dodger. He had that tight close dribbling control, whereas Ronaldo is obviously full of power, all action. Jimmy used to wear those baggy shorts like Messi does and I used to say to him, "what are we going to do if it rains. Those shorts are going to be so heavy that you won't be able to carry them."
How was he regarded by some of the elder statesmen of the game when he was playing as a young man?
He was playing at the beginning against some of the really great players. Players like Tom Finney and the great Wolves side with Billy Wright and he was making mincemeat of them all. It was just incredible.
Do you have any anecdotes that tell us who the real Jimmy was and why he was such a genius?
There is no doubt that if you have got all his statistics, you won't believe them. But I'll tell you a story that will give you some idea. I had just made my debut away at West Ham where we lost by the odd goal. My home debut was the following Saturday when we were home to West Bromwich Albion. He told me I needed to rest and he would pick me up in his car because I used to get to the ground on the bus. On the way he said we'd stop for a bit of food. I thought it was strange because we had a game but he told me that he always did this. I was really nervous. It was my second game and I didn't want to be late. Don't worry he said, I do this all the time we will be there on time. They knew him there of course and I had a little bit of boiled chicken just to please him. So the food comes up; roast beef, Yorkshire pudding, loads of potatoes and a great big Turkey leg, everything you can think of. "Are you mad" I said, "we're told not to eat so close to a game." He said, " I do this every week." I said "You're winding me up." He's eaten the lot - I kid you not - then he jumps in the car and we get there. All the players are in the dressing room. We won the game and Jimmy scored five goals. He was like Roy of the Rovers. [Venables enjoyed a 7-1 win on that debut which remains the biggest defeat in matches between the two clubs. Incidentally in defence for West Brom that day was Bobby Robson]
"We won the game and Jimmy scored five goals. He was like Roy of the Rovers."
Why did he not make it when he moved to Italy?
It was the last game of the season and they finally got around him to go because at that time it was a lot of money. If you look back at his figures he has got lots of four or five goals a game statistics. He just didn't like it. He was homesick. People forget that at that time things were different and very few British players that went there made it in Italy. Gerry Hitchens tried it, so did Joe Baker and later the likes of Ian Rush. In fact I think John Charles was the only player in the early stages who made it in Italy.
How would you compare someone like Ronaldo to Jimmy Greaves?
You have people like Ronaldo that are all power and flashy - not in a bad way - but just because he is such a brilliant player. But what upsets me in a way is that although he has lots of four or five goals a game and he did it on a regular basis there is not really any footage of it that shows what a great player he was. There is up to a point but not like there is today. There was things like Pathe News and the newsreels but not the sort of coverage there is today.. For me it is such a shame that the young people today haven't seen how great he really was like they have with players like Ronaldo and Messi He was doing the same thing that Messi does and on a regular basis. Us older one have all been fortunate to see Jimmy at that time. It's such a shame that some of the youngsters haven't.
Do you believe he got the praise, plaudits and the money he deserved after he finished playing the game?
It is what it is. They are different times. You can't change what didn't happen into something that did. Today we are very fortunate to get the footage of football that we do. We are spoilt in some way and people talk about the money in football all the time. We shouldn't worry about that but accept that's the way it is and enjoy it. With things like films stars they can do it time and time again, they can try it and if it doesn't work out right they can say, let's try it again. You can't do that either in training or in a game as a footballer. It's real and it's live. You can't say, "Sorry guvnor , let me have another go at that.". It's real, it's there and it is what it is.
Are players overpaid or what they deserve?
It's market forces. There is no doubt about that. One thing is for sure. You can't play football unless you have footballers. When people talk about the huge amounts of money I always say that everything in sport I would test against what goes on in the American market. People say all the time, that won't last there and we know very well that it has. Market forces are not going to be stopped.