Mertens marvellous as Napoli cut through Fiorentina
Dries Mertens scored twice as Napoli swept Fiorentina aside 4-1, Koulibaly and Insigne also scored, while Ilicic pulled one back for the visitorsGremio-Lanús live online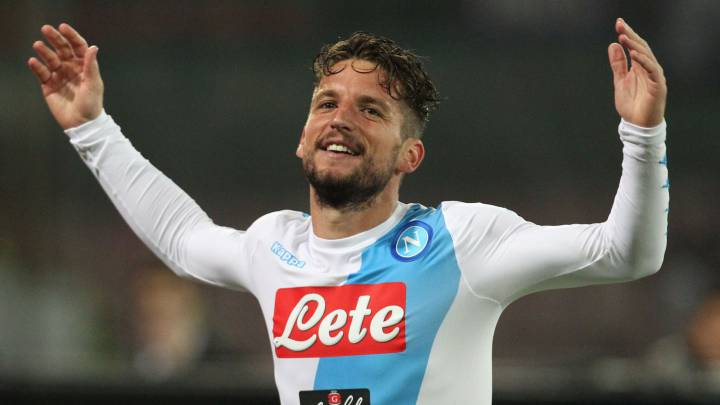 Napoli 4 - 1 Fiorentina: match report
In Curzio Malaparte's 'The Skin', a dark novel set during the allied occupation of Naples during World War Two, a prominent theme is how the Neapolitans subtly take advantage of the foreign soldiers. There was nothing subtle about Napoli's dissection of Fiorentina at San Paolo, as goals from Koulibaly, Mertens (2), and Insigne kept Maurizio Sarri's team within theoretical reach of the Serie A title. Ilicic pulled a goal back for Fiorentina, but it was no more than a consolation.
With this win, Napoli ensured that Serie A will see be three-horse title-race, at least until Juventus play Crotone on Sunday. With a one point advantage over second-placed Roma, and one game in hand, The Old Lady can wrap the league up in Turin.
Yet Napoli did their job. Koulibaly opened the scoring after just eight minutes. The centre-half bundled the ball over the line, after Tatarusanu had parried Marek Hamsik's header in to his path.
From the moment the ball settled in to the net, Napoli looked in total control. Paolo Sousa set his team up in a risky, gung-ho fashion. In practice, the away side looked like lambs to the slaughter, as their three-man defence was repeatedly exposed by Napoli's fluid attacking trident, made up of Insigne, Callejón, and magical Mertens.
Insigne doubled the lead after 36 minutes. He emerged one-on-one with the 'keeper, and shaped to shoot to the far post, before sliding the ball in at the near one. It was an ostentatious finish.
Napoli's third goal was not quite as easy on the eye. Fiorentina allowed 5 ft 4 Lorenzo Insigne to nod the ball on at the near post. The 'keeper flapped, failed to gather, and Mertens was lurking to prod the ball home from close range. It represented Fiorentina's evening in microcosm: the danger was all of their own making.
Ilicic briefly reduced the deficit, as the Croatian swept in a cross from just inside the box. But even then, it seemed inconceivable that Fiorentina would be able to survive the waves of Napoli attack, let alone punch their way back in to the game.
Mertens took his for the season to 27 goals on the 64th minute, and it was in irresistable fashion. The Belgian nutmegged Rodríguez on the edge of the box, before sending a sassy no-look pass to Insigne. His shot was saved, but the ball dribbled invitingly to Mertens, who smashed the ball in from close range.
In a game that pitted an incisive attack against a porous defence, the result came as little surprise. Unfortunately for Napoli, it will probably come too late.
Napoli 4 - 1 Fiorentina: as it happened
90' FT. A couple of added seconds, and the referee shrills his whistle to call time on this, most entertaining of clashes in Naples. Napoli emerge 4-1 winners. 
89' Diawara is such a mature figure. He's just 19, but his play shows intelligence beyond his years. 
88' Oooh, Ghoulam gets forward well and flashes a low cross through the fateful 'corridor of uncertainty' between 'keeper and defence. Three white and blue shirts are running in, but none of them quite arrive in time to convert the chance. 
86' Koulibaly gets in on the attacking action. He bursts in to the box after seizing on a loose ball, and his cross to Pavoletti is scrambled clear. A fine delivery from the big man. 
84' Hang on, they burst in to life! Babacar springs the offside trap and steams towards goal. With just Reina to beat, he can't find a way past the 'keeper. For his part, Reina stood up well and didn't commit too early. 
83' The game has stagnated a little. Fiorentina know they're beaten, and are sweeping the ball about without a great deal of intent. 
80' Now Fiorentina make a final change. Saponara replaces Kalinic, who has been blunt this evening. 
78' No hat-trick for Mertens. He's replaced by Pavoletti.
76' Callejón is involved again. He majestically controlled a deep ball from Insigne, simultaneously killing the ball, and taking Vecino out of the game. He squares the ball to Mertens, but hhis shot from the penalty spot is blocked. 
73' Callejón...! The nippy Spaniard strides through on goal, and cuts back in on himself to skip past the onrushing Rodriguez. But that allows the supporting Fiorentina defence to scramble back and block his shot. 
72' Babacar shoots, and it is quite possible that the ball has landed in Mount Vesuvius. That, more or less, sums up his contribution since coming on. 
70' Reina screams at his defence. He made a couple of smart saves to deny Tello, and then Ilicic, before Kalinic heads wide. He sprung out of his six-yard box, demanding greater concentration from the defenders in front of him. 
69' Ilicic gets to the byline, cuts back on his right foot, and with Kalinic waiting in the centre, he can only find the feet of Koulibaly.
69' Diawara replaces Jorginho.
68' Some neat Fiorentina possession since they conceded that goal. But it's all style, no substance for them at the moment. 
65' Rog replaces Hamsik in the middle of the park for Napoli. 
64' GOOAAAAL! Mertens again! What a cheeky goal. The Belgian nutmegs Rodriguez on the edge of the box and sends a no-look pass to Insigne, whose shot is parried right in to the path of Mertens, who continued his run. It's an easy tap-in, but the build up was sensational.
63' De Maio with a crucial, sliding block to deny Callejón converting Ghoulam's cross at the far post. 
61' In answer to my own question: no, I would be amazed if Fiorentina feel their way back in to this. They're already incredibly vulnerable, and that vulnerability at the back will only increase as they commit numbers forward. 
60' GOAALLL! Fiorentina pull one back through Ilicic! Kalinic let a cross run past him at the near post, and his fellow Croatian was on hand to sweep the ball home. 3-1. There couldn't be a comeback on, could there?
58' Vecino booked for yanking Insigne down as he threatened to launch yet another attack. 
57' GOOOAALLLLL Napoli! Shoddy, shoddy defending allows Insigne to nod the ball on at the near post. The 'keeper then fumbles, and Mertens pokes the ball in to the bottom corner. 
53' That double change from Fiorentina takes place. Cristoforo and Olivera off, Tello and Babacar on. 
53' Not far wide from Insigne. He picks the ball up near the half way line, and is allowed to drive infield to the edge of the box. His shot skids just wide of the far post. 
52' Paolo Sousa, sat legs crossed and looking effortlessly suave, dishes out some instructions to two Fiorentina subs. They're waiting to enter the action. 
51' Kalinic receives the ball on the edge of the box, shuffles it on to his right foot, and curls it over. He leant back at the crucial moment. 
49' Koulibaly booked. That's now both of Napoli's centre halves on a yellow. 
48' Fiorentina have started full of intent. They are building up nicely, but then Nenad Tomovic gets a little excited, and shoots from 40 yards. Needless to say, it goes well wide. 
46' Bernardeschi accelerates beyond Ghoulam and crosses towards the near post. So close to the near post infact, that Reina has to scamble across to prevent the ball creeping it.
46' Fiorentina get us back underway. 
The teams are trotting back out. Napoli are comfortably sat in the driving seat. 
In terms of possession, the two teams are pretty much at 50:50. But Napoli have done far more with the ball. They've taken nine shots to Fiorentina's three. 
Some half-time thoughts... Hamsik has been given plenty of time and space to pull the strings. That has allowed him to play the ball to the fluid front three of Callejón, Mertens, and Insigne. Against Fiorentina's three centre halves, they've having a field day. 
45' The referee calls time on a cracking first half. 2-0 to Napoli.
43' Albiol booked for grabbing a handful of Olivera's shirt. 
41' As we approach half time, the game has given the impression that Fiorentina don't have enough in their attacking armoury to justify being completely porous in defence. 
40' Cristofono travels with the ball and has a shot from 30 yards. It cannons off the leg of Koulibaly, and out for a corner, which is taken short and amounts to nothing. 
38' Ilicic caught on the ankle by Ghoulam. He rolls around, screams, whinges at the referee, and wins a free-kick. It was a foul, but there was no need to go in search of an Oscar. 
36' GOALLLLL! The second arrives, and it's Insigne. Mertens threads him through after Fiorentina had lost the ball in a dangerous position, and the Italian gives the 'keeper the eyes, sends him the wrong way, and slips the ball in to the bottom corner. Smart finish. 
33' A really interesting tactical match-up is emerging here, with Napoli's front three facing up against Fiorentina's back three. It doesn't seem to be working particularly well for the away side. They're having trouble building out from the back, and often look exposed when Napoli attack. 
32' Insigne has a pop, but it was as speculative pop. Well wide. 
31' This is really end-to-end. Hamsik finds himself enough space, just inside the box, to send a low shot towards goal. Tatarusana is equal to it, gathering in a 'long barrier' movement, for those cricket aficionados amongst us. 
30' Fiorentina go close through Ilicic, who sends a rasping shot towards the bottom corner. Reina dives to his right, and tips the ball around the post. 
28' Hysaj does really well to burst beyond Callejón on the overlap and move in to the box. He gets to the byline, but there is nobody available to cut it back to. After pondering for a couple of seconds, Hysaj goes at alone. His right-footed shot curls away from goal and out for a throw-in.
The goal celebrations from Koulibaly. Three chuffed Neapolitan players.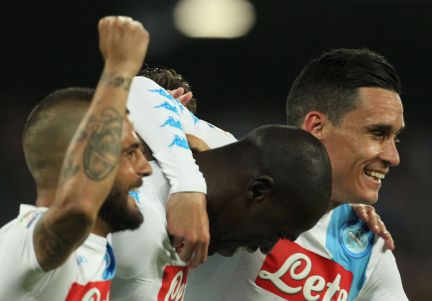 26' Mertens clips the post! He comes even close than that last, guilt-edged chance, shaping up curler from the edge of the box, which glances off the outside of the post with Fiorentina's keeper rooted to the spot.
23' Bernadeschi curls a neat cross towards Kalinic. The big Croatian tried to wriggle beyond Albiol, but the centre-half managed to muscle him away, and shepherd the ball out for a goal kick. 
21' Kalinic tries to sneak in to space on the right flank, but Koulibaly charges across to intercept. The wing-back system does allow the away side to make the pitch big when they are in possession. It's curious therefore, that they squeeze so narrow when defending. 
19' Hamsik is dictating proceedings with his socks rolled down. It's a cool look. 
18' Oooh, what a miss from Mertens! Jorginho slips the prolific Belgian through on goal, he rounds the 'keeper, and with the goal gaping... he slices a left-footed shot wide. It kisses the side netting on it's way out. That should have been 2-0.
16' Koulibaly's goal has had the cattle-prod effect on this match. It was a stale start, but things have started to kick in to life. Insigne swings a deep cross towards Callejón at the back post, but Rodriguez scoops clear.
11'  Fiorentina are defending very, very narrowly. Hysaj and Ghoulam could be key to this - they'll certainly have space to gallop in to.
10'  Napoli charge through the middle, Hamsik on ther ball. He lays it wide to Insigne, but the little wide man sees his cross blocked. Napoli corner. Fiorentina manage to clear this one, but Napoli win the ball back.
8' GOAAALLL! Khoulibaly bundles the ball over the line. Hamsik's initial header from a corner had been saved, but the 'keeper couldn't fully clear the danger.
5'  Napoli apply some early pressure, and get themselves a corner. Ghoulam swings the ball in, but nothing comes of it. Fiorentina goal kick.
1'  We're underway at San Paolo!
Dries Mertens, in particular, will be looking to take advantage. The Belgian has scored a remarkable 25 league goals in 26 starts. 
Very leaky at the back, are Fiorentina. They've shipped at least two goals in their last six Serie A matches. The Napoli front three will be licking their lips...
Marek Hamsik has been at Napoli since 2007. It feels like the Slovakian has been around for ever, yet he's still only 29.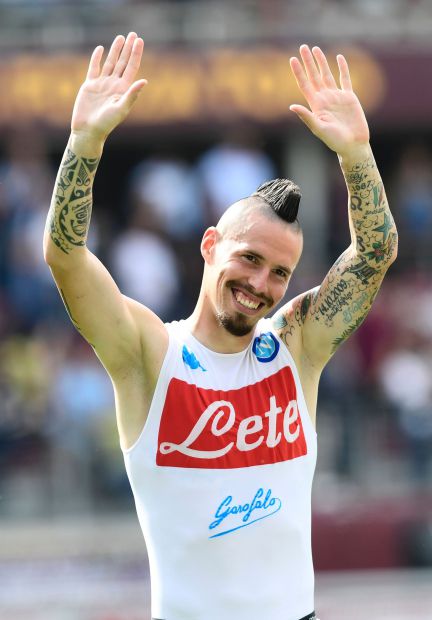 Three Fiorentina players have something in common... Carlos Sánchez, Borja Valero, and Nikola Kalinic have all had torrid spells in English football, at Aston Villa, West Brom, and Blackburn respectively, before moving on to Florence. With the greatest respect to Blackburn, Kalinic will probably be quite happy with how that has panned out. 
Napoli boast a formidable record at home. They have won 35 of their last 37 home matches in the league. San Paolo really is a cauldron.
There was a goal-fest in the other Serie A game today, as Roma beat Chievo 3-5. More of the same defensive, attritional Italian football please...
Fiorentina team news
Tatarusanu, Gonzalo, Tomovic, De Maio, Olivera, Badelj, Vecino, Ilicic, Cristoforo, Bernardeschi, Kalinic
Napoli team news
Reina, Hysaj, Albiol, Koulibaly, Ghoulam, Zielinski, Jorginho, Hamsik, Cellajon, Mertens, Insigne.  
Dries Mertens has scored in three of his last three starts for Napoli against Fiorentina.
Gearing up for action...
Want a stat that proves Napoli are the form team in Serie A? Napoli have collected more points since March than any other side in the league.
This will be the 134th game between Napoli and Fiorentina in Serie A. 
Napoli have won five of their last six games. They have also scored eight goals in their last two games which includes a 5-0 victory over Torino last weekend.
Napoli are the favourites for the clash tonight as the look to seal that second spot but they will be forced to stop an attacking trident that includes Nikola Kalinic, Federico Bernardeschi and Khouma Babacar, who have scored 36 times between them this season. 
Napoli president Aurelio De Laurentiis said earlier this month that his manager, Maurizio Sarri, could become the club's version of Sir Alex Ferguson and intimated he would offer the seasoned coach a job for life. Overhauling Roma in the final two games of the Serie A season won't do anything to change the film mogul's mind. http://en.as.com/en/2017/05/10/football/1494421401_596607.html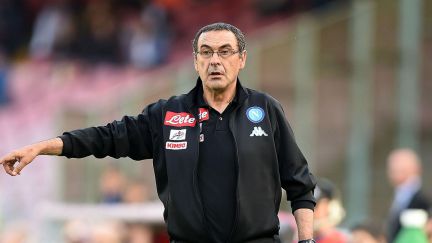 Welcome to our live online coverage of the Serie A week 37 fixture between Napoli and Fiorentina at the San Paolo in Naples. 
Napoli vs Fiorentina: preview
Napoli host Fiorentina in the San Paolo on Saturday as the Serie A season reaches its climax. There is still plenty to be decided in Italy's top flight, not least whether Juventus will claim the Scudetto when the leaders host Crotone, who have taken 17 points from their last seven games in a spectacular bid for survival after being eight points adrift of 19th as recently as March.
But in Naples European football is on the menu. It only remains to be seen where exactly the Partenopei and La Viola make their reservations. Maurizio Sarri's side are one point behind Roma with avoidance of the Champions League play-off round at stake while Paulo Sousa has guided his team to seventh, a point behind Milan in the final qualifying place for the Europa League.
Napoli also have an outside chance of claiming the Serie A title, which should spur the home side on against a team that have found goals hard to come by this season and have been erratic in the extreme in recent weeks, winning two, drawing two and losing two of their last six league fixtures. However, Juventus are likely to put that extremely outside bet to bed at home against Crotone.
Sarri's side have the in-form Dries Mertens to look to for goals as the Belgian seeks to run down Roma's Edin Dzeko (27) in the chase for the capocannoniere trophy. Mertens stands on 25, level with Torino's Andrea Belotti and has José Callejón, the division's highest assist-maker with 11, to provide the ammunition.
Sousa, meanwhile, will be forced to contend with the absence of two of his key midfielders, Borja Valero and Milan Badelj, in the San Paulo, where Fiorentina have won just twice in the last decade.
---
Possible line-ups
Napoli: Reina; Hysaj, Albiol, Koulibaly, Ghoulam; Zielinski, Diawara, Hamsik; Callejon, Mertens, Insigne
Fiorentina: Tatarusanu; Tomovic, Rodriguez, Sanchez; Chiesa, Vecino, Cristoforo, Milic; Bernardeschi, Babacar; Kalinic