Málaga 0-2 Real Madrid La Liga Champions: Match report, action, goals, Ronaldo Benzema
Real Madrid have sealed their 33rd LaLiga title and their first in five years thanks to goals from Cristiano Ronaldo and Karim Benzema in either half against MalagaChampions League Final: Real Madrid - Liverpool
Malaga 0-2 Real Madrid: match report
Real Madrid sealed their first LaLiga title since Jose Mourinho's term in charge of the club when they defeated Malaga in La Rosaleda on Sunday night. For all the talk of potential outcomes during the week, all of that talk was moot on 83 seconds when a failed clearance by Luis Hernandez landed to Isco and the little creative midfielder put Ronaldo through before he went by Kameni and slotted home to give his side the lead.
Real Madrid had been in control for most of the opening exchances before Malaga figured out that attacking their opponents right-hand side might bear fruits. Federico Ricca and Jony were causing problems for the visiting side and had a number of close calls with Navas bailing them out more often than not along with Ramos, who put in a dominant performance.
Sandro nearly drew Malaga level after they were awarded a free outside the box but his whipped, right-footed effort was saved, almost miraculously, by Keylor Navas at the near post before he crashed into the goalpost and needed attention to asses his rib injury. He was fine and Real Madrid would need him later on.
The second half was just ten minutes old when the trophy-carvers started to write Real Madrid's name on title because Karim Benzema tapped home a saved Sergio Ramos header to double los Blancos' lead. That was after some intense pressure by the home side in the opening of the half as they decided they would not go down without a fight at the break. Benzema pounced though and Michel's difficult challenge became an almost impossible one.
Malaga continued to pile on the pressure but Real Madrid were starting to counter well and Casemiro was taken off to let Kovacic pick them off in another savvy move by Zidane. The most convincing team in the league all season were not for giving up any goals though and a late effort for Chory Castro was saved by Navas and deflected onto the post. They had efforts from Camacho and Charles too but the Costa Rican kept his second clean sheet in 29 games for the now LaLiga Champions.
Zinedine Zidane scoops the league title for Real Madrid for the 33rd time in the club's history and has a Champions League final to look forward as his impressive spell as the manager of the club continues.
---
Malaga - Real Madrid live stream online: second half
90'+2'  GAME OVER! Real Madrid win the league for the first time in five years thanks to goals from Cristiano Ronaldo and Karim Benzema.
90'+2'  Charles offside as Real Madrid have one last chance. Nothing doing for them at this stage.
90'+1'  Two minutes to be added on. Malaga need three goals to change this one. Not happening, I would suggest. They're still trying though.
90'  Chory Castro gets it out wide and absolutely melts a shot towards Navas but he gets what looks like an elbow to it and puts it onto the bar. So close. 
89'  Marcelo with another effort after Charles headers it out to him from a cross. Drives this one to a similar spot as the earlier one.
88'  Morata tries to curls one beyond Kameni but he puts it around the post. Corner.
86'  Marcelo cuts inside and has a crack on his right but it rises well over the bar!
85'  Ball over the top that forces Navas off his line. He collects with ease.
72'  Duda replaces Jony.
80'  With ten minutes to play, it would be hard to see such an experienced side giving up a two goal lead. Real Madrid trying to take the sting out of it.
78'  Ronaldo pops it to Morata but he wants to long to decide when to hit it and Malaga get it away for a corner.
77'  Malaga really pushing for a goal. Camacho headers over this time. It lands on the top of the net. 
75'  Malaga have fallen flat now but they win a corner. Real Madrid look to have it away but Mikel gets it back and hits an awkward looking looper that is also deflected toward goal and Navas is forced into a save.
73' Morata replaces Benzema.
72'  Real Madrid with all of the ball now as Malaga chase shadows. The fans would like a win but either way, their season is done and they're delighted they didn't get relegated as they sing the night away.
71'  BENZEMA GOAL! NO! He was offside this time, alright.
69' Sandro is replaced Charles.
67'  What a pass by Modric after Kovacic plays it off to him. He clips it towards Benzema and he causes confusion but Malaga end up getting it away.
65' Casemiro is replaced by Kovacic.
65' Isco is replaced by James. 
65'  Ronaldo penalised for a foul now despite being put through by Marcelo. He pulls the defender back. 
63'  Fornals wins a free as Ramos pushes him over. Dangerous position but it flies over from Ricca's effort.
61'  THis game doesn't really matter now as Eibar are winning 2-0 at the Camp Nou.
60' Keko is replaced Gonzalo Castro.
59' Jony booked.
59'  Camacho with a header and Navas dives to save!
55' Kameni booked for his protests.
55' GOAL! Benzema taps home. after Ramos headers and Kameni saves. Some confusion as Kameni is booked but the goal stands. No more league!
52'  Camacho slides in and wins the ball before Ronaldo trips over him and falls, looking to the referee. But there's little to it and Camacho helps him back up.
51'  Fornals has a shot that goes well wide. Ronaldo recovers and comes back on but not before the Malaga fans can get a good few boos in!
50'  Ronaldo down in a heap and holding his leg. Ricca got the ball but he got the man too after. Lucky to get away with that.
48'  Ronaldo breaks free and tries to cut inside but is tackled and loses the ball before Malaga break with Recio, who slips inside. Navas saved yet again. 
47'  Jony twists and turns and ends up turning himself inside out as he falls on the ground and wants a free. But he slipped.
46' Second half is underway! 
It's 50-50 in terms of stats but Real Madrid have more shots on and off target with four on and five off. Malaga have two on target and four off target.
In case you haven't been paying attention, this is how the LaLiga table looks at the moment.
Real Madrid scored after 83 second and that means they have scored in all 38 games in the season.
44'  Half-time at La Rosaleda! Real Madrid with the lead and anyway, Barca are losing at Camp Nou so they don't even need to win themselves.
40'  Another lethal cross from the right and Keko heads just wide.
38'  Sandro with a short corner and recieves it back. He absolutely whips one in and Keko gets a head to it but it goes inches wide! So close.
37'  Malaga will have to think of another strategy because Real Madrid have an answer for everything they are trying at the moment. Real Madrid not entirely comfortable but hardly stretched by the home side.
36'  Ronaldo plays it to Kroos and he strikes it cleanly towards Kameni, who makes another save but spills it. Benzema is lurking and nearly reaches it but the Malaga shotstopper dives at his feet and gathers at the second time of asking. 
34'  Benzema waltzes into the box and crosses low. It nearly reaches Isco but Recio does enough to put him off but it does make it to Ronaldo. He takes it down, cuts inside and fires at Kameni, who saves! Great chance for Real Madrid to make it two.
33'  Malaga controlling this one now but Real Madrid content to work on the break. Neither side having much success at either at the moment. Much of the play breaking down in the final third.
31'  From the corner, Luis Hernandnez nearly heads it in but it falls to Camacho, who tries a chilena. He skews it and Marcelo comes in on top of him before the Malaga player jumps up and confronts him. Thought he scraped his studs along his chest maybe? Doubt Marcelo knew much about it.
30'  Corner for Malaga. A long throw by Luis Hernandez meets Ramos' head.
28'  Ronaldo with a good chance but his shot is blocked before he manages to get it across to Kroos. The German decides to hit it the first time and he sends it into the Mediterranean night sky!
27'  Kroos penalised now for a foul on Sandro. 
25'  Another ball comes in and Ramos gets his head to it this time. Flies over Kameni's bar.
24'  Some nervous moments for Malaga. Marcelo gets a cross in and it's headed away at the back post. 
22'  Benzema gets it on the break but loses it before Luka Modric wins it back. Nobody can accuse Michel's Malaga of backing down!
20'  Danilo fouls Jony. He throws his leg all the way around him in what can only be described as a very clumsy tackle. Free to Malaga in a relatively dangerous position depending on the delivery. Sandro with an unbelievable strike! Navas is equal to it with a really brilliant save. It goes clear and Navas falls in a heap holding his ribs. 
19'  Some nifty footwork in the box by former Atletico Madrid man Keko but Ramos and Marcelo stop him and clear before Fornals fouls Casemiro.
18'  Back in action and Real Madrid on the ball. Malaga win it back and break through Fornals. He gets it out to Keko and his cross is put into a very dangerous position but Real Madrid get it away.
16' A break in play now as Mikel tries to catch his breath. He is breathing very heavy and unclear as to what happened to him.
14'  Real Madrid nearly make it two. Ronaldo plays it back to Marcelo and he puts it across the box. Benzema is at the back post but it takes a clip off a defender and goes out for a corner. Dangerous!
13'  Sandro down the right as Sandro breaks into space. Ramos and co. make it back but the former Barcelona man has a shot. Navas gets down well at his near post and saves.
11'  Jony drives a shot over the bar. Navas barely had to even look at it twice.
10'  Isco cross as Ronaldo flies into the box. It lands to Benzema though and cleared by Malaga. They want a free for handball by Nezmea but referee says no!
9'  Jony looking to make a run inside and he manages, to an extent. Stopped by a stout Real Madrid defense, who build through Isco. 
8'  Ramos penalised there for a high foot. Malaga with a free from the right.
6'  Fornals in the center and he puts it out to Keko but his cross is cleared from the penalty area. Malaga starting to pick it up now.
5'  Danilo in down the right and going full speed. But his shot is into the side netting.
4'  Marcelo cross is picked up by Malaga and cleared as far as Fornals but he takes a poor touch. Real Madrid back in possession.
2'  Ronaldo scores! What an early start. He goes around Kameni to finish. Luis Hernandez with a mistake as he tries to clear and Ronaldo is put through. That should settle their nerves.
1'  Luka Modric given some rough treatment early on. Foul!
1' Vamos! We are underway at La Rosaleda.
Zidane looking as calm as ever before the game as he sits on the dugout, or maybe not. Just as I type that, he jumps up and claps his team before nervously looking over the field. Is he thinking of starting himself, maybe?
Ronaldo is fired all the way up! He has some words for Marcelo now too before he gives Isco a hug. 
In the tunnel now and Ronaldo with a stern slap on the back for Keylor Navas. Navas turns around and assures the Portuguese that he's ready. Real Madrid certainly look like they're all business.
Ramos, on the other hand, is all business.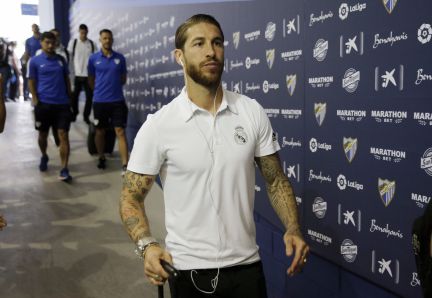 Home is where the heart is!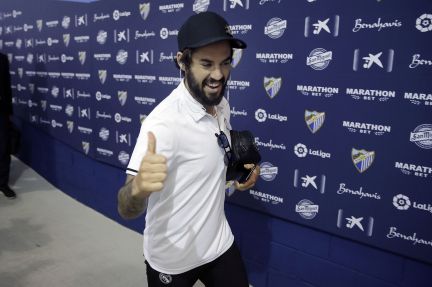 Follow our main man Matt over on the Barcelona vs. Eibar live blog if you fancy too. Just make sure not to close this tab 😉
Real Madrid being put through their paces now by Antonio Pintus. He has been a huge part of why Real Madri are cruising despite how late it is in the season!
Before last week's 2-2 draw with Real Sociedad, Malaga had won four on the trot against Valencia, Granada, Sevilla and Celta. Scoring 11 in the process.
The Isco €1 million prize comes back into play as Valencia and Celta lose so Malaga can't drop a place in the league!
Real Madrid have only lost one of their last 15 games against Malaga at La Rosaleda. A damning stat, perhaps?
Not too many surprises in the team news for either team. Real Madrid opt for Danilo at right-back instead of Nacho and obviously Isco continues in place of the injured Gareth Bale but that's hardly a surprise.
 Team News incoming. Here is how they will line out at the Camp Nou though.
Barça XI: Ter Stegen; Roberto, Umtiti, Marlon, Alba; Rakitic, Busquets, Iniesta; Messi, Suárez, Neymar.
Eibar XI: Yoel; Capa, Lejuene, Arbilla, Juncà; Peña, Dani García, Escalante, Inui; Enrich, Kike.
If you cast your mind back to the early 90's when Jorge Valdano won back-to-back league games against Real Madrid with Tenerife to take the title away from them on the final day. Michel was a Real Madrid player and felt that heartbreak. Well, he is in the same shoes as Valdano was being a former Real Madrid player himself.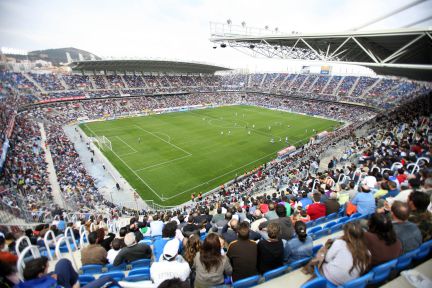 Michel says he isn't bothered by the hassle some of his comments prior to the Real Madrid game caused. He felt more hassled when he was at home for two months!
Malaga have reminded fans that anyone who enters the field will be fined €3,500 and banned from the stadium for a set period of time.
The could be the first time that Real Madrid have scored in every game in a season if they manage to net against Malaga.
And in keeping with the theme that Real Madrid could win, there are 10 players in Zinedine Zidane's squad that could win their first league title today!
 Luka Modric said, back in October, that winning LaLiga was the priority for this Real Madrid team. It has been too long before that, he says. Today could be the culmination of a very long-held dream.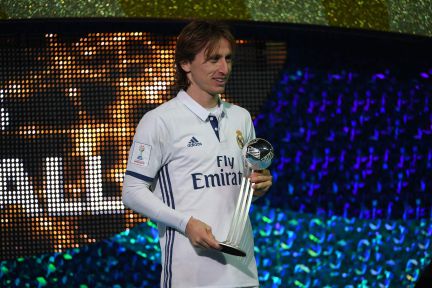 He won't be able to play today but reports suggest that Vinicuis Jnr. will be announced as a Real Madrid player on Tuesday.
 Real Madrid have scored in 63 games this season, which is the longest streak from a European team in all of the big five leagues.
If Real Madrid do win tonight, it will be their 33rd league title and their first since 2011-12 when Jose Mourinho was the manager of the club.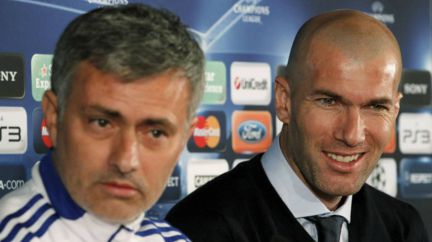 There was plenty of speculation surrounding the €1 million that Malaga are set to recieve if Real Madrid win the league thanks to a clause in Isco's contract that allowed Malaga choose whether they won a million every time they won the league until 2018 or every time they won the Champions League. Malaga say that it would not be an incentive to lose today as lose ground to Valencia would mean they lose more than Malaga in prize money.
Madrid's city council have prepared plans if Zidane's team are crowned league champions tonight. A league triumph will be celebrated at Cibeles, the tradtional celebration point where Alcalá meets Recoletos. The team are due to arrive back in Madrid at 1am, am open top bus is ready to take the team from the Bernabéu down the Castellana to Cibeles where Sergio Ramos will tie a Madrid scarf on the statue of Cibeles, the Greek goddess of fertility at 2:30. The celebrations, if Madrid are crowned champions, will continue until 3:30.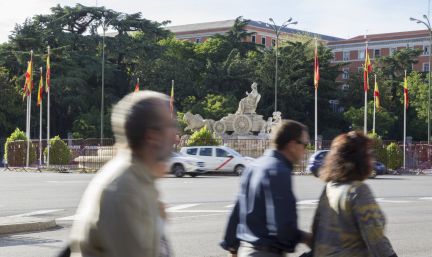 Martin Demichelis has one more game before he retires, and he says it is a dream finish!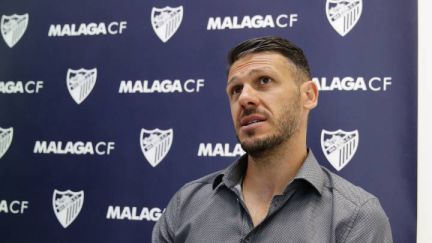 The Barcelona press are still optimistic of a comeback.
There have been six times in history in which a team that were leading going into the final day did not end up there at the end of the season! 
Some brief notes on the game including the referee for tonight and Cibeles being closed off and preparing for action tonight
All eyes will be on Málaga's Sandro this evening. The 21-year-old is being courted by half of Europe. Clubs such as Sevilla, Everton, Liverpool, Villarreal, Tottenham and Newcastle have been impressed by the forward and tempted by his cut-price 6 million euro retention fee. Michel admitted yesterday that the situation "is complicated" and that he is expecting it to be "quite a week" with offers flying in from all sides.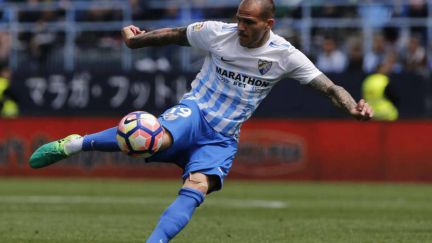 There has been a lot of talk about Málaga pocketing a one-million-euro bonus as an add-on to the contract agreed to by Real Madrid when they signed Isco in 2013, but a crunch of the numbers based on league position and television revenue shows that the home side have more to gain this evening by beating the league leaders.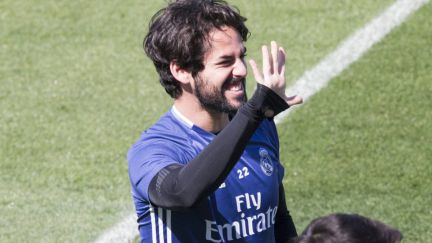 The league has been won at La Rosaleda just once - Rafa Benítez's Valencia were crowned champions on 5th May 2002 after beating Málaga 0-2 with goals from Roberto Fábian Ayala and Fabio Aurelio.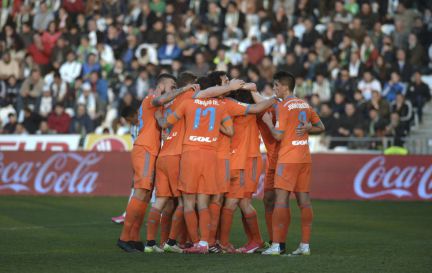 The infallible, meticulous Mr. Chip has been frantically typing away on his calculator and come up with some fascinating stats. Real Madrid have only lost once in their 33 previous visits to La Rosaleda - the 3-2 defeat on 22 December 2012.
There is of course another game kicking off at the same time as the Málaga - Real Madrid match. Barcelona host Eibar in Camp Nou needing to beat the Basque visitors to have any chance of wresting the title from Real Madrid's grasp, while also hoping that Málaga do them a favour. You can follow all the action from that game here: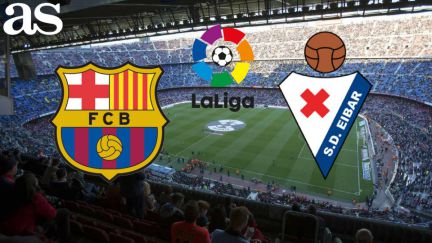 On the day when Real Madrid could be crowned league champions in Málaga, AS was shown around an exhibition dedicated to one of the city's most famous sons and a legend at both clubs, the late Juan Gómez 'Juanito'.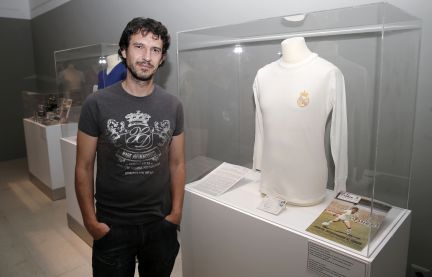 It's already been a season of records for Real Madrid and Zidane's team is close to another historic registry. Madrid need to score just seven goals to reach a total of 174 goals in all competitions - the record set by Jose Mourinho's Madrid side in 2011-12. It's difficult, but not impossible...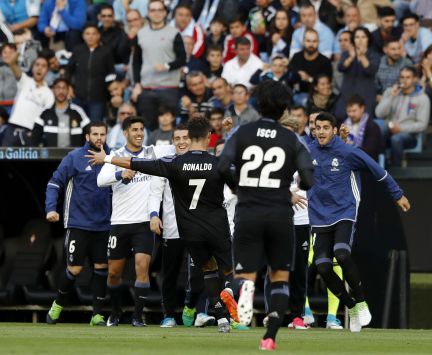 Málaga coach Michel was one of Real Madrid's legendary 'Quinta del Buitre' generation of players but insisted yesterday that he has no qualms about rocking the boat at his former club by beating Zidane's team later today.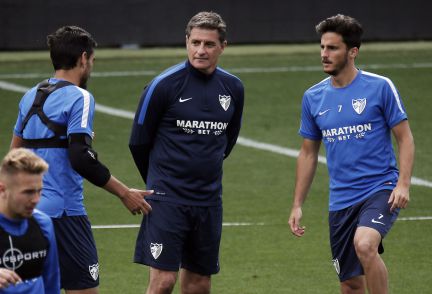 Real Madrid are no strangers to final day heartache after losing out on the Liga title on three occasions when going into the last round of fixtures as leaders.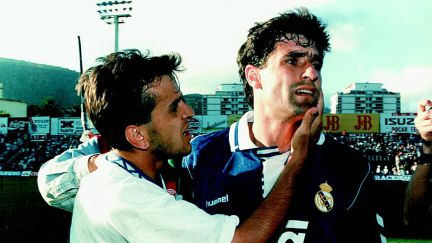 Zinedine Zidane said in his pre-match press conference that his side won't be playing for a draw, which would be sufficient to win the title ahead of Barcelona.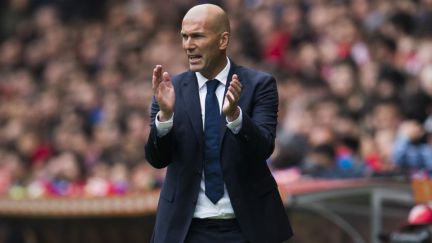 Buenos Días! Welcome to our live coverage of Málaga vs Real Madrid. We'll be building up to the Liga title decider throughout the day ahead of kick-off in La Rosaleda at 20:00 CET.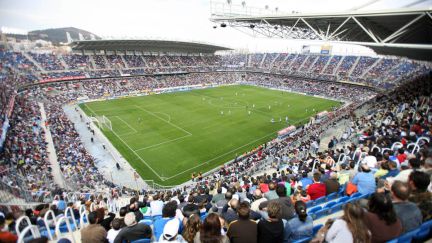 Málaga - Real Madrid live stream online: team news
Málaga line-up: Kameni, Torres, Luis Hernandez, Ricca; Recio, Camacho; Keko, Fornals, Jony; Sandro.
Real Madrid line-up: Keylor; Danilo, Varane, Ramos; Marcelo; Casemiro, Kroos, Modric, Isco; Ronaldo, Benzema.
Málaga - Real Madrid live stream online: latest live news
Málaga – Real Madrid live stream online: preview
Real Madrid travel to La Rosaleda with one hand on the Liga trophy in the knowledge that a draw against Míchel's vastly improved Málaga will be sufficient to secure a first national championship since the 2011-12 season. Real will be proclaimed champions whatever the result on the Costa del Sol if Barcelona are beaten in Camp Nou by Eibar but Zinedine Zidane will not leave Real's destiny in the hands of lady luck and will field his strongest available side in search of three points.
Under Míchel, who took over from El Gato Romero at the beginning of March, Málaga's results place them fifth in a league based on the games played uder the former Real Madrid midfielder, behind Sunday's opponents, Barcelona, Atlético and Athletic Bilbao. At home Málaga have been impeccable in recent weeks, racking up wins against Barcelona, Sevilla, Valencia and Celta. During his short tenure Míchel has flexed his tactical muscles, playing a variety of different formations and shoring up a back four that was among the most porous in the division to achieve six clean sheets in his 11 matches in charge.
Málaga
Míchel said ahead of the game that he would go out to make life uncomfortable for Madrid and take Zinedine Zidane's "to where they're not used to being." The Málaga coach will be unable to field on-loan Madrid defender Diego Llorente, one of many players who have turned the La Rosaleda jeers to cheers in the side's recent renaissance but can count on all-action midfielder Ignacio Camacho after suspension.
Former Barcelona striker Sandro – who would love to help his former club snatch the Liga crown – will be supported by Juankar from a wing-back role with Keko and Pablo Fornals out wide and Camacho and Recio shoveling coal in the engine room to try and wrest control of the ball from Real's midfield.
Real Madrid
Zidane has taken his entire squad with him to La Rosaleda, injured players included, in preparation for the post-match celebrations but the Real boss was under no illusions that the title is already wrapped up despite his side's commanding position.
Other than Dani Carvajal the Frenchman has his preferred starting 11 available and will roll out the big guns in La Rosaleda. Isco will start against his old club and the in-form Cristiano Ronaldo will happily shoulder the responsibility for finding the net, having bagged five in his last three Liga outings.
Luka Modric, Casemiro and Toni Kroos will be tasked with patrolling the midfield and opening up spaces among Málaga's back line, with Míchel not entirely averse to playing a back five with a packed midfield when the occasion demands it.
As ever this season, Zidane will charge his side with going on the offensive from the outset and an early goal will go some way to settling any nerves among the visiting side, 10 of whom have never been this close to a league title before. In La Rosaleda, Zidane will look to his old heads to lead the way towards glory and Sergio Ramos, Marcelo and Ronaldo will do their utmost to ensure that a long-awaited Liga title does not slip through their fingers at the last.
---
Málaga vs Real Madrid live stream online: possible line-ups
Málaga XI: Kameni; Torres, Demichelis, Hernández, Ricca, Juankar; Camacho, Recio, Keko, Fornals; Sandro
Coach: Míchel
Real Madrid XI: Navas; Danilo, Varane, Ramos, Marcelo; Casemiro, Modric, Kroos; Isco, Benzema, Ronaldo.
Coach: Zinedine Zidane
---
Málaga vs Real Madrid: selected live stream betting odds
You can get some fancy odds on Málaga raining on Madrid's parade with the home side at 15/1 for the win. Real Madrid to win and both sides to score is priced at 2/1 while a goalless draw is 41/1. Cristiano Ronaldo to bag a hat-trick is chalked up at a measly 5/1 and if you fancy Sandro to open the scoring, the former Barça striker is at 10s.