Ajax 0-2 Manchester United: Europa League final as it happened, match report, goals
Pogba and Mkhitaryan scored the goals as Mourinho's side stifled a youthful Ajax team to become the 2017 Europa League champions in StockholmManchester United v. Manchester City live online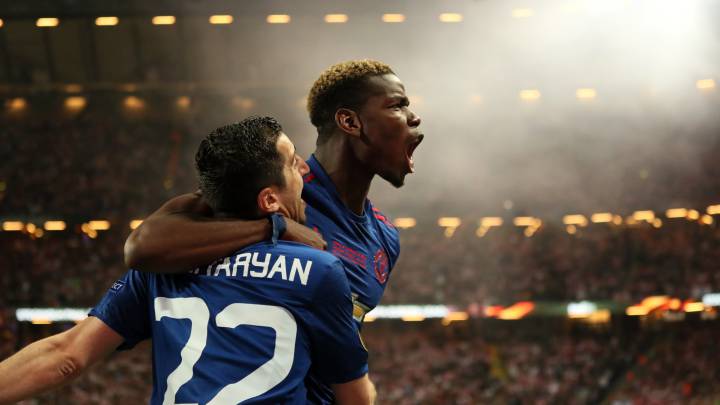 Ajax 0 - 2 Manchester United: match report
A disciplined performance from Manchester United was enough to see off an exuberant Ajax side that spluttered, but never burst in to life during the Europa League final in Stockholm. Paul Pogba opened the scoring after a fortuitous deflection in the first half, while Henrikh Mkhitaryan sealed the victory with a neat finish shortly after the break.
The lead up to the match was sombre. Football seemed almost frivolous following the tragic attack in Manchester on Monday evening, which claimed the lives of 22 people at an Ariana Grande concert. Ajax manager Peter Bosz said on Tuesday that the attack had taken the shine off the final, and it was hard to disagree. The two teams completed a minute silence before kick-off. In the stands, the silence gave way to a chant of 'Manchester, Manchester', a chant of defiance and pride.
Manchester United made the quicker start. Within the first minute, a nerves-induced mix-up between Joel Veltman and André Onana allowed Paul Pogba to flash a volley just wide. Yet the Dutch side settled. They found their rhythm. The impressive pairing of De Ligt and Sánchez began to dictate play from the heart of defence, with an absorbent United sitting deep.
The breakthrough came after 18 minutes. Paul Pogba shimmied on to his left foot, and shot from 25 yards. Davison Sánchez flung himself in to the path of the ball, but succeeded only in deflecting it beyond a despairing Onana and in to the net.
The match began to settle in to a pattern. Ajax dominated possession, they zipped the ball about. Yet they never made Manchester United uncomfortable. Chelsea-loanee Bertrand Traoré was bright on the left hand side, but therein lay the problem for Ajax; they were relying on individual guile and sparks of creativity. As a collective, they did not combine with enough speed or movement.
United doubled their lead shortly after half time, as Chris Smalling nodded a corner down to Mkhitaryan in the six-yard box. The Armenian swiveled, and shot over his shoulder in to the net.
With a two goal lead, United continued to concentrate. They were unadventurous and turgid, but they saw out their task. Ander Herrera was a niggling anti-hero in the centre of the midfield; destructive without the ball, and quietly efficient with it. He epitomised the dogged discipline that José Mourinho has instilled in this side.
Juan Mata was lucky to avoid a red card after 77 minutes. The Spaniard arrived late on Matthijs De Ligt, and caught the 17 year old with his studs showing. For his part, De Ligt was superb. He possesses the ability to glide with the ball at his feet, but is not afraid of a physical battle.
Ajax, with an average age of just over 22, lacked the guile and in-game intelligence to break through the impermeable blocks of blue shirts.
Peter Bosz' choice to field a left-footed winger on the right, and a right-footed winger on the left, did not work. Ajax players constantly turned in to congestion, rather than seeking space on the flanks. They were stuck in the United stodge.
As the final whistle blew, the United bench spilled on to the pitch. The squad celebrated with exuberance in front of the travelling support. United won the trophy, but they did not shine like the piece of silverware that Wayne Rooney held aloft, probably on his last appearance for the club before a summer exit. Manchester United did what they had to do, they out-thought Ajax. That was enough for them to add the Europa League to the burgeoning trophy cabinet at Old Trafford.
---
Check out all of the best photos from Manchester United's victory over Ajax in the 2017 Europa League final.
---
Ajax 0 - 2 Manchester United: as it happened
90'+4' FT. Manchester United have won the Europa League. 
90'+4' Zlatan limps along the dugout, shaking hands and slapping backs. They think they've won it, and they almost certainly have.
90'+2' Traoré has a chance to deliver a cross, but takes too many touches and is crowded out. 
90' Four minutes of added time for Ajax to launch a late flurry. 
89' United sub: Rooney replaces Mata for what may well be his final Manchester United appearance. 
87' Lingard is clean through, bursting towards goal. He's about to pull the trigger when Sánchez recovers to ease him off the ball. Up at the other end, Van de Beek cuts in and shoots... straight at Romero. 
85' Ajax are playing incredibly narrowly, and it's playing right in to United's hands. There's no width, nobody looking to sneak in behind. All of the play is taking place in front of the United defence, and they look comfortable. 
84'  United sub: Martial for Rashford. 
83' This time, Sánchez lets fly from long range. Again, it flies well over. 
82' Ajax sub: De Jon for Riedewald. 
81' De Ligt shoots from 30 yards, but the ball is always rising. Ajax are becoming ragged in their approach play. 
80' Klaassen shoots from the edge of the box, after a corner bounced to his feet. United have enough bodies between the ball and the goal to block his effort. 
77' Wayne Rooney is on the pitch diffusing a coming-together. Mata flew in on De Ligt with his studs raised. He received a yellow, but it could have been a red. 
76' Sánchez does superbly to muscle Pogba off the ball on the edge of the box. He has dealt well with United's occasional counter-attacking forays in to opposition territory. 
75' Traoré has been the central striker for Ajax since Dolberg went off. It hasn't really worked, he's dropping too deep to try and collect the ball. 
74' United sub: Lingard for Mhkitaryan.
72' Ziyech's free-kick comes to nothing. The referee spent an age fiddling with the wall, and the Ajax man fired his shot staight in to it. You could see what Ajax were trying to do - create a gap in the wall by filling it with their own players. But the execution was poor. 
71' Free-kick to Ajax just outside the box. Mhkitaryan handled the ball, and should have received his second yellow card. 
70' Ajax sub: Van de Beek for Schone. 
67' Traoré takes too many touches in the box, and the ball bobbles behind for a corner, which comes to nothing. United are keeping everyone behind the ball. 
65' Fellaini jumps well to meet a cross from Valencia, and his connection on the ball is true. Luckily for Ajax, it flies straight at the midriff of André Onana. 
64'  Yellow card for Younes after he dragged back Antonio Valencia. 
62'  Ajax sub: Neres replaces Dolberg. 
60' Ander Herrera has been quietly superb in the defensive midfield role. Destructive without the ball, and efficient with it. 
59' De Ligt uses his physicality well again. This time, on Mata, whom he muscles off the ball as the Spaniard looked to burst in to the box. 
57'  Yellow card for Veltman. His crime - scything down Juan Mata. 
55' De Ligt uses his body well to barge Rashford off the ball. Ajax are dominant, but without threatening a great deal. The fact that they're playing with 'inverted wingers' isn't really helping at the moment; Traoré and Younes keep cutting in to crowded areas. That's fine if the full-backs are providing the width, but they're not. 
53' Ziyech does well to wriggle in to space and lay the ball off to Traoré. His shot takes a deflection, and loops in to Romero's arms. The pass to Dolberg, who was in a better position, was available for Traoré there. He needed a little more awareness. 
52' Yellow card for Fellaini. He trips Shone to prevent him galloping clear on the counter-attack. That was rather cynical, but 'a good foul to give away', if you will. 
49' Sánchez executes a fine tackle to pinch the ball off Rashford, who was bearing down on goal. Perfectly-timed. 
49' Ajax had made a bright start to the half, but suffered from the same problem as before the break: they're lacking the guile and creativity to break down United's stodgy formation. 
48'  GOOAAALLLL! Mhkitaryan turns a loose ball in to the net from inside the six-yard box, after Chris Smalling had won an initial header from a corner. 
46'  The referee gives his whistle a short, sharp toot, and the second half gets going. 
Ajax are back out on the pitch. It's fair to say that for the vast majority of their young team, the biggest 45 minutes of their careers awaits. 
Matthijs De Ligt deserves a half-time mention. The 17-year-old centre half is so pleasant on the eye. He glides out of defence and, more often than not, picks the right pass. A mature defender, too. 
65:35 is how the possession statistic looks, in Ajax's favour. 
I think it's fair to say that United are 'doing a job' this evening. But it's a shame to see a side packed with talent and technical ability playing such turgid football. There's no expressivenes in the way they have played in this first half. 
Paul Pogba celebrates his opener...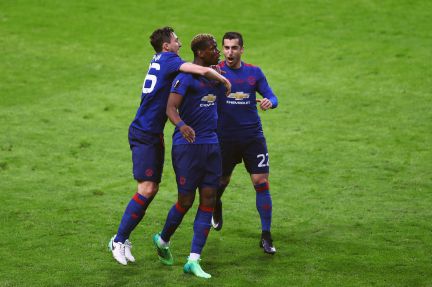 United hold the lead, courtesy of that deflected Paul Pogba strike, but Ajax have responded in an encouraging manner. Traoré has looked particularly dangerous on the left flank.
45'+1'  HT whistle blows. 
45' Traoré bursts in to the box, but Daley Blind gets his body between the Ajax man and the ball, and shepherds it out for a goal-kick. There were half-hearted calls for a penalty, but nothing was given. 
44' United are sitting in a very rigid 4-5-1 when Ajax have the ball, with Herrera dropping back to a defensive midfield position when needed. When they get near United's box, there's very little space for Bosz' side to operate.
41' Sánchez gets very lucky. He tries to chest the ball back to his 'keeper, undercooks it, and doesn't realise that Rashford is lurking pantomime-villain style behind his shoulder. The Colombian emerges with the ball, but only because a ricochet off Rashford's shins was kind to him. 
38' Ajax have 82% pass success, while United have just 65%. That reflects that fact that Ajax are keen to play with the ball at their feet, while United are content to sit back, remain tight, and play riskier passes in the hope of launching a counter-attack. 
36' The Ajax fans burst in to song. They sense that their team is on top here. Traoré embarks on a run, gliding past Fellaini, Pogba, and Blind with those long, graceful strides. He makes it in to the box, but Darmian steals in at the crucial moment. 
34' Ziyech whips a ball across the face of Sergio Romero's goal, after tenacious play from Dolberg to keepthe move alive. Nobody in a red-and-white shirt can get there, and the ball skims out of play. Once again, Ajax regain the ball, and start to ping it around in the United half. There is a pattern of play emerging here... 
32' Rashford beats Sánchez and rushes in to the box, but De Ligt is not for moving. The youngster stands up well, and dispossesses Rashford. The United player is in a heap on the turf, having seemingly taken a knock to his nether regions. 
31'  Yellow card for Mhkitaryan. He has been nibbling on Ajax ankles all evening, and that's one foul too many for the Slovenian referee. 
29' There has been little action in the last five minutes. Ajax have had the majority of the possession, but United not allowed them to convert it in to chances. Kasper Dolberg has barely got involved so far, apart from the odd bit of link-up play. 
27' Fellaini, the man who is 75% elbow, out-muscles Shone and tries to knock the ball down to Rashford. Onana reads the situation and dashes off his line to claim. 
23' Pogba slings a long-ball straight in to Onana's awaiting arms. He was looking for Rashford, but couldn't find him. 
22' Antonio Valencia steams down the right flank, beats his man for pace, and uses that traction-engine of a right foot to force Onana in to a save. Good, positive stuff from the Equadorian. 
21' Shone swings in a free-kick from the right. De Ligt gets a thin contact on it, and Herrera is forced to turn the ball behind for a corner. United clear, but Ajax are still in possession, building with patience. 
20' Ajax react. They steam up the pitch and win a corner, which Davison Sánches meets with a strong header. But he can't keep it down, and the ball flies in to the sea of exuberent Manchester United fans behind the goal, accompanied by a cry of 'WHEYYYY'. 
18'  GOAAAALLLL! United take the lead through a fortuitous deflection. Pogba works space to shoot on the edge of the box, and his left-footed shot hits Sánchez and deflects beyond a despairing Onana. 
17' Mhkitaryan dinks a searching cross towards Fellaini at the far post, but De Ligt gets a strong head to it.
14' Traoré stings Romero's palms, flashing a left-footed shot towards the near post. The 'keeper can only push it in to the air, before collecting at the second time of asking. Ajax are growing in to this. 
13' The Ajax full-backs, Veltman and Riedewald, are pushing really high up the pitch, with Schone and Klaassen dropping back to collect the ball from their centre-halves. It makes the pitch big for Ajax when they're in possession, but also leaves the Dutchmen a little susceptible to the counter-attack. 
11' Mkhitaryan wins a soft foul from Sánchez on the half way line. United are wasteful with possession, and Ajax regain the ball. 
10' United have the best chance of the match so far. Mata races on to a pass, and at the byline, he flashes the ball back towards an incoming Fellaini. Mata puts a little too much juice on the pass, and the big Belgian is unable to adjust his body in time. 
9' Rashford shows some exotic footwork to wrong-foot Sánchez, but his cross his poor. 
7' Traoré tracks back well to recover possession by his own corner flag, and win a foul in the process. Previously, Pogba threaded a ball through to Rashford to get United up to that area of the pitch. Rashford will need to be smart tonight in order to find space... Sánchez is very mobile, and Onana is quick off his line. 
4' Ajax take a deep breath, and settle in to a calming spell of possession. Davison Sánchez strides out of the Ajax defence and is tripped by a retreating Mhkitaryan. The Ajax defenders emerging with the ball will be a recurring theme in Stockholm. 
3' United cause problems once again. Mata clips a free-kick in to Smalling at the far post, who heads the ball across goal. This time Onana is more authoritative, and claims the ball in the air. Ajax need to settle, they've made a nervy start. 
1' It's Manchester United who come out of the blocks quickly. A mix up between Veltman and Onana allows Pogba to send an effort towards goal. It bounces wide from the Frenchman. 
1'  Ajax get us underway in the 2017 Europa League final.
That was an emotional start. Both sets of supporters broke in to applause as the teams stood, with arms linked, around the centre circle.
The minute silence begins. 
The teams are out, and the atmosphere is simmering nicely. The referee will oversee the coin toss, before a minute silence takes place. 
United XI: Romero; Valencia, Smalling, Blind, Darmian; Herrera, Fellaini, Pogba; Mata, Mkhitaryan, Rashford.
Ajax XI: Onana; Veltman, Sánchez, De Ligt, Riedewald; Klaassen, Schone, Ziyech; Traoré, Dolberg, Younes.
The teams are gathering in the tunnel, and here's a reminder of who will line up:
Will United pay Antoine Griezmann's release clause from Atlético Madrid? The Atleti president doesn't think so.
We've got ten minutes to go until kick off, which is a perfect amount of time to read Rory Smith's interview with Henrikh Mkhitaryan for the New York Times. He has some really interesting stuff to say about emerging from Armenia to become a global football star. 
22.2 is the average age of the Ajax team. United's is 27. 
The Friends Arena is filling up nicely. The Ajax fans having been piling in for a while; the United lot seemingly stayed outside for one more pint. But they're all in now. 
Ajax will be looking to win this competition for the second time. The Dutch team won the 1992 UEFA Cup against Torino... on away goals. Back then, the final was a two-legged affair, and Ajax secured a 2-2 draw in Turin, before seeing the tie out with a 0-0 stalemate in Amsterdam. Not the most exciting way to win a trophy, but it's still in the cabinet.
A reminder of how and where you can watch the Europa League final this evening. Of course, the best option is to stay right here with AS English.
There's a 'dads and lads' theme to the final. Daley Blind and Justin Kluivert are on opposing sides tonight, but in the 1995 Champions League final, their fathers both lined up for Ajax.
Although, as someone has pointed out over on the AS English Twitter feed, those United youngsters blended with experienced professionals. This Ajax team is pretty young throughout. 
Both sides will have breathed a deep sigh of relief as the final whistles blew in their respective semi-finals. An Alexandre Lacazette-inspired performance from Lyon gave Ajax a scare in the second leg. Manchester rode their luck against Celta Vigo at the same stage of the competition, with John Guidetti missing a couple of guilt-edged chances for the Galicians. 
Six of Ajax's starting XI are 21 or younger. That's Dolberg, Reidewald, Sánchez, Traoré, Onana, and De Ligt. Manchester United are heralded for the 'Class of '92'. This could be the night when Ajax's 'Class of '17' is born. 
Manchester will not be divided. It has been a tragic, numbing 48 hours for the city. The football feels rather irrelevant, yet it is also the best form of escapism. There will be a minute silence before kick off, and both teams will wear black armbands.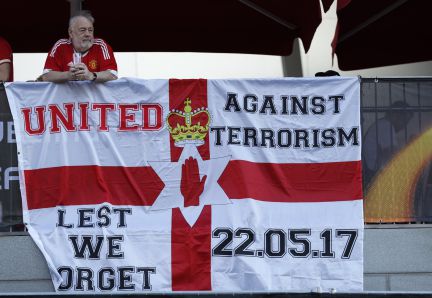 Colombian Davison Sánchez forms part of that Ajax back line, alongsie 17-year-old (Seventeen!) De Ligt. Sánchez himself is only 20, and has made a fine transition from South American to European football. In fact, Barcelona are allegedly interested in acquiring his services.
José Mourinho has sprung a couple of surprises, namely Fellaini ahead of Carrick and, to a lesser extent, Mata over Lingard. Meanwhile, Peter Bosz picks the team that we expected. See the full low-down on tonight's team news. 
Manchester United XI: Romero; Valencia, Smalling, Blind, Darmian; Herrera, Fellaini, Pogba; Mata, Mkhitaryan, Rashford.
Ajax XI: Onana; Veltman, Sánchez, De Ligt, Riedewald; Klaassen, Schone, Ziyech; Traoré, Dolberg, Younes.
TEAM NEWS!
The referee this evening will be Slovenian Damir Skomina, whom Mourinho described as 'weak and naive', while managing Chelsea last season. 
You would have thought that José Mourinho will be looking back to his 2010 Champions League triumph with Inter, ahead of this evening. That Inter side showed tactical nous and discipline to beat more expansive teams (Barcelona in the semi-final, and Bayern in the final), and the Portuguese may well set his United team up in a similar fashion. 
The atmosphere is building in Stockholm...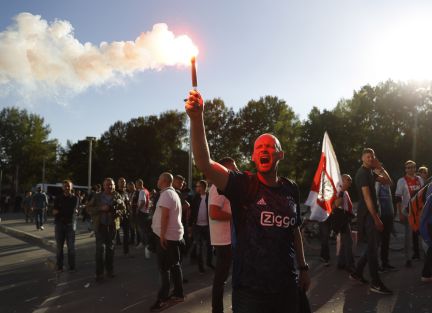 Young Kluivert has played 14 times in the Eredivisie this season, scoring twice and laying on three assists. He's a left-winger with an eye for goal and a wicked turn of pace. 
Patrick Kluivert scored the winning goal for Ajax in the 1995 Champions League final. His son Justin is in the Ajax squad tonight. Jack Pitt-Brook went to Amsterdam to interview the 18 year old for The Independent, about the family connection, and more.
Wait a minute... that's not Zlatan!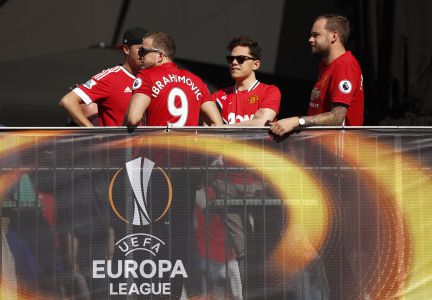 Peter Bosz is very similar to Cruyff in many ways. Cruyff would always talk about some of the stragest things. It was almost like the rantings of a lunatic and if he wasn't as successful as he was, he might have been considered one. Joel Veltman explains how Peter Bosz is just as fanatical about the small things. "He taught me how to use my arms,I was too shy in duels. He said don't smash in but use your arms," says Veltman in this fascinating piece in the Guardian about Ajax.
Peter Bosz is a disciple of Johan Cruyff. "He'd rather win 5-4 than 1-0. He's as stubborn as well," says a former director who worked with the Ajax coach. Set up beautifully for an intriguing game tonight!
Paul Scholes has been quiet since Jose Mourinho took over at Manchester United. He was a vocal critic of Louis van Gaal during his spell but seems happy enough with how United are performing this season. He admits that "It's been a difficult year for him (Mourinho) but it's a massive game tonight and they need to get into the Champions League then be competitive next year as well."
 In the wake of Monday's tragic events in Manchester, Chelsea have announced that they are cancelling their Premier League victory parade. There'll be a minute's silence at the Friends Arena tonight, with UEFA also confirming that the Europa League final opening ceremony will be "considerably reduced" as a mark of respect to the victims of the attack.
Tonight's final is of more than just a chance to lift some silverware, it is also a playoff for direct entry into next season's Champions League. José Mourinho has all of his eggs in one basket now after missing out on a fourth-placed finish in the Premier League, adding a little extra layer of pressure on the combustible Portuguese schemer.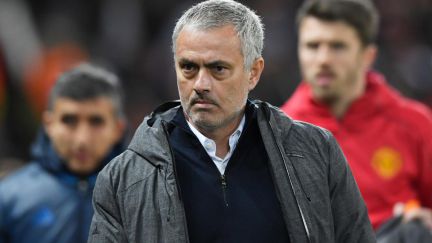 With just under six hours to go until kick-off in Stockholm, here's a reminder of how and where to watch Ajax vs Manchester United - at the same time as you follow our live feed, obviously.
When at Real Madrid, Mourinho's side faced Ajax six times and won all of them - scoring 20 and conceding just 2 in the process. The good news for fans of the Dutch side is that their young lads could be the best crop for quite some time...and also this current United is side is a fair way off the level of Los Blancos.
In recent Premier League games, Mourinho has fielded a number of his squad players and must have been impressed with some of the performances. At 21 years of age, debutant Josh Harrop opened the scoring in the final game of the season, but he'll not be making it in tonight. One for the future though along with another player making his debut,  Demetri Mitchell.
A reminder that the big misses for both teams tonight are Sinkgraven (Ajax) and Bailley (United). More info on the likely teams contained in our preview below.
Last year's Europa League final also had Premier League representation as Liverpool looked to overcome a Sevilla side going for an unprecedented third consecutive title. The Spaniards made history.
José Mourinho leads his team out tonight in a bid to complete a clean sweep of Uefa's major trophies. He may have belittled the continent's secondary competition in the past but, after failing to put in a serious challenge to the Premier League's top four, this final is United's only route into next season's Champions League. It has become less little to the Portuguese manager. 
Both tonight's finalists had nail-biting semi-finals with United escaping a last minute scare as Celta Vigo's John Guidetti fluffed his lines with the goal gaping, while Ajax almost threw away their 4-1 first leg advantage in Lyon.
Are you wondering what time the game is kicking off at where you are in the world? Keen to know who is broadcasting the match? Confused about which live feed to follow. As always, we've pulled together a handy guide that'll answer these questions.
Uefa have taken steps to assure fans going to tonight's showpiece event that they will be safe on the back of the attack in Manchester.
The 'home' side for the final are the boys from Amsterdam (lucky for them based on their away form!) with United taking the visitors' dressing room in Stockholm.
Good morning and welcome to our build up to this evening's Europa League Final as Alex Bosz' young and exciting Ajax team look to overcome the strength of José Mourinho's Manchester United side.