Barcelona 3 - 1 Alavés Copa del Rey final: As it happened, goals, match report
Messi, Neymar, and Alcácer found the net to hand Barça a third consecutive Copa del Rey title, while Theo Hernández scored a free-kick for AlavésChina vs Wales: China Cup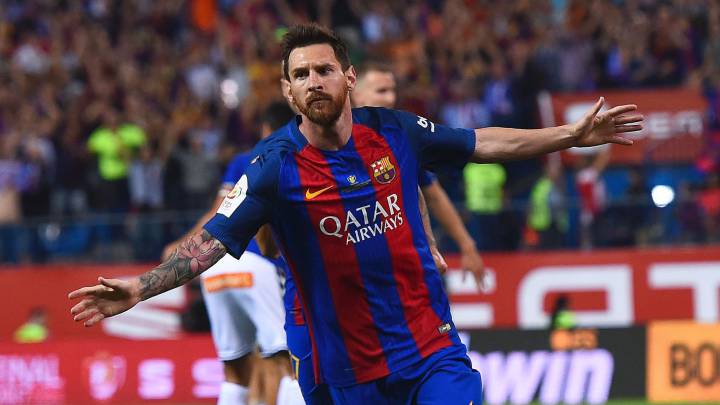 Barcelona 3 - 1 Alavés: match report
The atmosphere at the Calderón was curious 30 minutes after the full-time whistle blew. Alavés players stood heads-in-hands before their adoring support, with neither players nor fans quite ready to call time on their admirable run to the Copa del Rey final. Brazilian striker Deyverson waded in to the crowd and emerged adorned with blue-and-white flags. A quick-fire double on the brink of half time won the cup for Barcelona, and sent Alavés back to the Basque country bursting with pride, but beaten.
Lionel Messi opened the scoring for Barça after half an hour, but the lead only lasted for three minutes before Theo Hernández thundered a free-kick beyond Jasper Cillessen. With half time approaching, Barcelona increased the intensity of their play, and scored twice through Neymar and Alcácer to seal a third Copa del Rey in as many years, and scoop a title from an otherwise unfulfilling season.
Alavés travelled to the capital backed by a band of 25,000 vociferous supporters, all eager to see their team compete in its first Copa del Rey final. It was also a night goodbyes; with Luis Enrique bidding farewell to Barcelona after three years in charge at Camp Nou, and the Estadio Vicente Calderón hosting its last professional football match. Lamentably, the Calderón was pockmarked by empty seats, a result of an over-priced ticketing strategy.
The first major incident of the final was a nasty clash of heads between Marcos Llorente and Javier Mascherano. The Argentine came off second best. Bleeding from the head, he left the pitch on a stretcher to warm applause, with André Gomes taking his place on the right side of defence.
Alavés' tactics were clear from the start. Blue-and-white shirts soaked up possession, before galloping forward through Theo and Femenía on the flanks, who attacked like greyhounds out of the traps when there was a sniff of space.
It was Mauricio Pellegrino's team that were a rotation-of-the-ball away from opening the scoring after 27 minutes. Ibai Gómez harried Piqué in to a mistake deep inside the Barcelona half. The winger drove inside and struck a low shot against the base of the post. The ball bounced off Cillessen, and squirmed agonizingly along the goal-line. Deyverson could not arrive in time to apply the necessary touch, and the danger passed.
Messi made them pay. Three minutes later, the Argentine played a slick one-two with Neymar, before curling the ball beyond Pacheco and in to the corner. The build-up was incisive, and the finish exquisite, his 26th goal in 25 finals with Barcelona.
Yet Alavés clawed their way back in to the match. Theo Hernández, on loan from Atlético but soon to sign for Real Madrid, stood over a free-kick, took a deep breath, and began his run-up. The 19-year-old Frenchman unleashed a swirling, dipping effort. Cillessen desperately back-pedalled, but could not prevent the net rippling. Jubilation. The Alavés fans erupted as Theo slid on his knees towards them.
The underdogs looked set to arrive at half time with the match neck-and-neck. Yet Barça turned the screw. On 45 minutes, Neymar showed dazzling footwork to create space, and lay the ball to Alcácer, who recycled it to Gomes. The Portuguese flashed a ball across the face of goal, and Neymar finished off the move he had started at the far post. The Brazilian looked marginally offside as the cross came in, but it was a matter of inches.
The killer blow came minutes later. Messi was the protagonist. He cut in from the right, dropping a shoulder to squeeze between two Alavés players. A third player tried, and failed, to stop him. It was a remarkable run, capped off by a perfectly-weighted pass through to Paco Alcácer, who swiveled inside the box, and buried the ball in to the bottom corner. Alavés had a mountain to climb.
They rallied in the second half, but Barcelona looked comfortable with a two-goal cushion. In fact, they should have had the chance to make it four, but Sobrino's foul on Neymar inside the box went unnoticed.
Marcos Llorente prowled the midfield for Alavés. He looks ready to compete for Real Madrid next season. Alongside him, club captain and Vitoria boy Manu García was niggling. But Pellegrino's side could not thread the final, crucial ball. Deyverson had the ball in the net after 70 minutes, but he received it in an offside position.
As the full time whistle blew, García and his team were exhausted. To reach the final was a phenomenal achievement, but to win the first piece of silverware in the club's history was a bridge too far. The Alavés players trudged up the steps to collect their medals, and their fans roared. Pride, as well as disappointment, was the overwhelming emotion in the Calderón.
For Barcelona, the Luis Enrique era ends on a high, but a summer of transition awaits at Camp Nou.
Barcelona 3 - 1 Alavés: second half as it happened
90'+3' FT. Barcelona are the Copa del Rey champions for the third season in a row.
90'+2' Barça miss a sitter to make it four. Messi lays the ball to Busquets in the box, and with the goal awaiting, he tries to find Neymar, gets it wrong, and passes the ball out for a goal kick. 'Just hit it man!' is the appropriate response.
90'  Three minutes of added time. The Barça fans salute Luis Enrique.
90' Camarasa dances in to the box and falls under the challenge of Piqué. There are half-hearted penalty appeals, more in hope than expectation.
88' Deyverson booked for an uppercut-elbow on Iniesta. Some frustration coming through there, and he's lucky to avoid a straight red.
87' Romero is involved again... Cillessen rushes out to meet a bouncing ball with his head, as Romero is bearing down. It looks for a moment like the spin on the ball will make it bounce in the Paraguayan's favour, but Cillessen is the stronger of the two in the air.
85' Romero shoots wide from thirty yards out. He's linking up the play nicely between Deyverson and the midfield, but Alavés are lacking that final ball.
84' No sign of an injury for Rakitic. It seems like Vidal has slotted in at right-back, with Gomes moving up in to his natural position in midfield.
83' Barcelona change: Aleix Vidal on for Rakitic.
81' Romero floats a cross in from the right. For a moment, it looks like Deyverson might meet it, but it doesn't sit down for the Brazilian, and goes out of play.
80' Romero is a skillful Paraguayan playmaker, who has arrived from Racing Club in Argentina. He could be the man to unpick a tight defence.
80' Alavés sub: Theo Hernández off, Óscar Romero on.
79' Iniesta falls under a challenge from Sobrino, and the Barça fans bray for a second booking. It doesn't arrive.
77' Messi, Iniesta, and Sobrino all booked for their part in that flare-up.
75' We've got handbags at the Calderón, which seem to have emerged from Neymar collapsing after an off-the-ball challenge from Sobrino in the box. It looked like a clear penalty.
73' Theo is suffering with cramp, as Alavés wait to take a corner. He's up now and trots in to the box. Barça clear the ball, but only as far as the touchline, where Vigaray hurls in a Delapian long throw. Yet Alavés have no Ricardo Fuller to latch on to it, and Barça clear.
70' Goal disallowed for Alavés. Deyverson puts the goal in the bottom corner, but he was narrowly offside when the pass came through.
69' Chance for Alavés as the ball drops to Sobrino inside the box. He leathers the ball in to André Gomes' back, and should have done better. Moments later, Cillessen gets down well to deny Deyverson at the far post.
68' Alavés are enjoying a spell of possession in the Barça half, but Luis Enrique's defence is stout.
66' Iniesta lets fly from 25 yards. It's wild, and while it puts the Alavés fans behind the goal in danger, Pacheco's goal is safe.
65' Deyverson is putting in a big, big shift up front. He's chasing everything down, but it's a thankless task as Piqué and Umtiti tease the ball around him.
63' The pace of the game slows down a touch. Alcácer has a pot-shot and sends it high, wide, and not so handsome.
60' Deyverson has the ball just inside the box, after Femenía had cheekily reclaimed the ball from Neymar by going between his legs to fetch it, but he is forced to turn away from goal and send a pass out to Theo on the left wing. Unfortunately, Theo wasn't actually there, and Barça have a throw in.
59' Double change for Alavés: Camarasa for Edgar, and Sobrino for Ibai Gómez. Mauricio Pellegrino switching things up on the wings.
58' André Gomes cruises forward and sends an inviting cross towards Alcácer. The striker stabs the ball over under pressure from Feddal.
56' Edgar clambers all over Iniesta. The Alavés winger is on a yellow card, and Pellegrino grimaces on the touchline. Edgar escapes a second yellow, but you sense he won't be able to get away with another niggly foul.
55' Marcos Llorente sets Gómez free with a rasping diagonal ball, but the winger sees his cross blocked by the first defender. André Gomes does excellently in a tight space to dribble his way out of trouble. The Portuguese, much maligned at Barça since his arrival from Valencia last summer, has been solid playing at right-back.
53' Edgar is down in a heap. Iniesta rushed in to close him down, slipped, and took him out. From the free-kick, the ball bounces out to Gómez. The ex-Athletic winger leans back at the crucial moment, and spoons his half volley in to the crowd.
50' Messi accelerates past Llorente and floats a superb cross to the far post. Alcácer slides in, and pokes the ball towards goal with the sole of his foot. Pacheco scrambles across his six-yard box, and blocks the shot. You feel that another Barça goal would kill this game off.
49' Ely is pulled up for a yellow card. His crime was leading with a forearm in an aerial clash with Alcácer.
47' Alavés win a foul thirty yards from goal, after Ibai Gómez trips under a challenge from Piqué. Gómez is over it... and he flashes the ball narrowly over the bar. The free-kick was on the left hand side, hence why left-footed Theo did not take it.
46' Off we go for the second half. Barcelona slip straight in to a spell of posession.
Alavés are back out for the second half, geeing each other up for a big 45 minutes.
Here's the story about Javier Mascherano, who was stretchered off in the early stages after a clash of heads with Marcos Llorente. Our best wishes go to the Argentine following that nasty collision.
Messi has been absolutely sensational. His opener this evening takes him up to 26 goals in 25 finals with Barcelona, while his contribution for the Alcácer's goal was magnificent - acceleration, balance, and the clear head to pick out Alcácer's diagonal run.
Half time talking points...
45'+4' The half time whistle blows. Barça stepped up through the gears at the end of the half, and Alavés had no answer.
45'+3' GOOOALLLLL! Alcácer! Messi cuts in from the left, glides past three defenders, and slips a reverse ball through to Alcácer. On the turn, the stiker slips the ball in to the bottom corner. A fine goal.
45'+1  Messi's ball is deflected... right in to the path of Alcácer. Bearing down on the six-yard box, the striker is unable to direct the ball towards goal with his head, and Pacheco claims gratefully.
45' GOAAALLLL! Barça back in the lead through Neymar! The Brazilian starts and finishes the move. He shows neat feet to set Alcácer away, who lays the ball to André Gomes to square the ball back to Neymar at the far post for a tap-in.
43' Ooooh Deyverson goes close, heading just over from a corner. Umtiti went down extremely softly as the ball came in, but the ref was having none of his shenanigans.
42' Umtiti goes in to the book for a hefty aerial challenge on Deyverson.
40' Neymar rolls the ball to Rakitic just outside the box. The Croatian has time to compose himself, but drags his shot wide of goal.
39' Alavés captain Manu García is booked for a late challenge on Iniesta. A clear yellow. Messi flashes a well-struck free-kick at goal, and Pacheco does well to take the sting out of it.
37' Marcos Llorente has been quietly excellent tonight. His positioning is very intelligent, the Real Madrid-loanee always puts himself in the right place to intercept.
35' The travelling band of supporters from Vitoria are making an absolute racket in the Calderón. On the pitch, Barça settle back in to possession.
33' GOOOALLLLLL! Theo bends an unstoppable strike in to the top corner, with Cillessen grasping at thin air. Alavés are back in it thanks to Theo Hernández' devilish dip.
32' Alavés have a free-kick in a dangerous position, after Iniesta slid in on Ibai Goméz. Theo stands over it.
30' GOOALLLLLL! Messi! The Argentine plays a slick one-two with Neymar, before curling a ball in to the far corner from the edge of the box. Great build-up, clinical finish.
29' That Alavés chance showed their tactics in microcosm - intense pressure high up the pitch, trying to force the Barcelona defenders to give the ball away cheaply.
27' Alavés go within a whisker! Piqué loses the ball to Gómez, who cuts inside and whips a shot against the near post. The ball squirms along the goal-line, as if in slow motion, and Deyverson can't quite get there before it goes beyond the far post. Agonisingly close. The spin on the ball saved Barça.
23' Messi tries to play a one-two with Neymar, but is blocked by Ely in a rather agricultural manner. The Barcelona players crowd around the referee, appealing for a free-kick, but there's nowt' going. Barça have consistent possession now, 70% of it, in fact.
21' Manu García makes a nuisance of himself, harrying Iniesta. The ball goes out for a corner, and Messi appeals for a penalty when the ball is delvered. He tripped over Theo's leg, but it didn't look like the Alavés man meant that.
20' Messi curls a shot from the edge of the box, after a strong run from Neymar placed Barça in enemy territory. It deflects off a blue-and-white shoulder, and out for a corner, which is cleared. Theo then bombs up to the other end of the pitch, but can't work an opening.
18' Barcelona have the ball in the final third, stroking the ball around, probing, trying to pull Alavés defenders out of position before pouncing. Alavés have everyone behind the ball - they're doing a good job of congesting the pitch.
16' Edgar is booked for shoving Umtiti, who proceeds to scream in his face after the Alavés player accidentally stood on his leg. With a point of his finger, the referee indicates that it's for persistent fouling.
15' Kike Femenía teases a lovely cross in to the box, which Piqué nervously turns behind. Cillessen punches the ball clear, and the follow-up shot from Llorente flies wide.
13' Umtiti nearly slips to let in Edgar, but the Frenchman just about recovers. With his electifying pace, he'll be key to curbing Alavés' counter attacks.
11' Barcelona sub: André Gomes replaces Javier Mascherano.
10' Marcos Llorente appears to be having a tea-cosy applied to his head, but he'll be able to continue. Mascherano makes his exit on a stretcher, to a warm round of applause. He doesn't look in a good way. If there's one positive to take from this nasty situation, it's that the medical staff are taking no chances with concussion.
8' Mascherano down in a heap, and bleeding profusely from his forehead after a clash with Marcos Llorente. Gomes is already stripped off, it looks like that will be that for Mascherano.
6' Alavés fans were nervous for a moment there... Messi clips a delightfully-weighted ball to Alcácer at the back post. The striker, standing in for Suárez, nods the ball across the face of goal. Neymar can't reach it, and it bobbles just wide of the post. Alavés have set up wuth a very stodgy back five, but Femanía let Alcácer out of his sights there.
3' Alavés surge forward now, and their fans deliver a deep roar in appreciation. Deyverson twists in the box and lays the ball off to Gómez, but Mascherano nips in to clear the danger. Alavés regain the ball and win a corner, which floats straight in to Cillessen's gloves. End-to-end revelry so far.
2' Barça make the first foray forward. Messi chips a ball in to the path of Alcácer, who nods it down to Neymar. The Brazilian cannot get a shot away, and the ball squirms through to Pacheco.
1' Alcácer gets the ball rolling on the 2017 Copa del Rey final, after an incredibly gimmicky countdown to kick off over the tannoy.
There are quite a few empty seats in the main stand at the Calderón - where tickets cost €180.
Following a surprise rendition of Baddiel and Skinner's 'Three Lions' before kick-off at the Calderón, the national anthem is now being played. A lot of whistling in the background.
Alavés XI: Pacheco; Femenía, Ely, Feddal, Vigaray, Theo; Llorente, Manu García; Edgar, Ibai Gómez; Deyverson.
Barca XI: Cillessen; Mascherano, Piqué, Umtiti, Alba; Busquets, Iniesta, Rakitic; Messi, Alcácer, Neymar.
The teams are in the tunnel here, so let's take this opportunity to run back through the starting line-ups.
Luis Enrique's assistant, Juan Carlos Unzué, will also be leaving Camp Nou at the end of the season. He's off to take over at Celta Vigo.
The Asturian currently boasts the sixth highest number of wins as Barça manager (111), behind Cruyff, Guardiola, Rinus Michels, Rijkaard, and Van Gaal. That puts him ahead of the legendary Helenio Herrera, and Dagenham's very own Terry 'El Tel' Venables.
Luis Enrique, in his last game as Barcelona manager, is looking to win his third Copa del Rey title in as many years.
Mauricio Pellegrino has done a sterling job at Alavés, the club at which he finished his playing career. The Argentine had a brief spell in charge of Valencia in 2012, before moving back to his homeland to manage Estudiantes and Independiente, before returning to Alavés in 2016.
While Barcelona have a wealth of experience in Copa del Rey finals (they have played in 37), only three Alavés players have played in the cup final. Toquero and Ibai Gómez have both featured for Athletic, while Alexis lifted the trophy with Valencia in 2008.
Lionel Messi and Sergio Busquets will tonight play their seventh Copa del Rey final. Apart from Bernd Schuster, who featured in nine between 1981 and 1992, that's more than anyone.
A few statistics courtesy of the legendary Mister Chip... Barcelona and Alavés have faced each other 34 times. 22 wins for Barça, seven for Alavés, and five draws.
The man with the whistle between his lips at the Calderón will be Clos Gómez, who hails from Zaragoza. The 44 year old has been a La Liga referee since the 2006-07 season.
The Calderón is looking rather gorgeous on its final night as a football stadium.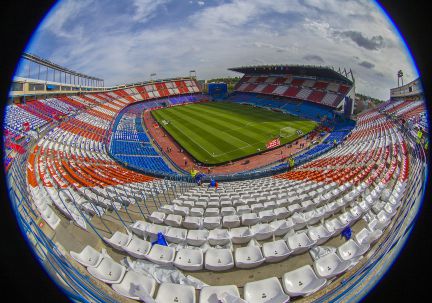 It will be interesting to see how the match develops on the side of the pitch where Theo and Mascherano will be doing battle. The Argentina could have trouble dealing with Theo's sheer pace and physicality.
Despite that last story, the vast majority of fans have been enjoying the occasion and behaving in a respectful manner. You can see the revelry for youself in this gallery of photos from the fanzones in Madrid.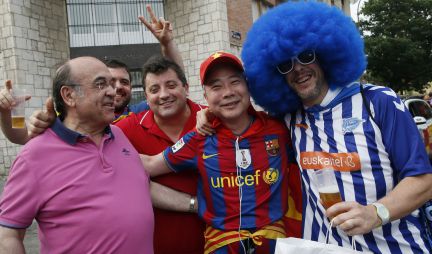 Some regrettable nastiness around the Calderón, where five Barcelona fans have been arrested for destroying a convenience store. Here's the full story...
Here's the full run-down on the team news from the Calderón.
MORE TEAM NEWS! Barça XI: Cillessen; Mascherano, Piqué, Umtiti, Alba; Busquets, Iniesta, Rakitic; Messi, Alcácer, Neymar.
Lionel Messi has played in 24 finals with Barcelona, winning 19 of those. In the process, the Argentine logic-defier has found the net 25 times, and provided a further nine assists. It's a staggering return, and a statistic to dig out when someone in the pub says he's 'not a man for the big occasion'.
As we await official team news from Barcelona, a reminder that Luis Enrique has taken his entire first-team squad to Madrid.
That team selection from Mauricio Pellegrino will see Ely, Feddal., and Vigaray in the heart of defence, flanked by Theo and Famenía. Manu García and Marcos Llorente will patrol the midfield, with Edgar and Ibai Gómez either side of Deyverson.
TEAM NEWS! The Alavés XI: Pacheco; Femenía, Ely, Feddal, Vigaray, Theo; Llorente, Manu García, Edgar, Ibai Gómez; Deyverson.
Alavés captain Manu García was just a fan the last time that his team made a major final, against Liverpool in the UEFA Cup. This evening, he will lead his boyhood club out in a Copa del Rey final. Sid Lowe went to Vitoria to interview García for The Guardian, and the result is a rather good read.
Meanwhile, this smiling chappy is making the implications of his allegiance to Barcelona known...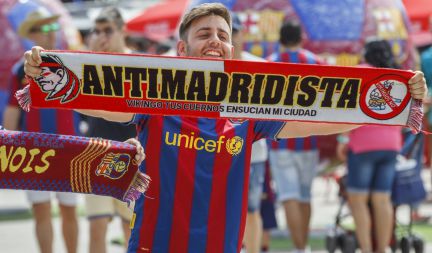 It's safe to say that the Alavés fans are making the most of the occasion...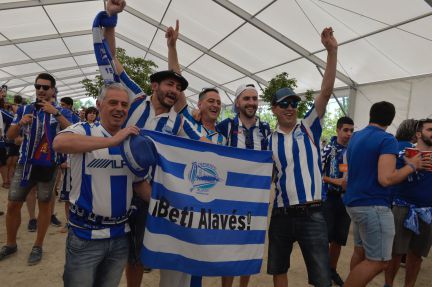 Ajax defender Davison Sánchez, who impressed as the Amsterdam club made it to the Europa League final, has been linked with Barcelona. The Colombian has not hidden the fact that he would welcome a move to Camp Nou. With limited depth beyond Umtiti and Piqué, it would appear to be a good fit.
There has been some early controversy at Wembley in the FA Cup final between Arsenal and Chelsea... in Arsenal's favour. Allow Rob to to tell you all about it.
Barcelona are well aware of the threat that Alavés pose, having fallen to a 1-2 defeat to the Basque team back in September.
Should you be wondering how and where to watch the final - while you follow our live feed, obviously - then wonder no further.
 Leo Messi is, you'll be flabbergasted to hear, the bookies' favourite to be first scorer tonight. It's fair to say that the scuttling Argentine has a bit of form for finding the ol' onion bag in finals.
A win for Barça would also move them to an unprecedented 29 cup successes, six clear of Athletic Club, their closest challengers in the pantheon of the Copa del Rey's most decorated clubs. 
While Alavés are out to win their first ever Copa del Rey, a victory for holders Barcelona would be their third in a row - a feat not achieved since they themselves did it back in the early 50s...
Outgoing Barcelona head coach Luis Enrique has taken his whole first-team squad to Madrid for tonight's clash. Here's the full lowdown on the Barça squad to face Alavés.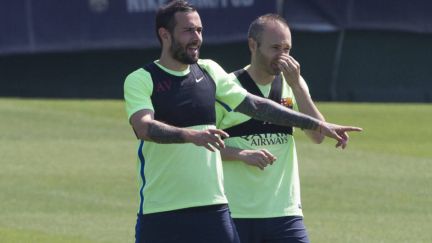 Incidentally, our live feed of the FA Cup final is also up and running - join Rob for the build-up ahead of Arsenal vs Chelsea.
Once you're done with our match preview below, here's AS editor Alfredo Relaño on tonight's cup final. "For the Catalans, it's a Copa del Rey that represents a consolation prize after a season in which Real have had the upper hand," he says. "For Alavés, it's a chance for the greatest triumph in their history."
Good afternoon! Join us for the build-up ahead of the 113th final of the Copa del Rey!
---