England 2 - 1 Costa Rica: 2017 U-20 World Cup
England are through to the U-20 World Cup quarter finals after a convincing win over Costa Rica thanks to two goals from Everton youngster Ademola LookmanChina vs Wales: China Cup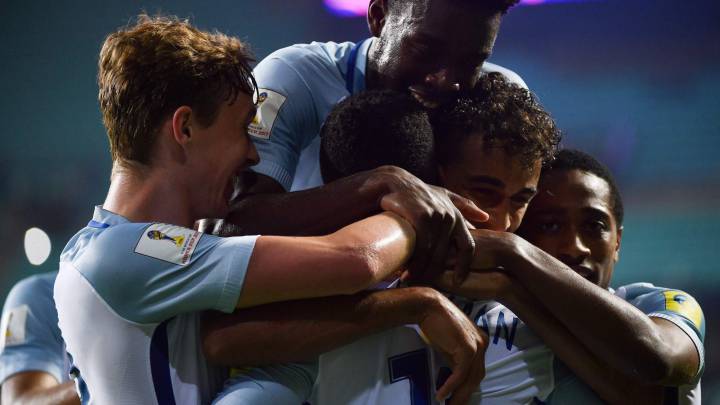 Full-time: England 2-1 Costa Rica: match report
Costa Rica started well, and then finished with some extra pressure on the English goal as they chased down a two-goal deficit, but over the course of the 90-plus minutes the young lions proved themselves worthy winners and take their place in the quarter finals.
Lookman at the double for England
Goals from Everton striker Ademola Lookman in the 35th and 63rd minutes seemed to have settled matters for England, however, as Costa Rica pushed more in the final period a penalty award allowed Leal to give them hope with injury time looming. Although the centrally-placed spot kick was blocked by Woodman, it fell kindly and Leal made no mistake with the rebound.
There were four minutes of injury time to be added - although with substitutes and a lengthy pause in the game for injuries to Pineda and Solanke this seemed remarkably short - Costa Rica pushed again but were unable to create anything of real note. England move on in confident mood.
Young Lions make the quarter finals in good form
Impressive performances from Liverpool soon-to-be-new-boy Dominic Solanke, Calvert-Lewin and, of course, Lookman, should give England fans reason to be positive. If they can continue creating as many chances, goals will come.
England 2 - 1 Costa Rica: how it happened:
94' Full-time: England 2-1 Costa Rica
93'  Lookman showing the experience of all his 19 years as he takes the ball into the corner to whittle down the clock. Not for long enough though as Costa Rica break again. The cross into the area evades everyone and Woodman collects. That could be that.
91'  Strike from distance but it bounces into the relieved arms of Woodman. Then another move from Los Ticos fizzles out as Torres loses control.
89'  4 minutes injury time to be added. Can England hold on to a game that looked in the bag?
87' Woodman saves the penalty (not a great pen to be honest)  but Leal follows up his kick and fires high and into the net. Nervy moments indeed!
86' Penalty! And to Costa Rica
83'  There still a very good tempo about this match (just what you'd expect in a World Cup) and the team in red and blue and trying everything to find a way through the compact wall of white. Then Armstrong gets away, running at the defence but good save from Pineda as a third looked likely.
81'  Another decent threat to the England goal. Torres sticks his left boot through a free-kick - far too deep to be shooting from - and it almost catches Woodman at his near post. Tipped over. 
80'  Saving punch from Woodman just as it looked like substitute Marin was going to stab home. Costa Rica looking to add some nerves to the final minutes.
79'  Armstrong to make it three...great save. But it would have been ruled out anyway for offside as he was played clean in on goal.
77'  Chance! Torres makes a fabulous run towards the front post to meet the drilled cross from the right but glances it wide.
76'  Back underway and England win a free-kick in the middle of the park which they inexplicably give away and almost put themselves in danger.
75' Maitland-Niles on for Onomah
There will be a few minutes added on for this stoppage. A reminder that this will be England's third win out of their four games so far. Can they go all the way? Some certainly believe so...
69'  Ouch! Solanke with his head and Pineda with a fist go for the same cross. Both collide and and down getting treatment.
69' Armstrong on for Calvert-Lewin
And exactly that happens. Some nice interplay from the South Americans in and around the England area but as soon as the ball is lost the break is on down the left, switched to the right and Pineda does well to block the shot away for a corner.
Costa Rica have to push on now and this is naturally going to open up even more space for the lads in white.
Nunez on for Arguedas and Marin on for Sequeira 
England almost in again as Solanke tries to roll a pass forward behind the defence and into the path of the eager runner Lookman. Pineda comes sprinting out of his goal to beat the striker to it. He's playing like a sweeper.
Free-kick to England just outside the D of the area and it is hit sweetly by goalscorer Lookman but pings off the middle of the bar.
Close! Curling drive from Solanke has Pineda beaten but just over the far upright. 
It was an offside decision but one of those that gets the debate going, the attacking player in front of the keeper. England still lead.
Gooaaall!!! No!!!! Free-kick to Costa Rica and the ball breaks in the area to Mesen who turns and strikes it past Woodman in goal. But the ref blows and disallows.
Good to see England not sitting back as they look to press right across the pitch. This time chasing down a back pass to the keeper forcing him to clear wide and out.
Costa Rica put some pressure on the England defence down their left and are rewarded with another corner. Hit long and too deep for any of the players that had positioned themselves in the box.
First attack to the team in white down the right but it's snuffed out easily.
The teams have emerged for the second half. Let's see if there are any changes in tactics for Los Ticos
  Peeeep! After a shaky start, England have grown into this last-16 clash and have increasingly been the team in charge - particularly since taking the lead through Ademola Lookman's first goal at the U-20 World Cup. Costa Rica carved out a few moments of set-piece danger earlier in the first 45, but as the period drew to a close it was all England. 
45'  One minute added on at the end of the first half.
44'  England are absolutely all over Los Ticos now, Calvert-Lewin dribbling his way to Pineda's near post, only to see his low prod blocked by the keeper. 
41'  Uff! Pineda has to beat out a thumping effort from Lookman from just inside the box! His parry falls to Dowell, but he can't get a hold of it and Costa Rica clear. 
39'  Oooh, there's a testing ball into the danger area from Dowell, but it's nicked off Solanke's foot. England started second best to Costa Rica, but are very much on the front foot now.
34'  Now Hernández has a dig from range...but it's always rising.
30'  England have had a decent spell in the past few minutes, but suddenly Costa Rica have another free-kick, in a similar-ish position to that which saw Leal thunder it into the wall. This time Leal runs over the ball and leaves it to Espinoza to strike left-footed... but it's high, wide and handsome.
26'  Chance! Solanke's in behind the defence, but Pineda's out smartly - and bravely - to deny him. The custodian takes a whack for his troubles and needs some attention, but appears to be OK. It looked like it came off Solanke last, but a corner is given... Pineda fists it clear at the near post, though.
25'  It's worked to Kenny joining in the attack on the right, with space to cross - but it's poor.
24'  Dowell with a sight of goal! Onomah bundles his way along the Costa Ricans' byeline before cutting it back to Dowell, whose intentions are clear: he wants to bend it into the far corner with hist left. But a red shirt is in the way.  
20'  ANOTHER corner for Costa Rica - but it's a foul on Onomah and it's England's ball.
18'  Up the other end, Costa Rica win another free-kick in swing-it-into-the-mixer territory. They do just that, but it's cleared for a corner, which England clear.
17'  England come again. Tomori drives forward and feeds it right to Solanke, who's advancing into the Costa Rica box in acres of space - but his low ball across the face of goal can't find a white shirt! Much better from England.
16'  Fry heads the corner goalwards, but Pineda holds on!
15'  England finally enjoy a bit of prolonged build-up play in the Costa Ricans' half, Lookman slipping it into Solanke inside the box - but the Liverpool-man-to-be is muscled out of it. A corner for Paul Simpsons' men, though...
12'  Costa Rica earn another free-kick, this time out on the right. England deal with it, but at the expense of a corner...which comes to nought. Salinas then sends a speculative effort off target. Los Ticos have started much the better.
10'  10 minutes in, and Costa Rica have looked the more dangerous of the two thus far.
6'  After what feels like an interminable wait, Leal smacks it into the wall and it's out for a corner, which he'll deliver...and Arguedas almost knocks in at the far post! 
4'  Costa Rica enjoy slightly the better of the opening possessoin, and now here's the first shooting chance of the match! Dael Fry concedes a free-kick on the edge of the Young Lions' box, and is yellow-carded for his efforts...
And we're underway!
England to kick off. Here we go...
Anthems, check. Coin toss time.
The teams are out and the anthems are playing!
Just under an hour to go until kick-off - still time to have a read of our match preview below...
England vs Costa Rica: match preview
After wins over Argentina and South Korea, along with a draw with Guinea sandwiched in between, England face Costa Rica in the round of 16 of the U-20 World Cup.
It has been 24 years since England's last appearance in the last 16 of the competition and it is their 11th trip to the finals. Costa Rica, on the other hand, have appeared in eight finals before this year's tournament in the Korea Republic.
England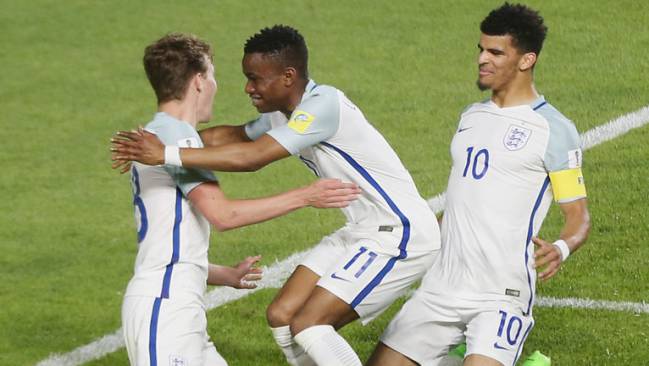 Paul Simpson, England's manager, is keeping his feet firmly on the ground ahead of the knockout game: "We came here to qualify, we've achieved that going through top of the group, but we'll keep our feet on the ground, because we know it means nothing going into the last 16."
England, who finished atop Group A, have not set the tournament alight with their style of playing but are unbeaten in three with five goals scored and just one conceded. They have five different goalscorer with Dominic Solanke, Dominic Calvert-Lewin, Kieran Dowell, Adam Armstrong and Lewis Cook all neeting for the three lions.
Simpson is also proud of how his side have played against three different countries from three different continents and came out on top of the varying types of battle, "We've had three different types of competitors from different continents in the group, so they were all different challengers, but we've come through it really well."
Engand's victory over Argentina on May 20th was their first since Michael Owen scored a goal to help them beat Mexico 10 on the 23rd of June 1997. They played 17 games in the interim and were not successful on any of those occasions.
Costa Rica
Costa Rica are joint-last in goals scored and have neeted just twice in three games as they finished third in Group C. They struggled through the group stages with a loss to Iran followed by a 1-1 draw against Portugal and a 1-0 win over Zambia but in what is their ninth appearence in the competition, they will be looking to progress to the quarter-finals against a fancied England side. They are looking to outdo their Egypt 2009 adventure when they found themselves in the last four of the tournament with stars such as Bryan Oviedo and Marcos Urena in the squad.
Randall Leal is a player England will have to keep an eye out for as he scored three of Costa Rica's five in qualifying but he is yet to find the net in the tournament proper. He plays for KV Mechelen in Belgium.