Lyon win 2017 Women's Champions League
Lyon and Paris Saint-Germain played out more than 120 minutes in the final of the Women's Champions League at the Cardiff City Stadium. Only penalties could split them.World Cup 2018 draw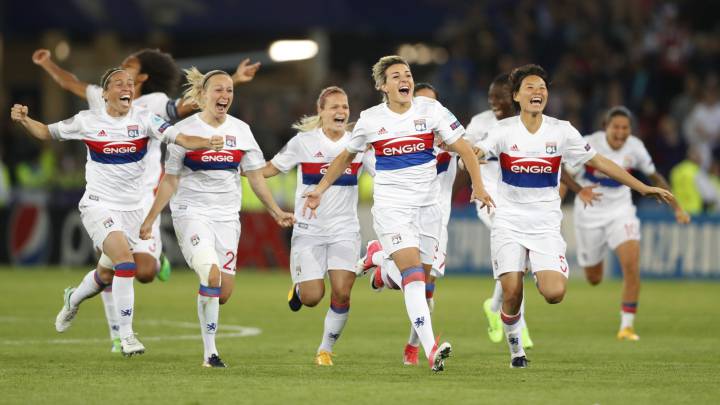 Lyon 0 - 0 PSG after extra time (7-6 penalties): Match report
Goalkeeper Sarah Bouhaddi scored the winning spot-kick as Lyon retained the women's Champions League against domestic rivals Paris Saint Germain in Cardiff on Thursday.
Moments after PSG's own shot stopper Katarzyna Kiedrzynek had scuffed her effort wide, Bouhaddi stepped up to seal a fourth Champions League triumph for Lyon.
After a goalless 120 minutes, the game went into a penalty shoot-out for the second year in a row and once again, Lyon held their nerve.
Kiedrzynek initially looked set to be the hero after making a stunning save to deny Eugenie Le Sommer, with some help from the bar.
But Bouhaddi kept out Grace Geyoro's effort and soon the shoot-out went into sudden death.
After 12 of 14 penalties had been successfully converted, Kiedrzynek faltered and PSG's hopes of a first continental triumph disappeared as they lost 7-6 on penalties.
It was the third time a Champions League final had been decided on penalties and Lyon have been involved in all three.
They beat Wolfsburg last year but suffered defeat to another German side Potsdam in 2010.
For Lyon, it also completed a second triple in a row to add to their 11th successive French title and sixth successive French Cup already secured last month, the latter also on penalties against PSG.
In a match of few clear chances, PSG were reduced to desperate defending at times but nonetheless had their chances on the counter.
Bouhaddi had made a fine first half save to deny Shirley Cruz while Marie-Laure Delie wasted a a glorious chance for PSG in the second period.
But Lyon had also come close through Amel Majri and Ada Hegerberg.
Despite a healthy contingent of 'Ultras' more used to following PSG's men's team amongst the 22,000 crowd in the Welsh capital, the Parisians could not make history and Lyon's domination of women's football, at home and on the continent, continued.
Bouhaddi up now. She wins it for Lyon! Heartbreaking for Kiedryznek. She nearly saved the penalty too. She is in bits on the ground.
Kiedryznek, the goalkeeper, misses. She scuffs it wide.
Abily scores now. 7-7. This is killing me.
Lawrence makes the long walk up now. There is a problem with the penalty spot. It's more like the penalty hole. She places it and makes absolutely no mistake. Top corner!
Maroszan now! GOAL! 6-6 in sudden death. I don't know how they handle the pressure.
Bouete finishes bu Bouhaddi dived the right way. She just couldn't keep it out as there was too much pace on it.
Kumagai needs to reset the ball as it rolls down into a hole. GOAL! 4-4. Sudden death now.
Formiga needs to replace the ball as it rolls of the spot. "that might put her off," I so wrongly comment before she slots it home. Second best penalty of the night! 4-3.
Bathy hits the top corner. "she's running too straight up to it," I so wrongly commented. Best penalty of the night. 3-3
Delie finishes as Bouhaddi doesn't even budge. 3-2. 
Renard as cool as you like! she kind of chip shots it into the opposite corner that Kiedryznek dives to. 2-2 with PSG up.
Geyoro now has her penalty saved. 2-1. Poor effort.
Kiedryznek with an excellent save! She tips it up onto the crossbar. 2-1. 
Delannoy sends Bouhaddi the other way now as she puts it to her left and the keeper goes to her right. 2-1 with Bremer making the long walk up.
Mazri drives underneath Kiedryznek. 1-1. PSG up.
First one up. Christiane, the best player on the field, slots home, sending Bouhaddi the wrong way.
This is the fourth times these teams have played this season. PSG won one in normal time. Lyon won one in normal time. Lyon won one on penalties and now....is it PSG's turn to win one on penalties.
120' That's it! We have penalties. 
120'  Last gasp effort now for Lyon as Majri has a shot from a free. Too far out and never troubling the keeper from that distance even if it did go on target!
118'  Looks like both sides set on penalties. Reall endurance test tonight and both sides passed the test. Credit to their fitness!
117'  Delie with a cross but Bouhaddi saves. Awakward angle for either a cross or a shot as she had to chase it down before it went out of play.
116'  Cross comes in and PSG manage to scramble it away.
115' Morroni booked for taking down Bremer.
112'  Christiane with a lovely flick by Delie is not alert to it and Lyon recover. PSG build again and win a free. 
110'  Kiedrzynek collects from a cross under pressure from Bremer.
107' Lavogez replaces Thomis. A penalty specialist?
106'  No time to hang about. A quick drink of water, a quick stretch and we are back in action.
105'  HT in ET!
105'  Kumagai penalised for a handball. Free comes into the box and Paredes has a shot but it's tame and Bouhaddi is equal to it.
104'  Marozsan takes it down and has a crack with the left. Less power and more place with this one. She can't curl it enough or keep it down and it floats over the goals and wide too. Closer than I am making it sound but not close enough.
102'  Boquete fouled. PSG look to have more energy than their opponents in this half.
101'  The commentator says it is "very delicate" here and he's right. Neither side giving an inch here and it's finely balanced.
100'  Cristiane commits a foul and Marozsan lines up the free. She rifles it at Kiedrzynek, who gets behind it and saves.
98'  Mayhem at the back. Kiedryznek saves a cross with a strong hand but she puts it almost straight into the path of Thomis and she goes down but the referee tells her to get up and there is no penalty. Risky business.
96'  Morroni playing with fire as she tries to run it out from the back. She is fouled though and saves her blushes. 
96'  Morazsan has a crack with her left from outside the box. Kiedrzynek forced into a save. Some decent pace on that one. 
94'  Bremer breaks free but is watched every step of the way by Geyoro. The German wants a corner after the PSG player gets a foot in but ref says goal kick to restart.
92'  Cristiane fouled. Free to PSG, who have started the first half of extra-time with more energy.
90'+6' That's it! We are going to extra-time.
90'+6'  That should be it as Thomis fouls Lawrence as she tries to break free on the right hand side. 
90'+2' Perisset's race is run. She limps off and is replaced by Morroni.
90'+1'  Perisset down and appears to have strained a muscle. Up on her feet now with help as we are told there will be six minutes of extra-time.
90'  Maroszan with a shot but it goes well wide.
88'  Cristiane chips one forward but Lyon get it away. Just minutes away from extra-time now.
86'  Cristiane is really special! Her footwork is excellent. she has been PSG's only hope of creating something in the second half.
85'  Delie fouls as PSG try desperately to build an attack. They are under pressure now. Five minutes to hold out.
84'  Free arrives in and Kiedrzynek is said to be fouled. Very close call.
82'  Le Sommer with another shot/cross from the sideline and if it wasn't for geometry involved in the shot, it might have snuck in. Impossble for the ball to curl in from where she had the effort. It didn't stop Kiedrzynek from scrambling to try and save though. 
81' Georges first input is a really bad tackle on Le Sommer. Goes through her two legs. That could have been a bad injury. 
Cruz, PSG's best player, walks off and is replaced by Georges. Massive blow for PSG as she appeared to be limping slightly.
22,433 people at the final in Cardiff!
79'  Le Sommer looking really dangerous in this half when given the chance. Long cross nearly makes it to her but her outstretched leg is not long enough.
76'  Le Sommer put through by Bremer but some really neat defending by Dellanoy to get herself between the ball and the player helps PSG to clear. Straight after and Le Sommer has an effort that goes too close to Kiedrzynek.
75'  Cristiane looking dangerous again. She weaves her way into a dangerous position but her last ball is poor.
Hegerberg comes close.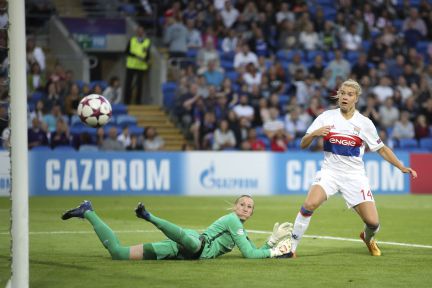 71'  Slight lull now as two managers try to figure out what next. the game was opening up and has done so but still no goals. We could very easily be headed for extra-time. More a problem with poor finishing on the few chances that have cropped up than anything else.
68'  Kiedryznek is back on her feet as she puts her gloves back on.
67'  Really dodgy moment at the back for PSG. Geyoro urges her keeper to come out for the ball and she hesitates. When she does eventually come for the ball, Kiedrzynek gets a knee to the head as she collects the ball. Looked a really sore one.
66' Kumagai booked for a lunge on Cruz.
64'  Cristiane really not happy now. A ball to her behind Lyon's back four catches her offside but she argues that the ball hit a Lyon player before it reached her. She was through on goal too.
63'  SO CLOSE! Cruz puts a lovely through ball on a plate for Delie but she hits it just inches wide. Game is really opening up now. That has to be the best chance of the game.
61'  Lyon try to build an attack with Lawrence but she is crowded out and loses out. They have soaked up plenty of pressure in the opening 15 of this half and wanted to venture further forward. They nearly get caught out too as Marozsan drives a shot straight at Kiedrzynek.
60' Hegerberg is replaced by Bremer.
59'  Dangerous ball into the box that nearly catches out Kiedrzynek. Goal kick is the result.
58' Boquete replaces Diallo, who just received a booking.
57'  Not a great sign for Lyon fans as Delie goes down under a heavy challenge in the air. Free to Lyon and their top scorer gets back up!
56'  Catching practise for Kiedrzynek from the free.
55'  Diallo booked for the foul. First one to receive a booking as Renard scrapes herself off the turf.
53'  Le Sommer down the left again and she whips a dangerous ball into the box but PSG scramble it away. Renard taken down by Diallo. Free to Lyon.
53'  Hegerberg has the smell of a goal in her nostrils now! She is getting closer too. Offside this time as she was over-eager to get on the end of a long ball.
51'  Perisset fouls Le Sommer as she turns her on the sideline. Hegerberg with a chance that Kiedrzynek saves with her knees and the Norweigan misses the rebound completely. All Lyon so far in the second half.
49'  Geyoro keeps her head as she passes out from the back but they lose it in the end. Delanney exacts revenge on Le Sommer as she crashes into her back while they compete in the air. Maroszan ready to swing it in but it's too close to Kiedrzynek. 
47'  Le Sommer impedes Delannoy and PSG win a free out. Very little in it and Le Sommer says she's innocent. It was something like a screen you'd see in the NBA. 
47'  Early free for Lyon and Hegerberg gets a knee to it despite some very close defending from Diallo. Corner.
46'   46'  We are back underway! 0-0 and everything to play for in the second half.
M'Bock puts some whip on a header.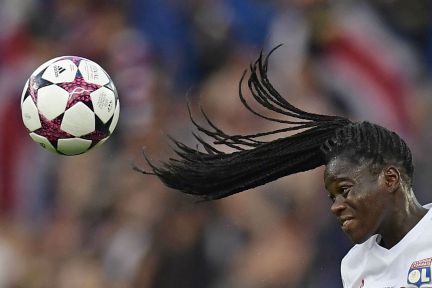 45'+2'  Chance for PSG. Lawrence drives a low cross into the box. Delie can't reach it and Cristiane does but she blazes over the bar. Decent chance.
45'  2 minutes of added time. Lair is like the Mourinho of women's football finals. He has his PSG side set up perfectly here. 
43'  Hegerberg takes it down but takes a poor touch and fouls Formiga in her search to win it back. 
41'  Yet again, Lyon with loads of tame possession around the middle. Failing to create anything. PSG loading up for another counter.
39'  Hegerberg wins a header from a free that arrives off the boot of Marozsan. She heads it straight to Kiedrzynek.
38'  Ball comes in and Formiga gets a head to it in the right direction but Bouhaddi to the rescue again. Routine save.
36'  Cristiane pulled down by Renard. She hits the ground hard and is proving herself a tricky customer.
36'  Lyon with more possession and control but PSG growing increasingly more dangerous on the counter. 
33'  Lyon have an issue down their right-hand side. Delie breaks free again but is just inches offside. She was off free if the flag didn't go up!
32'  Cruz breaks free as Delie headers the ball into her path. She turns on her right and shoots. Bouhaddi saves wiuth a strong right hand and as she goes to gather, one of her own players kicks the ball out for a corner. Mayhem! 
30'  Hegerberg battles for a floates cross but no joy. Lyon win a throw in the end but she hasn't had the greatest supply so far. It's down in part to PSG's robust defending.
28'  PSG creeping back into this. Cruz has her pocket picked and Lyon build again though. They are having the better of it in the middle. PSG have only really looked dangerous on the counter.
26'  Long ball to Delie but Buchanan gets a tackle in and wins it back before clearing. Mistake by Bathy gifts it back to Delie, who has a shot, that goes wide.
Morgan had just 16 days of rest after suffering a hamstring injury recently. Always a risk.
22'  I was wrong. As it turns out, Alex Morgan has been withdrawn after just 22 minutes. Replaced by Thomis. 
20'  Cristiane weaves in and out before getting the ball on her left. She has a player out to her right but only had one thing on here mind: a shot! She gets it away but Bouhaddi saves with ease. Cristiane knows she should have done better.
18'  Alex Morgan down injured but looks to be okay. Has hardly been involved thus far. She walks to the sideline for treatment but looks set to continue.
15'  Bathy tries a cross but it comes off her boot wrong and turns into a shot. Barely troubles Kiedrzynek. Lyon starting to assert control on this one.
12'  Best chance of the game falls to Lyon. Le Sommer whips it into the box. Hegerberg gets a toe to it but Kiedrzynek saves and PSG clear. Ball into the box and Kiedrzynek gets his in the stomach and goes down. Free to the keeper. PSG survive a scare.
10'  Dangerous ball into the box but PSG get it awat. Lawrence makes a move down the left and jinks twice before the ball goes out off her foot. Goal kick. Tough luck.
9'  Cristiane with a neat backheel to Diallo down the line and she wins a corner.
7'  Perisset in behind the back and has her jersey pulled by Bathy but the ref says play on. She wins a corner anyway as she lines up another cross. 
5'  Majri has a crack with her left but it floats well wide. Worth a try though.
5'  Perisset throws herself into a tackle with Morgan. Throw for Lyon.
4'  Formiga gets a head to it but Bouhaddi collects as it bounces kindly to her. 
4'  Cruz pulled down by Abily after a ball down the line by Perisset. Perisset stands over it now and looks ready to whip it into the mixer.
3'  Some meaty challenges going in. Neither team willing to take a step backwards and both looking to oppose themselves on the game. Neither able to build a decent attack just yet though.
2'  Mistake at the back by Lyon but Bouhaddi charges out and clears.
1'  We are underway in Cardiff!
Bibiana Steinhaus is officiating today. She will be the first female referee to whistle a Bundesliga game next season!
We haven't kicked off yet and there are already fireworks! Literally, there are fireworks in the pre-match build-up. Two sides getting ready in the tunnel.
Alex Morgan going through her warm-ups.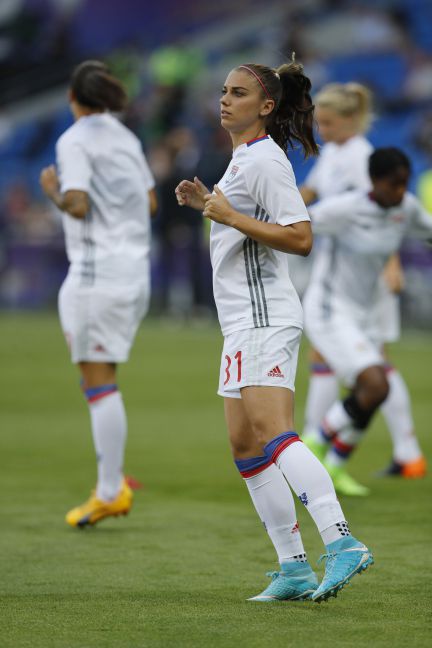 The two sides have faced each othe twice in the last couple of weeks and Lyon are undefeated in those two games. They won the first one 3-0 and then the second on penalties. PSG won back in December though with the solitary goal coming from Delie. Are they due another win.
Marie Delie, French born 29-year-old, has scored 16 in 19 and she will be PSG's leading light tonight.
Lyon are the best women's team that the world has possible ever seen. Ada Hegerberg is leading the line for them tonight and she has scored 20 goals in 22 games this season. 
Alex Morgan, on a short-term Spring loan from the NWSL's Orlando Pride, has scored five times in eight appearences.
Lyon team news
Bouhadi, Mbock, Renard, Buchanan, Majri, Kumagai, Abily, Morgan, Marozsan, Le Sommer, Hegerberg.
PSG team news
Delie, Cristiane, Cruz, Diallo, Formiga, Geyoro, Delanney, Paredes, Lawrence, Perisset, Kiedrzynek.
Here's a nice overhead showing you the stadium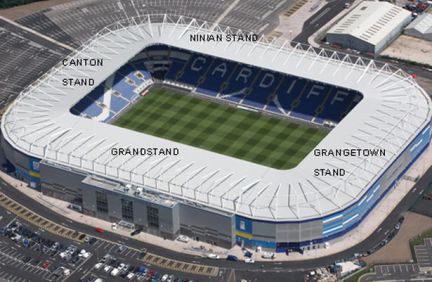 We're expecting around 20,000 fans to show up to see Lyon defend their title against PSG tonight. Cardiff City stadium has a capacity of just over 33,000 although the local team's average attendance at home has been in the early 20,000s over recent seasons. An exception to this was in 2013/14 when they spent one campaign in the Premier League, averaging over 27,000.
Although Spain are not represented in tonight's final, Barcelona's women did reach the semi-finals, losing to PSG. It was Atlético Madrid who scopped the Spanish league, though, pipping Barça to the title on the final day. A nearly season for the Catalans.
...even Real Madrid are getting involved, albeit slowly http://en.as.com/en/2017/03/30/football/1490862971_831658.html
This is the fetching trophy that Lyon and PSG will be vying for (photo courtesy of UEFA.com).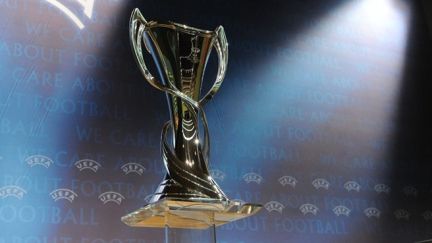 Good morning! Join us for the build-up ahead of this evening's Women's Champions League final!
Women's Champions League live online: Lyon vs PSG match preview
Pitting Alex Morgan's Lyon against Paris Saint-Germain, this is the first all French Champions League final and the fourth time this season that two of Europe's premier teams face off against each other.
Lyon
Alex Morgan moved to Lyon at the start of the season and explained her decision to make the move in this article on the Players' Tribune.
Lyon dispatched of Manchester City in the semi-final as Morgan came up against her compatriot Carli Lloyd before getting the better of her.
Lyon have won the French league title 15 times and have also collected it 10 years in a row to solidify themselves as France's best women's team. They have also won the Champions League on three occasions, most recently in 2015-16 when they defeated Wolfsburg in the final.
In the Coupe de France, Lyon defeated their Thursday opponents on penalties beating them 7-6. It is the third time in as many weeks the two teams will face off.

Paris Saint-Germain
Paris manager, Patrice Lair, says "When we got to the finals with Lyon we used to play German teams, but now we have two French teams and it shows how far French clubs have come."
Lyon are the clear favourite and Lair admits that they are probably the best team in the world but also says, "Maybe we have a slightly smaller squad, but if we play like we can, we can do it. We are not afraid. We are very motivated and very happy to be back in a final – I didn't think it would happen so soon [after becoming coach last summer] but we've deserved it."
If anyone knows how to beat Lyon, it is Lair as he led the French club to their first two Champions League victories in 2010 and 2011.
PSG's shotstopper, Katarzyna Kiedrzynek, says "The final is coming very quickly and we are working hard to be at 100%. We will give nothing away and we know we are capable of beating them - we've already done it this season and we want to do it again this week. We want to show everyone that we're a big team. I already know it, but I hope, after the final, everyone will know it too!"
---
Lyon vs Paris Saint-Germain live online: probable line-ups
LYON
Bouhaddi; Houara-D'Hommeaux, M'Bock Bathy, Renard, Buchanan; Kumagai, Abily, Marozsán, Majri; Le Sommer, Hegerberg/Morgan.
PSG
Kiedrzynek; Delannoy, Georges, Parades; Perisset, Geyoro, Formiga, Cruz Trana, Lawrence; Delie, Cristiane.
---
Lyon vs Paris Saint-Germain: betting
Lyon are highly fancied by the bookies to retain their European title, with Paris Saint-Germain valued at just under 8/1 to secure a maiden continental crown.