Sergio Ramos: "We have a date with history"
The Real Madrid captain spoke to the press on the eve of his team's Champions League final against Juventus in Cardiff about nerves, Dani Alves, and more.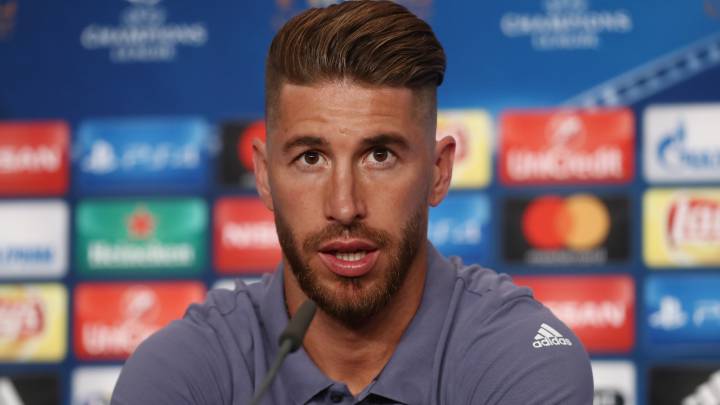 Real Madrid captain Sergio Ramos spoke to the media on the eve of his team's Champions League final against Juventus in Cardiff.
Sergio Ramos' pre-Champions League final press conference:
14 titles and a second consecutive Champions League: "I think that we've got a date with history tomorrow… You have to think of it as if it were the first title. In this sense we're motivated, and keen to defend our title and be the first in history to win two in a row."
Dani Alves: "Everyone has their own opinion… tomorrow we'll be there at 20:45."
Juventus: "They've never been characterised as an attacking team. Yet they have a lot of quality with Dybala, Higuaín, attacking full backs… we'll have to be switched on."
Late goals: "It's a reality of the last few years, but I don't live in the past, and our spirit means we'll fight until the end. Hope is the last thing you must lose, and until the referee blows the final whistle, the result can change. I hope that we don't suffer like we did in Lisbon, and that we can win the Champions League."
Keylor Navas: "He keeps on growing, and both the praise and difficult moments have been part of a learning process. Real Madrid demands this of you. He's good right now, and we hope that he doesn't a busy night tomorrow."
Nerves: "We all have them, some deal with them better and some worse. The day that I don't feel them will be the day that I ask myself if it's worth it."
---
Read what the two managers, Zinedine Zidane and Massimiliano Allegri, had to say to the press on the eve of the final.
---



Champions League
Leaders
Messi

10

Goals
Verratti

488

Passes
Steals
*Update 2 de junio de 2017