Real Madrid return home with the trophy to celebrate tonight at Cibeles
The team will visit Madrid's City Hall at 18:45 this evening and continue their celebrations with the fans at Cibeles before finishing with a party at the Bernabéu.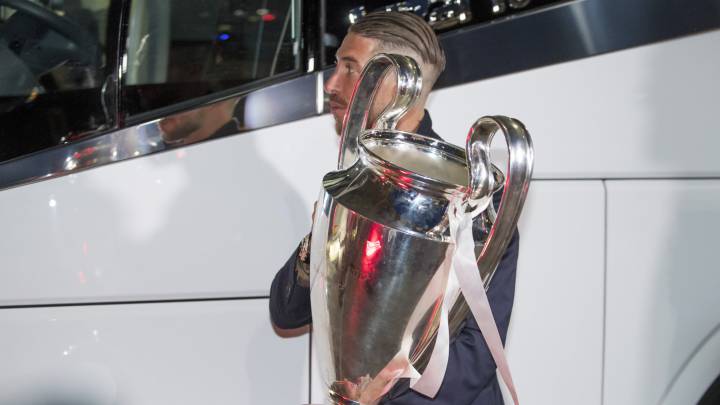 Real Madrid will celebrate their league and Champions League double with fans at Plaza de Cibeles this evening after claiming a 12th European crown by beating Juventus in the Champions League final in Cardiff.
Madrid will celebrate at Cibeles, then the Bernabéu
Real Madrid traditionally celebrate their famous wins at the statue, which dates back to 1782 and is situated in central Madrid in front of the Palacio de Comunicaciones. The tradition started in the mid-80s with fans converging on the square to celebrate together. Nowadays, the players are not allowed to climb the statue as they did in the past - as to not cause any damage to the 235-year-old fountain.

Zidane and company have a busy day ahead, with the first stop being Madrid's City Hall at 18:45 hours where the team will be welcomed by President of the Madrid's Autonomous Community, Cristina Cifuentes. The Madrid party will move on to the town hall to meet city mayor Manuela Carmena in Cibeles at 19:30.
Ramos to do the honours
Approximately 45 minutes later, at 20:15, the squad will come out onto the street to celebrate last night's Champions League win with the public in Cibeles with around 40-50 thousand fans expected to turn up. Only captain Sergio Ramos is permitted to tie a scarf and flag around the neck of Cibeles, or Cybele as she is known in English - the Greek Earth Mother and goddess of fertility.
Party time at the Bernabéu
Madrid's staying power will be tested to the limit as the partying continues at their stadium, the Santiago Bernabéu from 22:00 hours onwards, complete with music, players presentation and light show.
You can follow all of the fun of Real Madrid's Champions League celebrations live online from Cibeles with AS English.