Cavaliers @ Warriors Game 2 final: Warriors beat Cavaliers in Game 2
LeBron James and Steph Curry had triple doubles but the Warriors were head and shoulders above the Cavs when it mattered most as they take a 2-0 lead. Final NBA: Cavs vs Warriors, juego 2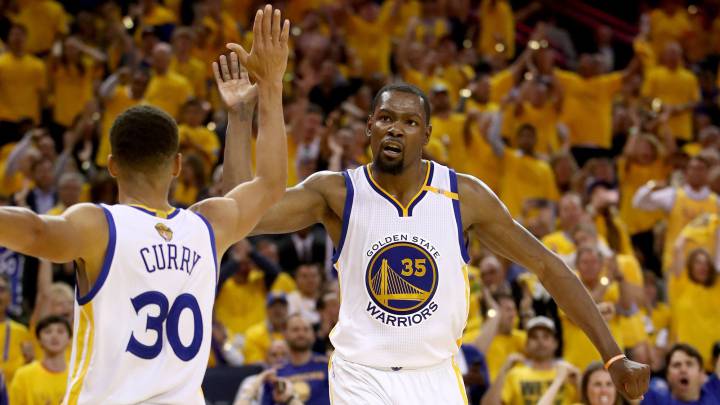 The Golden State Warriors made light work of the Cleveland Cavaliers yet again in the second half as they go 14-0 in the playoffs with a trip to Cleveland around the corner. Final: Warriors 132-113 Cavaliers. This is how it happened.
Cavaliers @ Warriors live stream online: NBA Finals Game 2 latest news
That's it. 132 to 113 to the Warriors as they take a 2-0 lead. That was impressive. They just have so many ways to hurt you. When Klay Thompson is firing and Steph is Steph and Durant is playing so well on both sides of the ball, along with Kyrie not showing up, you really have no chance! On to Cleveland we go.
Set for a travel day tomorrow. Practise then on Tuesday and all set for Game 3 in Cleveland on Wednesday.
Durant has 33 points. Curry with 32. Klay Thompson with 22.
Steve Kerr takes out his starters with just over three minutes left. The Warriors set to go 14-0 which is a record.
21 points now.
Cavaliers don't know what to do know. Green to Durant, who throws it down.
The first NBA playoff game where two players had a triple double. LeBron and Steph.
17 point game as Love lands a three.
19 points as Kevin Durant lands another three.
Klay Thompson with his best shooting night since Game 3 against Portland.
18-point Warrior lead.
18-point game. Durant blocks Love and then hits a two while being fouled.
Klay Thimpson with his most points since Game 4 agains Utah when he had 21.
Klay Thompson hits a three now. He is very much back.
Kyrie is coming to life now as he lands his own three.
That'sa how it's going. Durant is being defended very well and he nails a three. 14 points in it. Game!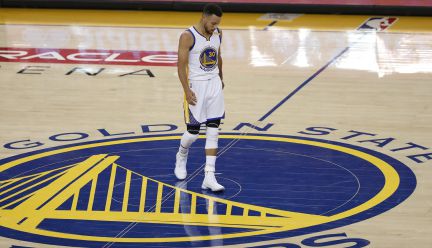 Curry taking a time-out.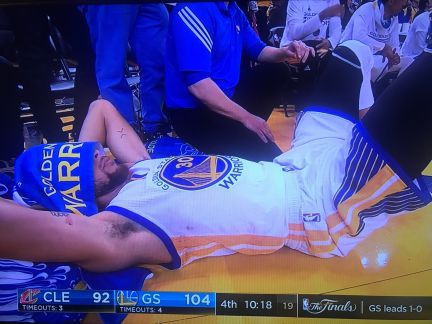 irving finally has some luck as he goes up against Clark and hits the lay-up.
Steph is taking a nap. he is lying down at the back of the court with a towel over his head. 
Kyrie misses a mid-ranger jumper. Really tough game for Irving tonight. What happened to him?  
Massive 12 minutes coming up for both teams. They are both absolutely shattered. What a series this has been.
That's the end of the third quarter. Cavaliers with a massive uphill battle here. 
CURRY WITH THE TRIPLE! 
Derron Williams with a lay-up that looks like something I would throw up. Green and Jefferson collide as Curry looks for Green. Two free throws for Draymond Green. 
Curry had zero free throws in the first game. He is 14 from 14 from there in Game 2. He has 24 points. 
Curry fouled by Kyrie and hits both free throws. 14 point game.
Klay Thompson with a three as he responds to a LeBron jumper. 12 point game now. 
Curry no look to Livingston and he throws it down. Time out. Warriors lead by eight.
Six point game. LeBron tries a really ambitious pass that is never finding it's target. Steph jumps up and palms it away from Jefferson. Durant lands a two and is fouled in the process. He lands the free throw. 
LeBron trying to make sure it doesn't get away from them. LeBron throws it to Kyrie the length of the score. Time-out by the Cavaliers. 
Kevin Love fouls Durant. Eight point game.
Klay Thompson is officially back. He lands a three. 
The Cavs just can't get close enough or ahead of the Warriors.
Love sinks a three with Draymond all over him. Then Draymond hits a three! And Curry goes up against LeBron and lays up. He is loving this.
Lands the second. Eight point lead now to Warriors.
JR Smith fouls Curry as he jumps into him. He has a smile to himself as he prepares to hit the two free throws. Lands the first. 
LeBron fouled. He lands the two free throws to keep them close again. Then Curry responds with a three. 
The Cavs can't get ahead. Thompson scores on a rebound he picked up on his own missed floater. Durant lands a four point play as he is fouled and then hits the three. 
Second half is go for launch.
Klay Thompson showed up tonight. He has 11 points, which is behind just Steph and Durant, who both have 15. 41 between those three. 
Shout-out to all the neutrals following us! This series is a beautiful thing. Also some support to both Cav and Warriors fans for the anguish this closeness can and probaly will cause.
Curry has six turnovers. That is the same amount as the entire rest of the team. 
Durant for the three....NO... but he picks up the rebound. Good. Kyrie responds with two and we reach half-time. Warriors lead by three.
Curry dishes out ot to Iguodala and he nails the three. Cavs did well to get within one. Warriors lead by four now. 
Cavs to within one with the first half running out of time!
Draymond Green with a wide open three and he misses. Good ball movement from the Warriors but the finish doesn't match.
Curry misses a three!
Livingston with a two. Back to five. Klay THompson picked up the rebound from a missed Love three.
Curry with a turnover as he tries a no-look pass to, well, nobody! LeBron scores to make it a three point game.
LeBron loses it again and the Warriors move it forward fast. Durant pops one to Thompson and he has a clear path to the rim and makes no mistake.
Steph misses a three and Green fights hard for the rebound but loses out. LeBron cuts to the rim and throws it down. Three point game.
Green backs Korver up and throws up a lovely little floater. 
Durant blocks James. This is an incredible defensive display by Durant. James shocked that he managed to get a piece of that without fouling. 
Durant is fouled by Kevin Love and he throws up an ambitious and hopeful effort......THAT GOES IN! Three point play, 
Jefferson tries to help Kyrie Irving during the timeout. He is having a nightmare tonight.
Curry looks for Iguodala inside but he loses a grip on it. Then he fouls LeBron James.
Back to Shumpert. He hits the second too. Six point game.
Iman Shumpert goes to the line. Shumpert hits the first and Warriors call a time-out. Warriors with a seven point lead. 
Kyrie has four points and is shooting 20% from the field.
Kryie Irving just drops his head after missing yet again. Having a really poor night. 
What a block! Frye blocked by Iguodala and Warriors pick up the rebound. West blocks Frye again and Durant picks up the rebound. And uh-oh, Thompson seems to be getting hot as he hits the three.
Durant with a jumper. Warriors back up by nine. 
End of the first quarter! Cavaliers trail by six. Hectic start as we expected. LeBron has 10 but not entirely involved in the Cavs' offense. Step Curry has 15. 
That was Durant's eighth point tonight. 
Kevin Durant lands a three with eight seconds left. They lead by six.  
Korver hits two of three. Two more points than he had in Game 1.  
Kyle Korver tries for three and Green gets a piece of it with his finger but he followed through and caught Korver. He will shoot for three. 
Curry with 8 points from 8 attempts from the line. 
Channing Frye lands a deep two. 
Curry with 11 and leads the Warriors in scoring. He hit those two free throws. Warriors leads by six.
Steph fouled again! This time he will hit two. 
Javale McGee with the clothesline on LeBron. James hits the shot, somehow and has the chance to make it a four point game.
Steph fouled and has three free throws again. He did not go to the line once in game three. Has already gone there six times in the first quarter. Jefferson with the foul.
LeBron against Iguodala. Slams it with one hand. 
Javale McGee with the throwdown. Oooooh, very nice. Durant with the assist. 
Draymond 2 for 3 from three. He has six points.
Kyrie having a horrible start. He gets a good look at a floater and Durant comes out of nowhere to block it. Curry picks up the rebound and Durant lands the triple. 10 points. Kryie responds with a three that hits the rim and comes back down. 
Cavaliers rightly take a timeout. Warriors up by seven. Apparently during the Warriors early TO, Kerr said he loved what he was seeing from his team because the Cavs came out with all guns blazing and the Warriors withstood the early punches.
Misplaced pass and Durant + Curry on LeBron. Curry puts up a floater that is good. Cavaliers looking increasingly lost and erratic.
Draymond shoots another three. Warriors up by five. Cavaliers started with plenty of punch but the Warriors are just so so good on both sides of the ball. 
That's more like it from Tristan Thompson. Kyrie with a floater that misses and Thompson picks up the rebound. Love misses the three and then Pachulia misses on the break. 
Curry with his first three. 
Game ooooooon!
James misses the two but is fouled. Makes the first and misses the second. Kevin Love almost picks up the rebound but Kevin Durant wrestles it away from him. Time-out by the Warriors.
Klay Thompson already has 50% of his total points from Game 1 with 3. He shot .188 from the floor in the first contest.
Klay Thompson very lucky as he draws a foul. Could have been an offensive foul. He hits the free throw and that's a three point play. Tie game at 11 apiece.
Kevin Love has five points in two and a half minutes. 
Curry tries for three and J.R Smith fouled him. Lands the first, makes the second. and the third too.
Kevin Love with a three point play. Green tries from three again but misses before LeBron slices through th Warriors and puts it down. Cavaliers lead 7 to 3.
LeBron gets Cavs off to an ideal start with a two but the Warriors respond. Draymond with a three.
Game on!  
Huge cheer for Steve Kerr as he is welcome back to the Oracle Arena! Kerr, as humble as ever, throws a hand in the air to acknowlegde the fans. 
It's a gold Les Paul and he's wearing a black leisure suit. Interesting.
Carlos Santana now with the National Anthem on his guitar. A little unorthodox but that's okay.
Steve Kerr looking calm on the court during warm-ups. He doesn't look entirely comfortable though.
Stephe, hood up, warming up and looks like he is in the zone. Party atmosphere at the Oracle Arena. We are hardly going to see as high a tempo as we did in Game 1. Wasn't sure if the Cavs had the plan to try and catch the Warriors on the hop or whether it was just the occasion that got to them.
The other thing is, if the Warriors win this, we can start maybe possibly thinking about 4-0?
Durant waltzed through the Cavs' defense too often in Game 1 so will be interesting to see how they defend him tonight.
Afain, we will be keeping a close eye on what LeBron does on Durant. " "I think anything LeBron does will be tough for Kevin and vice versa. It runs both ways on that matchup," said Ron Adams, the Warriors assistant coach.
Steph Curry did not get to the free throw line once in  Game 1. 
Steph Curry had 11 three-point attempts, which was almost double what abyone else had in the game. Durant had six. Kevin Love and LeBron James had six each too. 
On the other hand, Kevin Durant had 38 points or more on just three occasions in the regular season. Was that an outlier performance by him? Or can the Warriors improve yet again?
We could keep going with these statistical anomolies for the Cavaliers. Bad gameplan? Bad execution by the players? There is no way they play that poorly again in Game 2, right?
Tristan Thompson averaged 9.2 rebounds in the regular season. In Game 1, he had four.
Only three times all year when he dressed did he play less. His time has decreased significantly in the playoffs. Could his size be useful tonight?
Derrick Williams averaged 17.1 minutes per game in the regular season and played just four in Game 1.
Steve Kerr is back.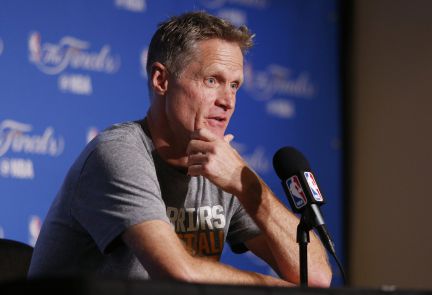 Cleveland spread out the scoring a little bit more. LeBron had 28, Kyrie had 24 and Kevin Love knocked down 15.
Kevin Durant had 10 more points than Steph Curry in Game 1. Durant finished with 38 and Steph with 28. There was no other Warriors player in double digits. 
Tristan Thompson is one of the league's better rebounders. He was boxed out too often in Game 1 and is keen to get back to picking up boards in the second game tonight. "I'm not a jump-shooter. I'm not a ball handler. I'm a guy that plays hard, is physical and brings all energy. So that's what it's about. It's the Finals."
The Cavaliers will wear black jerseys for tonight's game. According to ESPN, "The Cavs wore the uniforms in Games 5 and 7 of the 2016 Finals and Cleveland came out victorious in two must-win situations at Oracle Arena to become the first team in NBA history to rally from a 3-1 deficit in the Finals to capture the championship.
A win for Cleveland tonight would certainly revitalise interest.
There doesn't seem to be as much hype to this game as the first game. The manner in which the Warriors closed out the game certainly won't have helped and the beatings dished out in the earlier rounds have left people feeling some playoff fatigure.
Massive boost for the Golden State Warriors. He hasn't coached since Game 3 of the playoffs. The Warriors did not lose under the watch of Mike Brown but having Kerr there on the bench will help this team massively, you would imagine.
Stever Kerr will return to the bench in Game 2 of the NBA Finals! 
http://www.sbnation.com/nba/2017/6/4/15737186/steve-kerr-return-warriors-coach-nba-finals-game-2
So, what do we know? We know that the Cavaliers need to improve on: Fastbreak defending, shooting, rebounding, transition offense. 
Ty Lue referred to J.R Smith as an assassin as he tries to urge him to take more shots. "He's an assassin," Lue told ESPN on Saturday. "We're reminding him of that. Go out there and shoot. We need him to."
The NBA Finals are just one among a whole host of mouth-watering sporting events happening over the next couple of months - here's what else is going on. 
Golden State star Steph Curry was a happy man after Game 1 in midweek - will he be smiling after Game 2?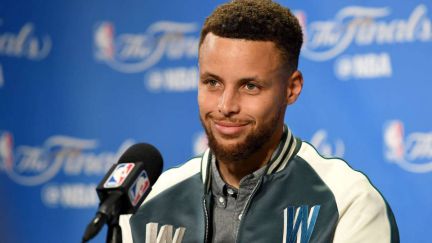 It was certainly a one-sided Game 1 on Thursday...
Good afternoon! Join us for the build-up as Cleveland Cavaliers visit Golden State Warrios once more for Game 2! 
Cleveland Cavaliers @ Golden State Warriors live stream online: Game 2 preview
It's back to the Oracle Arena as the Cleveland Cavaliers look to rebound from an awful Game 1 showing in which they total gave up the ghost and lost 113-91.
Basketball fans around the world rejoiced when game one got underway as they felt they had been deprived of a proper series since the very start of the playoffs. Soon though, that same feeling of deprivation returned when it was obvious that the Warriors were not to be stopped.
The Cavaliers have some adjustments to make in Game 2 and if they can't get things right, there is a sense that this series might be over before it ever gets started. The Oracle Arena is sure to be loud on Sunday night but if the Cavs make some adjustments on defence, they are sure to put up a better fight than they did on Friday morning.
Golden State Warriors
The Warriors line-up was strengthened at the start of the year with Kevin Durant and while Steph Curry remained the largest draw for large spells of the year, Durant was unstoppable in Game 1.
He finished with 38 points, nine rebounds and eight assists and well and truly sliced the Cavs' defence open. Mike Brown has coached well in Steve Kerr's absence due to chronic back and migraine pain and it is unclear as to whether the Warriors head coach will return for Game 2 but as it stands, he will not be on the bench. Brown said, "It's an easy thing for someone to say [Kerr is coming back]. I could say that every day, and it could be true. But until it becomes something different than that, whether it means he's not or he is, it's going to keep being, 'he might.'
If the Warriors can continue to play both sides of the ball with the vigour and intensity that they did in Game 1 and if the Cavaliers continue to play as poorly, Kerr is not needed for now.
Cleveland Cavaliers
A wise man said that in order for the Cavaliers to win, they have to be extraordinary and the Warriors just need to be themselves. Such is the luxury of being a favourite and while LeBron showed up in Game 1, he was not sensational and neither were his teammates. He score 28 points, picked up 15 rebounds and added eight assists while the like of J.R Smith had four shots and didn't make any. That has to change on Monday morning.
As a matter of fact, some of their best role players were downright atrocious with Smith, Tristan Thompson, Kyle Korver, and Deron Williams going 1-of-14 from the field in Game 1.
"When you turn the basketball over, they really make you pay," is what Ty Lue said after the game. The Cavs' inability to guard the Warriors on the break and their willingness to miss shots and not be able to rebound the ball really hurt them.
The Cavaliers are sure to, at the very least, keep this one closer than they did in the first game but if the Warriors can improve on their first game, which they can, the Cavaliers might be looking at back-to-back losses if they aren't extraordinary on Monday morning.
---
Cavaliers @ Warriors live stream online: NBA Finals Game 2 betting
After a dominant performance in Game 1, Golden State Warriors are the clear bookies' choice to win again and double their NBA Finals advantage.