Ronaldo sings "Cristiano Balón de Oro" to the Bernabeu
The Bernabeu were in fine voice on Sunday and Cristiano joined them while they also sang some disparaging songs about Gerard Pique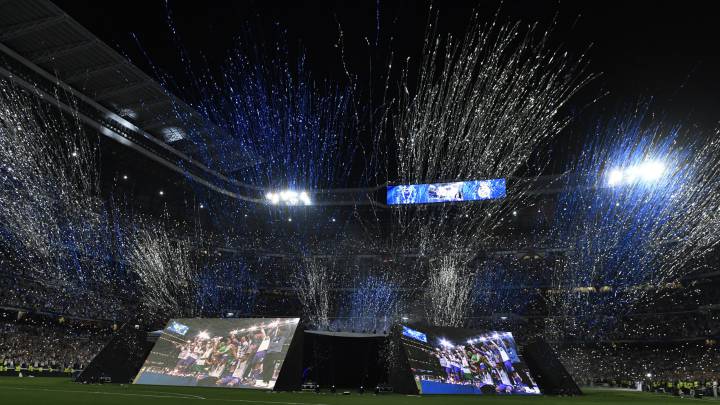 Cristiano Ronaldo spoke to the Santiago Bernabeu as the players were introduced to their faithful supporters who showed up to celebrate the club's 12th victory in Europe. The fans, keen to see their main man pick up another Ballon d'Or, started chanting as much. Ronaldo, never one to shy away from the spotlight, joined in the chants and thanked the fans for their affection.
"Balón de Oro, Cristiano Balón de Oro, Balón de Oro," was the cry heard around the Bernabeu with Ronaldo adding his dulcet tones to the song.
Ramos, the team's captain, also spoke and said "I am very proud even after all these years and I feel emotion every time I grace this field. I am proud to wear the jersey of the best club in the world. This year we won't talk more no so that you are not late for your dinner."

Zinedine Zidane, the man who masterminded the club's victory, also spoke before handing the mic over to Ronaldo. He said, "I want to thank all of the fans. As Sergio said, We are all in on this spectacular year together and thank you for beleiving in us from the start and not just when we won the double. And many more titles this coming year."
También habló Zidane, antes de darle el micrófono a Cristiano. "Dar las gracias a toda la afición. Como ha dicho Sergio, todos estamos por este año espectacular y gracias a vosotros por haber creído en nosotros desde el principio y no sólo el doblete, muchos más títulos este año".



LaLiga Santander
Leaders
Messi

12

Goals
Roque Mesa

1007

Passes
Steals
*Update 4 de junio de 2017