Warriors @ Cavaliers Game 3 NBA Finals: As it happened, Warriors come back late
The Golden State Warriors soaked up plenty from the Cavaliers but they stayed close and took the lead back at the end of the game to make it 3-0 in the series. Final NBA: Cavs vs Warriors, juego 2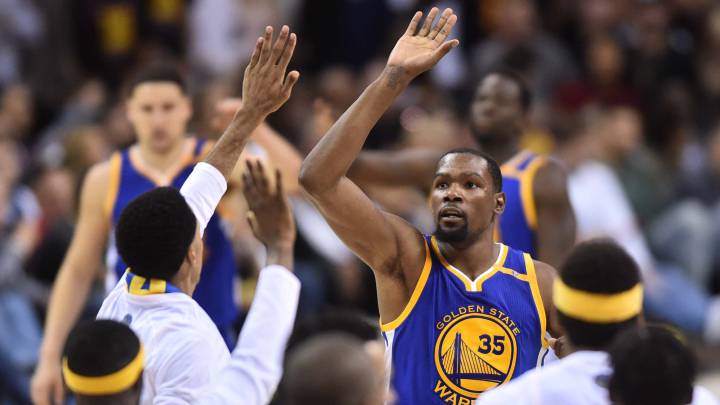 Golden State Warriors @ Cleveland Cavaliers: As it happened
"I've been working on that shot my whole life," says Durant after he landed a very important three.
They are now down three and where do you go from there.
It's over. 118-113. That will really hurt the Cavaliers. 
Iguodala with a block on James and he touches it out of bounds. HUGE!
Durant fouled now. The Warriors ahead late. I'm stunned.
Golden State with the lead as Durant hits the three.
Durant with a floater. Two-point game now. What happens now? Time-out Ty Lou to start.
Time-out with four points separating the teams.
Love limps away as Durant is fouled up the other end.
Draymond loses the rebound to Kyrie! He has it in his hands.
Back to four with just over two remaining as Curry puts it in.
Durant tries to respond but he can't.
JR Smith for three. 
 Klay THompson misses a three. Korver with the rebound.
Foul by Curry. LeBron puts down the two free throws. 
Just 75 points between Irving and LeBron tonight.
Thompson with three. One point game as the Cav call a time-out.
Warriors staying ever so close. Curry with two.
irving with a lay-up against Klay Thompson. And he gets the foul!
Durant with a three. Two-point game. Over five minutes remaining. Draymond Green is in with five fouls.
Foul on Steph as he tries to block LeBron. 
Durant with an offensive foul as he runs straight at Kyle Korver.
you get the feeling that the Cavaliers will be able to carry themselves over the line tonight given that they are at home.
Korver with his second three. Cavs lead by seven.
Thompson dunks on the fast break. Green has five fouls now.
 LeBron James with a three. 97-91! 
That's the end of the third quarter. LeBron has a shot at the buzzer that hits the rim but won't go down.
The Curry can't get his jumper to go down.
Kyrie irving with an impossible shot. Scores. He does it again! Seven point lead now for the Cavs.
Kyle Korver with a three now and gives the Cavs a two point lead.
Curry misses a three but Iguodala tips it in. That was after James scored and was fouled, scoring the free throw. Way closer than it was in the first and second games.
Kevin Love is a one man offensive rebounding machine. Cavaliers can't score though.
Draymond Green fouled by Kyrie. Green hits first and the second. Golden State up by two.
This is what we have been looking for!
Curry with another three.
Neck and neck. Kyrie and Klay exahcnge baskets.
JR SMith with a three to put the Cavaliers back up by two. 
Kevin Love hits a three and they have their first lead in any quarter that is not the third! 
Time-out Warriors. One point game as Kyrie lays it in.
What is Pachulia doing. Another moving screen just as Durant dunks it. But it's ruled out. 4 on Pachulia. 4 on Green to as he pushes LeBron in th back. 
Ty Lue told reporters that his side are breaking down mentally. He said they're not doing what they're supposed to do.
Back underway in Cleveland for the second half.
The Cavaliers better hope that LeBron can keep up with them!
Steph has 14 and Durant has 16. That might cause a problem for the Cavaliers because they are likely to get hot at some stage in the second half!
Klay Thompson is most certainly back. He has 21 points, which is enough to lead the Warriors. 
Six point now as Kyrie throws it down just as the buzzer sounds.
Pachulia called for a moving screen as time expires. Steph not happy. Warriors up by four.
Klay Thompson with 21 points as he throws down a three. Wide open. Curry with a three then. Lead is up to eight now just like that.
Iguodala puts down two as LeBorn is called for a foul. Kyrie Irving responds.
Jefferson fouls Durant and he puts down both. James at the line now. 
But then he fouled Richard Jefferson and got called for it.
He was upset because he was fouled by Kyrie Irving. 
Draymond Green gets called for a technical foul. 
Cleveland call a time-out just as Durant finishes at the rim. Up by six not as we near the end of the first half.
Warriors up by four. 
What a steal. He came out of nowhere.
WHAT A STEAL! LeBron didn't know what happened.
Jefferson misses and Tristan Thompson wins the rebound. But the Warriors win it back and Curry lands the three. Warriors up by four.
Curry with a little fake and Tristan Thompson with the block. Neither team can land a bucket now. 
Jefferson fouls Klay. Just after Kyrie Irving missed a pull-up jumper.
LeBron goes around Durant down the baseline and lays it in. 
11 turnovers for the Warriors now. 
That s the big quaestion for the second half! Can the Cavaliers keep this going? 
 David West with another bucket. Puts the Warriors up by three.
Klay Thompson with two to but Golden State back up by two. 
Warriors now 8-0 without KD and Curry on the floor. 
It was a bucket and Kevin Love was fouled. Love scored the and 1.
Confusion here but it should count. It was LeBron looking for Love with the pass. 
LeBron tries an alley-oop but it goes into the basket. 
According to Ben Alamar, "At the end of the first, the Cavs win probability is 23%. They never got above 30% in game 2."
That is the end of the first quarter. Golden State leading by eight (39-31).
Warriors are 8-0 since LeBron went to the bench.
Two threes in a row for Curry. Golden State up by four.
LeBron sits. 1:47 left in the first. This is where the Cavs have had a problem because their bench, or when LeBron is on the bench, they have been given nothing.
Livingston with a jumper. Shumpert is fouled by Iguodala.
LeBron James throws it down after stealing it from JaVale McGee.
Iguodala with a three. 7 from 9 now from three. 
Klay Thompson with another three to put the Cavaliers up by three.
Two fouls on JR Smith as he fouls Klay Thompson. He goes to the line with 11 points already.
James drives inside, scores and gets fouled. Three point play.
LeBron is good to go. 
LeBron on the bench trying to gather his thoughts. Not sure what will happen but seems he will stay in.
 LeBron's jaw straight into Thompson's shoulder.
LeBron James is down. He took a massive hit as he ran into his teammate. 
Klay just pulls up and throws down a three.
Cleveland up by four. 17-13. Time-out with five minutes played.
James with an airball.
Durant breaks and finished on Green. He had a foul earlier on Smith and didn't want to pick up another one. 
Smith responds with a three-pointer of his own.
Durant 2-for-2 from beyond the three-point line. 
Loose-ball foul on Pachulia. Crowd in this one early.
Durant three. Warriors lead by one after a good start by the Cavs.
JR Smith lands a three! 
The Cavaliers have started really, really fast.
Kryie drives and lands a two-handed floater.
We are underway. Draymond misses a three and Tristan Thompson wins the rebound.
All fired up! Cavaliers announcer says it's time to "Defend the Land!" and he means it. 
Nearly there! Can the Warriors find a way to go 15-0?! 
"Appropriate fear" is what Kerr is trying to get across to his team. He admits it's a Popovich line but also wants his teams to remember all they have done is win two home games. 
Really nice stat from Basketball Reference. The #Cavs have led for 6 minutes and 16 seconds in the series. Last year, they led for 12:17 in Games 1-2
The Warriors coming out to massive boos at Quicken Loans Arena. Expected.
ESPN article saying that a sweep of the finals would lose millions for the Warriors. A game five back in Oakland would bring in $12.1 million. 
Lebron is shooting .533 while Kevin Durant is shooting .563 in this series. Durant is average 35.5 points per game while LeBron is averaging 28.5.
Some nice stats here from NBA.com.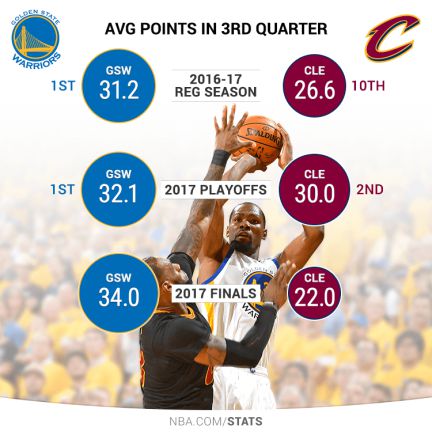 Charles Barkley on what he would do if he was LeBron James in Game 3: "I'm going to make Kevin Durant guard me..."
Ty Lue and LeBron James said they will not change the speed at which they play. They're going to keep the same strategy as they have had since the start. A death wish?
All we have been talking about is how the Cavs keep this thing alive but if they lose this, the series is as good as done. It's THAT important.
Can Kyrie get going tonight? It will ne necessary if the Cavs stand even the slightest of chances.
Welcome to our live coverage of the third NBA finals match, between the Golden State Warriors and the Cleveland Cavaliers.
Follow the live coverage of the Game 5 , NBA Finals: Cavaliers-Warriors
Golden State Warriors @ Cleveland Cavaliers live stream online: Game 3 preview
It's back to Cleveland we go as the Cavaliers look to make this series interesting. They trail 2-0 after two beatings at the Oracle Arena but LeBron and the Cavaliers were 31-10 in Ohio during the season and were second in the NBA with that record, beaten only by the Warriors who lost five at home all season.
Cleveland Cavaliers
LeBron James refused to go to the podium after Game 2. He had been left waiting on previous occasions recently and figured he had better things to be doing than to wait for journalists to ask him questions about what he was going to do to turn the tide in the series and where it was going wrong.
Truth is, LeBron might not have had the answers to pacify the reporters asking them. He has plenty to figure out in the next number of days and if he can't, it doesn't seem like anyone else will?
Kyrie Irving, so often his muse, was dreadful in Game 2 and there is concern that if they can't get the mesmerising point guard moving, the Cavs will struggle even though they take the series back home for Game 3. They called a time-out at one point in Game 2 and Richard Jefferson tried to calm Irving down and while it worked for about 30 seconds, he went back to missing lay-ups and failing to cause trouble with his off-the-dribble shooting and penetration as the game started to slip away from the Cavs.
With Steve Kerr back on the bench for the Warriors, there is genuine concerns that everything is falling into place for the Golden State side while everything continues to go wrong for the Cavs. They need a remedy and they need it fast.
Golden State Warriors
It has been the narrative throughout the season even when he was injured but the Warriors upgraded massively in the offseason when they added Kevin Durant. He missed a spell with a knee injury during the season but he has pushed himself to the forefront of the news again with the exceptional displays in the first two games of the series.
There was genuine concern that Klay Thompson's shooting might haunt the Warriors and after a poor night to open the series, he was back to his very best in Game 2 when he sunk 22 points to help out Steph Curry and Kevin Durant despite the fact that they needed little.
Steph picked up a sneaky triple double with 32 points, 10 rebounds and 11 assists. Along with LeBron's, it was the first time ever that two players had recorded triple doubles in an NBA Finals.
That is the level we are reaching here in these finals and while the Cavaliers are really good, the Warriors continue to take it to another level. Talk of a four game sweep is starting to gather pace and if the Cavaliers want to keep this interesting, they simps must win in Game 3.