Nadal into French Open semis as Carreño Busta retires
World number 21 Pablo Carreño Busta was forced to quit in the second set with an abdominal injury as the nine-times champion reached a 25th Grand Slam semi-final.Halep - Stephens: French Open 2018 final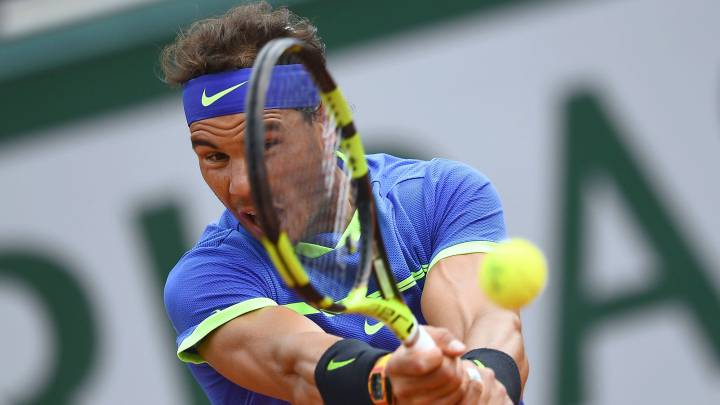 (1) Rafa Nadal* 2-0 Pablo Carreño Busta (0): as it happened
---
And so Rafa Nadal goes through to his 25th Grand Slam semi-final, where he will meet the winner of the match between Djokovic and Thiem, which is tied at 5-5 at the moment.
And that's it, Busta has retired. A terrible shame for the 20th seed in his first Grand Slam quarterfinal but it was evident after that medical time out that he was struggling to hit the ball properly. Generous applause for the youngster as he leaves the court, Nadal joining in.
A perfectly executed drop shot brings up 15-0 for Busta but a point later, on his second serve, it's become more evident that he's struggling. A bizarre volley at the net to set Nadal up for a tapped winner and Nadal accepts to take the game.
15 unforced errors from Busta in the first set to Nadal's 11, and only nine winners between them.
It will be instructive to see how Busta moves during this game. He came back out with a patch on his abdomen and he doesn't appear to be entirely comfortable. A lovely volley from Nadal gives Busta something to chase and he gets a racket to it but then sends floating past the baseline for 40-0. The 20th seed pulls a ppint back with some intelligent shot making but he's not moving freely at all after that time-out.
And here comes Busta now, Nadal readying to serve...
Nadal's top has come off again so he must have been informed that Busta is due to return.
Meanwhile on Suzanne Lenglen, defending champion Novak Djokovic has broken Dominic Thiem to take a 4-2 lead in the opening set.
And Busta is off to the changing rooms for further treatment. Hopefully it won't prove to be anything too serious.
Busta has certainly had a go in the opening set but more or less everything he has sent over the net has been returned with interest. The younger man is getting a spot of treatment on court now, looks like a potential abdominal issue... 
Nadal with a a drop shot to lure Busta into the net and then a backhand down the line as the king ups the pressure on his opponent's serve. An overhit brings it back to 15-all. Busta then shows his reflexes at the net and gets over a sitter but misses the line by an inch. Break point for Nadal again. Busta nets his first delivery and... not the best time for a double fault as Nadal takes the first set 6-2.
Busta comes out swinging and gets the better of a punishing rally. Rafa misses his mark and grimaces as Busta gets a sniff of a break back opportunity at 0-30. A weak second serve is returned to sender with relish and Rafa nets his reply. Another unforced error from Nadal as he nets a regulation forehand and Busta pulls one back!
A lovely backhand volleyed dink has Rafa scurrying to no avail and that, along with his cross-court backhand, are the only weapons Busta has that have made an impression so far. Rafa hammers a forehand down the line then forces Busta long for 15-30. A tempting forehand drifts just over and it's two more break points for Rafa. He needs only one as Busta nets. 
Nadal looks to consolidate that break as quickly as possible, a forehand smash buried into the dirt so hard it looked like the ball cleared the court and another rasping winner bring up 40-0 but Busta bites back to 15 before Rafa sends over a top-heavy forehand that sits up awkwardly and ends up in the net. 
Close! Rafa forces his opponent back and then comes in to take care of a short ball and Busta just misses with a reaction forehand to cede the game.
A solid serve down the T and a forehand dispatched with relish followed by a Nadal framer as Busta races to 30-0. He narrowly misses a forehand and then Rafa pummels his forehand and Busta can only club one long. More of the same from Rafa and it's break-back point...
But he needs only one! Busta finds his groove and breaks Nadal with some excellent shot-making, forcing Rafa from one side to the other and eventually forcing the error into the net.
Busta mixes it up with a drop shot to edge ahead 15-30 and Rafa then sees an opening but can't find the line with a backhand and two break points for Busta...
Not the ideal start for the younger Spaniard but he's clearly decided to go toe-to-toe with his compatriot.
Nadal glowers over the net as Busta plops one low. A net cord puts the king off his stride and he sends a forehand beyond the baseline. Busta then follows suit and Nadal reciprocates after a cagey rally. Busta misses the tram line by the width of a cigarette paper but elects not to fetch Mourier from his perch. A forehand blunderbuss from Rafa and Busta is broken!
Some decent hitting from Busta there mind, and he's certainly not going to be cowed by the occasion or the opponent.
First blood for Carreño as he batters Nadal into the corner with some good hitting. Into the net from the world 21 makes it 15-all and then a thumping forehand brings up 15-30. Busta skies a second serve return and it's level again. More of Busta's cross-court backhand sees Rafa in a spot of trouble but he digs in with a line-happy forehand and then wins the next point to hold.
Nadal has elected to serve first. He completes his customary trot along the tram lines and we're underway!
The players are out and warming up. Cédric Mourier is the man in the chair for this one.
That said, there are some ominous looking clouds forming over Roland Garros and the flags on the top of Suzanne Lenglen are being buffeted by the same strong winds that caused the players so many problems yesterday.
Nadal leads the head to head between the two players 3-0, but Carreño Busta did take a set off his countryman in Doha last year, winning the opener in their round of 32 match on a tiebreak.
The forecast for today is mostly sunny, which will be a relief to tournament organisers after something of a wash-out yesterday saw just two singles games completed.
Nadal is of course bidding for his 10th Roland Garros title, which is mildly ridiculous. The Spaniard has a 76-2 win-loss record in Paris, which is more than mildly ridiculous. He also embarked on an 81-game unbeaten streak on clay between 2005 and 2007.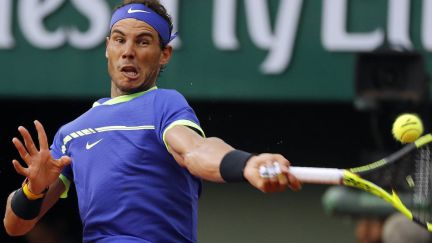 Rafa Nadal vs Pablo Carreño Busta: match preview

Rafa Nadal stands three games from history at Roland Garros, where the Spanish king of clay is now the overwhelming favourite to lift an unprecedented 10th Coupe des Mousquetaires on Sunday.
No player in the open era has won the same Grand Slam to the tune of double figures and should Nadal triumph in Paris he will cement his place as the finest clay courter in the history of the sport having overtaken Guillermo Vilas as the player with the biggest haul of trophies attained on the crushed brick.
Nadal's tough route to glory
To achieve the feat Nadal is likely to have to beat both the world number one, Andy Murray, and number two Novak Djokovic, if the seeds fall where they are projected to, with 2015 champion and world number three Stan Wawrinka also lurking in the other side of the draw. Between them, the current top three have two Roland Garros titles from a combined 33 attempts. Nadal has been beaten only twice at the clay Grand Slam, by Robin Söderling in 2009 and Djokovic in 2015, having withdrawn last year before his third round match with a wrist injury.
Aiming to pen his own name in the history books on Philippe Chatrier today is Pablo Carreño Busta, the great hope for the future of Spanish tennis and the only genuine candidate to fill the void that will be left in Paris when Nadal, David Ferrer, Feliciano López and Fernando Verdasco eventually shake the red stuff from their socks for the final time.
Carreño the pretender to Nadal's throne
Like his older peers in the top 25, Roberto Bautista and Albert Ramos, Carreño flies largely under the radar even at home, such is the national obsession with Nadal. But in time the 25-year-old will assume the throne. Whether at this stage of his career he has enough in his armoury to make a dent in Nadal's title challenge in Paris is a question that will be put to the world number five today. Nadal has yet to drop a set (serve) in Paris and dispatched Bautista 6-1, 6-2, 6-2 after humbling Nikoloz Basilashvili for the loss of a single game en route to the quarters.
Carreño has never been this far in a Grand Slam before but pulled off one of the wins of his career in the previous round by accounting for fifth seed Milos Raonic and reached the semi-finals at Indian Wells earlier this year in his best showing at a Masters 1000 to date.