Halep outlasts Pliskova to reach second French Open final
The Romanian third seed, a beaten finalist in 2014, will play unseeded Latvian Jelena Ostapenko in Saturday's title game.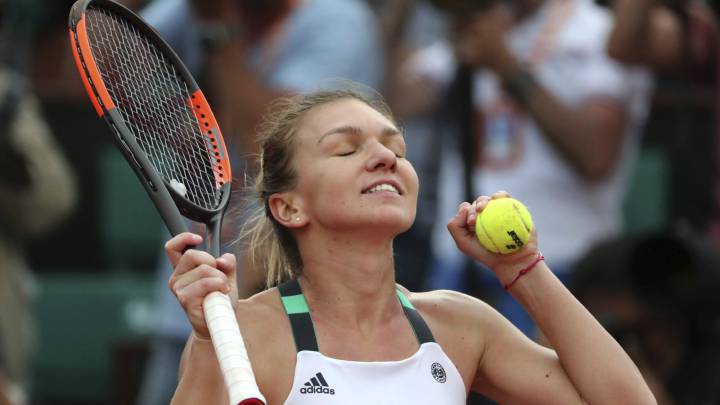 Simona Halep reached a second Roland Garros final on Thursday with a 6-4, 3-6, 6-3 victory over Karolina Pliskova, moving the Romanian third seed to within a single win of her maiden Grand Slam title and the world number one spot.
Halep, runner-up to Maria Sharapova in 2014, will play Jelena Ostapenko in Saturday's final after the unseeded Latvian 20-year-old saw off Timea Bacsinszky 7-6, 3-6, 6-3.
Halep on Ostapenko: "It will be a big challenge"
"It's an amazing feeling right now," said Halep, who extended her head-to-head record against the world number three to 5-1. "It was extremely tough today as Karolina is a very tough opponent. To be in the final again is great. I hope to win this time. But I am facing a young opponent; it will be a big challenge."
Pliskova, who went for every shot in the last four match, ended the game with a 45 winners and an incredible unforced error count of 55, which ultimately upended her challenge against the more defensive Halep, who managed only 14 winners but kept her own errors down to the same number.
Pliskova 2-1 Halep: Halep beats Pliskova, as it happened
And she only needs one! A first serve pummels the court and Pliskova can't control it, sending her return well long. game, set and match Halep and the third seed will play Jelena Ostapenko in Saturday's final. If she wins that, she'll also become the new world number one. Should be a good game that, with two players who can belt the ball and get it back from just about anywhere on the court.
Finds the line! Amazing forehand from Halep to bring up two match points...
Halep running into the floor to rescue that point and she forces Pliskova long for 30-15...
Incredible from both players! Switching from desperate defence to attack Pliskova wins one of the rallies of the match. 15-all...
Uffff. Pliskova has a regulation forehand to hit to level the game but overcooks it and misses the baseline by an inch or two to hand Halep the break. And she'll serve for the match....
Second serve... and Pliskova save with a deep forehand that Halep gets to but can't guide in.
Pliskova forced on to the defensive by Halep's searching forehand and she can only prod a high backhand beyond the line. Another missed first serve and another unforced error - that's 54 now - and Halep has break points...
Halep will be kicking herself. She had chances to make it 5-1 on the stuttering Pliskova serve and then her own - which had been at above 80 percent on the first delivery in this set - lets her down and the Czech is very much back in the game.
And she's done it! Break back from Pliskova, who reacts well to a Halep smash and hits a winner to seal the game.
Pliskova's first serve percentage is down to 57 percent in this set, giving Halep a bit more to get her racket around. 15s as Pliskova adjusts to a net cord to pop the ball back over. A Halep error off the backhand side and Pliskova brings up break points with a forehand winner...
Pliskova finds the line with a winner - and that's where she has to put them to prevent Halep getting them back. She's pegged back to deuce though and shows nerve sof steel to pound a drive volley from the mid-court into the corner. And she holds.
30-40 as Halep forces the error, and another ace as Pliskova rectifies. A perfect point from the Czech and even Halep's powers of recovery can't prevent the clean winner smacked down the backhand side. A double fault brings it back to deuce though...
Halep gets over a Pliskova second serve to force her opponent into the net and the Czech answers with her sixth ace. Halep finds the line with a fine return and it's 30-all...
The first is sent long and Halep switches sides on the next point to hammer out a well-worked point. A backhand winner caps another point dictated by Halep, who used all of tactical nous to dig herself out of that one. And she holds for 4-1! Pressure on Pliskova now...
Line from Pliskova and a drive volley to the other corner and she has two break back points...
Good play at the net from Pliskova this time but it's the tape that decides the point, a Halep prod dropping invitingly for the Czech to roll it past the Romanian. 0-30...
Pliskova drawn into the net again and she survives as Halep nets a golden opportunity for 0-40. She then finds the line in the corner, just, to peg Halep back to evens. A return winner and it's 30-40... the Pliskova serve almost digs her out but Halep hits a phenomenal winner to break! 
Halep comes out swinging and gets off the mark first, then brings up 0-30 with a looping forehand that Pliskova can't get over the tape. Early pressure on the Czech...
Pliskova tires of a percentages rally and aims for the line but puts too much into it and all of a sudden Halep is at 40-0. Pliskova on the board as she pummels Halep into the back court but a backhand into the net and the third seed holds to 15.
A cagey hit from Pliskova flops into the net but that serve again... Halep deserves some sort of award just for getting a racket onto these. She almost does more than that as a return dug out of the clay drifts over the Czech - no mean feat in itself - but misses the the line by a whisker. Another ace - Pliskova's 30th winner of the match - and a gutsy hold. 
That ain't coming back... Pliskova leathers a winner down the line for advantage but tries it again and misses the line. Back to 40s...
An error and some Pliskova thunderbolts though and it's back to 40-30, then Halep replies to take it deuce.
Pliskova hammered 13 winners in the second set to Halep's two, with the Romanian really suffering on her second serve - 50 percent of points went the Czech's way. An impossible backhand winner takes Halep to 0-30...
Some close quarters combat at the net goes Halep's way for 30-0, Pliskova overcooks a forehand and it's 40 but Pliskova leaps on another inviting second serve to get on the board. Halep holds though.
And a stinging serve has Halep on the defensive immediately. She gets a couple of Pliskova smacks back but can't reach the third and the Czech takes the second set! 
The second seed has Halep where she wants her but can't find the line. A golrious serve out wide leaves Halep with too much running to do and even the tenacious Romanian doesn't bother chasing a forehand punch into the corner. Two set points up as Halep sends one long...
Pliskova to serve for the set...
Pliskova is stepping in a bit now and punishing anything short from Halep. She wants to finish this set now. A long backhand brings up 30-15 but another secind serve is swatted back as though it were a training ball. More precision hitting and Pliskova earns a break point chance but Halep saves with a low forehand that Pliskova can only net. The third seed laps up a short ball with a winner and holds on the next point.
Halep catches a return in the sweet spot and builds a good point but gets too much on a forehand into the corner and Pliskova holds, not without plenty of tension.
Halep sniffs a chance on a second serve but can't keep it inside the baseline and 40s it is...
A wild backhand hit at almost head height goes into the white-hatted spectators in the front row and Pliskova sells Halep the old out-wide serve and forehand into the corner routine to pull it back to deuce. Another crack onto the line though and Pliskova can't control it. Another chance for Halep...
Pliskova gets on the board with a well-worked point but Halep plays the precentages in the next one and waits for Pliskova to make the move, which she does, but long. break points...
She's not having that though, Halep. She's not having that at all and blasts her way to 0-30.
Good defence from Halep saves one... but a dodgy bounce puts her off her stride on a backhand and Pliskova takes advantage to earn the break!
Pliskova's heavy returns have Halep pegged back at 0-30. A short ball is slapped away with disdain and three break points for the Czech...
Another ace down the T gets Pliskova off the mark and a solid delivery forces Halep long. Two more first serves fnd their mark and that's the swiftest hold of the game so far.
Pliskova sees a kick second serve coming her way and says thanks very much, belting it back for 0-15. If Halep wasn't such an accomplished retriever that would be a winner every time. But the Romanian digs deep and holds when she forces Pliskova into another volley, which drifts wide.
Pliskova hammers down an ace to hold and we remain on serve in the second set.
Halep's turn to err now as she has the backhand side wide open but wallops the ball straight at Pliskova, who only has to shift her racket an inch to guide the ball back for a winner. A double fault and Halep is back in the game from 0-30. 
Another forehand return winner from Pliskova, who hits the ball with such ease at that height she hardly has any back lift at all. But her decision-making has been a bit off today and after battering Halep into the back court she elects a drop shot that barely reaches the bet. Halep bangs a winner and we're level.
A powerful serve and a flat forehand has Halep on the back foot and she can only find the net. The same recipe again as Pliskova lands a forehand winner to hold.
That is why Pliskova spends as little time as possible at the net... some very awkward volleying there and finally the ball skews off to who knows where, the cameras unable to follow it. She's much happier at the baseline, the towering Czech, but she forces Halep to sit one up and uses her height to prod it into the space. Halep replies with a cross court backhand winner, cutting the angle like butter, then gets to deuce when Pliskova nets...
The Romanian's service was key in her quarter-final victory, 79 percent of her first serves finding the mark. With Pliskova perfectly capable of hammering her second delivery into next week Halep will need to keep up her accuracy in the second set.
Halep lands her first delivery but Pliskova swats a forehand return winner... then goes long off the same wing and Halep takes the opening set 6-4!
Another couple of Pliskova errors hands Halep 30-15 and a hefty serve brings up set point...
Good disguise from Pliskova to send Halep the wrong way after a short return and it's 40s again. Halep tries to bury a forehand down the line but its into the net, just. Could have been a most fortuitous net cord there. Another into the same side of the tape and Halep will have to serve it out.
A backhand just wide from Halep, who's attacking the Pliskova second serve, and it's advantage but Halep works another beautiful point to bring it back to deuce... Pliskova gets too much on a cross court forehand and break point Halep...
Great defence from Halep! How she got Pliskova's forehand is one thing, how she forced a soft return and reached it to belt it down the line the mark of a truly wonderful player. Pliskova, not be outdone, works a perfect point to move to 30-15 but a backhand return winner from Halep and we're square. Halpe then sends another one to Pliskova's feet and earns a break point... but pinpoint hitting gets Pliskova out of trouble.
Halep is finding her range now and sends Pliskova this way and that before slapping a forehand into open court. Another big serve and it's 40-0. Pliskova comes into the net after a stining return and puts a volley beyond the scurrying Halep but another well-worked point is dispatched with a blistering forehand and Halep holds with ease. Big service game for Pliskova now...
Pliskova rustled up eight aces in her match against Garcia and hit 25 winneers, but her unforced error count is already beyond the 13 she offered up to the Frenchwoman in the quarters. 
Pliskova brings a decent rally to a close with a cracking backhand down the line, then pummels down another ace to hold.
Halep into the net, off the backhand side again, but Pliskova returns the favour from a regulation forehand and it's deuce...
More solid defence from Halep, whose movement on the court is second to none, but a booming Pliskova forehand snuffs out any chance of 0-30. A twanged string and Halep pulls out a fresh one as Pliskova pulls out another unforced error. She can serve her way out of most spots though and powers to 30-all.
The unforced error count is creeping up, 14 for Pliskova and eight for Halep. The Czech narrowly misess the line twice, she's really going for the Halep serve to get that break back, but the third seed likes a ding-dong and belts everything back, forcing Pliskova into the trams on a forehand for a straightforward hold.
Another pinpoint serve and a Halep error and Pliskova holds. Early disaster averted for the Czech.
Halep's backhand lets her down again though and back to deuce we go...
Halep is fired up now and wraps her forehand around the Pliskova serve then sends one onto the line that the Czech can't get back. Another Halep forehand to the feet and Pliskova goes long for 15-30. Boom! Ace. Halep would have needed a racket extension to get a slap on that. But it's break point again...
Long from Pliskova and that's her ninth unforced error of the match already. Advantage Halep... but she tries an outswinger down the line and its just wide for a doble fault. Pliskova digs a slice out from her laces but misses the forehand down the line to hand advantage back to Halep. That second serve again, Pliskova will eat them up all day and duly wallops a winner to bring it back to deuce. Another unforced error and it's back in Halep's court. She lands a first serve and finally holds with a drive.
A net cord plops on the wrong side of the net from Halep's point of view and Pliskova opens up a 15-30 advantage. Jumping on a second serve the Czenc hammers a return at Halep's feet and forces an overhit. Break point chance... which Halep saves with some wonderful hitting from the corners. Stout defence from the Romanian, who buries a sitter with relish to bring up deuce. 
Halep hasn't been finding the middle of the racket off her backhand side yet but she does possess a formidable forehand when she cat get over the ball, which Pliskova invited her to do after being pulled about in that last game. Can Halep consolidate?
Pliskova is finding the lines as she did in her quarter-final win over Carloline Garcia but a double fault hands Halep two break points and a solid forehand down the line is all it takes for the third seed to break!
Halep is being pushed back by the heavy hitting of her opponent, who has a significant height advantage, but the third seed answers with some deep returns of her own and holds easily enough.
Halep struggling to get to grips with the Pliskova serve but gets a couple of points on the board as the Czech holds without too many problems.
Pliskova to serve...
Halep and Pliskova are out warming up and the world number one spot is up for grabs between the two players. The Czech will be crowned the new number one if she reaches the final, whereas the Romanian would have to win the tournament to ascend to the top of the ranking.
And that's it! Ostapenko is into the final of Roland Garros, the unseeded Latvian outlasting Timea Bacsinszky. Up next, Halep and Svitolina will contest the other spot in Saturday's showpiece.
A huge, huge break for Ostapenko, who sends an unreachable forehand down the line to open up a 4-3 advantage in the final set.
Bacsinszky takes a 5-3 lead in the second set as Ostapenko's 31st unforced error of the match hands the 30th seed a break.
The Latvian eventually took the first set on a tie-break but is an early break down in the second. 
Bacsinszky doesn't look too bothered by her time-out though as she breaks and then consolidates to take a 5-4 lead. Ostapenko will serve to stay in the first set.
Problems for Timea Bacsinszky in the first semi-final as the Swiss 30th seed receives a medical time-out and returns to the court with heavy strapping on her thigh. Jelena Ostapenko is serving at 4-3 up in the first set. 
Our build-up will smoothly transition into a live ball-by-ball commentary of the match with both women chasing a first French Open title. Get to grips with what you can expect by having a read of our preview below.
Welcome to our live coverage of today's action at Roland Garros as Karolina Pliskova faces up against Simona Halep
Pliskova vs Halep: French Open 2017 semi-final preview
There is plenty of intrigue in store on day 12 of Roland Garros, not least in the opening semi-final game between Jelena Ostapenko and Timea Bacsinszky, quite possibly the first Grand Slam semi-final to be contested between two players both celebrating their birthday.
The winner of that contest will go on to play either Karolina Pliskova or Simona Halep in the final, with the second and third seeds meeting in the final match of the day on Philippe Chatrier. The French Open is guaranteed a new champion with none of the four having lifted the Coupe Suzanne Lenglen and only Halep has previous experience of playing in the showpiece match in 2014, when she was defeated by Maria Sharapova.
Very open Roland Garros competition
With the Russian absent and Serena Williams taking a time out the draw this year was one of the most open in most recent memory and yet the last time the second and third seeds reached the semifinals in Paris was in 2013. As well as a place in the final and a match against either the unseeded Ostapenko or the Swiss 30th seed Halep and Pliskova have the number one ranking within their grasp. Pliskova, the world number three, will dethrone Angelique Kerber next week if she reaches the final while Halep, ranked fourth, will ascend to the top of the ranking if she wins the title on Saturday.
Coming into the tournament, when the ranking issue was pointed out to her, Pliskova scoffed: "There's no way I'm winning Roland Garros!" She had a point. The Czech had never been past the second round in Paris and had won just four times on clay this season. Halep on the other hand was installed as the tournament favourite after reaching the semis in Stuttgart, winning Madrid and getting to the final in Rome, where she rolled her ankle playing against Elina Svitolina, putting her French Open participation doubt.
Halep shows fitness and experience over Pliskova
On Wednesday, Halep blasted any lingering concerns about her fitness off the court along with Svitolina in a game that stamped her title credentials further. Trailing by a set and 1-5, the world number four powered her way through to the semifinal in one of the great Roland Garros comebacks.
Halep has the edge on Pliskova in terms of experience and head-to-head wins (she leads 4-1) but Pliskova's recent Grand Slam pedigree - she reached the US Open final and the quarters in Australia - confirm there is a new contender in the mix at the top of the WTA tree. Her run at Flushing Meadows was the first time she's been beyond the third round of any major in her career.
Follow the live coverage match between Ostapenko vs Halep, French Open women's final