Marco Asensio wants Real Madrid first team place, not transfer
The Mallorcan player spoke after Spain's draw with Colombia about his own objectives, Piqué whistles and transfers of James, Morata and De Gea.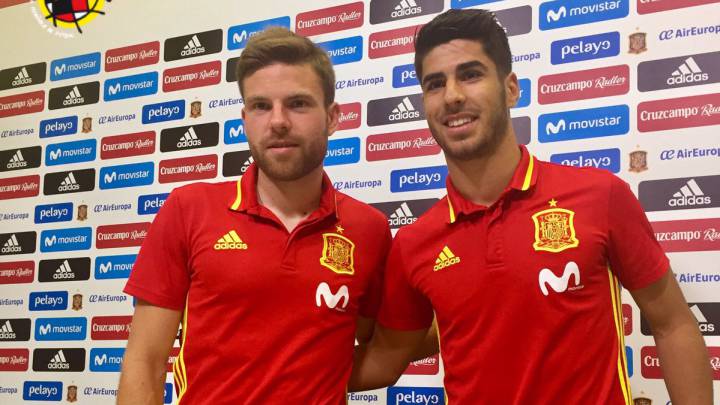 Marco Asensio appeared in front of the press alongside debutant Illarramendi after Spain's 2-2 friendly draw with Colombia. The Real Madrid youngster made his intentions for the coming year very clear and, after impressing throughout the season in the chances given to him by Zinedine Zidane, this will be music to the ears of Los Blancos' fans.
Asensio focuses on working hard and winning more
The attacking player spoke about how he managed difficult situations at the club and said that it was important to keep a cool head. "Keep working every day and train well," were important he stated while acknowlegding that he needed to "take advantage of any opportunities given to me by the coach."
When asked about his objectives for next season there was no doubt:
"With the national team I want to nail down my place in the squad and with Real Madrid I will try to get more minutes, more important minutes, and continue winning titles."
Piqué whistles and transfer rumours
During the friendly, as has often happened recently, Barcelona defender Gerard Piqué was booed and whistled by some of the crowd. Asensio said it didn't bother the team:
"People are free to express their feelings, but it [the whistling] doesn't distract the team." He added that the Spanish group are united and are completely focused on the qualifier up next, against Macedonia.
With plenty rumours of comings and goings at Real Madrid going around, the Mallorcan gave his own take on things:
On Asensio himself
"My intention is to continue with Madrid, claiming more playing time, with a goal to be a first team starter."
On teammates James and Morata
"This is something for them and the club. I hope that they both remain as they're great players and have helped me a lot throughout the season"
On Manchester United's David De Gea (both together on national duty)
"I've not spoken to De Gea about this topic. Madrid has three top keepers in Keylor, Kiko and Rubén, and the club will decide everything about future sales."