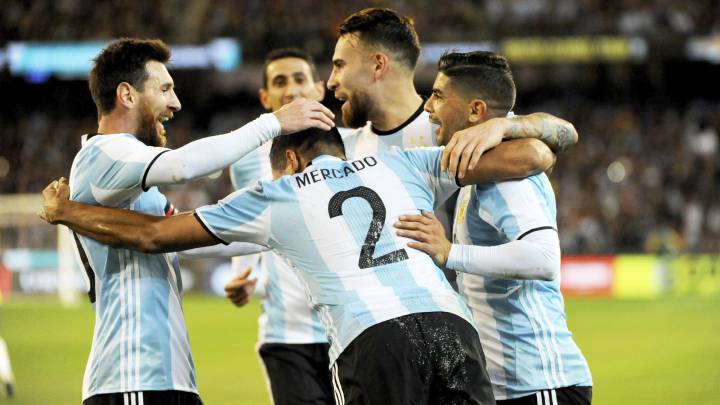 Brazil 0-1 Argentina: match report
Try telling Jorge Sampaoli that the game staged at a packed Melbourne Cricket Ground was "just a friendly"! The former Sevilla boss claimed a morale boosting win over arch enemy Brazil and rode their luck at times in the second period where the woodwork came to Romero's aid on a number of occasions.
All eyes were on Lionel Messi with Neymar Jr. not making the trip down under and the CBF incurring a 2 million dollar fine for his "no-show" in this match that formed part of the Brazil Global Tour.
Argentina were the brighter side in the first period with Angel Di Maria looking busy striking the woodwork with an early drive at the Brazilian goal. Brazil looked sprightly on the break with Willian Jose and Liverpool's Coutinho the danger men for Tite's side. The only goal of the night was an untidy affair as Di Maria watched his header strike the woodwork (yet again) and Sevilla's Mercado was on hand to tap home. Brazil claimed offside but Atleti defender Filipe Luis played the Argentinian on-side.
The second period never managed the same tempo as the first half and the constant substitutions did little in generating a continued tempo to the match. Brazil almost equalised midway throgh proceedings but were miraculously saved by the woodwork as Gabriel Jesus and Willian Jose should have put the men in yellow level.
Smiles all round at the end from Jorge Sampaoli and a shot in the arm for "La Albiceleste" in their bid to get their Russia 2018 qualifying bid back on track.
Brazil vs Argentina: how it happened:
 Full time: Brazil 0-1 Argentina
95' A poor strike as the match official calls time.
93'  A less exciting second 45' it has to be admitted as Messi lines up a free-kick.  
91' 3 minutes of time to be added. Longer I'd imagine after the Gabriel Jesus delay.
Chamge for Brazil, the injured Gabriel Jesus (stretchered off) will make way for Taison 
88' Gabriel Jesus recieving medical attention after a collision with Otamendi. The player is still down and it doesn't look great.
86' Brazil refuse to give up and press with Rafinha looking dangerous on the right flank. 
Brazil keeper Weverton pulls off a save at the MCG this evening. 

83' 95.569 is the official attendance at the MCG this evening. A very decent turnout !
Paulinho off and Giuliano on for Brazil. Banega off for Argentina with Lanzini the player taking his place. 
Rafinha
79' First card of the game for the Brazilian in what has been a match played in a good spirit given the rivalry between both teams. Messi checked by Rafinha who earms a card for his barge.
Paulinho carded 
76'  Correa fires a tame shot at the Brazilian goal-mouth in a rare forray forward for the Argentina strike-force who are now trying to run the clock down and secure what would be an importante morale boositng win and positive debut for Sampaoli. 
76' Mexican Wave time again at the MCG
Mercado off / Mammana on for Argentina
73' It has to be said that we've seen little from Leo Messi this evening. Watch him score a cracker now we've said that !
Rafinha on for Fagner (Brazil)
70' Gabriel Jesus about to head home when the Willian Jose cross is beautifully intercepted by the Albiceleste rear-guard. Brazil deserve more at this stage with Tite's side the better in the second period.
68' Brazil free-kick, Coutinho takes but fails to get the ball to dip in time.  
Dybala off and Guido Rodriguez on for Argentina
67' Gabriel Jesus wins a dangerous free-kick for Brazil as Coutinho steps up.  
Liverpool's Coutinho has been one of the better Brazilian player's in action tonight at the MCG.

Agusto off - Douglas Costa on for Brazil
62' Incredible double chance for Brazil as Gabriel Jesus rounds the keeper and casually slides the ball onto the post with an open net beckoning, Willian Jose then fires the loose ball off the post. Incredible series of events as Brazil to contrive to cock it up on two occasions. 
59' Great shot on target from Coutinho but the ball strikes Paulinho on it's way to the Argentina goal. Unfortunate for the Brazilian side as they up the tempo and press the Argentine outfit deeper. the ball breaks to Gabriel Jesus who fires into the side netting.   
58' Willian Jose yet again finds space to launch a counter and feeds Gabriel Jesus but the City player is hounded out by sky and white shirts as the move loses it's impetus.
57' Di Maria tries his luck as a breaking ball falls to him in the area. His left footed effort takes a ricochet and Argentina win a corner.
52' Tagliafico on for Argentina,  José Luis Gómez off
Packed MCG....

49' Free-kick for Brazil as Willian Jose drives his effort into the wall. Fagner takes a dive in a poor attempt to con the ref but the Australian official is having none of it.
August 31 is the next time the COMNEBOL sides are back in competitive action. Brazil will face Ecuador at home whilst Sampaoli will face a tricky away test to Uruguay.
46' Argentina get us underway for the second half...
Higuain off and Correa on for Argentina at the break. The Juve striker has been quiet this evening in Melbourne.
Gabriel Mercado celebrates his goal on the stroke of half time at the MCG

 Half time round-up: Brazil 0-1 Argentina: A late tap-in from Sevilla's Mercado has Sampaoli's side ahead at a packed MCG as South American rivals Brazil and Argentina come head to head. Despite the game lacking the needle and frission of a "Clasico Sud-Americana" the match has been played at a decent tempo with chances falling to both sides but Argentina having more initiative. Di Maria has impressed as has Coutinho for the Brazilian side with a dicreet performance so far from Barcelona ace Lionel Messi. 
45' HALF TIME: Brazil 0-1 Argentina
45' Question marks being asked about the Sevilla player's positioning as he tapped into an empty net as the match official calls time on the half.  Argentina the better side and deserve to be ahead at the break. Di Maria bossing the show for Sampaoli's side.
45' Gooooooooooooooooooooooooool Argentina take the lead as Gabriel Mercado puts Sampaoli's men ahead   
43'  Dybala goes inches away from opening the scoring with a delightful left footed placed shot. Argentina deserve to be ahead here !
Di Maria in action at the MCG tonight

41' Now Brazil probe the Argentina defence with Fagmer delivering a testing cross which was admirable cleared by the "Albiceleste" rear-guard. 
39' Splendid half volley from Di Maria forcing Weverton into action. Possibly the brightest player in a sky/white shirt this evening.  
http://www.livescore.com/worldcup/conmebol-qualification/  This is how the COMNEBOL WC 2018 qualifying group looks. Brazil 1st and Argentina 5th ! 
35' It's Mexican Wave time at the MCG. 
34' Filipe Luis tries a long range left footed drive but his effort fails to trouble Romero in the Argentina goal.
32' Both teams impeccably observed a minutes silence pre-game.

30' Di Maria sportingly kicks the ball so Gabriel Jesus can be treated after a robust challenge on the City player. A hint of tension creeping into the game now as Paulinho and Di Maria have a brief spat. This may be a friendly but it is Argentina and Brazil
27' A bright game here at the MCG, obviously lacking the bite of a competitive match but with enough action to keep the 90.000 plus crowd more than entertained.
22' Chelsea's Willian Jose breaks free and finds Coutinho who takes a touch too many and fires his shot against an Argentina defender with the ball eventually falling into the grateful arms of  Sergio Romero. Poor rear-guard action from "La Albiceleste" !
20'  Possession after 20': Brazil 38% - 62% Argentina
19' Agusto goes close for Brazil with the Beijing Guoan striker seeing his shot drift just over the Argentine crossbar. 
17'  Good play from Coutinho testing the Argentina defence who are forced to clear for a corner. Better now from Brazil pushing the men in blue and white deeper despite stll yet to create a clear-cut chance.  
14' Dangerous free-kick awarded to Brazil as chants of "Brasil, Brasil" bellow out from the crowd. Argentina clear the danger and the ball heads all the way back to the Brazilian goal. 
10' Argentina much the brighter team in the opening first ten minutes of action 
 Argentina starting line-up

8'  Di Maria collides with Paulinho and needs medical attention. Now limping but looks okay to continue. 
6' Dybala feeds Di Maria and the PSG player fires against the post. Great move by Argentina. 
4' Today's game is part of the "Brazil Global Tour" (sponsored by Chevrolet) . A game next week against Australia is the second match in the "Down Under" dates.
2' The MCG pitch looks a tad small?? Possibly due to the modification of a traditional cricket ground but the playing area looks "tight"!
1' Off we go at a packed MCG. The men in yellow get us underway
A minutes silence being held pre match
National anthem time in Melbourne
Match official is Mr Beath from Australia
Argentina: Sky blue and white stripes, black shorts and socks, another classic !
 Brazil: yellow shirts, blue shorts and white socks...a classic in the world game !
Both teams are in the tunnel with kick-off imminent in Melbourne. The Jorge Sampaoli era with "La  Albiceleste" starts here !

Gremio & Internacional being represented by the Brazilian fans in Melbourne today

Leo Messi will be sporting the new Adidas Nemeziz Tango 17 boots today 

The Brazilian side warm up as kick-off looms at the MCG

 Argentina XI: Romero, Banega, Biglia, Gomes, Dybala, Di Maria, Higuain, Mercado, Messi, Otamendi, Maidana.
Brazil starting XI: Weverton; Fagner, Thiago Silva, Gil, F.Luis; Paulinho, Fernandinho, Augusto; Coutinho, Jesus, Willian
Plenty of Brazil fans in the stadium with just 30 minutes to go to kick-off

This is Jorge Sampaoli's first match as the manager of the Argentine national team - his dream job. The man in the opposite dugout, Tite, has won each of his nine matches since taking charge of Brazil in the summer of 2016. It's a baptism of fire.  
Brazil vs Argentina live online: match preview
The two heavyweights of South American football meet in Australia on Friday as Jorge Sampaoli takes charge of his first match as Argentina manager.
The sides last met in November 2016, when Neymar, Coutinho, and Paulinho found the net in a comfortable 3-0 win for Brazil, a result that was a further nail in the coffin of former-Argentina boss Edgardo Bauza.
Willian, of Chelsea and Brazil, has stated that 'there are no friendlies with Argentina'. It is sure to be a match with as much bite as quality.
Find out how and where you can watch Brazil v Argentina.
Brazil: team news
Tite will be without star-man Neymar for the clash in Melbourne, having opted to spare the Barcelona winger the long trip to Melbourne. Roberto Firmino, Marquinhos, Dani Alves, and Marcelo will also not be involved, with the latter two having faced eachother in the Champions League final on Saturday.
Yet Brazil still have a deep well of talent to draw from. Gabriel Jesús will be keen to make an impression, having recovered from injury to end the Premier League season strongly for Manchester City.
City's most recent acquisition, goalkeeper Ederson, could feature between the sticks.
Argentina: team news
Jorge Sampaoli does not have a great deal of time to mould this Argentina team; La Albiceleste face a crucial run of World Cup qualifiers later in the summer. As such, this match will provide an important opportunity to tinker with a 3-3-3-1 formation, and work on the 'high press' that gave his Chile side such success.
Lionel Messi is expected to play, and he will also be available to face Uruguay in August, after his four-match ban for abusing a referee was rescinded. He should feature alongside Juventus' Paolo Dybala, which is a prospect that excites Sampaoli:
"Messi and Dybala are both great players in their own right, and these type of games give us the opportunity to test their compatibility and know whether they can work together"
Brazil vs Argentina live online: possible line ups
Brazil XI: Ederson; Fágner, Thiago Silva, Gil, Filipe; Fernandinho; Paulinho, Renato Augusto, Coutinho, Willian; Gabriel Jesús.
Argentina XI: Romero; Mercado, Mammana, Otamendi; Gómez, Biglia, Banega; Dybala, Messi, Di María; Higuaín.
Brazil vs Argentina live online: odds and betting
Mauro Icardi is in from the cold, and the Inter striker is at 6/4 to score at any time.
Bet on Brazil v Argentina now.