Zidane: Real Madrid to extend contract until 2020
Zinedine Zidane will sign a two-year contract extension at the Bernabéu having won LaLiga and the Champions League in his second season at the club.Champions League draw 2018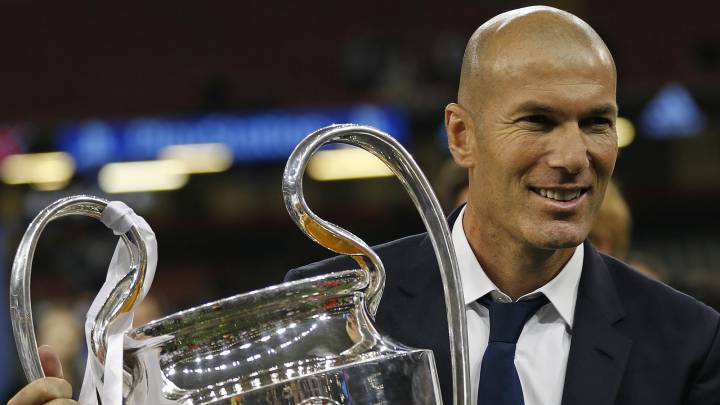 Real Madrid will extend Zinedine Zidane's contract until 2020, after the French coach secured a LaLiga and Champions League double for Los Blancos.
Zidane to sign Madrid contract until 2020
The contract extension of two years represents a show of confidence in Zidane, who picked up the reins at Madrid in 2016. The Frenchman lifted the Champions League at the end of his first season at the Bernabéu, but it was his second season, where Madrid won the league and European Cup double, that convinced Florentino Pérez.
In addition to extending Zidane's contract, Real Madrid will also increase his salary, to bring it closer in line with the best-paid coaches in Europe. Both Zidane and the club were keen to wait until the end of the season to address the question of a new contract, which is indicative of the good relationship between the two. Conscious of Madrid's demanding end to the season, 'Zizou' thought it best to leave negotiations until June.
Zidane's record since assuming his place in the dugout is exceptional: 65 wins, 15 draws, and just seven losses, in the 87 matches he has overseen. Within that, Zidane has added further silverware to the trophy cabinet at the Bernabéu: two Champions Leagues, LaLiga, a European Super Cup, and a Club World Championship.
Real Madrid show their trust
Beyond the contact extension, the club has shown its confidence in Zidane by entrusting him with the key sporting decisions. The goalkeeper position provides a case in point. The former-Juventus midfielder has made it clear that Keylor Navas is his choice. This has caused the club to drop 'Operation De Gea', which was at an advanced stage.
In fact, it is unlikely that Zidane will radically overhaul any area of the pitch. He believes that Theo, Vallejo, and Marcos Llorente will provide supplement a squad already blessed with remarkable depth. The possible departure of Álvaro Morata could force Zidane to make a more significant foray in to the transfer market. Yet he is hoping to persuade the striker, who scored a late equaliser for Spain against Colombia this week, to stay put. Zidane is a fan of young Kylian Mbappé, and would see a loan-back deal to Monaco as a viable option.
As such, the priority is to extend the contracts of players already at the club. Benzema, Marcelo, Carvajal, and Isco will put quill to parchment in the coming weeks.