Venezuela 0-1 England: FIFA U-20 World Cup final result, report
Freddie Woodman saved an Adalberto Peñaranda penalty as Dominic Calvert-Lewin's goal gave the Young Lions a maiden U-20 world title.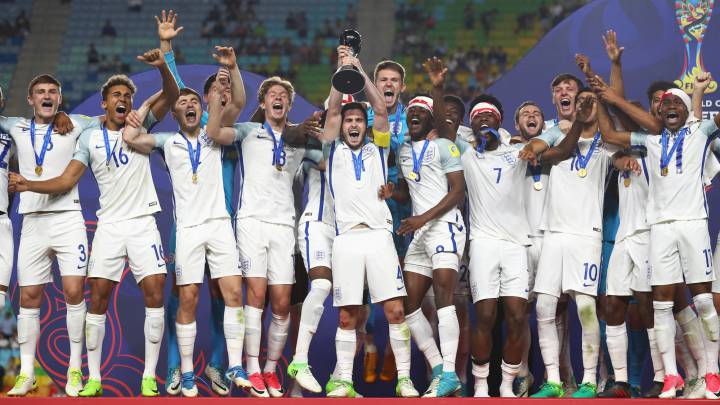 Venezuela U-20 0-1 England U-20: World Cup final match report
Freddie Woodman saved a penalty for England as Dominic Calvert-Lewin's first-half goal saw the Young Lions win the 2017 U-20 World Cup in Suwon on Sunday. It is the first time England have lifted a global title at any level since Sir Alf Ramsey's senior side clinched the Jules Rimet Trophy way back in 1966.
Calvert-Lewin scores World Cup winner at second attempt
Everton forward Calvert-Lewin - one of four Toffees in England's starting line-up - grabbed the decisive strike with ten minutes remaining of a first half in which Paul Simpson's men had carried the greater attacking threat, despite Venezuela hitting the post with a Ronaldo Lucena free-kick.
Captain Lewis Cook flighted a free-kick towards the edge of the box and, after jumping with defender Nahuel Ferraresi, Calvert-Lewin was quickest to the loose ball to prod in after his first attempt was parried by Wuilker Faríñez.
After the break, Venezuela looked more like the offensive force that has top scored in this competition, and Sergio Córdova could have levelled when he was put through by Yeferson Soteldo, only to be denied by a fine Woodman save.
Peñaranda penalty saved by Woodman
England's Josh Onomah thundered a long-range shot against the bar shortly after, before Adalberto Peñaranda spurned the Vinotinto's best chance to get back on terms. Felled in the box by Jake Clarke-Salter in the 74th minute, the forward picked himself up to take the spot-kick - only to see his weak effort stopped by Woodman.
Venezuela continued to press in vain for an equaliser that didn't come and, after a mammoth seven minutes of time added on had been played, referee Bjorn Kuipers' final whistle sparked wild England celebrations.
Venezuela U-20 0-1 England U-20: World Cup final as it happened
Lewis Cook lifts the trophy!
Italy collect their third-place medals, before a very dispirited bunch of Venezuelan players take to the podium for their runners-up medals. And now here come England....
...goes to Dominic Solanke! What an evening for England.
The Bronze Ball goes to Venezuela's Ángel Herrera, the Silver Ball is for Italy's Federico Valverde. and the Golden Ball...
The trophy ceremony is underway, match officials up first.
England are world champions! It's their first U-20 World Cup win, and the country's first global crown at any level since 1966!
97'  But England get it clear, and the final whistle goes!
96'  We're into the 96th minute here. England win a corner, which they (unsuccessfully) look to keep by the flag. Venezuela surge forward, and win a corner. Fariñez is up...
94'  There'll be time added on in time added on, as Woodman has needed some treatment after doing himself an injury that I have to confess I missed. Seconds left...
92'  Venezuela make a final sub, Peñaranda coming off for Jan Carlos Hurtado. 
90'  Four minutes of time added on....
90'  Herrera tried to feed a ball through the England backline, Clarke-Salter looks to hack it clear and slices it horribly towards his own goal, and Woodman just gets a hand to it to turn it around the post. Keeper Fariñez is up for the corner, which eventually comes to him - but his shot is wide!
89'  Peñaranda looks to combine with Peña on the edge of the England box, but Paul Simpson's men get it clear. Calvert-Lewin then brings it forward, only for Venezuela to win it back and come again... and it's so close to being a bizarre own goal!
86'  Venezuela come again, Herrera striding towards the edge of the box...but it's a magnificent tackle from Onomah. Moments later Onomah is leading a now rare England attack, but his through-ball to Calvert-Lewin is about a minute too late, and the striker is well offside. Just a few more minutes to go for the Young Lions.... 
84'  Calvert-Lewin carries it forward, but trundles a speculative daisy-cutter well wide. Venezuela immediately come forward and win a free-kick that's identical to the one they had moments ago - but Lucena's delivery is poor.
81'  Venezuela are - unsurprisingly - throwing themselves at England in search of  a leveller. Peña wins a free-kick off Cook in a dangerous position in the right-hand channel, but the whipped delivery is dealt with.
79'  Peña hooks one towards goal from just outside of the box, but it's well off target. Ten minutes to go.
78'  England remain minutes from their first U-20 world crown. Simpson makes his second change, bringing on a defensively-minded body as Ainsley Maitland-Niles comes on for Lookman.  
74'  Peñaranda picks himself up...and Woodman saves! The loose ball spins back across the face of goal, but Peñaranda can't turn the rebound back on target, is crowded out of it, and England clear. 
73'  Penalty to Venezuela! Clarke-Salter goes in on Peñaranda, and he does catch him.
71'  Another chance for Venezuela, Samuel Sosa trotting on for Córdova. The South Americans will be hoping he can have the same impact as in the semi-final.
70'  After that stoppage, England have a third corner, which comes to nought.
67'  My word Ojo has got some gas. He knocks it by right-back Hernández and into space, and puts on the after-burners to reach the ball first and burst towards the byeline, where he wins a corner. The first leads to another, which brings a horrible-looking clash of heads between Solanke and Ferraresi, who are both going to need some attention. Solanke's white shirt is bloodied Terry Butcher-style (well, not quite as badly, thankfully). They should both be OK.
64'  England win a highly dangerous free-kick on the left-hand corner of the box, and it's Lookman to strike. The Everton man's dipping effort is always going off target, though.
62'  A first substitution for England, Dowell making way for Sheyi Ojo, who of course made a terrific impact in the semi-final win over Italy.
60'  Calvert-Lewin gets to the byeline and sees his cut-back cleared for a corner, which almost falls to Solanke. Venezuela immediately launch the counter, which eventually comes to Peñaranda on the right. He jinks past Kenny and into the box...but then screws his shot horribly wide of the near post. A let-off for Paul Simpson's men.
58'  Dowell gives away a free-kick in prime swing-it-into-the-mixer territory, earning himself a yellow card in the process. Herrera curls it menacingly towards the penalty spot...but it's headed behind and it's a goal-kick. Still 1-0 to the Young Lions.
55'  Off the crossbar! Just as Venezuela start to crank up the pressure on England, Josh Onomah strides forward and absolutely thunders one off the woodwork from 30 yards! This final has really come alive in the opening stages of the second half.
54'  And again Woodman is called into action, Herrera heading a Venezuela corner towards goal and drawing what in honesty was a regulation save from the custodian.
53'  And Soteldo almost creates the equaliser! It's a wonderful, angled through-ball for Córdova, who's in on Woodman...but the England keeper makes a fine stop to keep it out! Venezuela's best chance by a mile.
Venezuela make the first change of the match, brining on Yeferson Soteldo for Chacón.
51'  The Vinotino come again, Peñaranda scampering down the left wing, only to be stopped by a fantastic challenge by Cook. Chacón then tries his luck from range, but it's high and wide.
50'  Venezuela get themselves a free-kick on the left, which Lucena swings into the mixer - but Herrera's header is an easy take for Woodman.
49'  Calvert-Lewin shows great fight on the left-hand side to bring the ball under control and send a cross into the middle, which is just too long. He was getting a bit of stick from the commentary team on Spanish TV, but has come to the boil since his goal.
48'  Tomori is the next man into Kuipers' notebook for a foul on Peñaranda.
46'  There's the first booking of the final, Velásquez earning himself a yellow for crashing into the back of white shirt in an aerial challenge. Cook dinks the free-kick to the edge of the penalty area, where Calvert-Lewin gets his head to it but can only direct a looping effort well off target.
46'  No changes for either side.
Peeeep! The second half is underway in Suwon.
 Peeeep! That's half time. England have been the better side and are well worth their lead at the break. They've been the superior attacking force, and Dominic Calvert-Lewin's goal is the difference as the teams make their way to the dressing rooms. Venezuela aren't the tournament's top marksmen for nothing, though, and despite being second best to the Young Lions would also have been on the scoresheet had Ronaldo Lucena's free-kick against the woodwork been a couple of centimetres to the right.  
45'  One minute added on at the end of the first half in Suwon.
42'  Venezuela win a free-kick in shooting territory in the left-hand channel, with Peñaranda standing over it. He runs up, lets fly...and it's juuust wide! From where I was sitting I thought it was in.
40'  Calvert-Lewin is almost in again! Lookman plays a lovely little ball into the box for his Everton colleague to run onto, but Fariñez scampers out to get there before the goalscorer.
39'  England have their tails very much up...but hold on, here's Peñaranda driving forward and firing at goal from range... It's well wide, though.
34' Goooooal! England take the lead! Dowell wins a free-kick off Lucena just inside the Venezuela half, which Cook flights to Calvert-Lewin on the edge of the box. He jumps for it with Ferraresi and is first to react when the ball drops loose into the area, drawing a fine save from Fariñez but making no mistake when he gets a second bite at the cherry! 1-0 to England!
30'  Back come England, but Fariñez is alert to come out and head away a route-one ball from Tomori. Paul Simpson's men then win a corner, but Calvert-Lewin's back-post header is comfortable enough for the Venezuela keeper.
25'  Now Peña bursts forward on the right and crosses low into the box...but it can't find a burgundy shirt! Venezuela are starting to assert themselves as an attacking force.
24'  Blimey! England have carried the greater attacking threat, but Venezuela are inches from going ahead! Lucena pings what looks like a speculative free-kick effort from waaay out - I make it 40 yards or so - and, in what seems like slow motion, the ball rises above Woodman then dips down towards the goal...but thwacks back off the post!
22'  Uffff! There's another chance for England! Solanke slips it inside to Lookman, who holds off his man to drive a powerful shot at goal from the edge of the area, but Fariñez does well to beats behind! And from the corner, Calvert-Lewin has an opportunity to shoot at the back post, but slices it off target!  
19'  Having said that England look more dangerous going forward, Peña promptly carves out a shooting chance for Venezuela - but it's always rising. 
18'  England are looking the more threatening of the two on the attack, particularly when Solanke gets a hold of it. He takes on his man on the left and pings it into the middle...but it's too close to Fariñez and the keeper clutches on to it.
16'  Hernández crosses from the right for Venezuela, but it's meet and drink for Woodman.
15'  14'  '  England have pretty much had all of the ball in the last five minutes. Solanke gets a sight of goal from 25 yards or so, but it's always off target.
10'  There's the first real chance, though! Venezuela don't deal with it and Solanke is in behind the Vinotinto backline with space to shoot in the box - but the soon-to-be Liverpool man scuffs his shot and Fariñez saves!
8'  The volume rises in the stadium as Herrera exchanges passes with Peñaranda on the edge of the box, but can't find the space for a shot. Venezuela then look to get left-back José Hernández scuttling towards the byeline, but the through-ball is overhit. It hasn't been a flowing start from either side, but given the occasion that's to be expected, I guess.
7'  Kenny takes the first shot of the final, and the less said about it the better. 
5'  Peñaranda gets a chance to run at the England backline, but is run out of it and it's at the feet of Solanke, who drives at right-back Hernández, tumbles under the Venezuelan's challenge, and is after a free-kick. Referee Bjorn Kuipers says nope. 
Peeeep! We're up and running in Suwon.
So are England.
The teams are out to that catchy 'FIFA Fair Play' tune, and it's time for the anthems. Venezuela first up. Breaking: they are all tone deaf.
Speaking of Argentina, Leo Messi and Sergio Agüero are among the previous winners of a U-20 World Cup top-scorer award that England's Dominic Solanke and Venezuela's Sergio Córdova (each on four goals) are both vying for. They'll need to overhaul Italy's Riccardo Orsolini, though, who currently leads the way with five.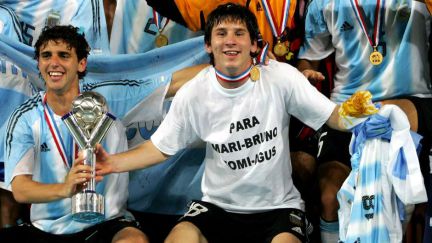 Like England, it's also Venezuela's first U-20 World Cup final, so we're guaranteed a new tournament winner whatever happens in Suwon. Though they'll still have a little way to go to match Argentina's haul of six U-20 global crowns... 
As England prepare for their first World Cup final at any level since Geoff Hurst's Wembley hat-trick 51 years ago, the Young Lions' coach, Paul Simpson, has admitted it that it's a "dream" to be in the trophy decider in South Korea: "I was born in 1966 and that was the last time we did it," Simpson said in the run-up to today's clash. "We're delighted to be in it and I've said from the first day I am greedy and I want to go and win the final. I don't just want to make the numbers up, I want to go and win it." 
For England, meanwhile, it's just the one change from their semi-final win over Italy, Josh Onomah returning from suspension to slot into central midfield alongside captain Lewis Cook. Ainsley Maitland-Niles makes way.
Two changes for Venezuela, José Rafael Hernández coming in for Eduin Quero at left-back and centre-back Williams Velásquez replacing Josua Mejías.
Here's our semi final match report of how the "Young Lions" made it through to this afternoon's U20 WC final against Venezuela. http://en.as.com/en/2017/06/08/football/1496908973_352554.html
Paul Simpson, head coach of England attends the press conference at the Suwon World Cup Stadium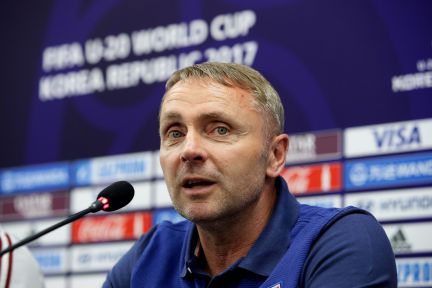 Good morning and welcome to our build-up ahead of the 2017 Under 20 World Cup final between Venezuela and England.
Venezuela v England: U-20 World Cup live online final preview
So 22 days later, the curtain is about to come down on the 2017 FIFA U-20 World Cup in South Korea as Venezuela and England both look to become world champions in the age group for the very first time.
Though neither side were tipped to get this far, both have shown that they deserve to be where they are. While Venezuela were the more impressive in the group phase, winning all three of their matches, the English have been in irresistible form in the knockout phase, all of which points to a very intriguing final.
Veteran Dutch official Bjorn Kuipers will oversee what is set to be an vibrant final between two promising sides with one set to make history.
Venezuela team news
In his pre-match press conference, Venezuela captain Yangel Herrera claimed. "We have worked hard for this. This group of players has given everything to get here, to travel this beautiful road during this beautiful tournament and this team is here thanks to the belief it has had".
The "Vinotinto" are in confident mood after a dramatic last minute Sosa free-kick took their semi-final against Uruguay to extra-time as the men in burgundy held their nerve to seal a place in today's showpiece match.
England team news
England have reached this stage of the competition via victories against the Central American pair of Costa Rica (round-of-16) and Mexico (quarter-final) and saw off Italy in the semi-final with a convincing second half performance.
According to manager Paul Simpson in an interview with The Set Pieces, the aim of the tournament is to instil mental fortitude in the young Englishman, something that was so glaringly absent for the senior team at Euro 2016.
Venezuela U-20 v England U-20 live online: match odds and betting
The men from South America are the outsiders for the bookmakers with a win for the "Vinotinto"paying oit at 3.80 for every euro placed.